Cost Estimator
Want to be a Cost Estimator? Get matched to a Degree Program for FREE!
A Cost Estimator uses data analysis to calculate price tags. Their skills determine the value of time, money, materials, and labor. Put together, these individual costs help predict bottom lines – key for businesses of every kind.
WHAT IS COST ESTIMATION?
While cost estimators do use math there is more to the art and science of cost estimation. Cost estimation is part of the cost engineering profession. It involves both high level conceptual estimates and detailed level estimates. These forecasts help vendors and contractors work with managers and clients on things such as:
Budget
Performance of any project
Project scope – Work Breakdown Structure (WBS) & Cost Breakdown Structure (CBS)
Assumptions – Basis of Estimate (BOE)
With applications for products, services and construction, many cost estimators choose a niche. This is particularly helpful when it comes to learning industry-specific software and other methods. For example, this may include:
Building information modeling (BIM)
Computer-aided design (CAD)
Accounting and statistics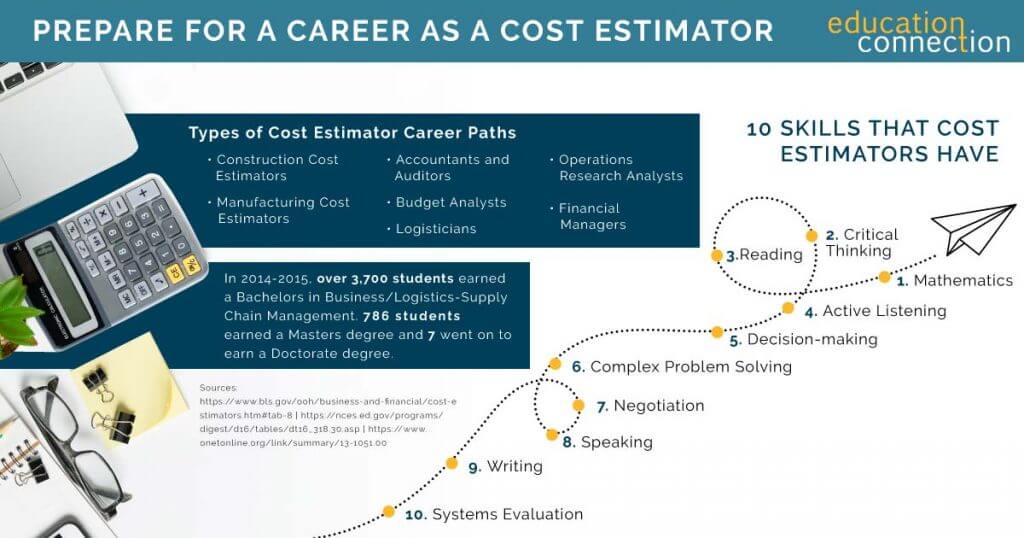 Featured Online Schools
1
Southern New Hampshire University
Take advantage of some of the nation's most affordable tuition rates, while earning a degree from a private, nonprofit, NEASC accredited university
Qualified students with 2.5 GPA and up may receive up to $20K in grants & scholarships
Multiple term start dates throughout the year. 24/7 online classroom access.
Offering over 200 online degrees
Popular Online Programs
Business Administration, Psychology, Information Technology, Human Services…
2
Purdue Global University
Experience world-class education online with more than 175 programs at associate's, bachelor's, master's and doctoral levels.
Competency-based ExcelTrack™ Programs may allow you to earn your degree faster and for less money
Courses taught by highly respected faculty members who are experts in their fields
Full range of student services including no cost tutoring in math, science and writing
Available Online Programs
Business, Analytics, Computer Science, Cyber Security, Healthcare Management, RN to BSN, Criminal Justice, Psychology

3
Colorado State University
Ranked #8 by U.S.News & World Report for Best Online Bachelor's Programs
Apply up to 90 transfer credits for bachelor's students, and 9 transfer credits for master's degree students.
CSU Global graduates experience a return on investment of 4:1, which means they receive $4 in salary and benefits for every $1 they invest in their education.
Online Programs Include:
Accounting, Business Administration, Criminal Justice, Psychology & Information Technology

Sponsored
1. CONSTRUCTION COST ESTIMATOR 
Construction cost estimators typically need a bachelor's degree in construction management or engineering.  There are also colleges with master's degree programs in construction management. These may prepare graduates to lead and handle more complex projects.
As a construction cost estimator, one may calculate anything from building a road or bridge to a shopping center or house. Construction cost estimators also assess costs of raw materials and labor and set time lines for project completion. Many work directly for construction firms, some work for contractors and engineering firms.
Average annual salary 2018: $68,310

Job outlook to 2028: 9%, which is faster than avg.
2. MANUFACTURING COST ESTIMATORS
Manufacturing cost estimators typically need a bachelor's degree in engineering, business, or finance. 
As a manufacturing cost estimators one may compute the costs to develop, produce or redesign any goods or services. For example, a cost estimator working for an auto manufacturer may assess a new car model's production cost. This allows managers to make informed production decisions. 
Average annual salary 2018: $61,320

Job outlook to 2028: 9%, which is faster than avg.
3. BUDGET ANALYSTS
Budget analysts may have a bachelors degree in one of many areas including accounting, finance, business, public administration, economics, statistics.
As a budget analyst, one needs strong numerical and analytical skills. Studies often center around courses in accounting, economics and statistics.
Government budget analysts may also earn the Certified Government Financial Manager credential from the Association of Government Accountants. Maintaining said credential requires 80 hours of continued education every 2 years.
Average annual salary 2018: $76,220

Job outlook to 2028: 7%, which is as fast as average.
4. OPERATIONS RESEARCH ANALYSTS
Many operations research analysts today have a masters degree in engineering, computer science, analytics, or math. Though, BLS tells that most entry level workers have a bachelors degree.
As an operations research analyst, you will identify and solve problems with advanced math, statistics and computer analytics. The skills of operations research analysts are used in areas such as business, logistics and health care. 
Average annual salary 2018: $83,390

Job outlook to 2028: 26%, which is much faster than avg.
5. ACCOUNTANTS
Accountants may get started with a bachelors degree. However, to bridge the gap of credits needed to pursue a Certified Public Accountant (CPA) credential, many pursue a Masters in Accounting or MBA.
As an accountant, one may assess and prepare taxes and financial records. This works to ensure the financial health of businesses and organizations. Also, within this dynamic field, many accountants choose a niche within which to apply their skills. Forensic accounting and cost accounting are two examples.
Many accredited colleges and universities offer concentrations so that students may line up studies with interests.
Average annual salary 2018: $70,500

Job outlook to 2028: 6%, which is as fast as avg.
6. LOGISTICIANS
Some logisticians may get started with an associates degree. However, due to the complexity of supply chains, a bachelors degree in business, systems engineering, or supply chain management is more common. Masters and MBA in Supply Chain Management are also available.
Logisticians understand how to analyze and coordinate an organization's supply chain. These individuals manage the entire life cycle of a product from design to disposal.
Average annual salary 2018: $74,600

Job outlook to 2028: 5%, which is as fast as avg.
7. FINANCIAL MANAGERS
Financial managers often have at least a bachelor's degree in finance, accounting, economics, or business administration. Investment professionals who strive to attain industry certification such as Chartered Financial Analyst (CFA) need at least a bachelors degree as well. 
Today's employers also seek financial managers a masters degree in business administration, finance, accounting, or economics. These graduate programs may help students develop deeper analytical skills. They might also instruct students in more advanced financial analysis methods and related software. 
Average annual salary 2018: $127,990

Job outlook to 2028: 16%, which is much faster than avg.
MEET YOUR POTENTIAL AS A COST ESTIMATOR
Boost your skills and knowledge to become a cost estimator. Many accredited colleges and universities offer online degrees in the areas discussed in this article. Online degrees add a level of convenience for the at work professional or busy adult learner. Use the tools on this page to get matched with a school, subject, degree and format today.