The Top 2019 Non-profit Administration Online Degree Programs
Get matched to an Non-profit Administration Online Degree Program for FREE!
What is an Online Non-profit Administration Degree?
An online non-profit administration degree is a type of business degree. It is a common path for those who want to lead in organizations that serve the public good in some way.
Online degrees in non-profit management are available at all levels. From associates and bachelors to masters on up. These programs may touch on how to build a nonprofit as well as keep it afloat.
Coursework is likely to speak to a wide range of subjects that apply to nonprofits. This includes topics like, budgeting, fundraising and marketing. You may also learn how to attract, engage and oversee volunteers and other personnel. Along the way, you might gain vital soft skills like communication and teamwork.
Associate Degrees
Bachelor's Degrees
Master's Degrees

Nonprofit Management, A.S.

BS Business Administration w/conc in Nonprofit

MPA in Nonprofit Management

Aims to build basic knowledge about the nonprofit and philanthropic field. Students may learn about laws, finances, how to raise funds to build programs.

Aims to help students understand how to help a nonprofit fulfill its mission. At the same time, core courses provide a solid base in business administration.

Aims to build skills in public administration. At the same time, it covers basic principles and leadership practices for nonprofits.

Nonprofit Program Development
Resource Developing and Marketing
Nonprofit Governance

 

 

Entrepreneurship
 Grant Writing
Nonprofit Management

Marketing
Budgeting
Ethical Leadership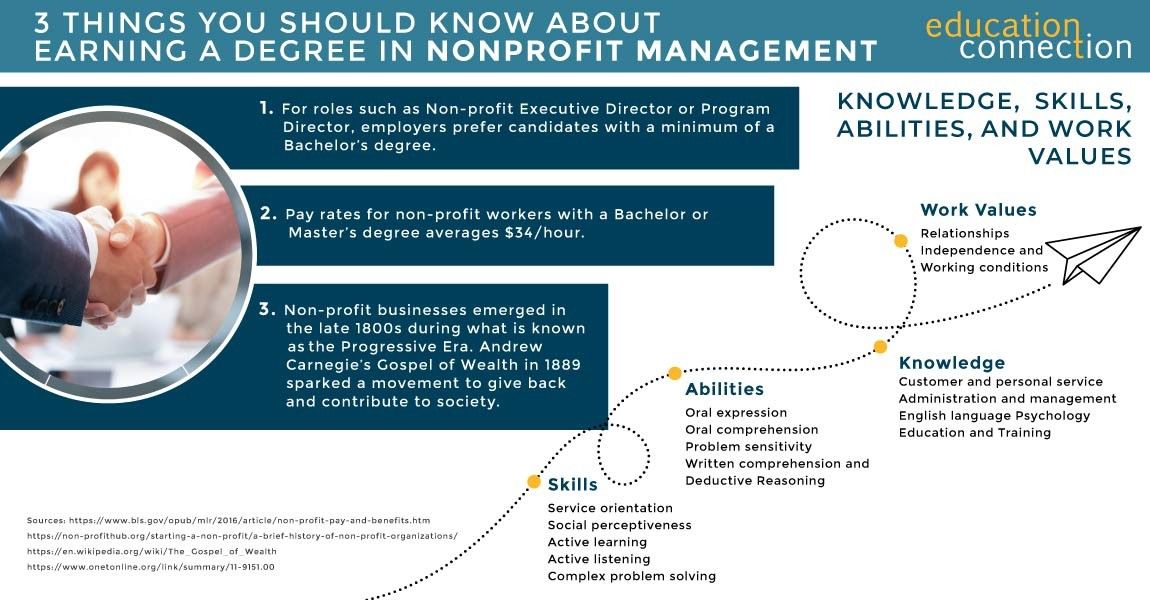 Non-profit Administration Degree Online Programs
An online non-profit administration degree looks at a few specific areas. Nonprofits, by nature take any money received or earned and puts it back into itself. This serves to drives and promotes its mission. For instance, some nonprofits support the arts or fund medical research.
In this way, a nonprofit is unlike other businesses. As a result, they operate under a set of rules and distinct tax laws. Called "governance", this theme is central to most curricula.
Another area of study is finance. A nonprofit raises money through donors and grants. This means, you may study how to write grant proposals, raise funds through events and budget.
Central to developing a nonprofit are the people who devote their time to the goal. Attracting high quality volunteers is thus crucial. Many programs shed light on this area by exploring ways to train and oversee volunteers.
Nonprofits also use marketing to spread their messages. They try to reach, help, motivate or educate as many people as possible. Some programs may look at this, providing insight into analytic tools of the field.
While addressing these themes, each level of study has unique features. We'll walk you through some common elements of an associate, bachelor and master's level program.
Associate in Nonprofit Management
An Associate degree in Nonprofit Management may take a very general view of the field. Many programs cover 60 credits and take a full-time student two years to complete.
Most forms of this degree provide a path to a Bachelor's in nonprofit management or business. They often include general education classes for this reason.
At the same time, you may study some of the basics. This usually means an overview of the laws that govern nonprofits. Also, finances and fundraising – two central points. Going further, you might gain some insight into how to set up a program in the nonprofit/philanthropic field.
Bachelor's in Nonprofit Management
A bachelor's in non-profit administration may build off a core business study plan. Then circles in to discuss the role nonprofits play in society as well as how to run one from the ground up.
This means you may take a wide range of general classes. Things like applied statistics and economics. A handful of nonprofit classes may then shed light on key elements. Like accounting, grant writing and an intro to managing a not-for-profit.
Often the degree serves as an entry-point to a range of careers in management and finance. As such, it may cover key skills and practices. Things like how to work in teams, communicate and use data to make decisions. This often fosters a deeper grasp of how to set and reach goals using responsible means.
Most nonprofit administration degree online programs at this level consist of 120 credits. Full-time students may need about 4 years to complete their degree. But many online colleges have robust transfer credit policies which may save you time.
Master's in Nonprofit Management
A master's in non-profit management may be a concentration in another program. Like an MBA or master's in public administration program.
As such, it may cover a wide range of business and leadership topics. Plus, some nonprofit basics. How they raise money, laws and taxes and all about recruiting volunteers.
Other content may speak to the skills needed to handle specific duties. Like managing a team, fund raising, and crafting a budget. Extra topics may include marketing and promotion, diversity and ethics.
You may also find course plans that value-add research classes. These may impart useful skills for starting your own nonprofit from scratch.
While it varies, most programs entail 36 credits. A full time grad student might complete these requirements in two years.
Featured Online Schools
1
Take advantage of some of the nation's most affordable tuition rates, while earning a degree from a private, nonprofit, NEASC accredited university
Qualified students with 2.5 GPA and up may receive up to $20K in grants & scholarships
Multiple term start dates throughout the year. 24/7 online classroom access.
Offering over 200 online degree
Popular Programs
Business Administration, Psychology, Information Technology, Human Services…

2
Ranked #8 by U.S.News & World Report for Best Online Bachelor's Programs
Apply up to 90 transfer credits for bachelor's students, and 9 transfer credits for master's degree students.
CSU Global graduates experience a return on investment of 4:1, which means they receive $4 in salary and benefits for every $1 they invest in their education.
Available Programs
Business, Computer Science, Criminal Justice, IT, Psychology…

3
Save up to 25%. Save thousands on your bachelor's with the Strayer Graduation Fund.
Strayer University is an accredited institution with a proud history of 125 years in quality education.
With the help of dedicated personal support and AI technology, earn your degree online or on campus.
Programs Include
Accounting, Business Administration, Criminal Justice & Information Technology

Sponsored
What Courses are in Non-profit Administration Degree Curriculum?
As you can see, there are different kinds of online non-profit administration degree programs available. This means your classes will depend as much on your program's level (Associate, Bachelor, Master, MPA, MBA, PhD) as it will on the program focus.
We'll take a look at several courses below that break down some of the complex terms. See which types of courses appeal to your goals and interests.
Non-profit Agency Management:&nbspThis type of course may introduce you to nonprofits. From their mission to ways to manage one. Students may learn how to raise funds, oversee staff, marketing and community relations.
Grant-writing:&nbspThis course takes a look at how nonprofits secure funding. Students may learn how to write a grant, lining up the needs of the nonprofit with possible donors.
Accounting for Non-profits:&nbspThis type of course may look at general and specific non-profit accounting practices. Students may learn about laws, rules, tax filing, budgeting and financial reporting.
Volunteer Management:&nbspThis course may help you understand the roles of each member of a non-profit. From the executive directors and trustees to volunteers and staff. It may also touch on ways to train, oversee, attract and engage volunteers.
How Long Does It Take to earn a Non-Profit Administration Degree?
Bachelor's students may need four years full time to earn a nonprofit administration degree. But if you transfer credits from an associate degree, you may need around two. Students pursuing a master's in nonprofit administration may need two years.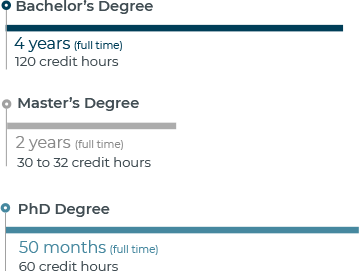 Non-profit Administration Degree Online Programs That Could be Completed in 105 weeks
| | | | | |
| --- | --- | --- | --- | --- |
| School | Degree | # of Credits Required | Start Dates | Minimum Months to Complete |
| Colorado Christian University | Associate | 60 | 3 | 24 |
| Southern New Hampshire University | Bachelor's | 120 | 6 | 48 |
| North Central University | Master's | 36 | Weekly | 25 |
How Much Does a Non-Profit Administration Degree Online Program Cost?
Tuition costs for Non-Profit, Public, & Organizational Management majors are, on average, $7,128 for in-state public colleges, and $28,705 for out of state private colleges. Many online colleges charge a per-credit rate plus fees. Associate degree programs require an average $485 per credit. Bachelors degree programs cost an average of $469 per credit and master's cost an average of $600 per credit. Most courses consist of three credits each.
| | | | |
| --- | --- | --- | --- |
| School | # of Credits Required | Cost Per Credit | Total Tuition Cost |
| Colorado Christian University | 60 | $469 | $28,140 |
| Southern New Hampshire University | 120 | $320 | $38,400 |
| Ashford University | 120 | $485 | $58,200 |
Top Schools for Non-Profit Administration Degree Online Programs
According to the NCES, there were 948 schools that offer Non-Profit, Public and Organizational Management degrees or programs.  From those schools there were 2,953 Non-Profit, Public and Organizational Management degrees or programs awarded to students. The majority (60.8%) of these programs were master's degrees.
| | | |
| --- | --- | --- |
| School | 2017 Grads total/degrees awarded | Tuition (Out of State) |
| Fairleigh Dickinson University – Metropolitan Campus | 176 | $40,732 |
| Northern Arizona University | 119 | $41,530 |
| DeVry University | 89 | $17,557 |
| Arizona State University – Downtown Phoenix | 81 | $28,336 |
| Alvernia University | 76 | $34,900 |
| Tiffin University | 73 | $25,000 |
| St. Catherine University | 69 | $39,554 |
| Regis University | 68 | $36,810 |
| Brandeis University | 66 | $55,395 |
| Capella University | 64 | $14,579 |
| University of Central Florida | 57 | $22,467 |
| Charleston Southern University | 47 | $25,540 |
Becoming an Accredited Non-Profit Administrator
programs. This type of approval means a school meets standards set by the U.S. Department of Education.
Studying at one of these schools makes it possible to apply for financial aid. Also, among these schools, it may be possible to transfer credits.
The process of accreditation though is voluntary. To reach this status, a school needs to apply to one the agencies that oversees its region. Then pass the agency's review. Once accredited, the school must uphold or improve its standards to renew. This may take place about every 7 years. You can check the standing of a college on the accrediting agency website. They usually have a database.
Another tier of approval is at the program level. Some accredited schools may put individual programs up for review too. The agency at the helm of accrediting nonprofit administration programs is the NACC. The Nonprofit Academics Centers Council oversees academic programs in:
Nonprofit and NGO studies and management
Social entrepreneurship
Social-purpose organizations leadership
Philanthropy studies and management
One of the goals of the NACC is to ensure that the school offers a well-developed program. It maps out the themes that a course plan should address at both undergrad and graduate levels. This includes ethics, finance, human resources, rules and regulations among others.
Nonprofit Certification and Licensure
Certification is not required to work in the nonprofit sector.  But going the extra mile to achieve it may help you stand out. The Certified Fund Raising Executive program is one example. Offered by the CFRE International, many fundraising managers apply for it. To qualify, you need 5 years of related work experience and 80 hours of continued education.
Fundraisers must apply for renewal every 3 years to keep their certification valid.
Top Salaries by State for Non-profit Administrators*
| | | |
| --- | --- | --- |
| State | Employment | Annual Mean Wage |
| New York | 13,110 | $86,700 |
| Pennsylvania | 8,300 | $65,620 |
| Massachusetts | 7,420 | $70,500 |
| Texas | 5,370 | $72,560 |
| Ohio | 4,960 | $73,210 |
Jobs with a Non-profit Administration Degree
A non-profit administration degree may ready you to pursue a wide range of potential careers.
Executive Directors
Executive directors set goals, policies and processes for a non-profit. This means making decisions about the finances, budget and staff. As the head of a non-profit, they also consult with other executives, board members and workers. They usually have the final say in assessing performance and strategy.
Average Annual Salary: $104,980
Job Growth through 2026: 8% (As fast as average)
Entry-level Education: Bachelor's
Program Manager
Program managers plan, direct and oversee the support services of a non-profit. Some of their tasks are administrative. Things like keeping records, supplies and the premises in order. They are often the ones to set up recycling or energy consumption initiatives too. Other duties may involve setting goals for each department.
Average Annual Salary: $96,180
Job Growth through 2026: 10% (Faster than average)
Entry-level Education: Bachelor's
Community Organizer
Community organizers oversee social service programs and the people who work for them. These programs often help a certain population. Like the homeless, veterans, children, un-employed, addicts or older adults. Part of their role is to get funding by writing proposals. They may also plan and manage outreach efforts to generate support.
Average Annual Salary: $65,320
Job Growth through 2026: 18% (Much faster than average)
Entry-level Education: Bachelor's