Top Online Public Relations Degrees
Get matched to a Public Relations Degree Program for FREE!
WHAT IS an Online PUBLIC RELATIONS DEGREE?
Public relations (PR) is a subtopic of marketing and communications. Public relations specialists craft messages about who and what people, businesses, and products are. They relay their messages to others using a variety of media. For example, they might use writing, speaking, multimedia, digital production, social media, and other mediums to do their work. PR specialists manage campaigns (messages) for people, companies, products, and services. They do so from beginning to end. They might conduct research, create campaigns, run campaigns, and analyze their outcomes.
Public relations classes teach students how to do this work. By the end of a public relations program, students may also gain confidence as leaders and be able to communicate effectively. They may become more creative thinkers and great at strategizing. Being able to work with others and manage projects are key for PR professionals, and students will likely develop these skills too.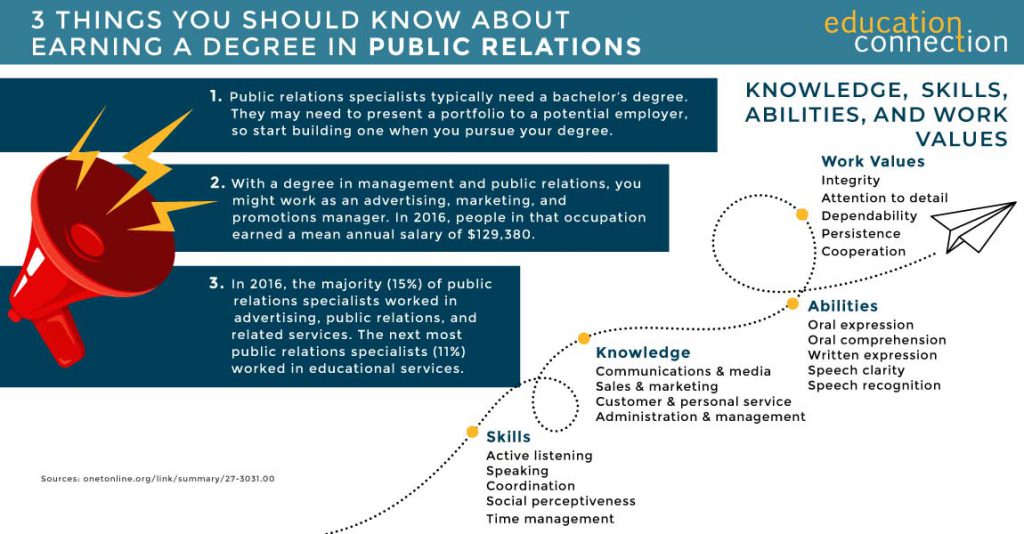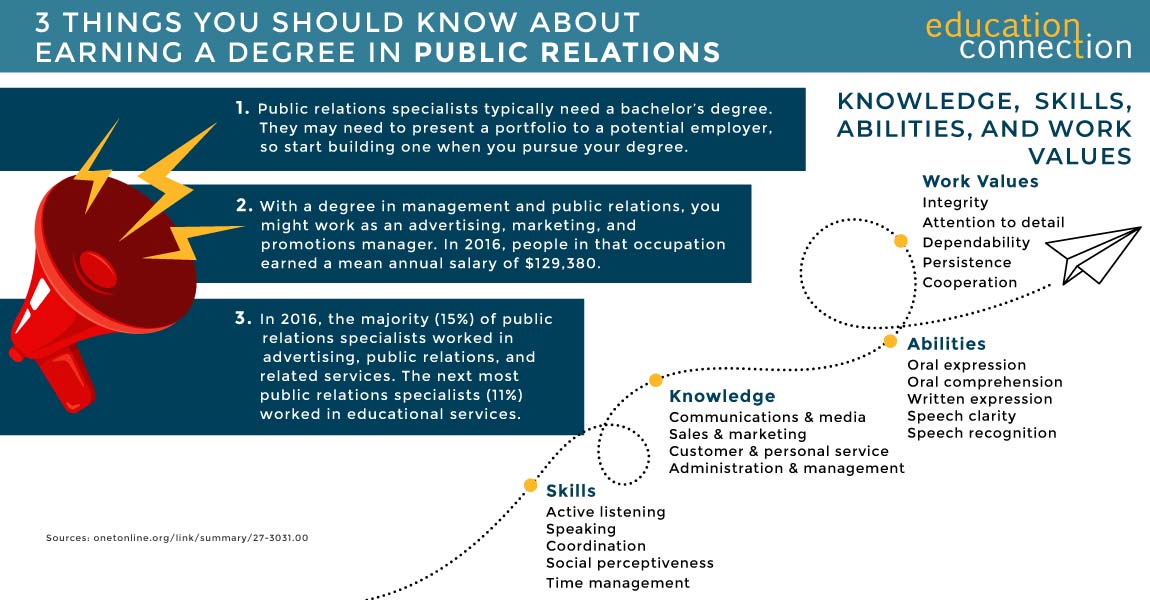 BACHELOR DEGREES
Bachelor of Arts in Public Relations and Marketing
---
This is a four-year public relations program. Explore PR as the core of any successful business and organization. Study creative subjects such as communication, consumer behavior, and advertising. Learn how to strategize and conduct research.
---
Marketing strategy
E-business
Visual literacy
---
This program is accredited by the International Accreditation Council for Business Education
BACHELOR DEGREES
Bachelor of Arts in Communication Studies: Advertising and Public Relations
---
This is a four-year program. Explore theories and practices in marketing and branding. Learn how to craft effective messages to sell and promote products and people.
---
Marketing principles
Public speaking
Communication theory
---
This program does not have specific accreditation, nor does it require it.
BACHELOR DEGREES
Bachelor of Science in Marketing
---
This is a four-year program. Learn how to utilize marketing channels. Use electronic and other mediums to develop effective marketing and communications strategies.
---
Consumer behavior
Promotions & public relations
Strategic marketing
---
This program is accredited by the International Accreditation Council for Business Education
Online PUBLIC RELATIONS DEGREE PROGRAMS
There are four levels of public relations programs: associate's degree, bachelor's degree, master's degree, and doctorate degree. The majority of students who study public relations earn a bachelor's degree. Doing so takes four years of full-time study.
To earn a bachelor's degree in PR, students take two kinds of courses:
General education courses
Courses in their major
General education courses cover subjects like English, math, history, science, and philosophy. Every student who earns a bachelor's degree has to complete courses like these. While they are not directly connected to PR, they help students grow their writing, reading, analytical, and communication skills. These are all important skills for PR specialists.
Courses in a public relations major cover many subjects. Core courses cover subjects like:
Mass communications
Organizational communications
Public speaking
Multimedia journalism
Electronic public relations
Strategic public relations
Research and analysis in public relations
Law and ethics in public relations
Courses in subjects like these and others offer students a foundation of skills and knowledge in public relations.
Students also take elective courses when they earn a bachelor's degree in PR. Electives help students learn more about a specific area of PR. For example, students might study journalism, business, entertainment PR, or sports PR.
Some public relations programs offer minors. Like electives, minors give students a chance to learn more about an area of PR. However, students take enough classes in their minor to develop in-depth knowledge. To earn a minor, students might study advertising, news media, entrepreneurship, or another subject related to PR.
Bachelor's degrees in public relations have many titles. First, they could be a Bachelor of Arts or Bachelor of Science degree. Second, they could be in communications, journalism, marketing, or business. A B.A. or B.S. in one of these subjects would then emphasize public relations. A B.A. or B.S. degree could also be in public relations specifically.
Students who are not ready to spend four years in school might earn an associate's degree in PR. It takes one and a half to two years to do so. At this level, students take general education courses and courses for a PR major. However, they only take one year of each to study the most fundamental subjects. Students who earn an associate's degree can later transfer their credits to a bachelor's degree program.
At the associate's degree level, you may pursue an Associate of Arts or Associate of Science degree. In either case, the degree will likely be in marketing, business, or communications with an emphasis in public relations.
Examples of associate's degrees you might earn in PR include:
If you one day opt to earn a master's or doctorate degree in PR, doing so will take two to four years. In master's degree PR programs, students either study PR broadly or drill into a specific part of PR. Nearly 11 percent of students who studied PR earned a master's degree. In doctorate PR programs, students learn how to conduct research in the field.
Featured Online Schools
1
Southern New Hampshire University
Take advantage of some of the nation's most affordable tuition rates, while earning a degree from a private, nonprofit, NEASC accredited university
Qualified students with 2.5 GPA and up may receive up to $20K in grants & scholarships
Multiple term start dates throughout the year. 24/7 online classroom access.
Offering over 200 online degrees
Popular Online Programs
Business Administration, Psychology, Information Technology, Human Services…
2
Western Governors University
An affordable way to earn your degree.
Tuition around $4,000 a term – about half the cost of most other online universities.
Over 60 accredited bachelor's and master's degrees.
Programs start monthly – Apply free this week!
Available Online Programs
Business Management, Human Resource Management, Information Technology Management, Computer Science, Cybersecurity, Healthcare Management, Elementary Education

3
Strayer University
Save up to 25%. Save thousands on your bachelor's with the Strayer Graduation Fund.
Strayer University is an accredited institution with a proud history of 125 years in quality education.
With the help of dedicated personal support and AI technology, earn your degree online or on campus.
Online Programs Include:
Accounting, Data Analytics, Cybersecurity, Business Administration, Criminal Justice & Information Technology

Sponsored
HOW LONG DOES IT TAKE TO EARN A PUBLIC RELATIONS DEGREE ONLINE?
Students can earn an associate's degree in public relations in two years or less with full-time study. They can earn a bachelor's degree in four years with full-time study. For working students, online schedules allow for flexibility and enable many professionals to pursue a degree fulltime and work at once.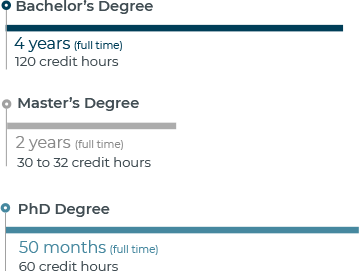 PUBLIC RELATIONS DEGREE PROGRAMS THAT COULD BE COMPLETED IN 48 MONTHS OR LESS
| School | # of Credits Required | Start Dates | Minimum Months to Complete |
| --- | --- | --- | --- |
| Full Sail University | 120 | Monthly | 29 months |
| Ashford University | 120 | Monthly-every five weeks | 48 |
| Pennsylvania State University | 120 | Winter, Summer, and Fall | 48 |
THE AVERAGE PUBLIC RELATIONS DEGREE COST
In 2016, students paid a median in-state public tuition rate of $8,339. They paid a median out-of-state private tuition rate of $29,840. Following are specific prices you could pay to earn a bachelor's degree in public relations:
| School | # of Credits Required | Cost Per Credit | Total Tuition Cost |
| --- | --- | --- | --- |
| Full Sail University | 120 | $500 | $60,000 |
| Ashford University | 120 | $485 + fees | $58,200 + fees |
| Pennsylvania State University | 120 | $596 | $71,520 |
TOP PUBLIC RELATIONS SCHOOLS BY STATE
Last check, there were 180 schools that offer Public Relations degrees or programs. From those schools, there were 5,773 degrees awarded to students. The majority (89%!) of these degrees were bachelor's degrees.
| School | 2017 Grads total/degrees awarded | Tuition (Out of State) |
| --- | --- | --- |
| The University of Alabama | 244 | $26,950 |
| Miami University: Oxford | 222 | $29,182 |
| Texas State University | 200 | $18,658 |
| University of South Carolina: Columbia | 187 | $30,482 |
| University of Oregon | 177 | $31,590 |
Source: Datausa.io
BECOMING AN ACCREDITED PUBLIC RELATIONS PROFESSIONAL
Once you've completed your public relations program, you can pursue public relations accreditation or certification. Both signify to future employers that you have the skills, knowledge, and talent you claim to have. By taking an exam and being interviewed, you can demonstrate your ability to a panel of proven professionals. By doing so well, you can secure a certificate or accreditation. Adding that to your resume can help employers know that your skills and talents are verified.
Accreditation and certification are offered by professional PR organizations. Those organizations are universally trusted in the field. Therefore, they add a level of respect and legitimacy to your resume. While you do not need to be accredited or certified to work in PR, it helps to be.
Some examples of agencies that offer certification and accreditation (or can connect you with one) include:
You can also join agencies like these to grow your professional knowledge in the field. Through membership, you may also attend conferences and access research in the field. Membership to professional organizations can help you keep your knowledge top notch.
WHAT JOBS CAN YOU GET WITH A PR DEGREE?
In 2016, the public relations workforce had 2.09 members. The workforce could grow by 3.69 percent, or 77,121 workers, before the next census. Workers' average age in the field that same year was 40 years old. About 3.5 percent of the workforce was 29 years old and 3.45 percent was 28 years old. Females were most likely to hold a degree in public relations. In 2016, nearly 80 percent of the workers with a degree in public relations were female.
TOP PUBLIC RELATIONS SPECIALISTS SALARIES BY STATE
| State | Employment | Annual Mean Wage |
| --- | --- | --- |
| Washington D.C. | 17,350 | $102,790 |
| Virginia | 6,680 | $78,980 |
| California | 26,890 | $75,540 |
| Rhode Island | 1,090 | $73,760 |
| New York | 24,470 | $72,130 |
Source: bls.gov
WHAT JOBS CAN YOU GET WITH A PR DEGREE?
Studying to receive a public relations degree may give you the skills necessary to pursue a career in other fields as well. By carefully critiquing your writing and communication skills, online public relations specialists courses may make you a valuable candidate for hire at many organizations. Study which options may be available using statistics compiled by the BLS.
PUBLIC RELATIONS SPECIALISTS (I)
These professionals write press releases and carefully craft informational material for the media. They help clients communicate with the public, respond to media requests or customer inquiries, and may even write speeches for public figures or business executives. They are charged with making clients appear favorably to the public.
Median Salary: $59,300 per year
Job growth through 2026: 9% (As fast as average)
Typical Entry-level education: Bachelor's Degree
PUBLIC RELATIONS AND FUNDRAISING MANAGERS (II)
While there are many similar qualities between the work of fundraising managers and public relations specialists, the former are also responsible for creating campaigns that attract donors. They contact potential donors, hold meetings with high-profile contributors, apply for grants and design ad campaigns to raise money for their clients.
Median Salary: $111,280 per year
Job growth through 2026: 10% (Faster than average)
Typical Entry-level education: Bachelor's Degree
ADVERTISING, PROMOTIONS, AND MARKETING MANAGERS (III)
Whereas fundraising managers may work for specific people, advertising, promotions and marketing managers typically work for companies to help publicize a product or service. They devise marketing campaigns that include TV commercials, radio spots, print ads, online marketing efforts and more. They may also spend a significant portion of time conducting industry research to develop possible marketing strategies.
Median Salary: $129,380 per year
Job growth through 2026: 10% (Faster than average)
Typical Entry-level education: Bachelor's Degree