Online Software Engineering Degrees
Get Matched to an Online Software Engineering Degree for FREE!
What is an Online Software Engineer Degree?
An online software engineering degree program teaches how to design and build software. You'll study a variety of programming languages such as Java. Learn math principals that you will then need to apply to design. And take on trending concepts such as cyber security. Software Engineering Degrees are awarded at all levels, though the most popular is a Masters Degree.
If you are interested in a certificate or associates software developer degree, it is more likely you will want to look at a program that covers a specific application. These might include Microsoft Office or network security.  In 2016, there were 2,220 of these degrees awarded.
You may also want to consider a degree in computer science. This is more of a general degree that also covers software. Because it does teach broad topics, it may allow you to branch out into certain areas at a later time. Food for thought when choosing from different degree options!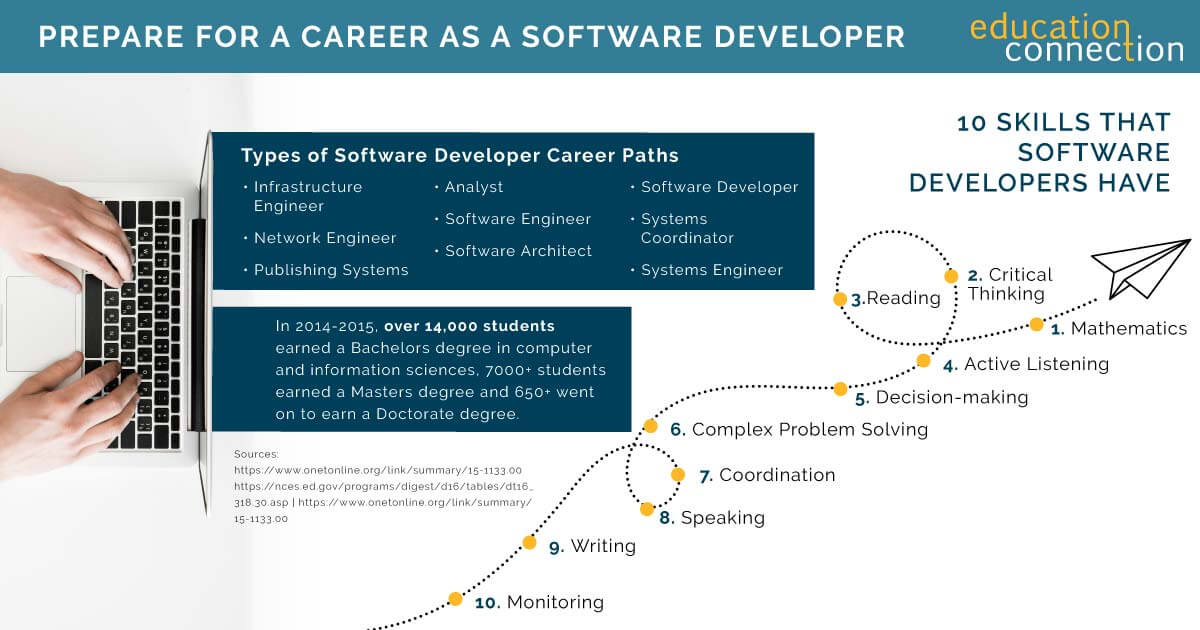 Associate's Degree
Bachelor's Degree
Master's Degree
AS in Software Development
BS in Computer Science – Software Development
MS in Information Technology – Software Application Development
The goal of this degree is to build base knowledge in software development. 101 course work in areas like computer systems, networks, and programming.  Related courses like project management may also be offered.
Students take courses in computer science and learn the basics of programming. Learn how to create software, debug it and maintain it across many platforms such as mobile.
Explore complex software systems. Use knowledge of design and development with leadership skills to help prepare for your next career move.

Relational Database Design & SQL
C++
Database Fundamentals

System Design
Computer Organization and Architecture
Intro to Programming

Computer Systems architecture
Software Design
Software Systems Engineering Process
Online Software Engineer Degree Programs
Most software developers need at least a Bachelor's degree. The goal of such a program is to lay the ground work to build good software. This includes working on your coding skills. Even though coding is not the main duty for developers, they must still have these skills. So, expect to study coding languages like Java, C#, C++, Python, and SQL.
You'll also discover the many concepts and moving parts that go into building software. For instance, you could study the user experience, and how to design intuitive programs. You could learn to build databases that make it easy for users to search for information. And, take courses that review cyber security across areas like the cloud.
Your program may also cover courses in IT business. Software developers often work as part of a team, managing projects and other people. So, areas like project management or tech management may be important. In recent years, companies have been looking for workers who have soft skills such as writing and critical thinking. These areas can be an important part of a degree program.
Look for programs like:
Associate's in Software Application Development
Bachelor of Science (BS) in Software Development
BS in Computer Science – Software Development
Masters in Software Engineering Programs
In some cases, to advance to a leadership position, you may need a higher level degree like a Master's degrees. A Master's should build on your past learning or experience in the computer science field. In some cases, you may not need prior education in software development to earn the degree.
An MS in Software Development or MS in Information Technology with a focus on Software Application Development may cover advanced topics in designing and building software.  This may include complex programming techniques or machine learning and AI.  The program may also cover more management oriented course work. For instance, you could study agile development, a method for working on software more efficiently. For the final course, some programs may ask you to do a final project. In this project, you will apply what you learned in your courses to show you grasp software engineering.
Featured Online Schools
1
Take advantage of some of the nation's most affordable tuition rates, while earning a degree from a private, nonprofit, NEASC accredited university
Qualified students with 2.5 GPA and up may receive up to $20K in grants & scholarships
Multiple term start dates throughout the year. 24/7 online classroom access.
Offering over 200 online degree
Popular Programs
Business Administration, Psychology, Information Technology, Human Services…

2
Ranked #8 by U.S.News & World Report for Best Online Bachelor's Programs
Apply up to 90 transfer credits for bachelor's students, and 9 transfer credits for master's degree students.
CSU Global graduates experience a return on investment of 4:1, which means they receive $4 in salary and benefits for every $1 they invest in their education.
Available Programs
Business, Computer Science, Criminal Justice, IT, Psychology…

3
Save up to 25%. Save thousands on your bachelor's with the Strayer Graduation Fund.
Strayer University is an accredited institution with a proud history of 125 years in quality education.
With the help of dedicated personal support and AI technology, earn your degree online or on campus.
Programs Include
Accounting, Business Administration, Criminal Justice & Information Technology

Sponsored
What Software Development Courses Will I Take?
You'll take course work across many areas. Some common courses include:
Introduction to Programming Using Java:&nbspLearning how to code is critical for developers. A course like this introduces you to the basics of coding. You'll study programming language syntax – in this case, Java. You'll also learn how to code, document, debug, and more.
Data Structures and Algorithms:&nbspData structures and algorithms are key to creating working software. So, in this course, you'll learn how to design, analyze, and use them. You'll study abstract data types, plus algorithms for searching, sorting, and more.
Database Design:&nbspDatabases are made of data sets. This course covers how to design them, so that they are useful in settings like business. You'll also study the relational and object relational tools and techniques you need to build them.
Project Management:&nbspDevelopers often need to juggle many areas of a project. This course covers concepts that make that possible. For instance, you could learn how to create a work breakdown structure and task plan. You may also study management and communication techniques that help teams work together.
How Long Does It Take to Earn a Software Engineering Degree Online?
An Associate's degree program may take around two years to earn. The degree is usually 60 credits total, with 15 credits divided into 4 semesters. Of course, you could earn a degree faster by taking more credits per semester, or, taking more than 2 semesters per year. A Bachelor's degree usually takes at least four years to earn, as there are double the amount of credits. It is typical for a Master's degree to range from 30 to 36 credits, and take two years to finish. That said, length can vary by program and other factors. That includes whether you study part time or full time.
Online Degree Examples
| | | | | |
| --- | --- | --- | --- | --- |
| School | Degree Level | # of Credits | When Can I Start? | Finish In As Few As |
| Rasmussen | Associate's | 90 | Fall, Winter, Spring, Summer Dates | 18 months |
| University of Maryland Global College | Bachelor's | 120 | 11 Start Sessions Spanning the Year | NA |
| WGU (Western Governors) | Bachelor's | 120 | 1st of each Month | 9 months |
| Boston University | Master's | 32 | 6 Start Dates Through Fall, Summer, Spring | 16 months |
| ASU Online | Master's | 30 | Fall, Spring, Summer Dates | 12 months |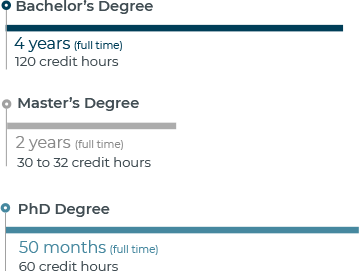 Software Developer School Costs
According to NCES, the average annual cost of attending a public, four year school is $19,189. Average tuition was higher for private and for profit schools, at $39,529. Here are schools with some of the cheapest online software engineering degree options. Rates of course are subject to change, so be sure to check with your school before applying.
| | | | | |
| --- | --- | --- | --- | --- |
| School | Degree Level | US News Ranking | Cost Per Credit | Total Degree Cost |
| Rasmussen | Associate's | Not Ranked | $275 | $16,500 |
| SNHU (Southern New Hampshire) | Bachelor's | North 92 | $320 | $38,400 |
| Grantham University | Bachelor's | Not Ranked | $295 | $35,400 |
| Wilmington University | Bachelor's | Not Ranked | $372 | $44,640 |
| Kennesaw State | Master's | National 293-381 | $383 | $13,788 |
| Stratford | Masters | Not Ranked | $495 | $26,730 |
Top Schools That Offer Software Engineer Degree Programs
NCES tells us that 3,113 degrees were awarded for this major in 2016. Compared to the prior year that is a 17% growth rate. The most common degree awarded in this field with 69% of the share is a Masters Degree. In 2016, 2,138 Masters were awarded. The next biggest share went to Bachelor's Degrees. 860 were awarded in 2016.
| | | |
| --- | --- | --- |
| School | 2016 Degrees awarded | Grad Rate |
| San Jose State U | 561 | 65% |
| International Technological University | 309 | NA |
| University of Houston – Clear Lake | 194 (online available) | NA |
| Northeastern | 190 | 88% |
| The University of Texas at Dallas | 119 | 72% |
| Carnegie Mellon | 108 (online available) | 89% |
| Stratford University | 104 (online available) | 30% |
| Rochester Institute of Technology | 74 | 67% |
| Bowling Green State University | 69 | 56% |
| Stevens Institute of Technology | 69 (online available) | 87% |
Choosing an Accredited Program
At a program level, one agency that may be important is ABET. This agency focuses on STEM fields, including computing. Choosing an ABET accredited program may help you be confident in the quality of your education. Currently, ABET only accredits computing programs at the Bachelor's level. Do not worry if your preferred program does not have this accreditation. Just be sure that the school is accredited at the regional level.
Next Steps After Earning A Degree
The most valuable skills needed by software engineer's are:
Programming
Systems Analysis
Systems Evaluation
Among the softer skills, the two most important would be complex problem solving and active learning. If you are looking to hone these skills, you may want to earn a certification. A few to look into would be:
Oracle Certified Professional (OCP): Java SE Programmer
IEEE Professional Software Developer Cert
PMI Agile Certified Practitioner®
Professional Organizations
There are many associations in tech. As a general rule, they aim to connect IT leaders. And, to innovate the tech industry by offering certs that help people advance in their careers. Two popular ones would be CompTIA and IEEE.
CompTIA: CompTIA offers several certs including the very popular A+. CompTIA claims that their A+ cert builds a foundation of IT skills. And, that it is the industry standard for starting any IT career. In addition to training, they also have a community of millions of IT professionals. Members have access to research reports, career advice and more.
IEEE: IEEE's main goal is to foster tech innovation for the good of the world. One way they do this is by offering certs that act as continuing education credits. CEUs as they are known, are needed to maintain various certs.
Career Opportunities for Software Engineer Grads
NCES data tells us that there are over 4 million people in the software development work force.  And, that number grew from previous year by 5%.  At the same time, the job market is expected to grow much faster than average. BLS tells us that from 2018 to 2028 it will grow at a rate of 21%. That is a very fast growth rate.
Though men still dominate the class room, with 71% of degrees awarded. More women are earning degrees year over year.
Two industries in particular are expected to show growth over the coming year. Health and Insurance. As both areas shift toward digital records, systems and software will be needed to collect, manage and secure the data of millions of people.
Top States To Work In
Below shows the states with the mean wage for software developers according to the BLS.
| | | |
| --- | --- | --- |
| State | Employment | Annual Mean Wage |
| WA | 53,860 | $131,790 |
| CA | 148,550 | $127,950 |
| NY | 52,640 | $116,830 |
| VA | 38,110 | $113,690 |
| DC | 2,520 | $112,510 |
Potential Jobs in Software Engineering
Software Developer
Software developers design and create software. Some focus on software applications that can be used on computers, smart phones, and other devices. Others develop underlying systems for devices or networks. Either way, developers work to understand user needs and design solutions. They then work with other professionals, like programmers, to create and test the software.
Median Salary: $105,590 per year
Job Growth to 2028: 21% (Much faster than avg.)
Entry Level Degree: Bachelor's degree
Computer and Information Systems Manager
Computer and information systems managers plan and manage IT related aspects of a company. They determine the companies computing needs and offer the right strategies. They also plan for and monitor network security needs. And, they work with other professionals like software developers and computer support specialists to achieve IT goals.
Median Salary: $142,530 per year
Job Growth to 2028: 11% (Much faster than avg.)
Entry Level Degree: Bachelor's degree
Computer Hardware Engineer
Computer hardware engineers design and create computer systems and components. These include circuit boards, memory devices, networks, routers, and a lot more. The process of engineering hardware involves various functions – from research to development and testing.   These engineers may design components for many uses, like cars and appliances.
Median Salary: $114,600 per year
Job Growth to 2028: 6% (As fast as avg.)
Entry Level Degree: Bachelor's degree