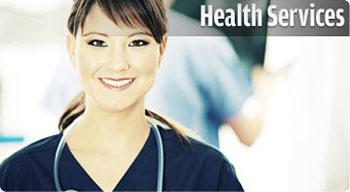 Education Connection Helps Match You to the Right Health Services Programs
Great Careers in Health Services
Chances are, you know someone who works in the healthcare industry. The variety of positions within this growing industry means you could have choices. If you like working directly with patients, consider a degree in nursing, dental hygiene, or massage therapy. If you'd rather stay behind the scenes, you could still work as a medical transcriptionist.
Associates, bachelor's, and certificate programs are available for a multitude of career paths, including medical billing and coding, medical assisting, and occupational therapy. Whatever course of action you take, you will find stable careers in this constantly expanding industry.
Is a Career in Health Services Right for You?
Generally those who pursue careers in health services enjoy helping others, possess excellent judgment and decision-making skills, and are more logic-minded. Take our personality test to see if a job in the health services field is right for you, and if so, which one best suits your overall aptitude and interests.
This is an offer for educational opportunities that may lead to employment and not an offer or guarantee of employment and that may help prepare students to meet the certification requirements of the field they choose to study. Students should check with the appropriate certifying body to make sure the program they apply to will help meet any certification requirements. Students should also consult with a representative from the school they select to learn more about career opportunities in that field. Program outcomes vary according to each institution's specific program curriculum.