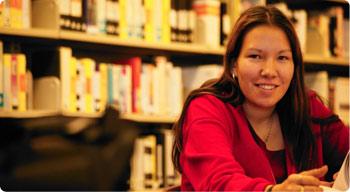 Online Education for Native Americans
Native Americans face many obstacles in the pursuit of higher education.  For every 100 Native Americans/Alaska Native kindergarteners, only seven will earn a bachelor's degree, compared to 34 of every 100 white kindergarteners.* However, there's an affordable, flexible option for Native Americans who want to earn their college degree: online education. 
Online degree programs may be the right solution for you.  Why?  Living on a reservation can limit your access to higher education.  Online courses are accessible anywhere, anytime. You can take your courses in the comfort of your own home, town library, or anywhere else that has a reliable internet connection.  
Still not convinced?   Earning your college degree could make a significant financial difference over your life time.  In fact, according to the U.S. Census Bureau, college graduates could earn an average of $1 million more during their careers than high school graduates.  They also have much lower unemployment rates.**
See why online education could be the right option for you.  For help in finding the school or program that best fits your needs, just use our College Matching Tool. It's fast, easy, and can help start you on the path to earning your degree! 
*http://www.ncsl.org/issues-research/tribal/striving-to-achieve-helping-native-american-stude.aspx
**http://www.census.gov/prod/2002pubs/p23-210.pdf
Salary figures are based on a national data and may vary by location. This is an offer for educational opportunities that may lead to employment and not an offer for nor a guarantee of employment.