Reviews of Education Connection
Why should you use Education Connection?
LET'S TAKE A LOOK AT THE STORIES OF FOUR REAL EDUCATION CONNECTION USERS!
You may have already seen our TV commercial featuring our recent Education Connection success stories. We're so proud to help them – and over thousands others per day to connect with accredited schools that meet their specific needs. Let us know your story and provide an Education Connection Review.
Dennis Lippiett- Scranton, PA
Dennis Lippiett knew he wanted to go back to school, but didn't know exactly where to start. He credits Education Connection with helping him find the education and training he needed to help him pursue his passions and enhance his career.
WHAT DID YOU DO AFTER HIGH SCHOOL?
When I was in high school, I didn't do very well with the grades. I graduated basically by the skin of my teeth and I didn't think I could do college. When I graduated, I was basically freelance building computers for people. My client base grows by word of mouth so somebody says I do a good job here. I get another client here. I do what any manufacturer can't do, they can't build a computer based on the user specs.
One day I woke up and I thought, "Well I need to do something with my life". So, I started looking at Education Connection looking at schools and looking at different degrees that I can get.
WHEN DID YOU DECIDE YOU SHOULD GIVE EDUCATION CONNECTION OR COLLEGE A TRY?
It was almost two years ago when I decided that if I'm going to get anywhere in life I need to have a degree. I know about computers, I know about the operating systems, and I know about the code behind it so I thought, let's give Education Connection a call.
The first time I logged on to the Education Connection site it was really easy to navigate. The search feature and looking up what courses, what universities had them, it was all very easy and very intuitive.
HOW WOULD YOU SAY YOU'VE BENEFITTED FROM THAT SERVICE?
I benefited from Education Connection because it listed the colleges and what degrees you can get from each university. It only took me about 10 minutes to get my list of schools and I called around to the schools and the schools helped me with the financial aid.
I would give Education Connection the credit of helping me get started in going into college. Without Education Connection, I probably wouldn't have even started college the way I did.
HOW DID EDUCATION CONNECTION MAKE IT EASIER FOR YOU?
Education Connection was showing me not only local universities, but also online universities as well, so I could take a look and decide on whether I wanted to do a local one or if I couldn't handle that I can do an online one where I could do the work on my own time and get it done when I can.
WHY WAS ONLINE SCHOOL BETTER FOR YOU?
For me, the online schooling was better than the traditional line because I suffer from severe insomnia and there are times I can go three or four days without sleep and for a normal school, that wouldn't work. I wouldn't be able to keep up with the work whereas with the online schooling, I can do it all on my own time and when I can.
WHAT IS YOUR DREAM JOB AFTER GRADUATION?
My dream job would be either network administration or systems administration. For network administration, you'd be maintaining the networks and maintaining that users have the proper authority to access certain network files and for systems administrations it would be administering server operation systems and making sure that users have access to the files that they require to do their job, no more and no less.
WHAT CAN YOU TELL PEOPLE ABOUT FINDING THEIR PASSION AND TAKING IT TO THE NEXT LEVEL?
Once you find your passion, you build on that and once you know what you love to do, whether it's automotive, computers, anything that you're passionate about, you can look at it and see if you need a secondary education or whether you can just go off with a high school education. Most likely you're going to need a secondary education and Education Connection is a great way to go because you can look at numerous schools.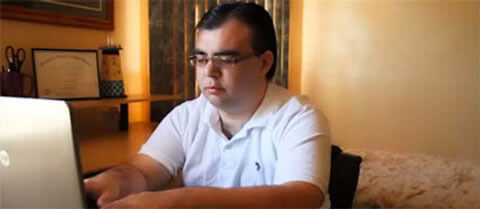 It helps to put you right in line with what you're passionate about…Education Connection just really made it nice and easy for me to get enrolled into college and start doing what I love doing.
Dominica Davis, Nashville, TN
According to Dominica Davis, Education Connection is the place to turn if you want to pursue a brighter future. She had the drive and ambition, but when she needed to be pointed in the right direction, Education Connection helped put her on the right path.
WHAT WAS IT LIKE NOT APPLYING TO COLLEGES IN HIGH SCHOOL?
It was rough. I wasn't going to the counselor about college. I was going to the counselor to ask about housing. I had my son at fifteen as well. I worked two jobs and I graduated high school. I was constantly under pressure. I had to go to work, take care of my son, and make sure I did my studies. And I really just wanted to get away from my family. It's just a history of drama so I just wanted to get up out of it. I wanted to change the whole scenario; break the cycle. I wasn't in a good area.
I was in a prominent low income area' you don't want to keep seeing the dope boys on the corner, the drug dealers, people constantly getting shot up and raped on the news and I was like: "Oh my gosh. I'm just going to be in this situation my WHOLE LIFE." And all I kept thinking about my son and when I would at him I was thinking I can do something about it. It's all about my son and I surviving.
WHAT WAS IT LIKE THE FIRST TIME YOU SAW AN EDUCATION CONNECTION COMMERCIAL?
I was fooling around talking and I was jamming "Education Connection!". It's playing like every two to five seconds. I'm thinking: "They keep stopping my program to play it" and I just get drawn into the song. So, as the week is going by, I'm hearing it every night. So now in the daytime I'm singing and I can't get it out of my head. And I'm just, really just starting to hear what I'm saying, the lyrics, not just the hook of the song… And I'm hearing about doing nothing, sitting around on the couch. I'm wasting my time. I could be going to school. I could be getting a better job. Get out of these dead end jobs.
I'm barely getting by on these little jobs, and nobody wants to be a welfare recipient for the rest of their life. Or get some type of assistance from the government.- at least I don't! So I'm like let me just go ahead and get on this website and see what it's talking about. It seemed like it gave you this little personality quiz, it asked you questions and they basically were all about yourself. So I filled it out and it came up with public relations and marketing. It was like you should look into this field – this is the type of personality you have.
HOW WOULD YOU SAY EDUCATION CONNECTION HAS BENEFITTED YOU?
It's made me have an eye opener, coming from the inner-cities, like, ghettos, or small poverty environments where they have maybe one big university/school there and then the rest are the technical colleges, or either just some type of training. If you've been out of school for a long time, like I was, I was just trying to work and maintain being a single parent, taking care of my son. You're not like the fresh high scholars and say: " Oh, I'm going to go try this thing this year and this thing this year." You have to know — I was determined to fulfill my dream of graduation and finding something that I wanted to pursue and complete, so I felt that it was good for me.
Education Connection is going to point you in the right direction and it's not going to give you just one type of avenue. It gave me a list of few schools that offered the same type of degree. I would have a choice of different institutions that I could possibly enroll in and ask them certain questions such as "Who has the cheapest tuition?" "Who has the highest graduation rate?" etc… I'm here to tell you that Education Connection can direct you in the right direction that you need to go.
YOUR SON MUST BE PROUD OF YOU….
Yes, he is proud of me. He's saying: "You're the coolest mom. You taught me so many things." It was a happy feeling but it was still uncomfortable slightly, because I was like, "You're proud of me for what?" Doing what I'm supposed to do?
If you want to change your life, Education Connection is where to go…It's all free, it takes a few minutes of your time – it's just as easy as it is for you to turn on the TV.
Stacy Chandler, Columbus OH
As a single mother, Stacey Chandler knew she wanted to pursue a brighter future for her family, but she needed the flexibility to work her studies around her busy schedule. That's why she turned to Education Connection to help make it easy for her to find a degree program that allowed her to learn on her own terms.
YOU SAW THE EDUCATION CONNECTION COMMERCIAL ON TV. WHAT MADE YOU GO TO THE WEBSITE.
I mean it really wasn't like anybody that was on the commercial, it was just that I had been thinking about it. I just said, "You know what; I'm just going to do it". And so I talked to a couple schools and most of them were like: "You have to come to campus" and I said "That's not working for me." I'm a single mom trying to do this by myself. They were like "Well, you have to at least take one…" No, sorry. No. I found one that actually did and they said that I could take everything at home and I love it. And so, Education Connection helped me find that school. I went online. It was easier. I didn't have to talk to anybody.
I just basically filled out the questionnaire that was on the site and then a couple schools just started calling. And one thing that I liked about the schools they didn't bother you. If you said, you let me think about it, they didn't call me back in two weeks. They just gave you that time and that's what I like about it. That's great, because you don't want people calling you 24/7.
LETS BACKTRACK TO THE CATCHY EDUCATION CONNECTION COMMERCIAL. WERE YOU SKEPTICAL THAT ALL IT WAS, WAS A JINGLE?
I was a little bit. But, I mean if you're going to do it you might as well just go all in. And just take chances that you're going to get something or not get something that you like, so, I mean you just got to go for it.
WHAT ABOUT THE COMMERCIAL MADE YOU THINK 'HEY YOU KNOW WHAT, MAYBE I SHOULD CHECK THIS OUT'
In the back of my head when I heard it, it was just like, you know, the Education Connection commercial mention things about getting started, doing this, not to wait and its true. You don't want to wait. You want to get started as soon as possible, so I mean, it took me a while to actually make the decision. I had to see the commercial three or four times, and it was like they're really talking to me. I really need to get off my butt and do this. I need to make something of myself.
YOU'RE JUST LIKE THOUSANDS OF OTHER PEOPLE THAT HAVE CHILDREN AND JINGLE WORK. WHAT WOULD YOU SAY TO OTHER PEOPLE ABOUT USING EDUCATION CONNECTION.
If somebody came up and asked me I would say "You know what, you don't want to wait". You want to get out there and do it; you want to make something of yourself. You don't want to be one of these other ones that said "I wish I would have done this." I want somebody to say: "Wow, I heard her story and I want to do it: if she did it, I can do it too"
WHAT'S YOUR DREAM JOB ONCE YOU EARN YOUR DEGREE?
I work for a small company now and I love it. They're great. They let me bring my daughter on the weekends and she'll sit there behind my desk. Bigger corporations they want you 24/7. 7-8 days. I mean it's hard; especially when you don't have somebody to back you up. I know, granted, I have both my parents and I love that but it's not their job. It's my responsibility to take care of my child. It's not anybody else's. It's just I think the smaller ones understand that.
I am a 36 year old mom trying to make a better life for her daughter and herself…I want people to think and look at me and say wow, she did it. I can do it too.
Leah Walushka
For Leah Walushka, a simple phone call to Education Connection helped her find the right degree program so she could better herself and her family. What impressed Leah about her experience was how easy it was to get matched to the perfect school for her, with no strings attached.
Was the gap between high school and college from having your mother come home?
I actually went to Indiana University of Pennsylvania for three years for interior design, up until my senior year and I said I don't want to do this anymore. I changed to family studies and I decided I didn't want to do that and Indiana University of Pennsylvania did not have the major I wanted.
I wanted to do Family Services, so during my time while I was at IUP I tried to find colleges and my research just wasn't working out for me, so that's how Education Connection came in. I called them and they connected me to Southwestern Christian University and it was so easy. I just called them and they're like: "What do you want?"- Human Services. I want an online school and I wanted to be home so I could work full-time so that was just easy. And Education Connection transferred me to one school and that was all it took, very easy!
WHAT WILL YOU BE DOING WITH A DEGREE IN HUMAN SERVICES?
Well, I would definitely like to help people that struggle through life. I'd like to be a substance counselor. I would have to go through my counseling degree, as well, but right now I want to get my base in human services I think I'd like to help people that are addicted to drugs, alcohol and help someone.
WHY GO INTO COUNSELING?
Because of my mom, I think if she was helped at a younger age she wouldn't have ended up the way she did.
When did you realize you didn't want to do Interior Design?
I was at the psychiatric center with my mom and I was just trying to help her out and one of the counselors said: "You know, you'd be really good at counseling because you really understand and you put yourself in their situation" and I thought about it and I said that is something that I would really like to do. I'd go to Human Services since it's broader and you can you do you have a lot more choices with Human Services.
What made you use Education Connection?
I was having such a hard time trying to find a college that matched everything that I wanted to get my degree on my own time and work; so I could have an income coming in and I could be independent. And a lot of the schools I was looking into either had to be on the campus have the time and then at home half the time or on the campus at all time and it was just really hard for me to find a school that was matching my criteria.
Well, one day I was sitting on the couch and then I remembered the jingle "Education Connection" and I said you know what I'm going to give them a call so I did and the person that answered listened to everything that I he definitely did his job very well and you know Education Connection connected me to Southwestern and that was it from there got I was accepted into there and I'm so glad I called Education Connection because if not, I wouldn't have found Southwestern because on my own doing research they never popped up, so I was just, you know, thankful that they had all that information.
The school seems to be a good fit?
Definitely. I love my school. They're very understanding and they actually even helped me with one of my loans that I owed; they paid half of that once I got out. They said, you know it's basically a gift because they understood where I came from and how hard it was just to come up with all that money and they really wanted me at their school, so they did all that they could to get me there.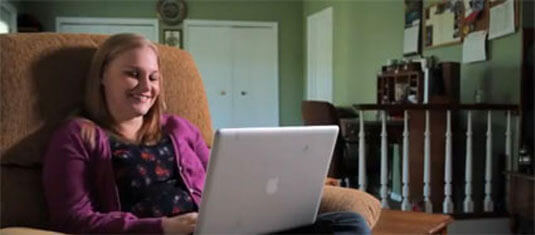 The people that you talk to are very sincere and they're there to help…There's no hidden fees, it's just free and it's easy.