Education Connection
Get Matched for FREE to Colleges!
EDUCATION CONNECTION BRINGS YOU HUNDREDS OF SCHOOLS, THOUSANDS OF PROGRAMS AND MILLIONS OF MATCHES.

It's Fast
Simply tell us here at Education Connection a little bit about yourself and your goals by answering a few questions –it only takes a few minutes!

It's Easy
Education Connection will instantly select schools for you based on your educational needs and goals.

It's Free
Education Connection is FREE! There's no cost, risk or obligation – just a chance to enhance your credentials and change your life.
WHAT DO STUDENTS SAY ABOUT EDUCATION CONNECTION?
Education Connection just really made it nice and easy for me to get enrolled into college and start doing what I love doing."
Dennis Lippiett-Scanton, PA
GET MATCHED TO THE RIGHT COLLEGE FOR YOU
Education Connection has helped over 2 million people find a school for free. With an online database of hundreds of schools and thousands of programs, you're sure to find one that works for your budget, schedule and interests.
Our selection of online colleges allows you to study toward your degree in the comfort of your own home at your own time. Search by degree level or interest area or check out our featured schools. With programs ranging from business to healthcare and criminal justice to education and trade school to grad school options, we have you covered.
Education Connection works to make the process of finding a college as convenient as possible. Whether you already know what program you are interested in or are clueless about your options, we can help guide you in the right direction.
How do you know what makes for the right college for you? Start with this short checklist of things to consider:
Make sure the college is accredited
Determine if you want a campus or online experience
Examine total costs of schooling (tuition, room & board, textbooks, transportation)
Consider majors available — many people switch majors once they are in school!
Check on credit transfer policy in and out of your intended schools
Use Education Connection and get connected for free to three or four different schools. Let them pitch you on why you should enroll. Build out your checklists on what is important to you. Finally, once you have refined your selection criteria you can come back and get connected for free to even more schools! You can even find schools that accept low GPA or low SAT scores!
Financial Aid Resources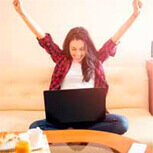 When it comes to paying for higher education, you have numerous options to consider. First on your list should be to apply for grants and scholarships, mainly because…
---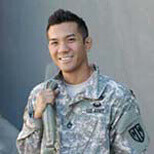 As a member of the military, whether active or inactive, you are eligible for a variety of benefits to help you with your education. You can also check out our list of Military Friendly Colleges.
---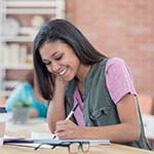 With the increasing cost of education, many students find that the funds they receive from financial aid sources (grants, scholarships, work-study and federal loans) do not cover…
MILITARY SCHOLARSHIP
EducationConnection is offering a scholarship worth $1,000 to eligible active duty, military veterans and spouses. We hope to help offset the costs associated with enhancing your education and pursuing those next steps in your civilian career path.
POPULAR DEGREES
---
Southern New Hampshire University
No application fee for April & June terms.
Take advantage of some of the nation's most affordable tuition rates, while earning a degree from a private, nonprofit, NEASC accredited university
Multiple term start dates throughout the year. 24/7 online classroom access.
Popular Online Programs include Business Administration, Psychology, Information Technology, Human Services…
EDUCATION CONNECTION MOST POPULAR TV COMMERCIALS

To get gain knowledge you have to go back to college. Who can help? Education Connection!

Education Connection can help you find a degree that let's you study on your own time
Need a better salary? Education Connection can match you with the right college for free!
2019 Education Connection Commercial
Get Matched for Free
Education Connection has released a variety of memorable commercials over the years. Whether you're a fan of the "Get Connected For Free" pop song, or are interested in seeing testimonials from real users, you've come to the right place. So check out our latest commercial and catchy tune.