2019 Top Online Colleges
Let us help you get matched for FREE to Online Colleges!
The increase in accredited Online Colleges has altered how, when, and where students learn. So, if you are a busy person and interested in pursuing a degree, we can help you find an online college. Get matched for FREE with our online college finder!
Or, check out our list of
Top 20 Online Colleges!
1.

American Public University System
2.

Pennsylvania State University-World Campus
3.

Capella University
4.

Liberty University
5.

University of Phoenix-Arizona
6.

Columbia Southern University
7.

Walden University

see the full list
Today's technology helps working adults further their aspirations through distance education. The majority of online students, in fact, work full-time! If this sounds familiar, an online degree program may help you balance school and other responsibilities such as work and family. To help you make this decision, we have laid out 5 simple benefits of an online education.
5 ONLINE COLLEGE BENEFITS TO EXPLORE
Undergraduate or graduate, online colleges may offer several benefits. Among the most popular reasons today's students enroll in online degree programs are:
Affordability
Flexibility
Rolling Admissions
Accessibility
Resources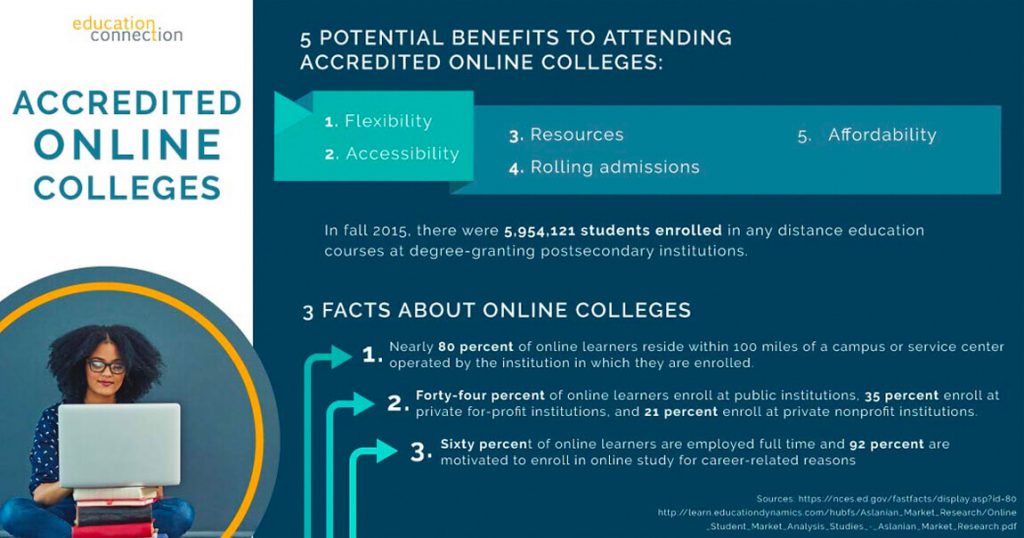 Featured Online Schools
1
Southern New Hampshire University
Take advantage of some of the nation's most affordable tuition rates, while earning a degree from a private, nonprofit, NEASC accredited university
Qualified students with 2.5 GPA and up may receive up to $20K in grants & scholarships
Multiple term start dates throughout the year. 24/7 online classroom access.
Offering over 200 online degree
Popular Programs
Business Administration, Psychology, Information Technology, Human Services…

2
Ashford University
Accredited University offering Associate's, Bachelor's and Master's Degrees
Transfer up to 90 approved credits towards your BA degree and choose from 80+ online programs
Affordable tuition, 5-6 week courses, and various payment options
24/7 library & writing center assistance to help you get closer to your goal of earning a degree
Available Programs
AA or BA in Early Childhood Education, BA in Health Care Administration, BA or MA in Psychology…

3
Strayer University
Save up to 25%. Save thousands on your bachelor's with the Strayer Graduation Fund.
Strayer University is an accredited institution with a proud history of 125 years in quality education.
With the help of dedicated personal support and AI technology, earn your degree online or on campus.
Programs Include:
Accounting, Data Analytics, Cybersecurity, Business Administration, Criminal Justice & Information Technology

Sponsored
1. AFFORDABILITY OF ONLINE COLLEGES
An online college can be affordable. While tuition and fees differ at each school, there are some common savings for online learners. By studying online, you save on campus expenses, commuter fees and sometimes, study materials. For instance, many online colleges and universities use e-books and other digital resources. Some online colleges also loan students a laptop or tablet for the duration of their program.
AFFORDABLE ONLINE UNIVERSITIESI
| SCHOOL | OUT-OF STATE UNDERGRAD TUITION | AWARD LEVELS | STUDENT POPULATION |
| --- | --- | --- | --- |
| Taft University System | $ 3,292.00 | Bachelors, Masters, Doctors | 751 |
| Aspen University | $ 4,230.00 | Associates, Bachelors, Masters, Doctors | 4,973 |
| Shiloh University | $ 4,510.00 | Associates, Bachelors, Post baccalaureate, Masters, Doctors | 53 |
| Columbia Southern University | $ 5,415.00 | Associates, Bachelors, Post baccalaureate, Masters, Doctors | 20,818 |
| City Vision University | $ 5,600.00 | Associates, Bachelors, Post baccalaureate, Masters | 113 |
| Western Governors University | $ 5,780.00 | Bachelors, Post baccalaureate, Masters | 98,627 |
| Huntington College of Health Sciences | $ 6,155.00 | Associates, Bachelors, Masters, Doctors | 166 |
| Midwives College of Utah | $ 6,400.00 | Associates, Bachelors, Masters | 247 |
| Grantham University (sponsored) | $ 6,540.00 | Associates, Bachelors, Post baccalaureate, Masters | 9,303 |
| American Public University System | $ 6,880.00 | Associates, Bachelors, Post baccalaureate, Masters | 46,420 |
i) Annual tuition for all schools provided from the National Center for Education Statistics: nces.ed.gov/collegenavigator/.
2. FLEXIBILITY OF ONLINE COLLEGES
Traditional on-campus study requires students to show up for class at set times. Often, these hours compete with other duties. Many online colleges allow students the flexibility to schedule themselves. There are two types of online learning formats.
Synchronous: Synchronous learning is also referred to as real-time learning. This means online students and instructors are present at the same time. This typically includes live discussions, group projects and lectures.
Asynchronous: Asynchronous learning is also referred to as self-paced learning. This means an online student logs in to an online learning platform that is usually available 24/7. This course management system creates a virtual classroom. So here, the interactions, readings and assignments are accessible whenever the student is ready.
Synchronous vs. Asynchronous Learning
Synchronous
Asynchronous
When the classes take place
At a pre-determined structured time
At the student's convenience
Tools & methods used

Web conferencing to be able to present and share information
Instant messaging to take part in quick, real-time dialogues
Video conferencing to conduct in-person meetings and simulate being in class
Audio conferencing for student – instructor discussions and meetings
Online whiteboard to share ideas and for team projects

Emails to correspond with participants and instructors
Instructional material delivered via streaming audio and video
Discussion boards to encourage class discussion and feedback
Web-based applications such as modules and exercises
Wikis for collaborative editing
Play, pause and stop buttons

May suit students who have the following characteristics

Like collaboration
Want to enhance interpersonal communication skills
Organized
Motivated
Enjoy peer-to-peer interaction
Prefer to see and hear a professor
Self-directed
Have good time management skills
Prefer scheduled learning pace

Disciplined
Self-motivated
Goal and task oriented
Want the ability to pause, rewind or fast-forward course content
Have time management skills
Are an independent learner
Appreciate and/or need a flexible timetable
Making the Decision Between Self-paced and Real-time
Most online schools asks students to judge whether the online program's format meets their:
Lifestyle/Time Needs
Learning Style
Academic and/or Career Goals
Playing to your strengths may help you complete your degree on time and with great success. An academic adviser from the online school you want to attend may be able to guide you through aspects of this decision.
3. ACCESSIBILITY OF ONLINE COLLEGES
The convenience of online college replaces commute time. For example, instead of wasting time traveling to school, you simply jump on the Internet. No longer is it necessary to put a career on hold or struggle to balance family duties. Research shows that a whopping 92 percent of online students enroll in an online college for career-related reasons. The same study shows that close to 80% of online students live within 100 miles of a campus where they are enrolled. This means, if you really wanted to you may still be able to attend your local university from home.
The selection of online programs now available makes it easier for working adults to earn their degree. According to the National Center for Education Statistics (NCES), the top 5 online undergraduate fields of study are:
Business / Management
Information Science
Social / Behavioral Sciences
Health
Education
Also according to the NCES, 5.2% of online undergraduate students have not declared a major! So, if you are not sure what you want to pursue one option is to enroll in a general Liberal Arts program.
4. ROLLING ADMISSIONS
Rolling admissions policies enable online schools to consider applications year-round. Additionally, rolling start dates permit students to select when they begin their program. Both features may be appealing if their schedule doesn't line up with a traditional school year.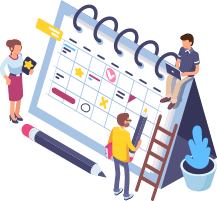 5.ONLINE RESOURCES
Established campuses usually provide the same services to on-ground and online students alike. However, the absence of a physical building does not mean there are no resources for those who study from a distance. Many accredited online universities do have support services in place. Doing research ahead of time helps you understand what the resources are, and how to use them. See below for a list of possibilities.
Orientation for online students
Web-based learning management systems (e.g. Blackboard)
Tech support for online students
Inter-library loan system
E-libraries and digital textbooks
Online student advising
Counseling services
Academic tutoring and writing programs
ARE ONLINE COLLEGES RESPECTED?
Respected colleges and universities do offer online degree programs. However, there could be some disreputable programs out there. This is why it is still important to be a careful consumer. You should rank programs based on factors such as:
Accreditation
The availability of support services
Statistics such as retention and graduation rates.
When evaluating online colleges take the time to talk to representatives from the school. Learn more about the opportunities recent graduates have pursued. Additionally, here is some more research conducted by Aslanian Market Research on student satisfaction:
About 60% of undergraduate students report being completely satisfied with their investment of time and money.
70% of graduate students report being completely satisfied with their investment of time and money.
Almost 90% of online students surveyed report that online study was equal to or better than classroom study.
Reputable & Accreditation
Finally, to calm any lingering doubt about an online college's reputation, students should verify it's accreditation. The best online colleges are accreditation by an accrediting agency. These agencies ensure that member institutions ethically meet comprehensive standards of education.
There are two types of main accreditation, regional and national. However, most schools are regionally accredited. It is also important to note that regionally accredited institutions usually do not accept transfer credits from nationally accredited schools.
Regional vs National College Accreditation
Regional
National
Focus of Accreditation
Academics
Typically offer vocational, career or technical programs
Who Belongs?
Both non-profit and for profit universities hold regional accreditation
Typically for-profit schools
Recognized by the Department of Education?
Yes
Yes
Recognized by the Council for Higher Education Accreditation (CHEA)?
Yes
Yes
Accrediting Agencies

Middle States Commission of Higher Education (MSCHE)
Northwest Commission of Schools & Colleges(NWCCU)
Higher Learning Commission (HLC)
New England Association of Schools & Colleges (NEASC)
Southern Association of Colleges & Schools (SACS)
Western Association of Schools & Colleges (WASC)
Accrediting Commission for Community and Junior Colleges (ACCJC)

Accrediting Commission of Career Schools and Colleges(ACCSC)
Accrediting Council for Continuing Education and Training ACCET)
Accrediting Council for Independent Colleges and Schools(ACICS)
Association for Biblical Higher Education
Association of Advanced Rabbinical and Talmudic Schools
Council on Occupational Education(COE)
Distance Education Accrediting Commission(DEAC)
Association of Institutions of Jewish Studies
Transnational Association of Christian Colleges and Schools
New York State Board of Regents
What is Programmatic Accreditation?
Like regional accreditation, program accreditation is determined by an external agency that sets standards for specific professions. Nursing, engineering, accounting and psychology are some instances where program accreditation may be important.
A specialized accreditation is not a replacement for regional or national accreditation. It is an additional accreditation. In short, a regional accreditation evaluates a university as a whole. While a professional accreditation evaluates a specific program.
DO ONLINE COLLEGES ACCEPT ANYONE?
Yes, there are some accredited online colleges that accept anyone who applies. There are also additional online colleges that have very high acceptance rates. It is important to note, that each online college has its own admissions standards and acceptance rates.
A high acceptance rate is not always an sign of quality. In an online environment, there are no building or other physical classroom restraints. So this may allow for some schools to offer unlimited attendance.
Additionally, criteria for admittance to an online program may also be simpler. This could allow for more students to pursue a degree. For example, many traditional schools require SAT/ACT scores, letters of recommendations, specific GPAs. There are online schools which waive some of these criteria such as GPAs.