Online Colleges and Degrees
Let us help you get matched for FREE to Accredited Online Colleges!
The rise of accredited Online Colleges has done more than change how students learn. It has also changed when and where they learn. If you're a busy person and want to earn a degree, we can help you find an online school. Get matched for FREE with our online college finder! Just tell us which programs you're interested in. We'll do the rest!
Is there a career goal you want to reach? An online degree may be the solution. Many online students work full time and have needs other students may not have. If this sounds like you, an online degree program could help you balance school, work and family. Take a look at these benefits to an online college.
5 ONLINE COLLEGE BENEFITS
Online colleges may offer several benefits for both undergrad and grad students.
Cost of Online Colleges
Online Classes Are Flexible
Access to Online Colleges
Rolling and Open Admissions
Resources
Southern New Hampshire University
Take advantage of some of the nation's most affordable tuition rates, while earning a degree from a private, nonprofit, NEASC accredited university
Qualified students with 2.5 GPA and up may receive up to $20K in grants & scholarships
Multiple term start dates throughout the year. 24/7 online classroom access.
Popular Online Programs
Business Administration, Psychology, Information Technology, Human Services…
Western Governors University
Award-winning programs created to help you succeed.
A quality education doesn't have to be expensive. Earn an accredited degree for less.
Programs started monthly – Apply free this week!

Sallie Mae® Student Loans
For bachelor's and associate's degrees or a certificate at a degree granting school
Multiple repayment options
Competitive interest rates
95% approval rate when they return to Sallie Mae® with a cosigner1
4 months of free Chegg Study®2
Loan Options Include:
Undergraduate, Career training, Parent, MBA and more.

1. COST OF ONLINE COLLEGES
It may be more affordable to attend college online. A school with low tuition may offer great value for your money. Tuition and fees are different at each school. But there are some common savings. For example, you save money on travel fees and even study materials. Many online colleges use ebooks and other digital tools. Some schools also loan students a laptop or tablet for the program.
Cheapest Online Colleges and Universities
The NCES tells us that the following list of online colleges offer the cheapest tuition.
| | | |
| --- | --- | --- |
| | BACHELORS TUITION | # of Students |
| Taft University | $3,292 | 751 |
| Aspen University | $4,230 | 4,973 |
| Shiloh University | $4,510 | 53 |
| Columbia Southern University | $5,415 | 20,818 |
| City Vision University | $5,600 | 113 |
| Western Governors University | $5,780 | 98,627 |
| Huntington College of Health Sciences | $6,155 | 166 |
| Midwives College of Utah | $6,400 | 247 |
| Grantham University | $6,540 | 9,303 |
| American Public University System | $6,880 | 46,420 |
2. ONLINE COLLEGES ARE FLEXIBLE
When students study on campus, they come to class at a specific time. But many online schools let students choose when they want to complete their course work. If you need a flexible schedule, then online college may be an attractive option for you. Here are the are two types of formats for online learning.
Synchronous: This is also called real time learning. You and your teacher are present at the same time. This often includes live discussions, group projects and lectures.
Asynchronous: This is also called self paced learning. You log in to an online learning platform. It is usually available at any time. Think of it as a virtual classroom. The readings and assignments are there whenever you're ready.
Synchronous vs. Asynchronous Learning
Real Time
Self Paced
When do classes take place?
At a set time
Whenever you want
Tools & methods used

Web conference to present and share information
IMing for quick, real time chats
Video conference to have in person meetings as if in class
Phone conference for student – teacher discussions
Online whiteboard to share ideas and for team projects

Emails to connect with classmates and teachers
Class material delivered via streaming audio and video
Discussion boards for class discussion
Wikis for collaborative editing
Play, pause and stop buttons

May suit a student who has these traits

Likes collaborating
Wants to enhance communication skills
Enjoys peer interaction
Prefers to see and hear a professor
Prefers scheduled learning pace

Disciplined
Goal and task oriented
Wants the ability to pause, rewind or fast forward course content
Has time management skills
An independent learner
Needs a flexible schedule
If you play to your strengths, you may complete your degree on time. An adviser from the online school you want to attend may be able to help you with this choice.
3. ACCESS TO ONLINE COLLEGES
You can save time by enrolling in an online college. Instead of having to travel to school, you simply jump on the Internet. You don't need to put a career on hold. You don't have to struggle with trying to balance education with work and family duties. Research shows that a whopping 92% of online students enroll in an online college for career related reasons. The same study shows that close to 80% of online students live within 100 miles of a campus where they are enrolled. This means you may be able to attend your local college online.
The list of online programs available today makes it easier for working adults to earn a degree. These are the top 5 online fields of study according to the National Center for Education Statistics (NCES).
Business
Information Science
Social / Behavioral Sciences
Health
Education
According to the NCES, 5.2% of online undergrad students have not declared a major! So, if you're not sure what to study, you could choose to enroll in a general Liberal Arts program.
4. ROLLING AND OPEN ADMISSIONS
At an online school with rolling admissions, you don't have to start in the fall or spring. Some online colleges offer new start dates every month, or every other month. You may prefer this type of college if your schedule doesn't line up with a normal school year.
Open admissions are different from rolling admissions. A school with an open policy would not ask you to provide test scores or recommendation letters as part of the application process. More often than not, these schools accept all students.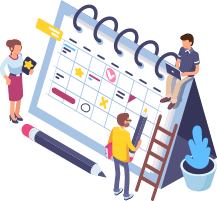 5.RESOURCES
An established college will usually provide the same services to campus and online students. But just because there is no school building does not mean there are no resources for online students. Many accredited online colleges offer support services. Do your research ahead of time. That way, you can find out what those resources are, and how to use them. Here are some resources to ask about.
Orientation for online students
Web based learning systems (for example, Blackboard)
Tech support for online students
Inter library loan system
Online libraries and digital textbooks
Online student advising
Tutoring
ARE ONLINE COLLEGES RESPECTED?
Yes. Many more colleges now offer online degree programs. But beware: There are still diploma mills out there. A diploma mill does not care about student outcomes. That's why you need to be careful about selecting where you pursue your degree. You should rank programs based on these factors.
Accreditation
Support services offered
Stats such as retention and graduation rates
When comparing online colleges, take time to talk to people from each school. Learn about the careers that recent graduates have pursued. It's always good to find out that actual online students are happy!
About 60% of undergrad students report being completely satisfied with their investment of time and money
70% of grad students report the same
Almost 90% of online students report that online study was equal to or better than classroom study
Reputable & Accreditation
How do you find out about an online college's reputation? Find out the school's main accreditation. The best online colleges are accredited by outside agencies. These agencies make sure that schools meet accepted standards of education. The chart below shows what accreditation you should look when deciding on a school to attend.
There are two types of accreditation, regional and national. It's important to remember that regionally accredited online colleges usually don't accept transfer credits from nationally accredited schools.
Regional vs National College Accreditation
Regional
National
Focus
Academics
Typically offers vocational, career or technical programs
Who Belongs?
Both nonprofit and for profit colleges hold regional accreditation
Typically for profit schools
Recognized by the Department of Ed?
Yes
Yes
Recognized by the Council for Higher Education Accreditation (CHEA)?
Yes
Yes
Agencies

MSCHE: Middle States Commission of Higher Education
NWCCU: Northwest Commission of Schools & Colleges
HLC: Higher Learning Commission
NEASC: New England Association of Schools & Colleges
SACS: Southern Association of Colleges & Schools
WASC: Western Association of Schools & Colleges
ACCJC: Accrediting Commission for Community and Junior Colleges

ACCSC: Accrediting Commission of Career Schools and Colleges
ACCET: Accrediting Council for Continuing Education and Training
ACICS: Accrediting Council for Independent Colleges and Schools
Association for Biblical Higher Education
Association of Advanced Rabbinical and Talmudic Schools
COE: Council on Occupational Education
DEAC: Distance Education Accrediting Commission
Association of Institutions of Jewish Studies
Transnational Association of Christian Colleges and Schools
What is Program Accreditation?
Just like regional accreditation, program accreditation is awarded by an outside agency. These agencies set academic standards for specific professions. Nursing, accounting and psychology are some areas where program accreditation may be important.
A program accreditation is not a replacement for regional or national accreditation. It is an addition. Basically, the main accreditation evaluates the entire school. A professional accreditation evaluates a certain program at the school.
DO ONLINE COLLEGES ACCEPT ANYONE?
Yes, some online colleges accept anyone who applies. There are also some online colleges that have very high acceptance rates. But keep this in mind: Every online college has its own admission standards.
A high acceptance rate is not always an sign of quality. In an online setting, there is no physical classroom. So this may allow some schools to offer unlimited attendance.
It is important to research a school's online college admission process. An online program may allow more students to pursue a degree. For example, many schools ask for SAT or ACT scores, letters of recommendations or specific GPAs. But there are other online schools that waive requirements such as a GPA.