6 Types of Financial Aid to Help You Pay for College
Find an Online Degree Program
As a student today, navigating the process of applying for financial aid and funding college can be a challenging task. There are six types of financial aid available, each designed to make college more affordable, which is crucial considering the increasing cost of a bachelor's degree. According to NCES, public college expenses for tuition, fees, room, and board average around $9,400 per year, while private for-profit schools cost approximately $18,200, and private nonprofit 4-year institutions charge around $37,600.
Likely, the burden of student loan debt weighs heavily on the minds of students across the United States, regardless of their college majors. Whether you are pursuing a career as an actuary or an early childhood educator, the stress of student loans can be overwhelming. Here, we will guide you through the various financial aid options available and what each entails. Being well-informed about these options can help expand your choice of colleges and provide you with a better understanding of budgeting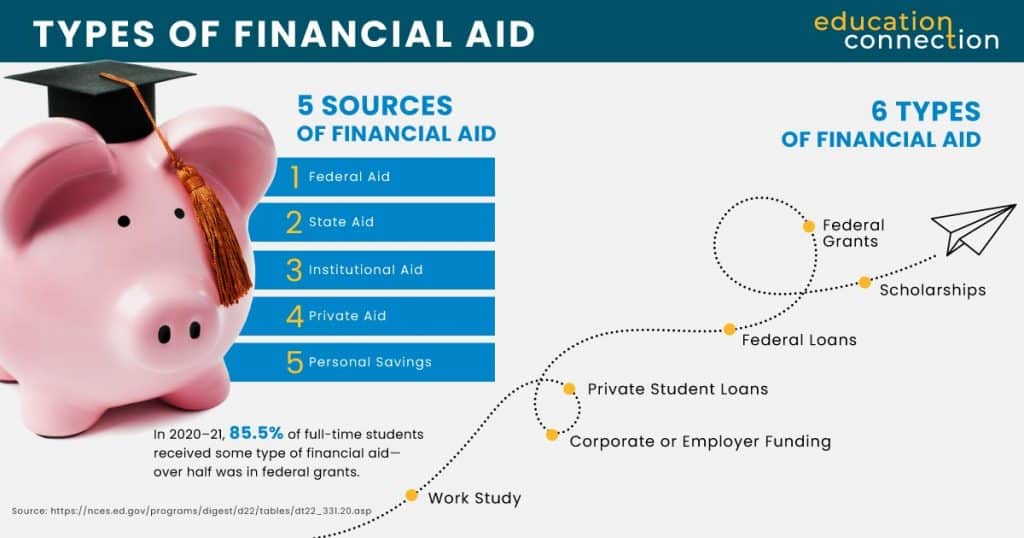 5 SOURCES OF FUNDS TO PAY FOR COLLEGE
There are five common sources of college financial aid. Many students use a combination of two or more of these sources to pay for college.
Check out the different types of financial aid below to find the fit that's right for you and learn how to apply to each.
TYPES OF FINANCIAL AID
| Source of Aid | Types of Aid | Degree Level | Benefits |
| --- | --- | --- | --- |
| Federal Aid | Grants, Loans, Work-study | Undergraduate, graduate, professional | Lower interest rates, flexible repayment terms |
| State Aid | Grants, Scholarships, Work-study funds, State loans, Tuition assistance | Undergraduate, Graduate | May ease the cost of attending a state school |
| Institutional Aid | Usually grants | Undergraduate, graduate | Grants awarded based on merit or financial need don't have to be repaid |
| Private | Private student loans or private scholarships | Undergraduate, graduate, professional | Scholarships don't have to be repaid and private loans have variable APR, cosigner options, and allow you to build credit |
| Personal or Family Savings | Personal savings, or help from family or friends | Undergraduate, graduate, professional | Often, these are gifts that you don't have to pay back, or at least without interest |
1. FEDERAL AID
The federal government offers three types of financial aid:
Federal Grants
Federal Work-Study Programs
Federal Student Loans
These each have different requirements and repayment options. For instance, if you meet the federal grant requirements, you don't have to pay them back. On the other hand, if you don't meet the requirements, the grants may turn into loans.
FEDERAL STUDENT AID TYPES
Federal Student Aid Program
Type of Aid
Program Details
Maximum Award Amounts
Federal Pell Grant
Grant (not repaid)
Available almost exclusively to undergraduate students.
The maximum Federal Pell Grant award is $7,395 for the 2023–24 award year (July 1, 2023, to June 30, 2024)
Federal Supplemental Educational Opportunity Grant (FSEOG)
Grant (not repaid)
For undergraduate students with exceptional financial need.
Priority is given to Federal Pell Grant recipients.
Awards can range from $100–$4,400 and do not need to be repaid.
Federal Work-Study
Earned (not repaid)
For undergraduate and graduate students (not available to international students).
Student coordinates with school to find eligible employers.
Jobs can be on campus or off campus.
Students are paid at least minimum wage.
To receive funds, you will need to be awarded work study and secure a job. The funds you earn are not applied directly to your tuition.
Direct Subsidized Loans
Loan
For undergraduate students who have financial need. Your school determines the amount you can borrow and that amount cannot exceed your financial need.
Loan limit for first year dependent children (except students whose parents are unable to obtain PLUS Loans is $3,500)
Direct Unsubsidized Loans
Loan

For undergraduate, graduate and professional degree students. Your school determines the amount you can borrow based on your cost of attendance and other financial aid you receive.

Graduate/professional students may borrow up to $20,500 per year.
Learn more about the specific types of grants and other federal financial aid below.
Check out more about Grants and Scholarships to see if you meet the requirements and learn how to apply!
2. STATE AID
Many states offer different types of financial aid to in-state students or to out-of-state students who attend school in state. Some of these options include:
Grants
Scholarships
Work-study funds
State loans
Tuition assistance
If you're interested in finding the options available through your state, start by contacting your guidance counselor or the financial aid counselor at a specific school. You can also contact your state's financial aid agency.
3. INSTITUTIONAL AID
As opposed to federal financial aid and state financial aid, which comes from the government, institutional financial aid comes directly from your college or university. In some cases, the aid actually comes from individuals, such as alumni, that is paid through the school.
In most cases, institutional aid comes in the form of grants or scholarships, which means that you don't have to pay them back.
Usually, institutional aid is awarded based on either financial need, academic merit, or both. As with other types of aid, the first step is to complete a FAFSA. This allows your school to determine what need-based aid they may offer you.
In addition, some schools have additional forms to complete, so be sure to check with the financial aid office or your counselor. Keep in mind that institutional aid is usually very competitive because of the limited amount of funds available, so be sure to check all requirements before submitting your application.
4. PRIVATE AID
Private financial aid usually comes in two forms:
Private Student Loans
Private Scholarships
Independent lenders, like banks or credit unions, provide private student loans. Each lender has specific criteria, but many offer advantages such as variable APR, lowered interest rates for automatic debit, and options for loans with or without a cosigner.
5. PERSONAL SAVINGS
While often college tuition costs more than most families have saved in the bank (especially for families with multiple children), personal savings are an important part of paying for college.
Usually, personal savings can cover:
Portion of your tuition
Travel
Food
Books
Study materials
However, personal savings don't always have to come from your own piggy bank or from your parents. In fact, sometimes friends or extended family members can contribute as well.
6 TYPES OF COLLEGE FINANCIAL AID
There are many type of financial aid that comes from the sources listed above. Some of these options are listed below so that you can learn how to apply and find out which is the perfect source of financial aid for you.
1. FEDERAL GRANTS
As mentioned, many colleges and universities offer grants based on financial need or merit. There are too many of these to list here, so be sure to contact your counselor or financial aid office to find out specific options at your school.
In addition, there are also a variety of grants offered by the federal government. Some of these options are listed below.
PELL GRANTS
Typically, these grants are given to undergraduate students who haven't completed their bachelor's degree. The maximum award for 2023-2024 is $7,395, but the exact amount depends on:
Student's financial need
College's cost of attendance
Student's enrollment status
Length of the academic year in which student is enrolled
FEDERAL SUPPLEMENTAL EDUCATIONAL OPPORTUNITY GRANTS (FSEOG)
These grants are awarded to undergraduate students with exceptional financial need and the amount awarded is determined by the college's financial aid office and depends on the student's financial need and the availability of funds at the college.
TEACHER EDUCATION ASSISTANCE FOR COLLEGE AND HIGHER EDUCATION (TEACH) GRANTS
Awarded to students who intend to teach in a public or private elementary or secondary school that serves low-income families, these grants could turn into loans if the service requirement is not met.
IRAQ AND AFGHANISTAN SERVICE GRANTS
These grants are awarded to students whose parents or guardians were members of the Armed Forces and died as a result of performing military service in Iraq or Afghanistan after September 11, 2001. To qualify, a student must be under 24 years old or enrolled in college at the time of the parent or guardian's death.
2. SCHOLARSHIPS
Scholarships are some of the best ways to earn financial aid for your degree because it's free money. However, you do need to find scholarships that you qualify for and send applications. But that's a little bit of effort for possibly thousands of dollars in awards if you win.
While the bigger awards may be enticing (and it's a good idea to apply), the smaller amounts such as $500, $1,000, or $2,500 may have less applicants, which may increase your odds of winning. Plus, a few of those amounts could make a huge difference when it comes to paying for your degree.
Check out some scholarships with upcoming deadlines and apply today!
3. FEDERAL LOANS
Check out the different types of federal student loans below to find specific requirements.
WILLIAM D. FORD FEDERAL DIRECT LOAN PROGRAM (DIRECT LOAN)
As the largest federal student loan program, and with the U.S. Department of Education as the lender, there are four types of Direct Loans:
Direct Subsidized Loans: loans made to eligible undergraduate students who demonstrate financial need
Direct Unsubsidized Loans: loans made to eligible undergraduate, graduate, and professional students, but the students don't need to demonstrate financial need
Direct PLUS Loans: loans made to graduate or professional students, or the parents of dependent undergraduate students, to help pay for education-related expenses not covered by other financial aid
Direct Consolidation Loans: loans that allow you to combine all of your eligible federal student loans into a single loan with one loan servicer
Percentage of Students with Federal Student Loans
In 2021, approximately 38% of full-time, first-time undergraduate students had the opportunity to borrow up to $7,700 in loans. Most of these borrowers were students attending private colleges.
4. PRIVATE STUDENT LOANS
There are many differences between federal student loans and private student loans. One, interest rates for federal student loans are set by the government.
On the other hand, interest rates for private student loans are set by the individual lender and use factors such as your credit score and whether or not you have a cosigner as determining factors.
However, private loans do have some advantages, such variable interest rates, the ability to release a cosigner after a certain number of on-time payments, and other options.
Check out some of the private student loans to learn more about the specific benefits and learn how to apply! Don't forget, most of the time it doesn't hurt your credit to see what types of rates may be offered.
5. CORPORATE OR EMPLOYER FUNDING
As the job market continues to become more competitive, many companies are searching for benefits to offer employees in order to recruit and retain top talent.
One of these benefits includes offering education reimbursement or other types of funding for employees to earn a degree. At many companies, there are annual caps or a certain percentage limit, so be sure to check with your HR department if your company offers these programs.
6. WORK STUDY
Work Study programs allow you to earn money through federally funded jobs on campus or at other approved locations. Campus facilities at many colleges and universities include:
Student center
Career center
Athletic department
Residence halls
HOW TO APPLY FOR FINANCIAL AID
In order to apply for college financial aid, through any of the sources above, you should:
Complete the FAFSA
Find out your awarded amount
Contact school
Complete necessary loan forms
Find scholarships you qualify for
Apply for scholarships and grants at your school
TYPES OF ACCREDITATION
There are actually two types of accreditation: institutional and specialized. Institutional accreditation makes sure the college itself meets certain standards, while specialized accreditation makes sure a specific program meets its particular industry's standards.
Accreditation is further broken down into national and regional types. National accreditation is typically used by colleges looking to get their students started in careers as soon as possible. These include technical, vocational, correspondence, and religious schools. National accreditation transfer credits are not widely recognized by regionally accredited colleges and universities.
Regional accreditation, on the other hand, is the standard recognized by most traditional colleges and universities, and is therefore more widely accepted. Both national and regional accreditation is recognized by the U.S. Department of Education, but regional accreditation makes it easier to transfer college credits to other regionally accredited institutions.
WHY IS ACCREDITATION IMPORTANT?
According to the US Department of Education, college accreditation is used by both students and universities to:
verify that a college or university meets established standards.
help students identify acceptable colleges or universities.
help colleges and universities determine the acceptability of transfer credits.
establish goals to raise the standards among educational institutions.
establish criteria for professional certification and licensure and for upgrading courses offering such preparation.
establish a basis and criteria for receiving federal financial assistance and student aid.
You can check your school's accreditation by visiting the following:
To check distance learning accreditation, visit:
Beware of these phrases when considering a school's accreditation:
"Pursuing Accreditation"
"Chartered"
"Licensed"
"Registered"
"Recognized"
"Approved"
These terms do not necessarily mean a school is accredited. To verify regional accreditation of a school, visit the Council for Higher Education Accreditation.