Federal Student Loans
Know Your Loan Options Then, Get Matched To Online Schools Using Our Degree Finder!
Federal loans for students offer you the chance to borrow funds for college that you must repay with interest. Often, these federal loans offer a lower interest rate and more flexible repayment terms than private student loans.
Learn all about what types of federal student loans are available to find the best option for you and don't forget to discover grants and scholarships to help you earn free money for college.
In 2015-16, 85% of first-time, full-time degree / certificate-seeking undergraduate students were awarded financial aid. Overall, 72.3%of all undergraduates received some type of financial aid.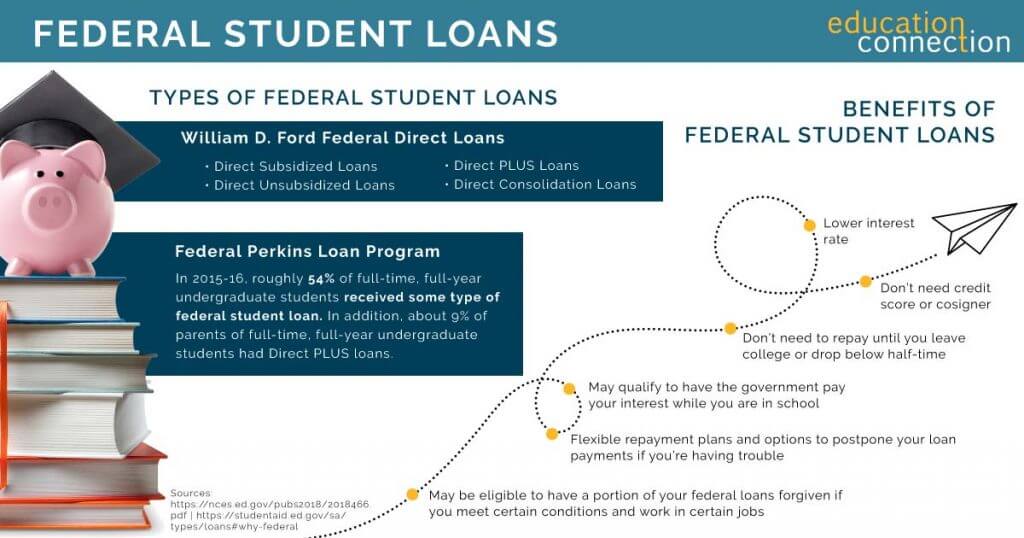 TYPES OF FEDERAL STUDENT LOANS
There are two main types of federal student loans:
William D. Ford Federal Direct Loans
Federal Perkins Loan Program
These loans have unique requirements, interest rates, and maximum awards per year, which are explained below.
WILLIAM D. FORD FEDERAL DIRECT LOANS
This is the largest federal student loan program where the U.S. Department of Education is the lender. These loans include:
Direct Subsidized Loans
Direct Unsubsidized Loans
Direct PLUS Loans
Direct Consolidation Loans
Check out the table below to learn about the differences between these loans.
FEDERAL PERKINS LOAN PROGRAM
As opposed to direct loans, which have the Department of Education as the lender, the Perkins loans are school-based loans, which means that the individual school is the lender.
These loans are offered to undergraduate and graduate students with exceptional financial need. In addition, the amount awarded depends on the amount of funds available at a particular school.
Often, the students with the greatest financial need are awarded Federal Perkins Loans.
TYPES OF FEDERAL STUDENT LOANS
| Federal Loan | College Degree Level | Federal Student Loan Program Details | Interest Rate (First Disbursed on or After July 1, 2018 and Before July 1, 2019) | Maximum Annual Award |
| --- | --- | --- | --- | --- |
| Direct Subsidized Loan | Undergraduate | For those with financial need | 5.05% | $5,500 (depending on grade level and dependency status) |
| Direct Unsubsidized Loan | Undergraduate, graduate, and professional degree students | Financial need is not required | 5.05% (6.6% for graduate or professional) | $20,550 (depending on grade level and dependency status) |
| Direct PLUS Loan | Parents of dependent undergraduate students; and for graduate or professional degree students | Financial need is not required; borrower must not have adverse credit | 7.6% | Maximum amount is cost of attendance minus any other financial aid you receive |
| Federal Perkins Loan | Undergraduate, graduate, and professional degree students | Eligibility depends on financial need and availability of funds at your school | 5.0% | $5,500 for undergraduate students; $8,000 for graduate and professional students |
PERCENTAGE OF GRADUATE STUDENTS WHO RECEIVE FINANCIAL AID
71.6% of all graduate students received some type of financial aid, including 44.2% of graduate students who took out some type of loan.
HOW TO APPLY FOR FEDERAL STUDENT LOANS
In order to apply for federal student loans, you must complete and submit a Free Application for Federal Student Aid (FAFSA). Based on these results, your college or career school will send you a financial aid letter, which may or may not include an offer of federal student loans.
This offer includes instructions on how to accept all or part of the loan. However, before you receive your loan funds, you will have to complete two steps:
Complete entrance counseling to ensure that you understand your obligation to repay the loan
Sign a Master Promissory Note (MPN), agreeing to the terms of the loan
As some students may not receive federal student loans as an option after completing the FAFSA, don't forget about private student loans. While each lender and type of loan have different requirements than federal loans, private loans are available to all students.
BENEFITS OF FEDERAL STUDENT LOANS
Some of the benefits of federal student loans include:
Interest rate on federal loans is usually lower than private student loans
You don't need a credit check or cosigner for most federal loans
You don't need to begin repaying your federal loans until you leave college or drop below half-time
If you demonstrate financial need, you may qualify to have the government pay your interest while you are in school
Many federal student loans offer flexible repayment plans and options to postpone your loan payments if you're having trouble
You may be eligible to have a portion of your federal loans forgiven if you meet certain conditions and work in certain jobs
FAFSA Application Deadline
Normally, online FAFSA applications must be submitted by midnight Central Time on June 30 of a given year. For instance, the 2019 FAFSA deadline is midnight Central Time, June 30, 2019.
FEDERAL STUDENT LOANS – HOW MUCH SHOULD YOU BORROW?
Whether you're taking out a private student loan or a federal loan, it's important to consider the legal obligation you have to pay back then loans, so responsible borrowing is key.
Some of the things to consider when borrowing money for college:
Understand your total amount of loans and how this will affect your future finances
Research starting salaries in your field
Understand the terms of your loan
Make payments on time
Often there are flexible repayment terms for both federal loans and private student loans. This includes options such as, grace period, interest-only payments while in school, and interest rate reductions for automatic debit.
Looking for private student loans? Check out some of your options here!
Percentage of Students Stressed about paying for college
According to a 2017 study by The Princeton Review, 98% of college applicants and their parents said financial aid would be necessary to pay for college. Plus, 65% said financial aid was extremely necessary.
OTHER TYPES OF FINANCIAL AID
As the price of college tuition continues to rise understanding the types of financial aid and finding the right combination of financial aid to pay for your degree is just as important as finding the perfect program for you.
Luckily, there are plenty of other options of financial aid for you to choose from, including:
Federal Grants
Scholarships
Federal Work-Study
Private Student Loans
Institutional Aid
Employer Funding
All of these options mean that you don't have to worry if you need to supplement your federal student loan offer. Discover some private student loans to find the perfect one for you.
FIND THE FINANCIAL AID PACKAGE AND FEDERAL STUDENT LOAN THAT'S PERFECT FOR YOU
Finding the right mix of financial aid is one of the key aspects of earning your degree. That's why it's important to consider all of your options and be sure to do your research.
A good starting point is talking to your counselor or the financial aid office at your school, both of which should have specific details for you to explore.
In the meantime, check out some of our private scholarships and find the perfect degree for you.