How to Get Money for College Through Military Scholarships
Get Informed, Then Get Matched To Online Schools Using Our Degree Finder!
What is a Military Scholarship?
A military scholarship is a kind of grant. These awards are in place to help military members pay for college. Award amounts range from small sums. To full tuition, books, board and beyond.
Many military scholarships are only for service members and veterans. But others are for their spouses and dependent children too.
In fact, at last check, 87 % of spouses and dependents got financial aid. Most were pursuing an undergrad degree. Unlike a loan, you do not pay the money back. But some do come with terms you need to follow.
Some providers give scholarships to honor your service. Or, to honor the memory of a fallen hero. As a result, you may find unique programs in each branch of the military:
Air Force 
Army
Coast Guard
Marine Corps
Navy
Military scholarships also come from diverse other sources. From the VA and gov't agencies. To colleges, nonprofits and private donors. Each award program comes with its own criteria. These tell you if you are eligible. And, how to apply.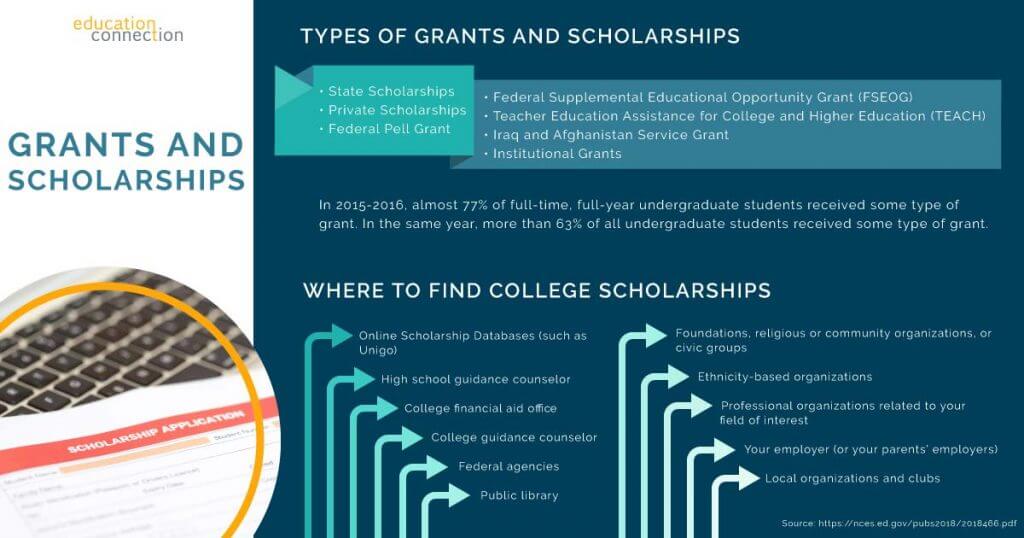 Types of Military Scholarships
There are merit and need based military scholarships. Merit can mean grades. And need refers to a lack of money for tuition. Both may help fund college, career or technical school. But some aim to prep you for a civilian role. While others swap aid for officer training. 
ROTC Scholarships 
Many colleges partner with the ROTC to offer scholarships. ROTC is Reserve Officers' Training Corps. The ROTC is a training program for college students. If you meet their criteria, you can apply. Basic criteria include being a US citizen with a high school diploma. GPA and test scores are a factor too.
ROTC awards may cover the costs of tuition, fees, and textbooks for four years. Plus, a monthly stipend for some expenses. In return, you must sign up to serve in the US military. And, while in school, take part in ROTC training.
While you serve after college, the number of years varies by branch. Here are a few examples:
Army ROTC scholarships holders serve 8 years (4 years of active duty and 4 years in the reserves) 
The Navy contract is 4 to 5 years of active duty 
Air Force ROTC service is 4 to 6 years of active duty. Plus, 10 years for cadets trained as pilots 
Scholarships for Military Spouses 
Scholarships for military spouses help with the costs of tuition. And like other awards, often go to those with high need. A military spouse is the husband or wife of a member of the nation's armed forces. So, spouses of active duty members and veterans as well as widows.
You may find these awards through each branch of the military. One is the Spouse Education Assistance Program. Sponsored by the U.S. Army it is a need based scholarship. It is also one that spouses of Army soldiers who want to earn a college degree may apply for.  
Scholarships for Military Dependents 
There are scholarships set aside for military dependents and survivors. Such awards often help with college or vocational school.
A military dependent means spouses and children. It includes family members of active duty, retired and fallen soldiers. To get a scholarship, you may first need to fill out a FAFSA. FAFSA is the Free Application for Federal Student Aid.
This helps the provider assess how much money to grant. But it is not always the only criteria.  In some cases, you may also need to have strong test scores and GPA. You may also need to show a track record of community service.  
Luckily, there are many sources to tap for this type of scholarship. The U.S. Department of Veteran Affairs (VA) is one. An example is the Fry Scholarship. It is for children and spouses of service members who died in the line of duty. But after September 10, 2001. 
Scholarships for Veterans 
Scholarships support veterans who want to start, continue or finish a degree. They are for use at accredited schools and at many levels of study. 
There are also scholarships you may use at approved vocational or technical schools. These help veterans enter or advance a career in a skilled trade. Like TTT, Troops for Teachers. TTT is for current and former members of the Armed Forces. The program helps them shift to a career as a K 12 teacher. And is available in 31 states. To do so, it gives a $5,000 stipend or $10,000 bonus. Based on eligibility.
Often, the scholarships fill a gap. The one between GI Bill benefits and the cost of school. So, they may kick in to pay for tuition, housing and fees. To be eligible, you must have an honorable discharge from military service. But other criteria vary by program.
One is AMVETS National Scholarships. The American Veterans is a service agency that helps veterans. Each year they offer a few scholarships. Of them, two go Veterans, Active Duty, Guard/Reserves. One is only for their spouses. And another two only for their children and grandchildren.
College Specific Military Scholarships 
Many military friendly colleges sponsor scholarships. Some, unique to their school. Some honor a local hero. Or, show respect to an alumnus who served. The awards also help military students afford their studies. And, may extend to direct family members too.
You may apply for these scholarships when admitted. To both the college and your degree program. Then, if eligible, you apply for the award. Here, a strong essay with a clear message may be useful. 
Military Scholarships for 2020 
Below is a sampling of military scholarships that you might apply to in 2020.   
The HotelPlanner Scholarship Program is for US veterans. It is also open to their family. Spouse, partner or children above 16. Each of ten applicants gets a sum of $1,000 each. Two times per year. One aim of the program is to help with the cost of a technology degree. It can be at any level – undergrad or graduate.
Amount: $1,000 each
Deadline: Summer – Apply by August 15th / Notified by September and Fall – Apply by December 15th / Notified March
Requirements: To apply, you need to show financial need. You also write an essay or present a video. This must explain how the military spiked your interest in tech.  
Each year, the Navy Wives Clubs of America, Inc. (NWCA) gives up to 30 scholarships. Of these, two are for spouses, widows and widowers. The NMCCG Enlisted Dependent Spouse Scholarships. Spouses can be of a retired or enlisted member. Navy, Marine Corps or Coast Guard active duty.   
Amount: $500 – $1,000 each
Deadline: May 2020 
Requirements: To apply, you need to submit a copy of the military ID card. Also, attach a copy of your tax returns.
The Blinded Veterans Association is a national agency. BVA members are blinded veterans. And help other blinded veterans. Each year, they award two merit scholarships. While they do not auto renew, you can re apply up to 4 times. One award is the Kathern F. Gruber Scholarship. It gives 6 people scholarships for $2,000 each. The other is the Thomas H. Miller Scholarship Program. This award goes to one person and is for $1,000. It  
Amount: $1,000 – $2,000 each
Deadline: April 2020
Requirements: To be eligible you need to be a dependent child, grandchild, or spouse of a blinded veteran. But do not need to be a member of the BVA.
Each year, the Maryland Higher Education Commission offers about 125 awards. The Maryland Veterans of the Afghanistan and Iraq Conflicts Scholarships. Armed forced personnel who served in these conflicts are eligible to apply. As well as their sons, daughters and spouses. Awards amounts vary and adjust based on VA benefits. But may cover up to $10,655 per year.
Amount: up to $10,655
Deadline: March 2020
Requirements: To apply, you need to fill out a FAFSA by March 1st each year. You can also renew the awards if you keep your GPA at 2.5 or higher.
The Air Force Association offers a few award programs each year. One is the he AFA Mike & Gail Donley Spouse Scholarship program. It awards two $2,500 scholarships on an annual basis. And aims to help Air Force spouses worldwide pursue a college degree at any level.
Amount: $2,500
Deadline: April 30, 2020
Requirements: The Air Force Spouse Scholarship program is designed to encourage Air Force spouses to pursue associate or bachelor undergraduate or graduate/post graduate degrees.
Each year the Pat Tillman Foundation offers awards. These are for military members, veterans and spouses. Tillman scholarship amounts vary. But give annual funding for academic expenses. So, things like tuition, books and living expenses. The average award amount last year was $6,567 per year. Others range from $1,500 to $23,000.
Amount: $1,500 – $23,000
Deadline: February 28
Requirements: To get one, you need to show selfless leadership. And dedicate yourself to make an impact. You will also have to write two essays. Plus, supply references, finances and have a 3.0 GPA.
The U.S. Navy Marine Corps Relief Society sponsors the Gold Star Scholarship Program. It is for the dependent children and spouses of Navy and Marine personnel. Ones who were killed in the line of duty. Awards range from $500 to $2500 per academic year. And, there are about 30 recipients each year. If you are studying oceanography, NMCRS offers another award. The McAlinden Divers Scholarship. It awards from $500 to $3,000. And is for active duty or retired Sailors, Marines and family members.    
Amount: $500 – $3,000
Deadline: May 1, 2020
Requirements:  To get an award, the committee looks at two things. Financial need and academic merit (3.0 GPA and above).
Every year, the American Legion helps children of fallen soldiers. One way they do this is through the Legacy Scholarship. The Legacy Scholarship amounts vary as do the number of people who get one. But past awards were about $1,785.
Amount: Varies
Deadline: April 15, 2020
Requirements: Awards go to children of post-9/11 veterans who died on active duty. Or who have a combined VA disability rating of 50 percent or greater. 
A grant from Mr. Frederick W. Smith funds the Purple Heart Scholarship. It is a competitive program, and awards $3,000. 
Amount: $3,000
Deadline: February 15
Requirements: To be eligible, you must meet a few sets of criteria. One is to be a Purple Heart recipient and member of MOPH. You can also apply if you are the spouse or lineal descendant of someone who is or was. But not a great grandchild. Other criteria include being a full time undergrad at an accredited US school. You may also need a GPA of 2.75 and up.
CPOSF is a nonprofit. Their mission is to help qualified family members of US Navy Chief Petty Officers pay for education. Last year, they awarded 30 scholarships. Amounts were $2,000 each. 
Amount: $2,000 each
Deadline: April 1, 2020
Requirements: To qualify, you need to be a non uniformed spouse or dependent child. You also need to have a GED and be on track for an associate or bachelor's degree. 
The Make it Count Scholarship honors Spencer C Duncan. He was an Army Specialist, killed in action is August 2011. Each year, Grantham University offers 4 awards to deserving applicants. Valued at $5,000, you can apply the funds to any degree program at the school.
Amount: $5,000
Deadline: Varies
Requirements: To apply, you need to meet admissions criteria. Then, qualify for the scholarship. The scholarship is also open to a parent, child, spouse or sibling. As long as their family member served or is serving in the US Armed Forces. 
Every year, the Army Nurse Corps offers scholarships. Its goal is to support nursing education. 
Amount The 2020 ANCA scholarships will be $3,000 per selected applicant. 
Deadline: March 30, 2020
Requirements: To apply, there are a few rules to meet. For one, you need to be serving or have served in any branch or rank of the US Army. You also need to be enrolled in an accredited bachelor's, graduate nursing or anesthesia program. But, cannot be also receiving GI Bill benefits or an ROTC scholarship.
My CAA scholarship is an award for military spouses. It is part of the Department of Defense Spouse Education and Career Opportunities program. Awards only pay for tuition for credentials, certificates, or associate degrees. Or, to pursue a recognized license or industry certification. Certificates and credentials may be for post graduate work also. 
Amount: The scholarship provides up to $4,000 with an annual fiscal year cap of $2,000.  
Deadline:  Varies
Requirements: To qualify, you need to be a military spouse with a high school diploma. And, need the extra education to prep for a career. Spouses can be of service members on Active Duty, under Title 10 orders. Or, spouses of service members with pay grades of E1 through E-5, W1 through W-2, O-1 through O-2.
New York State's Division of Veteran's Services offers annual awards. One is the Military Service Recognition Scholarship (MSRS). MSRS awards vary but in amounts. But may pay about 20 people up to $21,250 each. MSRS awards are for family members of New York State fallen veterans of the US Armed Forces.
Amount: up to $21,250
Deadline: June 30, 2020
Requirements: The awards are for spouses and dependents of US Armed Forces or state organized militia. Ones who, at any time on or after Aug. 2, 1990, while a NY State resident, died. Or became disabled while engaged in hostilities or training for it.