How to Get Money for College Through Grants and Scholarships
Then, Get Matched To Online Schools Using Our Degree Finder!
According to some research findings, 35% of parents and students experience significant stress when it comes to financing college education. Fortunately, for those who find themselves in this situation, there exists a plethora of grants and scholarships designed to alleviate the financial burden of college expenses.
Continue reading to learn about some available scholarships and grants and how to apply.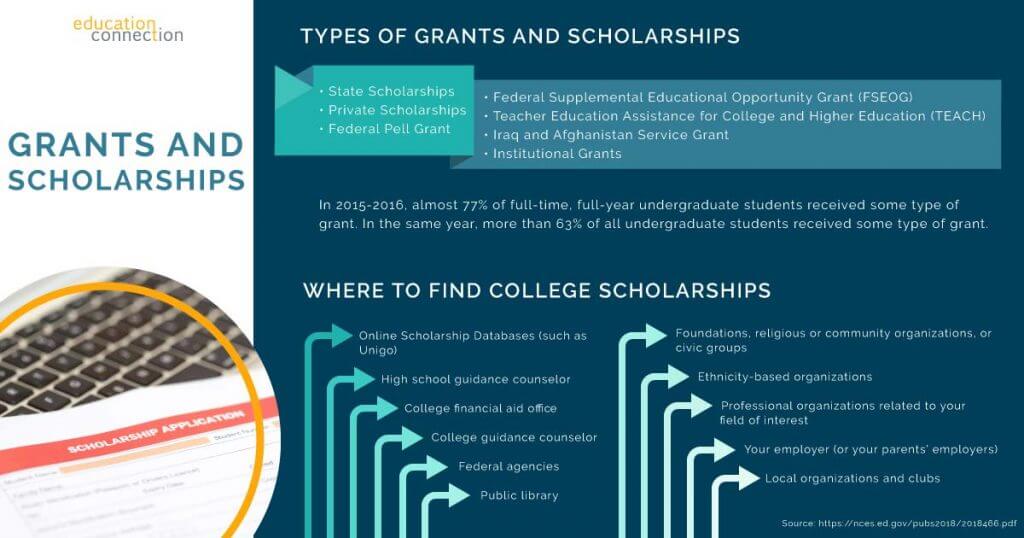 COLLEGE SCHOLARSHIPS
Scholarships offer a fantastic chance to secure financial support for your college journey, thanks to their widespread availability. Additionally, these scholarship grants span a wide range, from a few hundred dollars to covering the entire tuition bill.
While scholarships with larger awards might be less common, there exist multiple channels through which you can uncover scholarships that align with your eligibility.
WHO QUALIFIES FOR COLLEGE SCHOLARSHIPS?
Unfortunately, a common misconception among students is that they won't be eligible for college scholarships unless they were the valedictorian or a standout athlete.
However, this belief is far from the truth.
The reality is that a multitude of scholarships exist that provide financial assistance for college based on various criteria, including those mentioned earlier. This implies that virtually anyone has the potential to qualify for a college scholarship, including you.
The process simply involves conducting some preliminary research to identify scholarships that align with your qualifications and then fulfilling the application requirements, typically including an essay or a writing sample.
HOW TO FIND COLLEGE SCHOLARSHIPS
Finding scholarships, and learning how to apply, used to be a challenge as you'd have to flip through worn out and dated books at the library.
Now, there are plenty of resources online that are updated in real time and allow you to find the perfect scholarship for you.
One way is to use Unigo.com, a college scholarship database, which is the premier network for current and future college students as they figure out how to pay for college.
Other ways of finding scholarships include:
High school guidance counselor
College financial aid office
College guidance counselor
Federal agencies
Public library
Foundations, religious or community organizations, or civic groups
Ethnicity-based organizations
Professional organizations related to your field of interest
Your employer (or your parent's employers)
Local organizations and clubs
EASY SCHOLARSHIPS FOR COLLEGE
Check out some easy scholarships below and click on any to apply before the deadline.
Amount: $10,000
Deadline: Annually by December 31
To apply for this scholarship answer the question: If a historical figure was back to life in the present day, who is and what is their favorite app?
Amount: $1,500
Deadline: Annually by January 31
Requirements: Dreams can have a powerful impact on our lives, as well as reveal your subconscious thoughts. Here's your chance to earn a scholarship for sharing them.
Amount: $1,500
Deadline: Annually by February 28
Requirements: The Sweet and Simple Scholarship Committee wants to hear about a sweet and simple gift you received that had a big impact.
Amount: $2,500
Deadline: Annually by March 31
Requirements: We've all thought about what superpower we'd like to have. Now, those thoughts may help you earn a scholarship!
Amount: $3,000
Deadline: Annually by April 30
Requirements: It's often been said that education is the key to success; What doors could earning a degree open for you?
Amount: $1,500
Deadline: Annually by May 31
Requirements: What's so special about the number five? Now's your chance to potentially earn some money to help pay for college by sharing what you think makes five stand out.
Amount: $1,500
Deadline: Annually by June 30
Requirements: What if you had a chance to do-over a moment in your life? What would it be and how would the change impact your future?
Amount: $1,500
Deadline: Annually by July
Requirements: July is National Ice Cream Month, so it only makes sense to ask: if you were to be an ice cream flavor, which would it be and why?
Amount: $1,500
Deadline: Annually by August
Requirements: The Make Me Laugh Scholarship is a great way to show how funny you are.
Amount: $1,500
Deadline: Annually by September
Requirements: Whether it's a message to the world or a simple greeting, this scholarship gives you the platform you're looking for.
Amount: $2,000
Deadline: Annually by October
Requirements: If you've ever envisioned a zombie apocalypse and how you would survive, here's your chance to share it with the world.
Amount: $5,000
Deadline: Annually by November
Requirements: Have you come across those who told you not to pursue your degree? How did you respond? Why does education matter to you?
Amount: $1,500
Deadline: Annually by December
Requirements: The Top Ten List Scholarship thinks you're amazing and they want to hear the top ten reasons.
Amount: $1,000
Deadline: Annually by May 31 & November 30
Requirements: Tell other students about your experience so they can make better decisions about college.
TIP FOR APPLYING TO SCHOLARSHIPS
When writing an essay for a scholarship, always:
Keep in mind your audience
Apply as early as possible
Follow instructions
Double check your spelling and grammar
DIFFERENCE BETWEEN SCHOLARSHIPS AND GRANTS
Unlike some of the other types of financial aid, grants and scholarships come with a unique advantage – they do not necessitate repayment, provided you adhere to the specified criteria. For instance, certain grants may stipulate your enrollment as a full-time student or may be contingent upon your chosen academic field. Similarly, certain scholarships may demand the maintenance of a specific GPA. Hence, it's essential to be well-informed about the requirements you must meet to fulfill your end of the arrangement.
Grants and scholarships, by virtue of not requiring repayment, are highly coveted avenues for funding both undergraduate and graduate education. Nonetheless, these two forms of financial aid possess distinctions. Notably, numerous scholarships are merit-based, implying that they are granted to students who have attained specific accomplishments or possess particular attributes.
For example, there are awards based on:
Where you live
Race or religion
Academic or athletic record
Extracurricular activities
Essay competition
On the other hand, grants are usually awarded as need-based. However, many schools offer both need-based and merit-based grants to students.
On the other hand, most of the federal grants are need based and for those students who meet certain criteria.
DIFFERENCE BETWEEN GRANTS AND COLLEGE SCHOLARSHIPS
| Benefit | College Scholarship | College Grants |
| --- | --- | --- |
| Offered By | State Government, Institutions, Private Sources | Federal Government, State Government, Institutions |
| How Winners Are Decided | Merit-based | Financial need-based (some exceptions) |
| Amount Awarded | Varies | Varies |
| Have to Repay? | No | No |
GRANTS FOR COLLEGE
Grants work a little bit differently than scholarships, though they can be beneficial because you don't have to repay them either. So, just like scholarships, they're free money for college.
However, often these are based on financial need, though as mentioned, many colleges and universities also offer grants through the institution that are merit-based or a combination of merit-based and need-based.
There are two types of grants for college:
Federal Grants
Institutional Grants
As every school has unique grants, the list would be entirely too long to publish here. So, contact your financial aid office.
FEDERAL GRANTS
As most federal grants are awarded to students with financial need, they use the FAFSA to determine what amount of need you qualify for, just like the different types of federal student loans. Keep in mind that you need to complete the FAFSA every year to update the information.
TYPES OF FEDERAL GRANTS
There are four types of federal grants, each with slightly different requirements. Be sure to check the specific requirements to see if you qualify.
1. FEDERAL PELL GRANTS
Usually, these grants are only awarded to undergraduate students who display exceptional financial need and have not earned a bachelor's or professional degree.
2. FEDERAL SUPPLEMENTAL EDUCATIONAL OPPORTUNITY GRANT (FSEOG)
The FSEOG program is administered directly by the financial aid office at participating schools and not all schools participate. Check with your school's financial aid office to find out if your school participates.
Similar to the Pell grants, FSEOGs are awarded to undergraduate students with exceptional financial need and the school's financial aid office will award the grant to students with the most financial need.
3. TEACHER EDUCATION ASSISTANCE FOR COLLEGE AND HIGHER EDUCATION (TEACH)
These grants are different than others because they require you to take certain kinds of classes in order to get the grant and then do a certain kind of job to keep them from turning into a loan.
Awarded to undergraduate teaching students, you are required to teach for a minimum of four years at an elementary school, secondary school, or educational service agency that serves students from low-income families.
If this service obligation is not met, the grant is converted to a Direct Unsubsidized Loan.
4. IRAQ AND AFGHANISTAN SERVICE GRANT
The Iraq and Afghanistan Service Grant is only available to those whose parent or guardian served in the U.S. armed forces and died as a result of service in Iraq or Afghanistan after September 11, 2001.
In addition, you need to have been under 24 years old or enrolled in college at least part-time at the time parent's or guardian's death.
FIND GRANTS AND SCHOLARSHIPS TO HELP YOU EARN FREE MONEY FOR COLLEGE
Visit Unigo.com for a vast array of additional scholarship opportunities. Unigo boasts a database comprising over 3.6 million college scholarships and grants, totaling a remarkable $14 billion dollars in value. To streamline your search process, Unigo organizes its scholarship listings into detailed categories. Additionally, you have the option to create an account for personalized scholarship recommendations.