Online Psychology Degree Programs
Get matched to an Online Psychology Degree Program for FREE!
WHAT IS AN ONLINE PSYCHOLOGY DEGREE?
Online psychology degree programs focus on the study of the mind and human behavior. That includes how the brain works and evolves over time, and how many other factors can shape the way we think and act. When you earn a psychology degree online, you can immerse yourself in new theories, use case studies and the knowledge you've gained through experience to develop a set of skills that can be used in any field where human behavior is important.
Psych programs also deal with what happens when our thoughts and behaviors go wrong. You could study areas like substance abuse, criminal psychology, and crisis counseling. And, you could learn how to help people deal with their problems in order to live better lives.
Earning an online psych degree may be a first step to many other career paths. For example, psychologists usually need to earn a doctorate in psychology. You may also want to study psychology if you're interested in why people behave (or misbehave) the way they do! In fact, many different fields like business, health care, and education use the concepts taught in psych courses to understand behavior.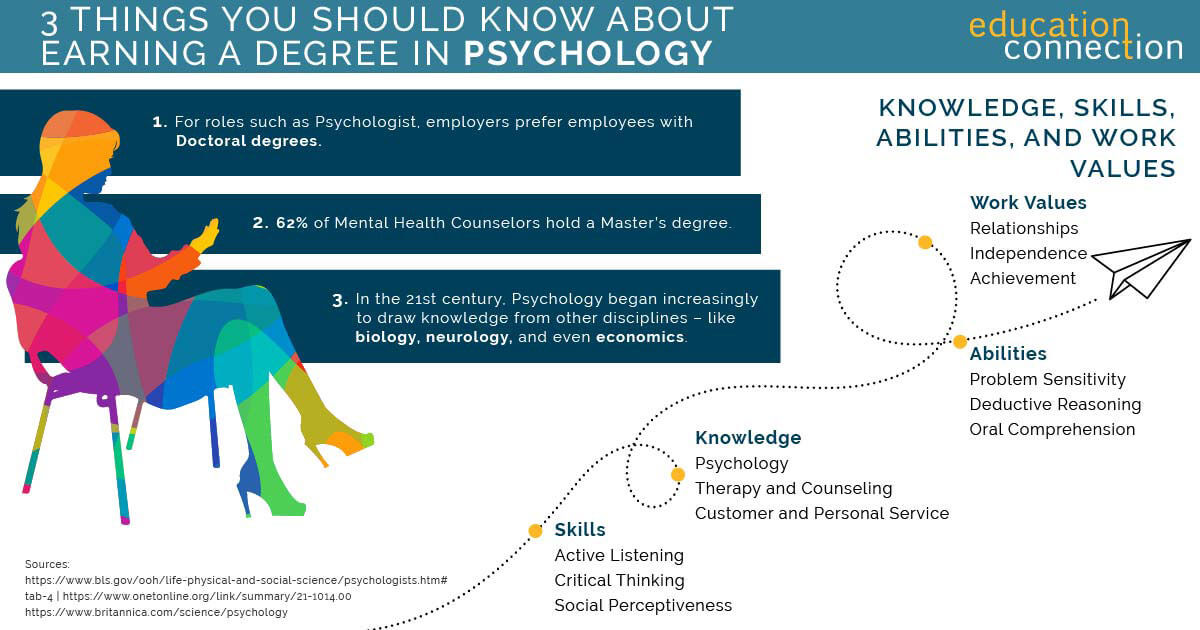 TYPES OF ONLINE PSYCHOLOGY DEGREE PROGRAMS
Bachelor of Science in Psychology – Organizational Behavior
This bachelor's degree program focuses on the essentials of psychology. It deals with how people behave, interact and work in a group. When you pursue this degree, you may take courses in social ethics or human relations. You could also learn how the principles of psychology apply to leadership. The courses taught will involve how groups affect the way a person makes decisions. This degree program is also offered at the master's and doctoral level. And, if you are seeking career advancement or looking for a role in research or teaching, a degree at the master's or doctoral level might be for you.
Course Examples:
Group Learning
Theories of Personality
Data Collection
Master of Science in Psychology
Master's degree programs provide an education through course work, research and internships. This master's degree is made to extend your general knowledge as well as provide a deeper knowledge in areas that fit your interests. The courses teach classes like psychology theories and ethics. And, it will give you the knowledge needed to become a therapist, counselor or to work in research. Students can also choose a specialty like forensic psychology. Other common areas of focus include clinical or consumer psychology. A master's degree is usually needed to pursue PhD or post PhD studies.
Course Examples:
Social Psychology
Life Span Development
Research Internship
Doctor of Philosophy in Psychology – General Psychology
This PhD program is designed to help you build on your existing knowledge. It focuses on critical thinking and research methods. Students gain knowledge about the concepts and theories behind the main areas of the field through course work and advanced research. You will take courses in the foundations of the field. Like most PhD programs, this program focuses on research. You will learn about statistics as well as how to collect and analyze data. And, while the program gives a broad overview of psychology, you can choose to focus on an area of interest like health psychology.
Course Examples:
History of Psychology
Research Methods
Tests and Measurements
ONLINE PSYCHOLOGY DEGREE PROGRAMS
Psychology degree programs have become more popular in the recent years. This might be because, as a society, we are more open to these ideas than we used to be. We've started to get curious about psychology and the ways in which it can help our lives. As a result, there are many types of degree programs to suit many corners of this field.
Students that have an interest in learning about human behavior should consider an online psych degree. In these programs, you will learn about human emotion and how people react to the world around them. In general, a well rounded program will provide students with a thorough and deep knowledge so that they can go on to pursue many types of careers in the field.
Many jobs in the field require some form of advanced degree. For instance, with an online master's degree, you can work as a school psychologist. However, to diagnose or treat any mental issues, you must first earn your PhD. That said, many students also choose to earn their master's degree in order to increase their chances of getting into a PhD program.
Bachelor's Degree
In an online Bachelor's degree program, you'll start with basic courses like math and the natural and social sciences. Then, you will go on to build on the basics through courses like personality theory and social psychology. The goal is to gain an overview of how the human mind works. Later, you could build on this knowledge through more education.
There are two main types of Bachelor's programs:
Bachelor of Arts (B.A.) in Psychology: This online B.A. program usually focuses on the social sciences. You may discover how psychology applies to fields like social work or education. You could even study specialized areas of psychology like child psychology or forensic psychology.
Bachelor of Science (B.S.) in Psychology: The online B.S. will focus more on math and science. You could pursue a broad background in science, taking courses like statistics. This type of degree may appeal to students who want to pursue graduate studies later.
Master's Degree
In an online psychology master's degree program, you'll study graduate level concepts and research methods. For example, you may learn how to design research and analyze your findings. You'll also learn how to discuss complex ideas in the field. If your program has a clinical focus, you could even learn how to work with patients in a counseling setting.
In some programs, you might be asked to choose a focus that interests you, such as:
Forensic Psychology: This area explores the ways psychology can shed light on a legal case. For example, you could study sanity in criminal cases, or learn how to assess the mental injury a victim may have suffered.
Educational Psychology: This focus explores how the field can inform teaching and learning. You could study how people learn in their lives, and how certain factors can impact learning. And, you could learn to use research in order to apply it in the field.
Addiction Psychology: Learn how to help those who deal with addictions like drugs and gambling. In this field, you may study how to prevent and treat substance abuse. Often, this area will focus on counseling strategies.
Finally, keep in mind the differences between applied and clinical psychology master's programs. Applied psychology involves using the principles of the field to solve problems in many different areas. For instance, forensic psychology applies professional knowledge within the legal field.
Clinical psychology involves working with patients who have mental health issues. Mental health counselors can help people that deal with addiction or mental illness, for example.
Doctoral Programs
Doctoral programs are made to enhance a student's ability to understand, collect and analyze research and data as well as report on their findings. Other skills that are gained are critical and creative thinking. In order to graduate, students must be able to show a strong research ability as well as a deep knowledge of psychology through the passing of exams and the writing and defense of their dissertations.
Some common Doctoral programs include:
General (Ph.D.) in Psychology: A degree program in this field can give you the knowledge to help all types of people deal with their many different mental health problems. While it is possible to focus on a certain area, a Ph.D. in this field can give you the broad knowledge and skill needed to perform research and to treat a variety of patients.
School (PsyD) Psychology: As an alternative to a Ph.D., PsyD programs focus more on the practical application of treatment rather than on research. A PsyD in this field will prepare you to become a school counselor. Earning a PsyD can allow you to have more career choices and more potential to earn than with a master's degree.
1
Take advantage of some of the nation's most affordable tuition rates, while earning a degree from a private, nonprofit, NEASC accredited university
Qualified students with 2.5 GPA and up may receive up to $20K in grants & scholarships
Multiple term start dates throughout the year. 24/7 online classroom access.
Popular Programs
Business Administration, Psychology, Information Technology, Human Services…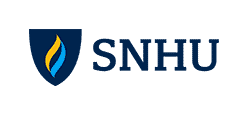 2
Ranked #8 by U.S.News & World Report for Best Online Bachelor's Programs
Apply up to 90 transfer credits for bachelor's students, and 9 transfer credits for master's degree students.
CSU Global graduates experience a return on investment of 4:1, which means they receive $4 in salary and benefits for every $1 they invest in their education.
Available Programs
Business, Computer Science, Criminal Justice, IT, Psychology…

3
Award-winning programs created to help you succeed.
A quality education doesn't have to be expensive. Earn an accredited degree for less.
Programs start monthly – Apply free this week!

Sponsored Schools
WHAT DO PSYCHOLOGY DEGREE COURSES LOOK LIKE?
A psych degree can open up many career paths to graduates beyond a private practice. The skills and tactics that are taught can be of use to many places such as hospitals, schools, as well as other businesses. Psychologists will use their skills in communication and observation to solve problems with people or in groups.
Most degree programs will include the main courses.
Some common courses include:
Introduction to Psychology:&nbspExplore the major topics such as the history of the field, research methods and human behavior and development.
Social Psychology:&nbspLearn the basic theories and concepts including human behavior, attitudes and group processes.
Introduction to Research Methods:&nbspDeepen your knowledge of the fundamental areas of research in psychology including statistics and analysis.
Human Development:&nbspUnderstand the study of emotion, cognitive and social development and how they are connected
HOW LONG DOES IT TAKE TO EARN A MASTER'S DEGREE IN PSYCHOLOGY?
How long it takes to earn an online psych degree depends on degree level. It can also depend on how much time your schedule allows you to dedicate to your schooling.
For full time students, Associate's degree programs call for 60 to 65 credits of course work. They can usually be earned in under three years.
If you are going for your bachelor's degree, you can choose to go for either your B.A. or B.S. Earning an online Bachelor's will take about four years. On average, they require 120 to 125 credits. You can also start with your associate's degree and choose to add on with a bachelor's degree later down the line. Most schools accept transfer credits and if you choose to go this route, you can rest easy knowing you won't have to start all over.
If you want to earn your Master's degree, you will need to earn about 30 credits hours after you complete your bachelor's degree. Earning an online Master's degree may take around two years of study. And earning a PhD degree may take from four to six years.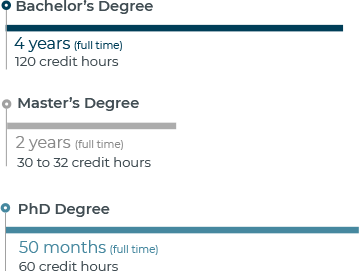 ONLINE PSYCHOLOGY DEGREE PROGRAM EXAMPLES
Even though no two online degree programs are the same, there are many master's level degrees that may take a full time student less than 3 years to complete. Many schools create programs that are meant to be finished in less than 3 years. See the chart below for some examples, then refer to each school for more details.
| School | # of Credits Required | Start Dates | Minimum Months to Complete |
| --- | --- | --- | --- |
| Northcentral University | 30 | 52 (weekly) | 20 |
| The Chicago School of Professional Psychology | 37 | Multiple | 24 |
| Grand Canyon University | 36 | Multiple | 20 |
HOW MUCH WILL A MASTER'S DEGREE IN PSYCHOLOGY COST?
The cost of earning a psych degree online varies a lot. Psych majors paid a median in state public tuition of $7,716. For out of state private colleges, they paid a median tuition of $33,510. Of course, many schools fall between those two extremes. Compare the tuition costs for these schools offering psych programs:
| School | # of Credits Required | Cost Per Credit | Total Tuition Cost |
| --- | --- | --- | --- |
| Liberty University | 36 | $565 | $20,340 |
| University of Hartford | 36 | $625 | $22,500 |
| Purdue University | 60 – 75 | $420 | $25,200 – $31,500 |
COLLEGES THAT OFFER PSYCHOLOGY DEGREES
Last check, there were 1,821 schools that offer psych degrees or programs. From those schools, there were 195,583 psych degrees or programs awarded to students. The majority of these programs were Bachelor's degrees.
| School | 2021 Degrees Awarded | 2022/23 Tuition (out of state unless *) |
| --- | --- | --- |
| Liberty University | 2,445 | $22,511* |
| Capella University | 2,310 | $14,328* |
| Florida International University | 1,740 | $18,963 |
| University of Central Florida | 1,465 | $22,467 |
| Southern New Hampshire University | 2,350 | $15,380* |
| University of California Los Angeles | 1,116 | $43,473 |
| Walden University | 1,039 | $12,150* |
| California State University Northridge | 912 | $18,949 |
| University of California-Irvine | 1,206 | $44,011 |
Estimated for full time, starting undergraduate students
THE IMPORTANCE OF AN ACCREDITED PSYCHOLOGY DEGREE PROGRAM
Accreditation helps makes sure that your program meets certain goals and guidelines. These may include program quality and whether the students of the program that graduate enter the field well prepared.
Plus, it can help to address updates in the field of psychology. As the field changes, programs should also change in order for students to be able to learn the latest info. Accredited psych programs usually take part in constant review and keep looking for ways to improve.
FINDING ACCREDITED PSYCHOLOGY PROGRAMS & SCHOOLS
First of all, you'll want to make sure your school is regionally accredited. This helps to make sure the school meets certain standards (currently, the U.S. has six regional accrediting bodies).
Next, look for program accreditation. The American Psychological Association (APA) Commission on Accreditation accredits PhD programs in Psychology. They review programs in the following areas:
Clinical psychology
Counseling psychology
School psychology
Plus, they accredit some PhD internships and post PhD residencies. Take note that the Commission on Accreditation (CoA) does not accredit psychology Master's or undergraduate programs.
CAREERS IN THE PSYCHOLOGY FIELD
As of last count, there were 2.64 million psych grads in the work force. They were employed in roles like Counselor, Social Worker, and Psychologist. And, employment for psych grads is growing! Between 2022 and 2032 alone, this group saw growth of 6%.
So, what does an average psych grad look like? For one, more females (78.2%) earned degrees in this field than males. And, the average age was 41.2 years old.
TOP STATES FOR PSYCHOLOGY DEGREE HOLDERS
This table shows states with the highest employment levels for Clinical, Counseling, and School Psychologists. State data varies for psych degree holders in other careers.
| | | |
| --- | --- | --- |
| State | Employment | Annual Mean Wage |
| New Jersey | 1,400 | $164,110 |
| Oregon | 590 | $134,830 |
| New York | 4,400 | $128,520 |
| Arkansas | 490 | $128,130 |
| California | 8,780 | $124,450 |
PSYCHOLOGY CAREER PATHS AND POTENTIAL SALARIES
Job prospects for psych positions vary depending on the role but they range from growing as fast as any other job to growing faster than average according to BLS. Below you'll find a guide to some of the more popular career paths that many graduates pursue. We've also listed the minimum education that is needed to enter the field along with salary (2022) and job outlook through 2032.
CLINICAL, COUNSELING, & SCHOOL PSYCHOLOGIST
Psychologists in this field assess and treat conditions related to mental health, emotions, and behavior. They use many methods to help their patients like psychotherapy. Some of them focus on particular groups. For example, school psychologists work with students to resolve issues with behavior and education.
According to 2022 BLS data:
Median Annual Salary: $85,330 per year
Job growth through 2032: 6% (Faster than average)
Typical Entry level education: Varies
INDUSTRIAL ORGANIZATIONAL PSYCHOLOGISTS
These psychologists apply the principles of the field to the work place. They may study topics like work style and employee morale. And, they can help managers to develop happier, more productive work places. You could study how principles of psychology apply to how a company runs. And, you may learn to apply the methods of research design and statistics as you explore the field.
According to 2022 BLS data:
Median Annual Salary: $139,280
Job growth through 2032: 11% (Much faster than average)
Typical Entry level education: Master's
MARRIAGE AND FAMILY THERAPIST
Marriage and family therapists (MFTs) assist people who deal with issues in their relationships. They use different methods to help patients talk about their feelings and work through their problems in healthy ways. MFTs use a group based point of view. Often, they work with couples, children and parents.
According to 2022 BLS data:
Median Annual Salary: $56,570 per year
Job growth through 2032: 22% (Much faster than average)
Typical Entry level education: Master's