TOP ONLINE MARKETING DEGREE PROGRAMS
WHAT IS AN ONLINE MARKETING DEGREE?
An Online Marketing Degree can ready you with creative, analytic and technical skills These are crucial when it comes to generating business through winning campaigns. In some programs, you'll build core business knowledge and dive into marketing as a focus point. You may study things such as marketing research, sales, and branding along with management. Other programs are immersive. These allow you to pick a focus such as digital marketing or sports marketing. Because of social media and our reliance on smartphones and the internet, now is a perfect time to enter the field. Today's marketing professionals need to be tech-savvy to help businesses stay competitive.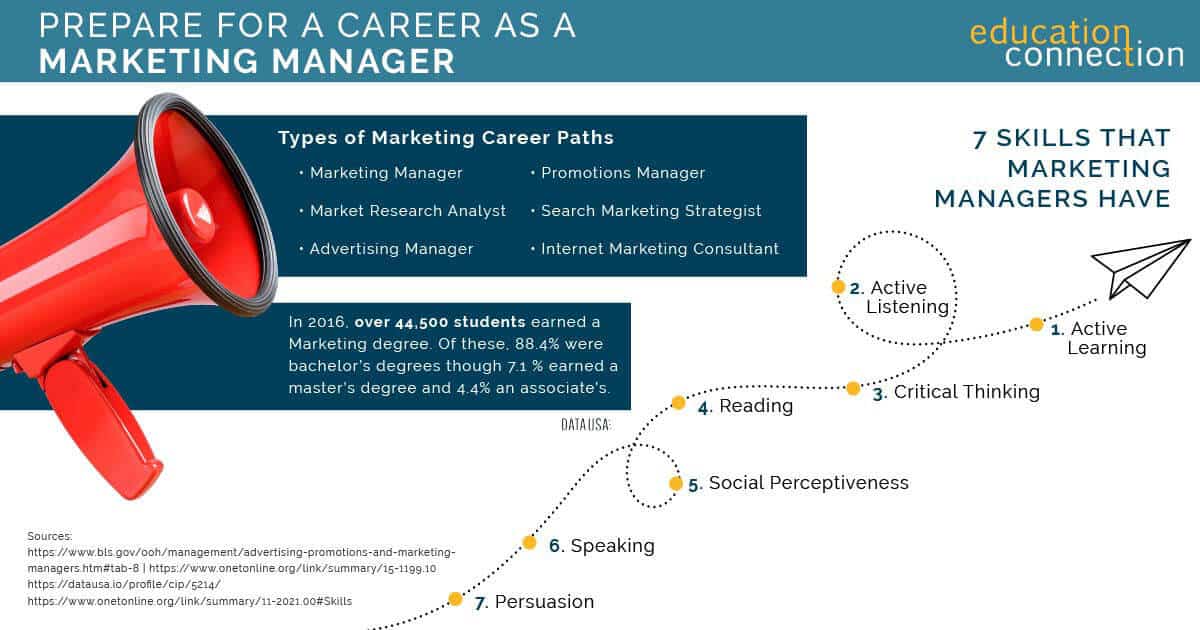 Bachelor's DEGREES
Bachelor's in Marketing
---
Basic knowledge and skills for developing, promoting, distributing, and selling
---
Intro to Marketing
Digital Marketing
Consumer Behavior
Master's Degrees
Master of Business Administration in Marketing
---
Advanced business concepts with a focus on marketing management and marketing research
---
Product Life Cycle
Domestic and International marketing
Leadership
Doctoral Degrees
Ph.D. in Marketing
---
Mastery of strategic communication, complex marketing research methods, and ethical marketing management
---
Strategic Communication
Marketing Research
Marketing Management
ONLINE MARKETING DEGREE PROGRAMS
Online marketing degree programs discuss the business of promoting and selling. Many course plans include topics like consumer behavior, marketing research and strategic marketing. These lay out the basics of how to interact with consumers and communicate brand value.
Consumer Behavior – To get a product or service into the market requires a finger on the pulse of consumer personas. A course in buyer behavior may teach students how to define target markets. They could also learn how to assess market segments and make demand forecasts.
Coursework could thus familiarize students with all the factors that affect consumer activity. Sales data (online shopping habits), customer reviews and economic trends are examples. Such topics ready students to ideate, plan, design and put in place brand strategies.
Market Research and Analytics – The marketing profession also relies on market research tools and data analysis. Use of market research tools includes conducting focus groups and surveys. Students usually learn to parlay this data into strategic and savvy sales pitches.
Many marketing courses ask students to collaborate with classmates. Here they might learn to create mock advertising campaigns that mirror real-world projects. These exercises solidify skills with sales databases, web-based media and other industry tools.
Marketing Strategy and Brand Promotions – Marketing curriculums also present current theories and trending practices used in campaigns. Some of these will be relevant for classic mediums like tv, radio and print. Others discuss the finer points of digital platforms and how to drive traffic to a website.
Internships, Practicums and Projects – Apart from coursework specific to the program, online marketing students may need to take part in an internship or complete a final project. online students can usually coordinate internships at sites near their current residence.
We've put together a sample course plan for a general marketing degree program. Below that are a few areas of emphasis where marketing students may explore a specific industry niche.
Leadership
Introduction to Marketing
Consumer Behavior
Product and Brand Management
Promotions and PR
International Marketing
Strategic Marketing
Marketing Research
DIGITAL MARKETING
Those who work towards a digital marketing degree online study the internet marketplace. Most courses are action-oriented. This means you may get hands-on practice with things like email marketing, social media, mobile marketing, video marketing, and display advertising. Other topics likely cover web analytics and search engine optimization (SEO).
HEALTH COMMUNICATIONS
An online marketing degree with a focus in health communications explores industry practices. Students could gain the skills to launch a health campaign or brand health services. Course plans may discuss public health, public policy, and organizational communications.
SPORTS MARKETING
Sports marketing degree programs examine promotions of sports events, teams, products and players. Courses in sports marketing often explore fan culture and sports audiences. These topics prepare students to detect promising opportunities based on based market research.
MARKETING ANALYTICS
Students who pursue an online marketing analytics degree focus on statistical methods. They often learn how to use statistical analyses to solve managerial problems. Other topics explore things like differentiation, positioning, segmentation, and brand loyalty.
INTEGRATED MARKETING COMMUNICATIONS
Integrated marketing communications (IMC) is all about seamlessness. Once a specific audience is set, IMC professionals use all channels to convey a brand voice. As such, courses explain key aspects of advertising, public relations, and buyer habits. Other topics explore organizational strategy and brand development.
Featured Online Schools
1
Southern New Hampshire University
Take advantage of some of the nation's most affordable tuition rates, while earning a degree from a private, nonprofit, NEASC accredited university
Qualified students with 2.5 GPA and up may receive up to $20K in grants & scholarships
Multiple term start dates throughout the year. 24/7 online classroom access.
Offering over 200 online degrees
Popular Online Programs
Business Administration, Psychology, Information Technology, Human Services…
2
Purdue Global University
Experience world-class education online with more than 175 programs at associate's, bachelor's, master's and doctoral levels.
Competency-based ExcelTrack™ Programs may allow you to earn your degree faster and for less money
Courses taught by highly respected faculty members who are experts in their fields
Full range of student services including no cost tutoring in math, science and writing
Available Online Programs
Business, Analytics, Computer Science, Cyber Security, Healthcare Management, RN to BSN, Criminal Justice, Psychology

3
Colorado State University
Ranked #8 by U.S.News & World Report for Best Online Bachelor's Programs
Apply up to 90 transfer credits for bachelor's students, and 9 transfer credits for master's degree students.
CSU Global graduates experience a return on investment of 4:1, which means they receive $4 in salary and benefits for every $1 they invest in their education.
Online Programs Include:
Accounting, Business Administration, Criminal Justice, Psychology & Information Technology

Sponsored
HOW LONG DOES IT TAKE TO EARN AN ONLINE DEGREE IN MARKETING?

The amount of time it takes to earn a degree in marketing online varies depending on the level of program and whether you choose a full-time or part-time format. The rule of thumb is:
Bachelor's degree in Marketing – 4 years full-time
Master's degree in Marketing – 2 years full-time
Doctorate degree in Marketing – 3 to 6 years full-time
Some programs may be offered in accelerated formats. These usually cater to seasoned marketing professionals with relevant experience.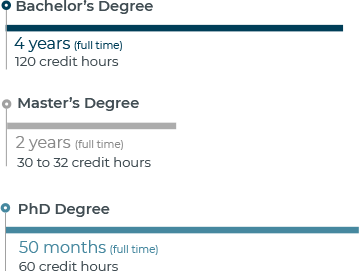 ONLINE MASTERS IN MARKETING DEGREE PROGRAMS THAT COULD BE COMPLETED IN UNDER 2 YEARS
| School | # of Credits Required | Start Dates | Minimum Months to Complete |
| --- | --- | --- | --- |
| Claremont Graduate University | 32 | 01.22.19, 05.20.19 | 4 semesters |
| North Central University | 30 | Rolling start dates | 16 months |
| Purdue Global University | 33 | July 2019 | 12 months |
HOW MUCH WILL EARNING A MARKETING DEGREE COST?
The cost of an online marketing degree depends on several factors. Apart from tuition, online students may incur a technology fee. Tuition prices might also factor in state residency. Recent reports show the median in-state public tuition for marketing degrees is $6,846. The median out-of-state private tuition is $29,662.
| School | # of Credits Required | Cost per Credit | Total Tuition Cost |
| --- | --- | --- | --- |
| Purdue Global University – MBA in Marketing | 33 | $329.05 | $42,174 |
| Claremont Graduate University – MS in Marketing Analytics | 32 | $1,940 | $62,080 |
| Colorado Techinical University – MBA in Marketing | 48 | $585 | $28,080 |
TOP SCHOOLS FOR EARNING A MARKETING DEGREE
Last check, 30,701 people earned a bachelor's in marketing, 1,843 people earned a master's degree in marketing and 1,112 people earned a PhD in marketing. The table below shows the schools that issued the most marketing degrees. Next to that, we've listed the out of state tuition.
| School | 2017 Grads Total/Degrees Awarded | Tuition (Out of State) |
| --- | --- | --- |
| University of Phoenix-Arizona | 463 | $11,219 |
| Florida State University | 460 | $19,084 |
| University of Alabama | 432 | $26,950 |
| University of Cincinnati – Main Campus | 419 | $24,656 |
| Ohio State University – Main Campus | 416 | $27,360 |
| University of South Carolina Columbia | 383 | $31,962 |
| Florida International University | 337 | $18,954 |
Becoming a Certified Marketing Professional
Once you've earned a marketing degree online, you may want to work towards a certification. While voluntary (you don't have to) a certification shows professional competency. It may help you stand out to employers and gain an edge in your career.
Being a member of a marketing organization might also offer perks. This may include webinars, networking and other industry events. It could be a perfect way to show peers and clients that you stay informed and are open to new growth and ideas. Naturally, you'll want to seek a certification that supports your goals.
If you are a Market Research Analyst, the Marketing Research Association offers the Professional Researcher Certification (PRC). To earn the PRC, persons need to log 12 industry-related education hours in order to qualify for the exam. Once you've passed the PRC exam and have your credential, you'll need to remain certified. This entails 20 credit hours of continuing education every two years. You can track your CEUs on their PRC tracking system.
The American Marketing Association is another agency that offers certification. Here, one could pursue a Professional Certified Marketer (PCM) credential in diverse tracks. Digital marketing, marketing management and sales management are a few. Each track requires students to prepare for and pass a certification exam. Once you've earned a PCM certificate, you'll need to maintain it. This requires you to earn 30 CEUs over 3 years.
For those who want to distinguish themselves as leaders, the International Institute of Marketing Professionals (IIMP) offers several certifications. The Certified Marketing Management Professional (CMMP) consists of four levels: Associate, Manager, Executive and Chartered CMMP. Eligibility and entry criteria differ, but a roadmap of coursework is provided depending on your level of experience and education

Top MARKETING DEGREE
The most common degree types held by the working population in business marketing are Bachelor's degree (75.9%); Master's degree (20.2%); and Professional degree (3%).
Recent estimates show that there are 10.5 million people in the workforce, and that this number is growing at a pace of 1.61%. We also know that the average employee age is just above 46 years old, and that most are white females.
TOP STATES FOR MARKETING JOBS
Below you will find a table showing the states with the highest employment of marketing managers and the annual mean wage.
| State | Employment | Annual Mean Wage |
| --- | --- | --- |
| California | 33,380 | $164,410 |
| Illinois | 16,720 | $122,260 |
| New York | 16,430 | $192,290 |
| Massachusetts | 12,770 | $146,240 |
| New Jersey | 10,960 | $117,070 |
JOBS WITH A MARKETING DEGREE
Marketing research analysts and marketing managers often need at least a bachelor's degree in marketing to enter the workforce. We've compiled a list of some popular career paths with salary and job outlooks. Remember that marketing is evolving with the help of technology, so you might blaze your own trail or pursue one of the careers below.
MARKETING MANAGERS
Marketing managers are leaders. They identify potential markets for the organization's products. Then plan, brainstorm and take the reigns of campaigns. Administrators, they may also figure out pricing strategies as they watch industry trends. Often, marketing managers work with sales, PR, product development and design teams.
Median annual salary (2017): $129,380
Job growth through 2026: 10% (faster than average)
Entry-level education: Bachelor's degree
MARKET RESEARCH ANALYST
Market research analysts are forecasters. They use tools like statistics to study local and global market conditions. In their role, they often assess potential sales of products and services. This helps companies decide what products people want, who will buy them, and at what price.
Median annual salary (2017): $63,230
ob growth through 2026: 23% (much faster than average)
Entry-level education: Bachelor's degree, though Masters/MBA may be preferred
SEARCH MARKETING STRATEGISTS
Search market strategists are tacticians. They use various strategies to increase visibility of websites and engagement with content. It is often their task to ensure marketing plans work on Internet-enabled devices. As analytical thinkers, they understand how search engines work. This helps them measure outcomes and understand user intent, both vital to a bottom line.
Median annual salary (2017): $88,510
Job growth through 2026: 5% (average)
Entry-level education: Bachelor's degree