Top Digital Marketing Degree Online Programs
Get matched to an Digital Marketing Degree Online Program for FREE!
WHAT IS A DIGITAL MARKETING DEGREE ONLINE PROGRAM?
A digital marketing online degree program can help you use traditional marketing strategies to digital networks and platforms. Through these classes, you will learn how to use SEO, content marketing, data analysis, digital advertising, and more to plan, communicate, and assess brand messaging. You might also learn how to use computer systems and software to analyze and support digital marketing campaigns. Your studies can help you to learn how communication and tech blend to help a business or company in a range of fields succeed.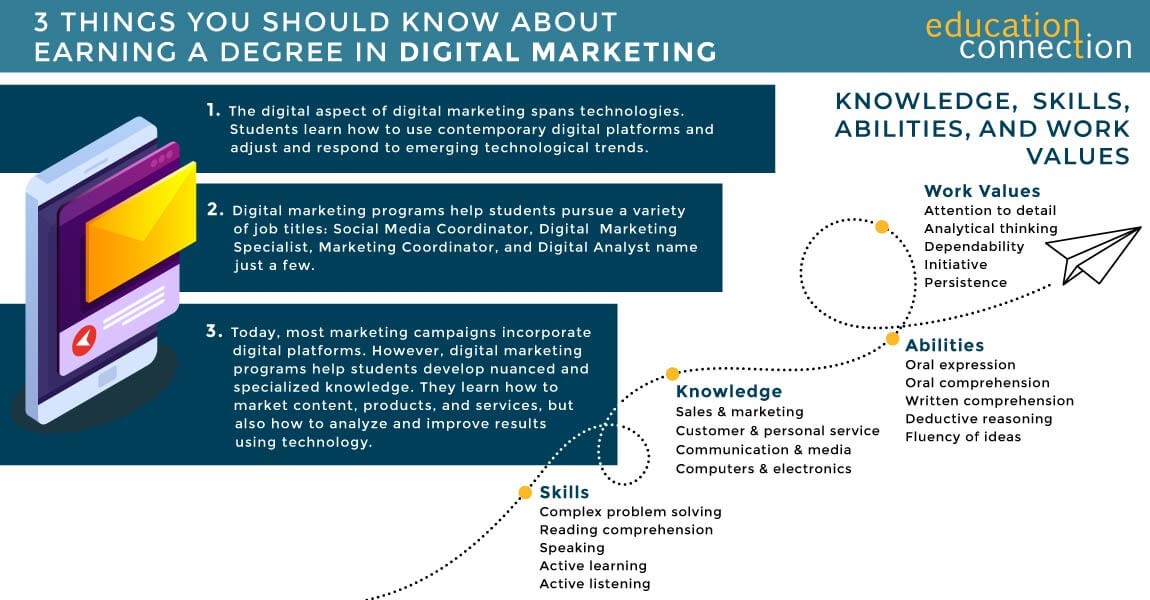 TYPES OF ONLINE DIGITAL MARKETING DEGREE PROGRAMS
Associate of Applied Science in Digital Marketing

Bachelor of Science in Digital Marketing

Master of Science in Digital Marketing

Explore the basics of digital marketing: SEO, data analysis, relationship management, and more.
Explore integrated marketing and its role in helping a business toward success. Study online branding, e commerce, SEO, consumer psych, and more.
Explore an advanced overview of multi channel marketing, including the essentials of web culture, SEO and analysis of consumer behavior patterns
Course Examples:

Social Media Marketing
Digital Analytics
Marketing & the Virtual Market place

Course Examples:

SEO
Display Advertising
Email Marketing

Course Examples:

Web Analytics
Internet Public Relations
Internet and Law
DIGITAL MARKETING DEGREE ONLINE PROGRAMS
Online digital marketing programs often exist in a business school. As such, you will often study a business core (with classes in finance, management, and more) and major in marketing. Through your major, you will study digital platforms, networks, and apps to gain more skills and knowledge. The number of classes you may take in each area will depend on the level of degree.
Associate and bachelor's degrees in this field might be called many things. First, they might be called an Associate of Arts, Associate of Science, Bachelor of Arts, or Bachelor of Science degree. Beyond that, their names become more detailed. At the associate's degree level, students might earn an A.A. or A.S. in digital marketing, marketing, or even business. The bachelor's degree offers some of the same options. Students might earn a B.A. or B.S. in digital marketing, business admin, or even systems admin. For a marketing, business, or tech degree, students might focus on digital marketing.
When looking for your perfect degree, use the name of the degree as a nudge in the right direction. Then look beyond the degree name to the program. This will give you a good sense of whether you can learn the digital marketing, business, and tech skills you want to.
Featured Online Schools
1
No application fee for April & June terms.
Take advantage of some of the nation's most affordable tuition rates, while earning a degree from a private, nonprofit, NEASC accredited university
Qualified students with 2.5 GPA and up may receive up to $20K in grants & scholarships
Multiple term start dates throughout the year. 24/7 online classroom access.
Popular Programs
Business Administration, Psychology, Information Technology, Human Services…

2
Ranked #8 by U.S.News & World Report for Best Online Bachelor's Programs
Apply up to 90 transfer credits for bachelor's students, and 9 transfer credits for master's degree students.
CSU Global graduates experience a return on investment of 4:1, which means they receive $4 in salary and benefits for every $1 they invest in their education.
Available Programs
Business, Computer Science, Criminal Justice, IT, Psychology…

3
Save up to 25%. Save thousands on your bachelor's with the Strayer Graduation Fund.
Strayer University is an accredited institution with a proud history of 125 years in quality education.
With the help of dedicated personal support and AI technology, earn your degree online or on campus.
Programs Include
Accounting, Business Administration, Criminal Justice & Information Technology

Sponsored
WHAT DIGITAL MARKETING COURSES WILL I TAKE?
In an associate's degree program, you will take one year of gen ed courses. The classes cover subjects like math, English, and the social and natural sciences. In the second year, you will pursue your major in digital marketing. That year, you study business, marketing, and digital applications. You might take a class in business principles, marketing theory, mobile marketing, and more. All of the main courses you take help you to develop skills as digital marketer.
In a bachelor's degree program, you will take two years of gen ed courses. You will still study math, English, and other subjects, but you take more classes and dive deeper into subjects. The same goes for your digital marketing major. You study similar subjects, but in more depth. Or you may study a broad range of subjects, that move beyond the core of digital marketing. For instance, you might study market analytics or data driven marketing as well as the core areas of digital marketing. In a bachelor's degree program, you can gain advanced skills and knowledge.
Some common courses include:
Data Analytics:&nbspIn this course you may learn how to gather, interpret and show case data results. You may be introduced to predictive data models and its relation to prescribing marketing strategies.
Social Media Marketing:&nbspThis course will cover each social media platform and their unique aspects to help you learn how to create effective campaigns. You may be introduced to theories on how to engage consumers, build loyalty and thereby increase revenue.
Brand Strategy:&nbspThis course preps you on how to establish, maintain and strengthen brands by how to implement clear digital strategies and goals.
Web Analytics and Optimization:&nbspIn this course, you will learn the foundations of how to optimize a website. From auditing sites to how to present and apply your findings, you can gain a working knowledge of using keyword research, local search strategy and its relation to content marketing.
HOW LONG DOES IT TAKE TO GET A DIGITAL MARKETING DEGREE?
You can earn a degree in this field online in one and a half to four years. It takes one and a half to two years to earn an associate's degree and three to four years to earn a bachelor's degree. Once you have earned an associate's degree, you may be able to transfer your credits into a bachelor's degree program. Then it would take you two more years to earn your bachelor's degree.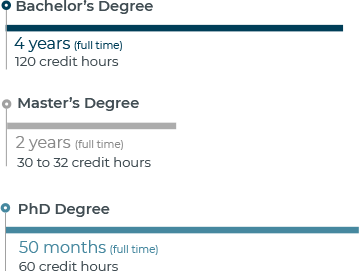 DIGITAL MARKETING DEGREE PROGRAM EXAMPLES
| | | | | |
| --- | --- | --- | --- | --- |
| School | Degree Level | # of Credits Required | Start Dates | Minimum Months to Complete |
| Oral Roberts U | Bachelor's | 121 | Fall, spring, and summer | 36 |
| Colorado Technical U | Bachelor's | 180 | Nearly monthly | 48 |
| Pennsylvania State World Campus | Bachelor's | 120 | Fall, spring, and summer | 48 |
THE AVERAGE COST OF A DIGITAL MARKETING DEGREE?
In 2016, digital marketing students paid an average of $6,924 per year for in state tuition at a public school. That same year, they paid an average of $32,244 per year for out of state tuition at a private school. That means that most students paid something between these two amounts. The price you will pay simply depends on what school you attend and whether or not you have to pay out of state prices. Note that in many cases, students do not pay out of state tuition for online programs. Instead, they may pay a lower amount.
We can give you a sense of what you might pay through some of our sponsored programs.
| School | Degree Level | # of Credits Required | Cost Per Credit | Total Tuition Cost |
| --- | --- | --- | --- | --- |
| Oral Roberts U | Bachelor's | 121 | $385 for a fully online program | $46,585 + fees |
| Colorado Technical U | Bachelor's | 180 | $325 for a fully program | $58,500 + fees |
| Pennsylvania State World Campus | Bachelor's | 120 | First 59 credits: $6,742 for 12 or more credits/semester; 60 or more credits: $7,297 for 12 or more credits/semester | $56,156 + fees |
TOP SCHOOLS FOR DIGITAL MARKETING DEGREE ONLINE PROGRAMS
Last check, there were 254 schools that offer digital marketing degrees or programs. From those schools, there were 5,034 degrees or programs awarded to students. Most (76.9%!) of these were bachelor's degrees.
| School | 2017 Grads total/degrees awarded | Tuition (Out of State) |
| --- | --- | --- |
| Savannah College of Art & Design | 404 | $35,190 |
| Indiana U: Bloomington | 252 | $32,945 |
| Florida State U | 231 | $19,084 |
| U of Georgia | 210 | $27,574 |
| U of Mississippi | 158 | $21,912 |
ACCREDITATION FOR DIGITAL MARKETING DEGREE ONLINE PROGRAMS
Accreditation is a process through which schools and programs gain their credibility. The process is run by an agency that has been approved by the U.S. DOE to do so. That agency reviews a school's programs to make sure they full fill their promise to students. Schools and even employers may require that you have a degree from one of these schools.
Accreditation can happen at the institute and program level. You should always attend a school that is accredited at the institute level. However, you do not need to find a program that has more accreditation unless you are going for a degree that leads to licensure.
For a degree in this field, you'll find some programs that have been accredited and some that don't. The ones that do are likely to be accredited by one of three places:
The Association to Advance Collegiate Schools of Business
The Accreditation Council for Business Schools and Programs
The International Accreditation Council for Business Education
These three agencies accredit business programs to ensure that they offer students current material and guide lines that apply to modern business needs and issues. Since many of these degrees are offered through business schools, the accreditation accounts for their materials and guide lines, too.
Keep in mind that you do not have to attend schools whose program has been accredited. However, you should attend a school that's been accredited at the institute level. And, choosing a program that's been accredited from one of the above agencies can't hurt.
Some schools that offer digital marketing degrees might've been accredited by the Digital Marketing Institute. If you attend such a school, you will graduate with a degree that has an internationally recognized certification. It shows to employers that you've received a quality education in digital marketing.
WHAT JOBS CAN YOU GET WITH A DIGITAL MARKETING DEGREE?
In 2016, there were more than two million digital marketing majors in the work force. This number could grow by almost 3.7% in the coming years. The average age of workers in this sector was 40 years old in 2016. The most common ages of those workers were 28 and 29 years old. Of the people who earned these degrees, the small majority (52.8%) were female.
TOP SALARIES BY STATE FOR DIGITAL MARKETING DEGREE HOLDERS
The following info is for Marketing Managers. Salary and employment numbers will differ for other career paths.
| State | Employment | Annual Mean Wage |
| --- | --- | --- |
| New York | 16,430 | $192,290 |
| New Jersey | 10,960 | $177,070 |
| Delaware | 670 | $169,610 |
| Virginia | 4,170 | $167,490 |
| California | 33,380 | $164,410 |
CAREERS WITH A DIGITAL MARKETING DEGREE
There are many roles that a digital marketing degree might fill. Any of them could exist in a small to large business or other settings, such as non profit or gov't agencies. Jobs for digital marketers span fields and industries.
Here are some positions for people who have completed a digital marketing program:
SEARCH MARKETING STRATEGISTS
These pros work to increase visibility and engagement with content, products, and services. They strive to do so on internet enabled devices and interfaces.
Median Salary: $88,510 per year
Job Growth Through 2028: 5% to 9% (As fast as average)
Typical Entry level Education: N/A
MARKETING RESEARCH ANALYSTS AND MARKETING SPECIALISTS
People in this occupation research markets in local, regional, national, or global areas. They also gather info to determine the viability of a certain product, service, or campaign. Conducting research is a heavy part of this role.
Median Salary: $63,230 per year
Job Growth Through 2028: 15% (Much faster than average)
Typical Entry level Education: N/A
MARKETING MANAGERS
Marketing managers plan and direct marketing efforts and programs. They help identify potential customers and determine demand. They also develop pricing strategies and tools for analysis. As managers, they also guide other employees in their department.
Median Salary: $132,230 per year
Job Growth Through 2028: 10% to 14% (Faster than average)
Typical Entry level Education: N/A