Online Business Degree Programs
Get matched to an Online Business Degree Program for FREE!
WHAT IS AN ONLINE BUSINESS DEGREE?
An online business degree equips students with problem-solving skills crucial for addressing business challenges. Most programs cover fundamental business courses like management and operations, aiming to provide a robust understanding of business concepts. These principles are instrumental in fostering problem-solving abilities and decision-making skills, essential for achieving career aspirations.
The field offers diverse career paths in areas like marketing, finance, accounting, and HR. Some business administration programs specialize in niche industries such as real estate or sports management. Students have the option to pursue a general business administration degree or focus on specific core areas like marketing. Online business degrees are available across various levels, starting from Associate of Applied Science (AAS) to Bachelor of Arts (BA) or Bachelor of Science in Business Administration (BSBA). For those aiming for a master's degree, bridge programs that allow simultaneous pursuit of a bachelor's and MBA are also accessible.
TYPES OF ONLINE BUSINESS DEGREE PROGRAMS
Bachelor of Science in Business Administration (BSBA)
This program looks at the basics of running a business. Compared to a BBA, these degrees are math and analytical oriented.
Course Examples:
Finance
Accounting
Intro to Marketing
M.B.A. Masters in Business Administration
Students learn about the modern practice of management. Gain a better knowledge of legal and policy issues, economics, and marketing.
Course Examples:
Economics
Finance Principles
Business Ethics
Doctor of Business Administration (D.B.A.)
The DBA deepens business knowledge for current professionals. Gain leadership positions via a better understanding how the key parts of a company work and connect.
Course Examples:
Marketing
Innovation Mgmt.
Finance
ONLINE BACHELOR'S DEGREE IN BUSINESS
At the Bachelor's level, business programs focus on basic knowledge. You may start with general courses, like math and the principles of economics. Many programs also offer the chance to take a focus. For instance, you could focus on finance, marketing, HR or data analytics.
Most Bachelor's in business programs fall into one of three categories:
Bachelor of Business Administration (BBA). This program tends to cover a general overview of business. You'll study subjects like economics, accounting, and marketing.
Bachelor of Science in Business Administration (BSBA). This program may focus on STEM, alongside business topics. Expect higher level math courses.
Bachelor of Arts in Business Administration (BABA). This program may include liberal arts courses, along with business courses. For instance, you could study history, english, and marketing.
MASTER'S DEGREES IN BUSINESS & MBAs
Business students tend to choose from two kinds of Masters in Business Programs
Master of Business Administration (MBA). MBA programs tend to take a big picture approach to business. Students take courses in areas like management, organizational behavior, and finance.  MBA programs strive to give a broad overview of business leadership. These programs may ask for work experience.
Master of Science in Business (M.S.). M.S. in Business programs usually drill down on one area of expertise. For instance, you could study business analytics or supply chain management in depth. Another key way that they differ is that you may not need as much work experience to pursue an M.S., compared to an MBA.
DOCTORAL BUSINESS PROGRAMS
At this level, students further delve into business theory and practice. Programs feature advanced courses like grad level statistics. Business research may play a big role in earning this type of degree. Often, you must research and write a dissertation to earn a doctorate in business.
If you want to study business at the doctoral level, you'll likely find two types of program:
Doctor of Business Administration (DBA). DBA programs are often aimed at people already in the business world. You'll study business theory you could apply within a company. If your goal is solving business problems using existing theories, earning a DBA may be ideal.
PhD in Business. PhD programs focus on original research in business. Instead of applying theories, students may create and test new ones. So, a PhD in Business may be ideal for those who want to conduct research or teach.
1
Take advantage of some of the nation's most affordable tuition rates, while earning a degree from a private, nonprofit, NEASC accredited university
Qualified students with 2.5 GPA and up may receive up to $20K in grants & scholarships
Multiple term start dates throughout the year. 24/7 online classroom access.
Popular Programs
Business Administration, Psychology, Information Technology, Human Services…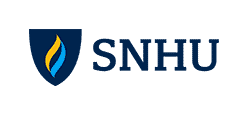 2
Ranked #8 by U.S.News & World Report for Best Online Bachelor's Programs
Apply up to 90 transfer credits for bachelor's students, and 9 transfer credits for master's degree students.
CSU Global graduates experience a return on investment of 4:1, which means they receive $4 in salary and benefits for every $1 they invest in their education.
Available Programs
Business, Computer Science, Criminal Justice, IT, Psychology…

3
Award-winning programs created to help you succeed.
A quality education doesn't have to be expensive. Earn an accredited degree for less.
Programs start monthly – Apply free this week!

Sponsored Schools
Online Business Degree: Courses You'll Study
Business courses at the undergrad and grad level are similar from college to college. Business Admin programs cover a wide breadth of key business concepts. These courses aim to teach you how to manage people and data in many different business settings. You should learn how successful leaders operate, and how to work in a team environment. Decision making and problem solving skills are also a key area explored. Course examples include:
Organizational Behavior:&nbspLearn about the different ways people behave in business and how it can affect how a business works.
Marketing:&nbspExplore the world of marketing and the 4P's: Product, price, promotion and place. Learn how to develop marketing plans.
Accounting:&nbspUnderstand financial statements and terms. Learn how to prepare reports.
Business Law:&nbspLearn how the law applies to businesses. From contracts, to product liability and cyber law.
Leadership:&nbspDiscover different leadership styles. Learn how to put these styles into practice in day to day decision making.
Ethics:&nbspStudy moral issues in Business. Topics such as corporate responsibility, morality in advertising and conflicts of interest..
HOW LONG DOES IT TAKE TO EARN AN ONLINE BUSINESS DEGREE?
Earning a Bachelor's degree in business takes around four years if you are studying full time. Earning an MBA takes about two years. You may be able to find programs that are fast tracked and take only one year. Finally, PhD programs vary in length. A DBA may take between three and five years to earn.
4+1 Programs
If you want to earn both a bachelors and masters, you may want to consider an accelerated program. An accelerated program is sometimes known known as a 4+1 degree. In this program, you may be able to earn your bachelor's and master's degrees in a shorter amount of time.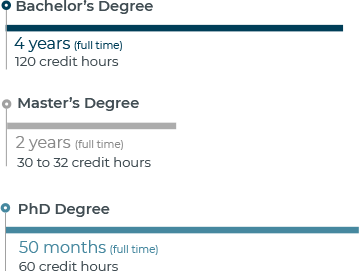 HOW MUCH DOES AN ONLINE BUSINESS DEGREE COST?
In the 2021 school year, business admin majors paid median in state public tuition of $6,750. Median tuition for out of state private colleges was much higher, at $30,625. Of course, most schools fall in the middle. Be sure to check with each school for up to date costs.
TOP ONLINE BUSINESS SCHOOLS
In 2021 there were 354,401 business admin degree programs awarded. Generally speaking, more people earn Bachelor's degrees than any other level. The top 10 business schools below are by number of degrees awarded.
| School | 2021 Total Degrees Awarded | Grad Rate |
| --- | --- | --- |
| U of Phoenix | 11,375 | 3.22% |
| U of Maryland Global Campus | 3,628 | 1.03% |
| SNHU (Southern New Hampshire) | 6,654 | 1.88% |
| Liberty U | 3,361 | 0.95% |
| Western Governors U | 6,019 | 1.7% |
| Colorado Technical U | 3,918 | 1.11% |
| American Public U | 2,574 | 0.78% |
| California State U | 1,002 | 0.28% |
| Broward College | 2,529 | 0.72% |
| Grand Canyon | 3,324 | 0.94% |
Top 25 Schools with an Online Business Degree
There are many business schools. They aim to teach students how to manage a business in many areas. This often includes a focus. Some may include marketing, accounting, finance, and operations. Business management focuses may also be common. The goal is to teach students practical skills in the world of business. Today, many students may pursue degree programs to help prepare them for global business management. They may also seek out programs where innovation and leadership skills are present. This business school list offers insight into some of the business management options. These programs are far reaching. Many schools may also offer more than one track of study, too. we have ranked our top 25 schools based on the number of graduates from the program in 2021. Our process looks at 2021 data from the NCES. And, it may help you narrow your search down.
WHY CHOOSE AN ACCREDITED ONLINE BUSINESS DEGREE?
Accreditation can ensure your business program upholds the standards that matter to you. Accrediting agencies check programs for things like teaching quality and student outcomes.
Maintaining accreditation evolves over time. So, and up to date accreditation could be a sign that your program keeps up with the business field's changing needs. Two such agencies for business programs are:
The Accreditation Council for Business Schools and Programs (ACBSP): ACBSP accredits business programs at all levels. They use seven standards determine quality. Leadership, strategic planning, student focus, student outcomes, faculty focus, course work and business unit performance.
International Accreditation Council for Business Education (IACBE): IACBE accredits business programs at all levels. Their approach involves measuring program outcomes.
Both ACBSP and IACBE are both recognized by CHEA, so both are good accrediting agencies for an online business administration degree.
Why Earn Your Business Degree Online?
Scheduling Flexibility: In self paced formats, students log into a web based course management system when they have time. Watch pre recorded lectures.
Made for Working Professionals: Online programs often offer such features as credit for live experience. They may also waive SAT, GRE and other standard tests.
Learning and Studying: While each school may use different tech, some of the options could include digital libraries, video conferencing, online student discussion boards and academic help.
Business Careers
As of 2017, there were 11.2 million business grads in the work force. Work for business degree holders is growing. Between 2016 and 2017, this group saw job growth of 3.01%.  These included Accountants & Auditors, the role with the largest share of business grads.
What do business grads look like? For starters, a few more males (51.6%) earned business degrees than females. The average age of an worker with a business degree was 43.7 years old.
Top States for Business Professionals
The table below shows states with the highest employment levels for Financial Managers. This career path often needs a degree in business admin.
| STATE | EMPLOYMENT | ANNUAL MEAN WAGE |
| --- | --- | --- |
| California | 99,340 | $187,410 |
| New Jersey | 30,640 | $204,150 |
| New York | 55,560 | $228,160 |
| Colorado | 11,230 | $190,570 |
| Delaware | 2,470 | $191,750 |
WHAT KIND OF JOBS CAN YOU GET WITH A BUSINESS DEGREE?
According to the BLS, Business and financial careers will grow 7% from 2018 to 2028. That's faster than average for all jobs, and equals about 591,800 new jobs! Here are a few paths with 2018 salary info to look at if you plan to earn an online business admin degree.