Top Online Business Degree Programs: Accredited & Affordable
Get matched to an Online Business Degree Program for FREE!
WHAT IS AN ONLINE BUSINESS ADMINISTRATION DEGREE?
Online business degree programs teach students how to best find and solve tough problems that face companies today. Most online business degree programs offer a number of core business courses. The goal of these courses is to give you a good grasp of business concepts, solving hard business problems, and how to be a leader.
Career paths in this field include areas like marketing, management, finance and HR. Some business administration programs even prepare you for a niche industries. For example, you could study real estate or health services management.
Studying business may also be a good fit for you if you're curious about how commerce shapes the world. From mom and pop shops to Fortune 500 corporations, businesses are the building blocks of the economy. No matter what role you hope to play, your online business administration courses could prepare you to make an impact.
BACHELOR'S DEGREES
Bachelor of Science in Business Administration (BSBA)
---
This program focuses on the basics of running a business. Compared to a BBA, these degrees are math and analytical oriented.
---
Finance

Accounting

Introduction to Marketing
MASTER'S DEGREES
M.B.A. Masters in Business Administration
---
Students learn about the modern practice of management. Gain a better understanding of legal and policy issues, economics, and marketing.
---
Economics
Finance Principles
Business Ethics
Doctorate Degrees
Doctor of Business Administration (D.B.A.)
---
The DBA deepens business knowledge for current professionals. Gain leadership positions via a better understanding how the key parts of a company work and connect.
---
Marketing
Innovation Management
Finance
ONLINE BUSINESS DEGREE PROGRAMS
A typical business program teaches students the strategies for running a healthy company. That said, an online business administration degree may address many areas of expertise. Wherever you are in your career, you can find a business degree at any degree level.
ONLINE BACHELOR'S DEGREE IN BUSINESS
At the Bachelor's level, business programs focus on basic knowledge. You may start with general courses, like math and the principles of economics. You'll also take core business courses like:
Accounting
Finance
Supply Chain Management
Business Law and Ethics
Human Capital
Many programs also offer the chance to take a concentration. For instance, you could focus on international business, marketing, or entrepreneurship.
Most Bachelor's in business programs fall into one of three categories:
Bachelor of Business Administration (BBA). This program tends to cover a general overview of business. You'll study subjects like economics, accounting, and marketing.
Bachelor of Science in Business Administration (BSBA). This program may focus on STEM, alongside business topics. Expect higher level math courses.
Bachelor of Arts in Business Administration (BABA). This program may include liberal arts courses, along with business courses. For instance, you could study history, English, and marketing.
MASTER'S DEGREES IN BUSINESS, INCLUDING MBA PROGRAMS
Master's programs build on past learning and feature more advanced business topics. Programs may be more analytical, with courses like statistics and math modeling. You could even focus on an industry you love, like sports business.
BUSINESS STUDENTS TEND TO CHOOSE FROM TWO KINDS OF MASTER'S PROGRAMS:
Master of Business Administration (MBA). MBA programs tend to take a big picture approach to business. Students take courses in areas like management, organizational behavior, and finance. You could also choose a concentration. However, MBA programs strive to give a broad overview of business leadership. These programs may ask for work experience.
Master of Science in Business (M.S.). M.S. in Business programs usually drill down on one area of expertise. For instance, you could study business analytics or supply chain management in depth. Another key way that they differ is that you may not need as much work experience to pursue an M.S., compared to an MBA.
MANY MASTER'S IN BUSINESS PROGRAMS OFFER MAJORS, LIKE:
International Business. Cover business across different countries. You could study global trade and business issues that span nations.
Entrepreneurship. Have you always dreamed of launching your own business? This degree may cover planning and funding a business concept. You may learn to lead a team to success or even invest in a new venture.
General Business. A general business degree gives a broad overview of the field. You may engage in business research, study ethics, and hone your management strategies.
DOCTORAL BUSINESS PROGRAMS
At the doctoral level, students further delve into business theory and practice. Programs feature advanced courses like graduate level statistics. Business research may play a big role in earning this type of degree. Typically, you must research and write a dissertation to earn a doctorate in business.
If you want to study business at the doctoral level, you'll generally find two types of program:
Doctor of Business Administration (DBA). DBA programs are usually aimed at people already in the business world. You'll study business theory you could apply within a company. If your goal is solving business problems using existing theories, earning a DBA may be ideal.
PhD in Business. PhD programs focus on original research in business. Instead of applying theories, students may create and test new ones. So, a PhD in Business may be ideal for those who want to conduct research or teach.
Featured Online Schools
1
Southern New Hampshire University
Take advantage of some of the nation's most affordable tuition rates, while earning a degree from a private, nonprofit, NEASC accredited university
Qualified students with 2.5 GPA and up may receive up to $20K in grants & scholarships
Multiple term start dates throughout the year. 24/7 online classroom access.
Offering over 200 online degrees
Popular Online Programs
Business Administration, Psychology, Information Technology, Human Services…
2
Western Governors University
An affordable way to earn your degree.
Tuition around $4,000 a term – about half the cost of most other online universities.
Over 60 accredited bachelor's and master's degrees.
Programs start monthly – Apply free this week!
Available Online Programs
Business Management, Human Resource Management, Information Technology Management, Computer Science, Cybersecurity, Healthcare Management, Elementary Education

3
Strayer University
Save up to 25%. Save thousands on your bachelor's with the Strayer Graduation Fund.
Strayer University is an accredited institution with a proud history of 125 years in quality education.
With the help of dedicated personal support and AI technology, earn your degree online or on campus.
Online Programs Include:
Accounting, Data Analytics, Cybersecurity, Business Administration, Criminal Justice & Information Technology

Sponsored
HOW LONG DOES IT TAKE TO EARN AN ONLINE BUSINESS DEGREE?
Earning a Bachelor's degree in business takes around four years of full-time study. Earning an MBA takes about two years. You may be able to find programs that are fast tracked and take only one year. Finally, phd programs vary in length. For example, a DBA may take between three and five years to earn.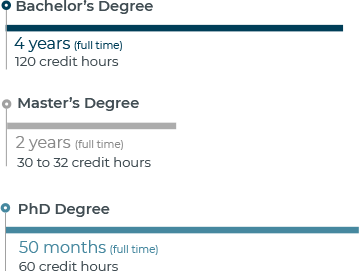 ONLINE BUSINESS DEGREE PROGRAMS EXAMPLES
| School | Degree Level | # of Credits | Start Dates | Min Months |
| --- | --- | --- | --- | --- |
| University of the Southwest | Master's | 36 | Courses start every eight weeks | 12 |
| Southern Oregon University | Master's | 45 | Multiple | 16 |
| Regent University | Master's | 42 | Multiple | 16 |
HOW MUCH DOES AN ONLINE BUSINESS DEGREE COST?
As of 2016, business majors paid median in state public tuition of $6,577. Median tuition for out of state private colleges was much higher, at $29,650. Of course, most schools fall somewhere in the middle. Be sure to check with each school individual for up to date costs. Compare the following online bachelor's degree in business costs:
CHEAPEST ONLINE BUSINESS DEGREES
US News Ranking
Cost Per Credit
(aLL PROGRAMS 120 CREDITS)
Total degree Cost
Lamar University (AACSB)
National 293-381
$248
$29,760
Nicholls State U (AACSB)
South 84
$275
$33,000
Grantham (IACBE)
Not Ranked
$295
$35,400
SNHU (Southern New Hampshire) (ACBSP)
North 92
$275
$38,400
Indiana U at Bloomington (AACSB)
National 79
$321
$38,560
Colorado State U – Global Camps (ACBSP)
Not Ranked
$350
$42,000
TOP ONLINE BUSINESS SCHOOLS
Last check, there were 2,660 schools that offer general business administration degree programs.These schools awarded 326,161 business administration degrees. Generally speaking, more Bachelor's degrees are awarded than any other level. Top business schools below are ranked by number of degrees awarded.
| School | 2016 Total Degrees Awarded | grad rate |
| --- | --- | --- |
| University of Phoenix | 10,196 | 17% |
| University of Maryland Global Campus | 3,264 | 15% |
| Broward College | 3,052 | 31% |
| Liberty University | 2,745 | 50% |
| SNHU (Southern New Hampshire) | 2,545 | 54% |
| Colorado Technical University | 2,516 | 29% |
| Western Governors University | 2,478 | 29% |
| Columbia Southern University | 2,437 | 24% |
| California State University | 2,256 | 68% |
| Webster University | 2,124 | 59% |
WHY CHOOSE AN ACCREDITED ONLINE BUSINESS ADMINISTRATION DEGREE?
Accreditation can ensure your business program upholds the standards that matter to you. Accrediting agencies check programs for things like teaching quality and student outcomes.
Maintaining accreditation evolves over time. So, accreditation could be a sign that your program keeps up with the business field's changing needs. Two such agencies are:
The Accreditation Council for Business Schools and Programs (ACBSP): ACBSP accredits business programs at all levels. Seven standards determine quality. Leadership, strategic planning, student focus, student outcomes, faculty focus, course work and business unit performance.
International Accreditation Council for Business Education (IACBE): IACBE accredits business programs at all levels. Their approach involves measuring program outcomes.
Both ACBSP and IACBE are both recognized by CHEA, so both are good accrediting agencies for an online business administration degree.
GROWTH OF THE BUSINESS FIELD
As of 2016, there were 10.5 million business grads in the work force. These included Accountants & Auditors, the role with the largest share of business grads. Work for business degree holders is growing. Between 2015 and 2016, this group saw growth of 1.61%.
What do business grads look like? For starters, a few more males (51.8%) earned business degrees than females. The average age of an worker with a business degree was 43.7 years old.
Top States for Business Prefessional
The table below shows states with the highest employment levels for Financial Managers. This career path often needs a degree in business administration.
| STATE | EMPLOYMENT | ANNUAL MEAN WAGE |
| --- | --- | --- |
| CA | 72,100 | $154,310 |
| New York | 40,570 | $205,500 |
| Illinois | 37,310 | $134,370 |
| Texas | 32,480 | $151,170 |
| MA | 30,610 | $142,370 |
WHAT KIND OF JOBS CAN YOU GET WITH A BUSINESS DEGREE?
Business and financial careers may grow 10% from 2016 to 2026. That's faster than average for all jobs! Here are a few paths to look at if you plan to earn an online business administration degree.
ADMIN SERVICES MANAGERS
Admin services managers help keep a business running smoothly. They plan, direct, and coordinate support services of an company. Their specific duties can vary from company to company and industry to industry.
Median Salary: $94,020 per year
Job growth to 2026: 10% (Faster than avg.)
Typical Entry Level Degree: Bachelor's degree
MARKETING MANAGERS
Marketing Managers create interest among buyers of a product or service. They do this for a department, for an entire company.
Median Salary: $129,380 per year
Job growth to 2026: 10% (Faster than avg.)
Typical Entry Level Degree: Bachelor's degree
FINANCIAL MANAGERS
Financial managers deal with for the financial health of an organization. They produce financial reports, direct investment activities, and develop strategies and plans for the long term financial goals of their company.
Median Salary: $125,080 per year
Job growth to 2026: 19% (Much faster than average)
Typical Entry Level Degree: Bachelor's degree