Online Accounting Degree Programs
Earn an accounting degree at your own pace!
WHAT IS AN ONLINE ACCOUNTING DEGREE?
Online Accounting Degree programs help professionals pursue careers in numerous areas. Auditor, public accountant, corporate accountant, forensic accountant, tax examiner, and revenue agent name just a few. These careers and others require accountants to not only be good at counting numbers and tracking money but also at financial planning, forecasting, analysis, internal control and consulting. This means that today's accountants must develop a range of knowledge and skills. Enter online accounting degrees.
By earning an online accounting degree, you can develop your mathematical, financial, and social knowledge and skills. In general, the more advanced your degree, the more you'll learn.
With a two-year associate's degree in accounting, you'll learn the basics of accounting and develop your reading, writing, and speaking skills through general education courses.
With a four-year bachelor's degree in accounting, you'll learn the basics of accounting and study a specific area of accounting such as nonprofit accounting, energy economics, or investment. You'll also spend more time developing your reading, writing, speaking, and critical thinking skills.
With a two-year master's degree in accounting, you'll broaden your existing accounting knowledge and further focus it in a specific area of accounting. Through accounting-focused coursework and research, you'll further advance your professional and social skills across the board.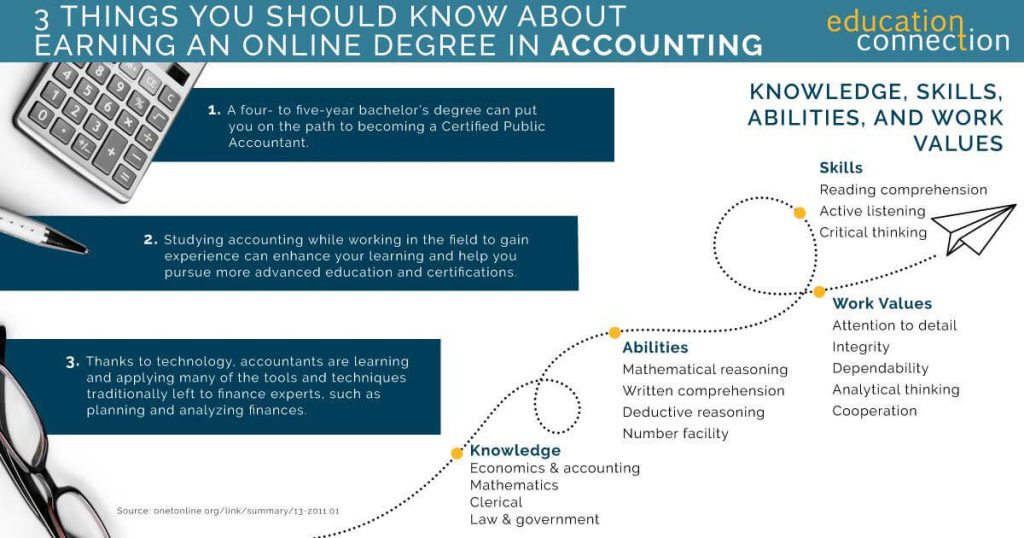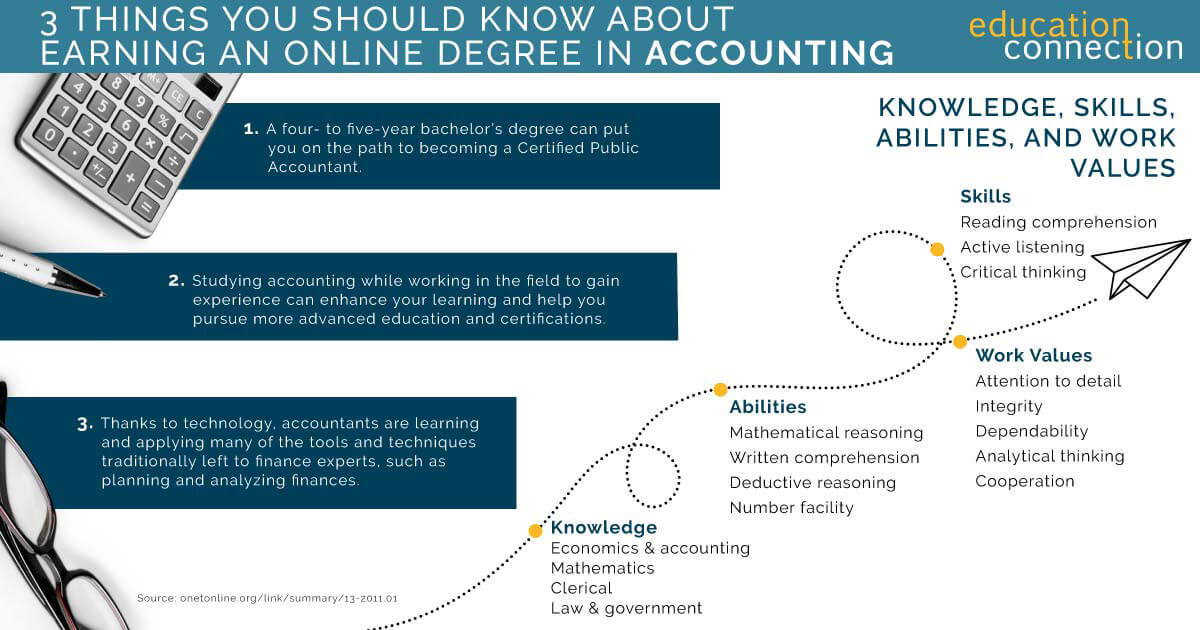 ONLINE ACCOUNTING DEGREE PROGRAMS
ASSOCIATE DEGREE
Associate Degree in Accounting
---
Student learn relevant skills employers seek for their business, including managerial accounting, financial reporting, account reconciliation, payroll and bookkeeping
BACHELOR'S DEGREE
Bachelor of Science in Accounting
---
Students learn accounting, financial, and budgeting fundamentals and the underlying forces that drive organizations.
MASTER'S DEGREE
Master of Science in Accounting
---

Helps business students develop core knowledge of accounting and pursue licensure as an accountant. Students use electives to focus their studies in a specific area of accounting. Through the program, students study for the CPA exam and develop networks.
COURSEWORK FOR A BACHELOR'S OR MASTER'S DEGREE IN ACCOUNTING
To earn a bachelor's degree in accounting, students commonly study:
Principles of finance
Financial and managerial accounting
Cost accounting
Beginning, intermediate, and advanced accounting
Federal taxation
Financial statement analysis
Auditing
Coursework like this is obviously specific to accounting. Accounting majors may also study a business core and take courses in:
Business law
Business systems design and analysis
Marketing
International business
Human relations
Strategic management
Operations management
A master's degree program in accounting typically enables accountants to advance their knowledge in the subject broadly or specifically. It also helps them learn how to conduct research in the field. Master's students broadening their basic knowledge might study:
Accounting and information systems
Auditing
Financial accounting theory
Ethics in accounting
Case studies and research in accounting
Leadership in accounting
Master's students who want to study an area of accounting in depth might take courses in subjects such as:
Business taxation
Data and analytics
Financial and public accounting
Accounting information systems
QUALIFYING TO TAKE THE CERTIFIED PUBLIC ACCOUNTANT EXAM
To take the Certified Public Accountant (CPA) exam, professionals must log 150 credit hours of education in accounting. Students can earn this number of credit hours through:
A four-year bachelor's degree program in accounting plus one year of a master's degree program in accounting
An accelerated four-year bachelor's degree that covers 150 credit hours
A four-year bachelor's degree in accounting plus 30 credit hours of non-degree education in accounting
If you want to become a CPA, be sure to talk to an advisor in your accountant degree program. He or she can decipher what you need to do to earn 150 credit hours. Also, learn about the CPA exam through the American Institute of Certified Public Accountants, the organization that manages the exam.
WHAT IS THE DIFFERENCE: FINANCE VS. ACCOUNTING
Accounting is one part of finance. It deals primarily with recording and reporting on financial transactions. Finance, meanwhile, deals primarily with planning and directing those financial transactions. Another way to think of it is like this: while accounting deals with tracking the money that comes in and goes out of a company or entity, finance deals with the broader management of money and other assets and liabilities. Finance also plans for present-day protection and future growth. In today's financial world, software and other technology handle many of the tasks historically assigned to accountants. Because of that, many accountants are developing their skillset in areas more traditionally assigned to experts in finance.
Featured Online Schools
1
Southern New Hampshire University
Take advantage of some of the nation's most affordable tuition rates, while earning a degree from a private, nonprofit, NEASC accredited university
Qualified students with 2.5 GPA and up may receive up to $20K in grants & scholarships
Multiple term start dates throughout the year. 24/7 online classroom access.
Offering over 200 online degrees
Popular Online Programs
Business Administration, Psychology, Information Technology, Human Services…
2
Purdue Global University
Experience world-class education online with more than 175 programs at associate's, bachelor's, master's and doctoral levels.
Competency-based ExcelTrack™ Programs may allow you to earn your degree faster and for less money
Courses taught by highly respected faculty members who are experts in their fields
Full range of student services including no cost tutoring in math, science and writing
Available Online Programs
Business, Analytics, Computer Science, Cyber Security, Healthcare Management, RN to BSN, Criminal Justice, Psychology

3
Colorado State University
Ranked #8 by U.S.News & World Report for Best Online Bachelor's Programs
Apply up to 90 transfer credits for bachelor's students, and 9 transfer credits for master's degree students.
CSU Global graduates experience a return on investment of 4:1, which means they receive $4 in salary and benefits for every $1 they invest in their education.
Online Programs Include:
Accounting, Business Administration, Criminal Justice, Psychology & Information Technology

Sponsored
WHAT DOES AN ACCOUNTANT DO?
Broadly, accountants prepare and examine financial records. This includes tracking financial transactions, ensuring that financial records are accurate and thorough, and paying taxes properly and on time. Accountants also understand and follow financial laws and regulations. They do this work for individuals, families, businesses, and other organizations, such as nonprofits and government entities. Twenty-five percent of accountants work for entities that provide accounting, tax preparation, bookkeeping, and payroll services. Another 16 percent is split evenly between government entities and finance and insurance agencies. Yet another 14 percent is split evenly between working in management and being self-employed. These roles account (no pun intended) for the highest employment rates of accountants.
While some individuals and businesses hire accountants who at least have a certificate or an associate's degree, the majority hire ones who have at least a bachelor's degree. Therefore, plan on studying for at least four years before becoming an accountant and longer to become a CPA.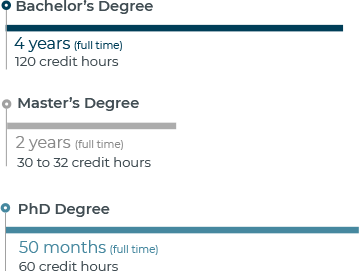 ACCOUNTING DEGREES THAT COULD BE COMPLETED IN FOUR YEARS
| School | # of Credits Required | Start Dates | Minimum Months to Complete |
| --- | --- | --- | --- |
| Colorado State University: Global Campus | 120 | twice per year | 36 |
| American Intercontinental University | 180 | twice per year | 36 |
| Ashford University | 120 | four per year | 36 |
Average Cost of an ACCOUNTING DEGREE
The cost of earning an online bachelor's degree in accounting varies by institution, number of credits per program, and sometimes by state. However, we can give you a sense of what students pay for a four-year degree in accounting across the country and institution type: the median in-state tuition at a public institution is $6,757 for a B.S. in Accounting. The median out-of-state tuition at a private institution is $29,025 for a B.S. in Accounting.
| School | # of Credits Required | Cost Per Credit | Total Tuition Cost |
| --- | --- | --- | --- |
| Colorado State University Global Campus | 120 | $350 | $42,000 + materials |
| American Intercontinental University | 180 | $325 | $58,500 + fees |
| Ashford University | 120 | $485 | $58,200 + fees |
TOP Schools that offer ACCOUNTING Degrees
Last check, there were 150 schools that offer accounting degrees or programs. From those schools, there were 83,555 accounting degrees awarded to students. Most of these degrees—67.8 percent—were bachelor's degrees.
| School | 2016 Grads Total/Degrees Awarded | Tuition (Out-of-State) |
| --- | --- | --- |
| University of Phoenix, AZ | 1,062 | $11,219 |
| University of Illinois at Urbana-Champaign | 874 | $30,756 |
| CUNY Bernard M Baruch College | 846 | $13,440 |
| Southern New Hampshire University | 656 | $30,756 |
| The University of Texas at Dallas | 576 | $28,808 |
| Pennsylvania State University – Main Campus | 566 | $31,434 |
| CUNY Queens College | 537 | $13,440 |
Source: datausa.io/profile/cip/520301/#institutions
WHAT IS A CPA?
A CPA is a Certified Public Accountant, or an accountant who is licensed by their state's Board of Accountancy. Having this designation demonstrates having professional competence in a specialized field of accounting or auditing. Also, unlike unlicensed accountants, CPAs can file reports with the Securities and Exchange Commission. Passing the CPA exam and becoming licensed also qualifies accountants to secure additional certifications, such as the Accredited in Business Valuation, Certified Information Technology Professional, or Personal Financial Specialist. Gaining these certificates may require additional education, experience, and passing of exams.
As we mentioned before, accountants must log 150 credit hours to be eligible to take the CPA test. The path to becoming a CPA therefore begins with formal education and continues with experience, studying, and sharp test-taking skills.
The CPA exam is administered by the American Institute of Certified Public Accountants. It has four parts to it:
Auditing and Attestation
Business Environment and Concepts
Financial Accounting and Reporting
Regulation
The CPA exam is the same in every U.S. state, and the questions include multiple choice, simulation, and written communication. When soon-to-be CPAs meet all of the required measures and pass the CPA test, they can claim the professional title. Required measures vary by U.S. state.
To maintain their CPA licensure, CPAs must earn Continuing Professional Education credits and renew their license every period.
WHAT IS A BOARD OF ACCOUNTANCY?
Every state in the U.S. has its own Board of Accountancy. It drives the standards for licensure for CPAs and other accounting professionals. Thanks to the Uniform Accountancy Act, many of its standards are universal to other Boards of Accountancy across the U.S. However, each Board can set its own additional standards for education, examination, and experience, at least to a certain extent.
Consult with your state's State Accountancy Board to determine:
What classes count toward the 150 credit-hour minimum required to sit for the CPA exam
Other qualifications you must meet to sit for the exam
Any unique stipulations for fulfilling experiential requirements
WHAT CAN YOU DO WITH AN ACCOUNTING DEGREE?
As of 2016, 1.09 million professionals worked in accounting and auditing.i A 2017 estimate says that employment in the industry could rise by 10 percent between 2016 and 2026, which is faster than average for all industries. From the top five institutions awarding degrees in accounting, 53.9 percent were graduating women.
TOP STATES FOR ACCOUNTING JOBS
Following are states with the highest employment levels in accounting and auditing
| State | Employment | Annual Mean Wage |
| --- | --- | --- |
| California | 143,670 | $83,540 |
| Texas | 116,000 | $81,330 |
| New York | 108,130 | $95,430 |
| Florida | 73,910 | $70,050 |
| Pennsylvania | 52,150 | $74,730 |
WHAT CAN YOU DO WITH AN ACCOUNTING DEGREE
Most employers require a candidate to have a bachelor's degree in accounting or a related field. Certification within a specific field of accounting improves job prospects. For example, many accountants become Certified Public Accountants (CPAs).
Median Salary: $69,350 per year
Job growth through 2026: 10% (Faster than average)
Typical Entry-level education: Bachelor's degree
Budget analysts help public and private institutions organize their finances. They prepare budget reports and monitor institutional spending. A Budget analyst can work in a variety of settings like: government agencies, universities, and private companies. Courses in accounting, economics, and statistics are helpful.
Median Salary: $75,240 per year
Job growth through 2026: 7% (As fast as average)
Typical Entry-level education: Bachelor's degree
Management analysts, often called management consultants, propose ways to improve an organization's efficiency. They advise managers on how to make organizations more profitable through reduced costs and increased revenues. The Certified Management Consultant (CMC) designation may improve job prospects.
Median Salary: $82,450 per year
Job growth through 2026: 14% (Faster than average)
Typical Entry-level education: Bachelor's degree