Forensic Accounting Degree Online Programs
Get matched to a Forensic Accounting Degree Online Program for FREE!
What is a Forensic Accountant Degree Online Program?
Forensic accountant degree online programs cover the investigation of financial crimes. You could learn to get to the bottom of crimes like embezzlement, securities fraud, and more. That means learning both accounting concepts and investigative techniques.
Forensic accounting is a complex field, since it deals with finance, business, and law. You may even study technology and cybersecurity. And, you'll have to prepare to do some numbers-based detective work. That includes inspecting financial data for errors.
If your interests are diverse and you have strong math and analytical skills, this field may be for you!
Associate Degrees
Bachelor's Degrees
Master's Degrees

A.S. in Forensic Accounting

B.S. in Accounting – Auditing/Forensic Accountancy

M.S. in Forensic Accounting

At the Associate's level, you'll learn the basics of detecting and analyzing fraud. Expect to study business and accounting concepts, plus strategies for finding and preventing financial crimes.
In this program, you'll build foundations in accounting, plus specialize in forensic accountancy. Courses span business, finance, and other key areas, with a focus on forensics.
At the master's level, you'll build on prior studies and experience in accounting. Courses in forensic accounting help you gain new skills and strategies – ideal if you're planning a career pivot.

Fraud Examination
Legal Elements of Fraud
Financial Accounting

Advanced Forensic Accounting
Auditing
Federal Tax

Digital Forensics
Statistical Methods for Forensic Accounting & Assurance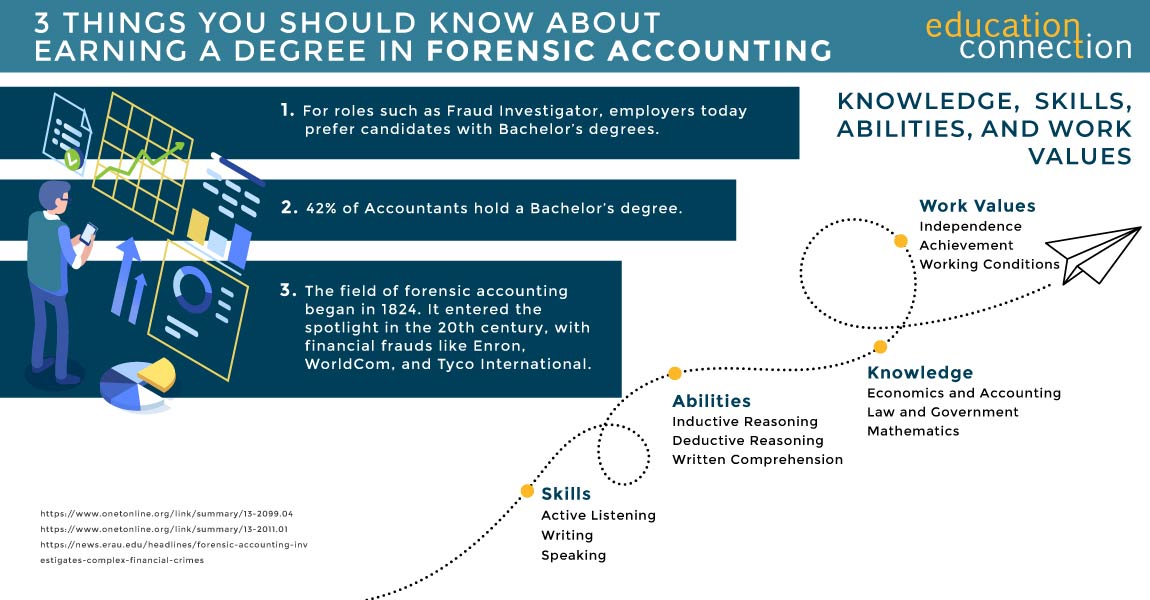 Forensic Accounting Online Degree Programs
Like standard accounting degree programs, Forensic accounting online degree programs are available at different levels. The longer you study, the more complex the curriculum may be. But all programs share a common goal: getting to the bottom of financial crime.
Undergraduate Forensic Accounting Programs
Some colleges may offer Associate's in Forensic Accounting programs. That said, to pursue a forensic accounting career path, you'll generally need to earn at least a Bachelor's in Forensic Accounting or a related field.
Bachelor's programs in forensic accounting and fraud investigation include courses in a few core areas. These include finance, accounting, business, and law. These subjects often overlap – for instance, you could take course in business law or financial accounting.
Business courses like managerial accounting help you understand how companies keep financial records. This could prepare you to recognize errors in businesses' financial data.
At the heart of the program are forensic accounting courses. These cover topics like investigation, detection, and documentation of financial crimes. You'll learn how to analyze financial records and document your findings. You could even study forensic psychology and interview techniques.
Finally, you'll take general education courses and electives that help fill in your background knowledge. So, you could study topics like microeconomics, communications, and other useful areas.
Look for bachelor's programs like:
Bachelor of Science (BS) in Accounting – Forensic Accounting & Fraud Examination
Bachelor of Science in Forensic Accounting
Bachelor of Business Administration (BBA) in Forensic Accounting
Master's in Forensic Accounting Programs Online
Master's programs in forensic accounting build on your undergraduate degree in accounting. If you have an accounting background but want to explore a new direction in your field, this may be the way to go. (And, some employers prefer to hire accountants with a Master's degree.)
At the graduate level, you'll take a more in-depth look at both accounting and investigative techniques. Skill areas you could work on include everything from internal auditing to cyber forensics. And, case studies and role-playing could help you prepare to solve white collar crimes.
You may also explore applications for forensic accounting across different fields. These include business and finance, healthcare, and even counterterrorism.
Look for Master's programs like:
Master of Science (M.S.) in Forensic Accounting
Master of Science in Accounting – Forensic Accounting
MBA in Forensic Accounting & Fraud Examination
Featured Online Schools
1
Take advantage of some of the nation's most affordable tuition rates, while earning a degree from a private, nonprofit, NEASC accredited university
Qualified students with 2.5 GPA and up may receive up to $20K in grants & scholarships
Multiple term start dates throughout the year. 24/7 online classroom access.
Offering over 200 online degree
Popular Programs
Business Administration, Psychology, Information Technology, Human Services…

2
Ranked #8 by U.S.News & World Report for Best Online Bachelor's Programs
Apply up to 90 transfer credits for bachelor's students, and 9 transfer credits for master's degree students.
CSU Global graduates experience a return on investment of 4:1, which means they receive $4 in salary and benefits for every $1 they invest in their education.
Available Programs
Business, Computer Science, Criminal Justice, IT, Psychology…

3
Save up to 25%. Save thousands on your bachelor's with the Strayer Graduation Fund.
Strayer University is an accredited institution with a proud history of 125 years in quality education.
With the help of dedicated personal support and AI technology, earn your degree online or on campus.
Programs Include
Accounting, Business Administration, Criminal Justice & Information Technology

Sponsored
What Is the Curriculum of a Forensic Accounting Degree Program?
Curriculum in a forensic accountant program covers the theories and techniques used for financial investigation. You'll also study the context in which financial crimes take place. So, topics could range from law and ethics to the psychology of deception.
Here are some common courses found in forensic accounting degree programs:
Auditing and Forensic Accounting: &nbspThis fundamental course takes a close look at fraud. You'll learn how to recognize, handle, and even prevent fraud in organizations. That means studying skills for detecting and investigating crime like stock fraud and embezzlement.
Interviewing Techniques for Fraud Investigation:&nbspQuestioning fraud suspects is important to solving white collar crimes. This course covers interrogation techniques, documenting your interviews, and interpreting cues.
Intermediate Accounting:&nbspMost programs feature courses in essential accounting concepts. These include financial statements, taxation, employee benefits, and more. Understanding correct accounting practices is key to recognizing when something isn't right!
Cyber Forensics:&nbspToday, technology and the web have changed the way financial crimes are committed and solved. So, a course in cyber forensics covers how to investigate computer-based crimes. That includes collecting digital evidence, retrieving data, and much more.
How Long Does It Take to Earn a Degree in Forensic Accounting?
The length of a forensic accounting degree online programs varies, depending on your school and your schedule. On average, a Bachelor's in Accounting degree takes four or five years to earn. Earning a Master's often takes one to two years, following your Bachelor's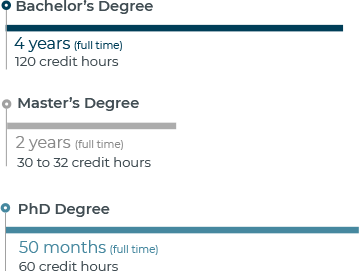 Forensic Accounting Degrees That Could be Completed in 24 Months
| | | | | |
| --- | --- | --- | --- | --- |
| School | Degree Level | # of Credits Required | Start Dates | Minimum Months to Complete |
| Purdue University Global | Bachelor's | 180 | Multiple | 24 |
| Southern New Hampshire University | Master's | 36 | Multiple | 24 |
| Penn State World Campus | Master's | 30 | multiple | 24 |
The Cost of a Forensic Accounting Degree program
According to the NCES, the average cost of attending a public, four-year school is $19,189 per year. For private and for-profit schools, the average cost goes up to $39,529 per year. Compare tuition for these schools with forensic accounting programs:
| | | | | |
| --- | --- | --- | --- | --- |
| School | Degree Level | # of Credits Required | Cost Per Credit | Total Tuition Cost |
| Purdue University Global | Bachelor's | 180 | $371 | $66,780 |
| Stevenson University | Master's | 36 | $695 | $25,020 |
| Southern New Hampshire University | Master's | 36 | $627 | $24,453 |
Top Schools That Offer Forensic Accounting Degree Programs
NCES lists 2,390 institutions that have accounting programs – including forensic accounting. From those schools, 110,128 degrees were awarded to students in 2016 (the most recent data). Most of these degrees were at the Bachelor's level (52%).
| | | |
| --- | --- | --- |
| School | 2016 Degrees awarded | 2018/19 Tuition |
| University of Phoenix-Arizona | 2,427 | $9,552 |
| Broward College | 1,449 | $8,952 (out of state) |
| University of Illinois at Urbana-Champaign | 874 | $31,664 (out of state) |
| CUNY Bernard M Baruch College | 846 | $14,932 (out of state) |
| Ivy Tech Community College | 825 | $8,402 (out of state) |
| Southern New Hampshire University | 785 | $31,136 |
| Western Governors University | 604 | $6,670 |
| Pennsylvania State University-Main Campus | 581 | $34,858 (out of state) |
| The University of Texas at Dallas | 576 | $36,876 (out of state) |
| DeVry University-Illinois | 549 | $17,509 |
Pursuing Forensic Accountant Certification
If you want to become a certified forensic accountant, you must first become a CPA.
Let's start from the beginning: forensic accountants are a type of pubic accountant. Many public accountants become Certified Public Accountants (CPAs). Requirements include passing the four-part Uniform CPA Examination from the American Institute of Certified Public Accountants (AICPA). In most cases, you must also complete 150 semester hours of college coursework.
But what about certification in the forensic accountant specialty?
AICPA also awards the Certified in Financial Forensics (CFF) Credential to eligible CPAs. Requirements include:
You must hold a valid, unrevoked, state-issued CPA license or certificate
You must pass the CFF examination, which tests your professional knowledge
You must complete the CFF Credential Application online. This includes attesting to meeting the minimum Business Experience and Continuing Professional Development (CPD) requirements. And, you must pay a credential fee.
In summary, you must first become a CPA, then earn your CFF credential to become certified in forensic accounting.
What Can You Do with a Forensic Accounting Degree?
Per the most recent census data, the workforce currently has 10.9 million business degree holders. (This category includes those who earned forensic accounting degrees.)
Accountants of all kinds should see faster-than-average job growth. A projected 10% more roles will be added between 2016 and 2026. Typically, growth in this field is tied to economic health. In other words, when the economy is strong, there's more need for accountants. Those with Master's degrees or certifications like Certified Public Accountant (CPA) may have stronger prospects.
So, what's the typical profile of a forensic accounting degree holder? Men and women are both well-represented in this field. But, slightly more women (57.6%) hold accounting degrees. The average age of a degree-holder is 43.7 years old.
Top Salaries by State for Forensic Accountants
The following table shows average salaries for all types of accountants and auditors. Salaries for specialized roles in this field – like forensic accountant – may vary.
| | | |
| --- | --- | --- |
| State | Employment | Annual Mean Wage |
| District of Columbia | 10,590 | $98,130 |
| New York | 110,780 | $96,300 |
| New Jersey | 37,370 | $90,400 |
| Virginia | 41,230 | $85,640 |
| Connecticut | 14,550 | $84,890 |
Jobs with a Forensic Accounting Degree
Forensic Accountant
Forensic accountants are a type of public accountant. They investigate financial crimes like fraud and embezzlement. So, they combine their expertise in finance and accounting with knowledge of law and criminal investigation. They work with legal and law enforcement professionals, and often serve as expert witnesses during trials.
Median Salary: $70,500 per year
Job Growth Through 2026: 10% (faster than average)
Typical Entry-level Education: Bachelor's degree
Fraud Investigator
Fraud investigators investigate and help to resolve fraud allegations. That involves duties like collecting evidence, taking statements, and producing reports. A big part of the role is analyzing financial data. Investigators find indiscretions in areas like billing and regulatory compliance procedures.
Median Salary: $70,280 per year
Job Growth Through 2026: 10% to 14% (faster than average)
Typical Entry-level Education: Bachelor's degree
Financial Examiner
Financial examiners make sure that financial institutions are compliant with the law. That could include everything from reviewing balance sheets to assessing management. Some examiners work in consumer compliance. They monitor lending activity to make sure borrowers are treated fairly and don't fall prey to predatory loans.
Median Salary: $80,180 per year
Job Growth Through 2026: 10% (faster than average)
Typical Entry-level Education: Bachelor's degree