Top Online Human Resources Degree programs
Get matched to an Online Human Resource Management Degree Program for FREE!
WHAT IS AN ONLINE HUMAN RESOURCES DEGREE?
Online human resources degree programs focus on a business's most important asset: its workers. You could learn the ropes of finding, retaining, and developing employees. You could also study workplace ethics, employee benefits, and communication strategies.
Human Resources Managers serve as a link between business leaders and employees. Programs in this field cover what matters to workers – like compensation and rewards. And, they cover areas that concern business leadership – like recruiting talent.
HR programs also explore what to do when times get tough. That includes change management and handling workplace disputes. You could learn how to put policies in place that help prevent and resolve the conflict. And, you'll learn how to make workplaces more positive and inclusive for everyone.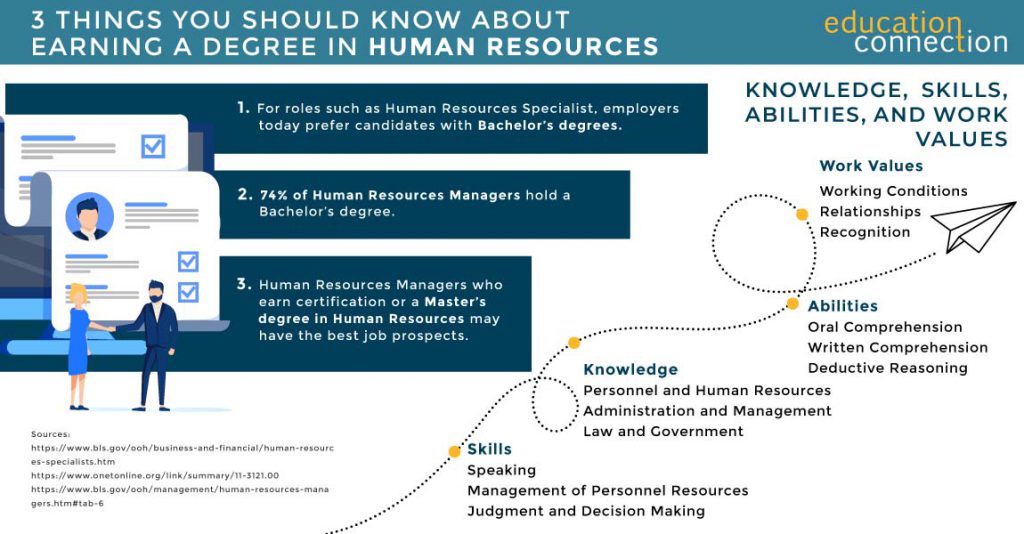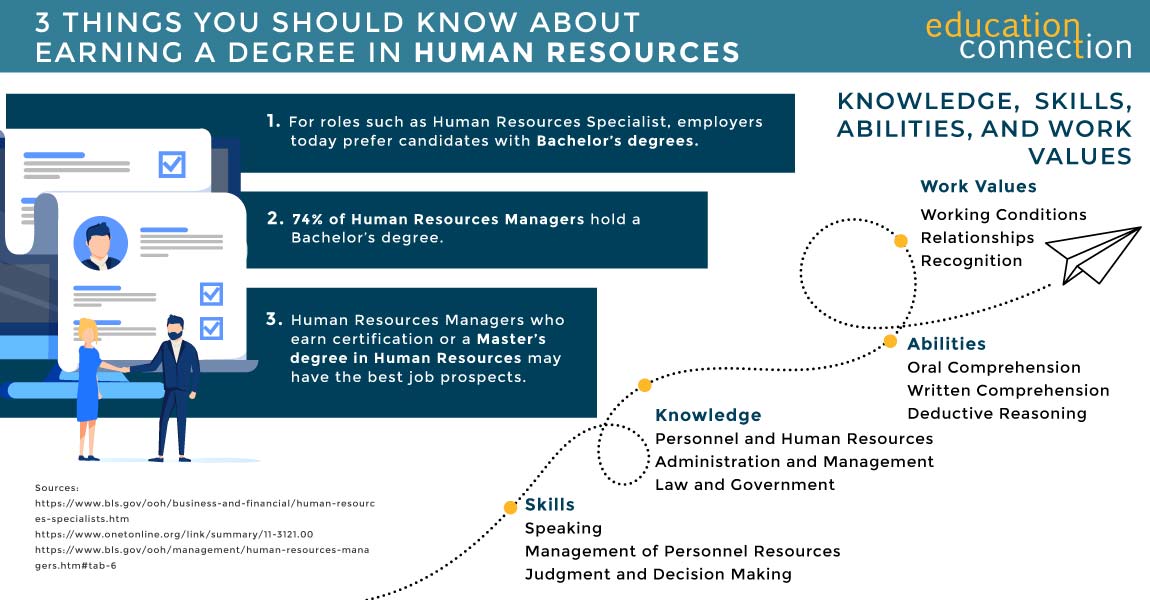 Bachelor's Degrees
Bachelor of Human Resources and Organizational Leadership
---
This program covers the theory of both HR and organizational leadership. So, you could prepare for diverse roles across different organizations and industries.
---
Organizational Behavior Analysis
Strategic Human Resource Management
Instructional Design
Master's Degrees
Master of Human Resource Management
---
At the Master's level, you'll take a more detailed look at HR – including theory and practice. Expect to explore contemporary topics, like HR technology and diversity.
---
Labor Relations
Global Talent Development and Management
Legal Issues in Human Resources Management
MASTER's DEGREES
MBA in Human Resources
---
The MBA program covers an overview of general business and management theory. In the HR concentration, you'll drill down on topics like recruitment, hiring, and training.
---
Business Communications
Training and Development
Strategic Reward Systems
COMMON ONLINE HUMAN RESOURCES DEGREE PROGRAMS
Bachelor's, Master's, and MBA in Human Resources programs are all commonly found online. You could even earn a PhD or DBA in Human Resources in an online format.
BACHELOR'S IN HUMAN RESOURCES PROGRAMS
Bachelor's in Human Resources programs offer an overview of HR and how it impacts business. So, you could study everything from marketing and management to labor law and employee training. And, most programs require general education credits like English Composition and College Algebra.
You could also study:
Business communications – like writing, public speaking, and electronic media
Quantitative knowledge – like accounting, statistics, and budgeting
Laws and ethics related to human resources, including diversity and inclusion
Technology and software applications used in business and human resources
Social psychology and behavior in the workplace
MASTER'S AND MBA IN HUMAN RESOURCES PROGRAMS
At the graduate level, expect to delve deeper into Human Resources theory and practice. A Master of Human Resources program may focus on contemporary issues affecting HR. For example, you could study labor relations, diversity, and employee rewards.
Some programs require candidates to have work experience. This may help you apply HR theory to real-world issues. You could even solve problems in your current workplace!
There are two main types of Master of Human Resources (MHR) programs:
Master of Science in Human Resources – May focus on technical and career-based subjects
Master of Arts in Human Resources – May include more liberal arts and humanities courses
Or, consider earning an MBA (Master of Business Administration) with a concentration in Human Resources. MBA programs feature a core curriculum of business courses. So, you'll build wider knowledge of the business world, in addition to a focus on HR. This could help you understand the bigger picture of managing human capital in a company.
These degree types have slightly different focuses. That said, M.S., M.A., or MBA in Human Resources programs share overlapping coursework. You could take courses like:
Compensation and Benefits
Employment and Labor Law
Leading Change
Recruitment and Staffing
Ethics in Human Resources
PH.D. AND DBA IN HUMAN RESOURCES PROGRAMS
Online doctoral programs in Human Resources focus on research and leadership practices. You may study areas like organizational behavior, labor relations, and even public policy. Usually, you'll have to research and write an original dissertation to earn the degree.
Two kinds of HR doctoral program include:
PhD in Human Resources – A Ph.D. is a research degree. So, a Ph.D. in HR will likely focus on contributing to the field's body of knowledge. This type of program may suit candidates interested in academic career paths.
DBA in Human Resources – A DBA is a professional doctorate degree. This type of program may focus on the practice of human resources, and its role in organizations. So, you may use applied research to solve practical HR problems.
Featured Online Schools
1
Southern New Hampshire University
Take advantage of some of the nation's most affordable tuition rates, while earning a degree from a private, nonprofit, NEASC accredited university
Qualified students with 2.5 GPA and up may receive up to $20K in grants & scholarships
Multiple term start dates throughout the year. 24/7 online classroom access.
Offering over 200 online degrees
Popular Online Programs
Business Administration, Psychology, Information Technology, Human Services…
2
Purdue Global University
Experience world-class education online with more than 175 programs at associate's, bachelor's, master's and doctoral levels.
Competency-based ExcelTrack™ Programs may allow you to earn your degree faster and for less money
Courses taught by highly respected faculty members who are experts in their fields
Full range of student services including no cost tutoring in math, science and writing
Available Online Programs
Business, Analytics, Computer Science, Cyber Security, Healthcare Management, RN to BSN, Criminal Justice, Psychology

3
Colorado State University
Ranked #8 by U.S.News & World Report for Best Online Bachelor's Programs
Apply up to 90 transfer credits for bachelor's students, and 9 transfer credits for master's degree students.
CSU Global graduates experience a return on investment of 4:1, which means they receive $4 in salary and benefits for every $1 they invest in their education.
Online Programs Include:
Accounting, Business Administration, Criminal Justice, Psychology & Information Technology

Sponsored
HOW LONG DOES IT TAKE TO EARN A HUMAN RESOURCES DEGREE?
An online Bachelor's in Human Resources requires around 120 to 128 credits. It usually takes four years for full-time students to earn the degree.
Earning an online Master's in HR programs calls for around 30 to 48 credits of coursework. Full-time students may earn the degree in about two years. Some accelerated programs take as few as 12 months.
Finally, online doctorate programs in Human Resources may require 58 to 66 credits of coursework. You may also have to research and write a dissertation. So, earning a PhD or DBA in Human Resources can take between two and 4.5 years, or longer.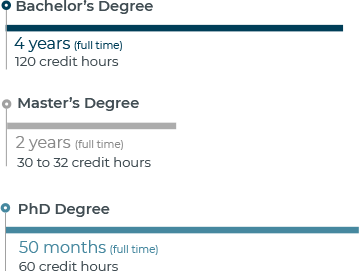 HUMAN RESOURCES DEGREE PROGRAMS THAT COULD BE COMPLETED IN 12 MONTHS OR LESS
| School | # of Credits Required | Start Dates | Minimum Months to Complete |
| --- | --- | --- | --- |
| Louisiana State University | 30 | Multiple | 10 |
| Lasell College | 30 | Multiple | 12 |
| University of Northern Colorado | 36 | Six start dates per year | 12 |
TOP SCHOOLS FOR HUMAN RESOURCES DEGREE PROGRAMS
Last check, there were 701 schools that offer Human Resources Management programs. From those schools, 27,408 HR degrees were awarded to students. The majority (53.3%) of these were Bachelor's degrees.
| School | 2016 Total Grads/Degrees | 2017/18 (Out of State Unless**) |
| --- | --- | --- |
| University of Phoenix-Arizona | 1,413 | $9,608** |
| University of Oklahoma-Norman Campus | 782 | $26,919 |
| Webster University | 719 | $27,100** |
| Rutgers University-New Brunswick | 668 | $30,579 |
| University of Maryland – University College | 501 | $12,336 |
| Colorado State University – Global Campus | 380 | $8,400** |
| Cornell University | 360 | $52,853** |
| Capella University | 354 | $14,250** |
| Ashford University | 347 | $11,248** |
| Pennsylania State University-World Campus | 339 | $13,988** |
ACCREDITATION FOR HR DEGREE PROGRAMS
Finding an accredited college or university should be your first step. Accredited schools meet quality standards that may matter to your future employers. It's also important that your school is accredited if you hope to qualify for federal financial aid.
But what about program accreditation? Human Resources programs fall under the umbrella of Business. So, you may find HR programs that hold business program accreditation.
Accrediting organizations include:
Finally, some programs offer a curriculum aligned with the standards of SHRM. SHRM stands for the Society for Human Resource Management. It is the world's largest HR professional society. SHRM doesn't offer accreditation, but they award certification for human resources professionals. Employers may prefer candidates with certification from SHRM or similar organizations.
WHAT CAN YOU DO WITH AN HR DEGREE?
According to the most recent data, there are 10.5 million human resources degree holders in the workforce. This group is expanding, with one-year growth of 1.61%!
More females than males earned degrees in human resources management and services. The breakdown is 69.7% females to 30.3% males. And, the average age of a worker in this field is 43.6 years old.
TOP SALARIES BY STATE FOR HUMAN RESOURCES SPECIALISTS
| State | Employment | Annual Mean Wage |
| --- | --- | --- |
| District of Columbia | 7,470 | $92,950 |
| New York | 35,260 | $75,730 |
| Massachusetts | 15,940 | $74,940 |
| California | 60,260 | $74,910 |
| Maryland | 12,140 | $74,780 |
HUMAN RESOURCES MANAGERS
These professionals handle internal staffing issues and oversee recruitment and hiring processes for companies. They work closely with members of the workforce to analyze particular individual's strengths and weaknesses to move people around in a way that benefits the company. They also have a keen understanding of local, state and federal employment laws. They serve an important role in minimizing liability for the organization.
Median Salary: $110,120 per year
Job growth through 2026: 9% (As fast as average)
Typical Entry-level education: Bachelor's degree
HUMAN RESOURCES SPECIALISTS
Human resources and labor relations specialists serve a supportive role to human resources managers, but work on many of the same tasks. They coordinate with employers to discuss the hiring needs of the organization. They file and organize employee records and conduct background checks on potential hires.
Median Salary: $60,350 per year
Job growth through 2026: 7% (As fast as average)
Typical Entry-level education: Bachelor's Degree
TRAINING AND DEVELOPMENT SPECIALISTS
While HR managers and specialists focus mostly on hiring practices and mitigating company liability, training and development specialists analyze the weak areas of an organization's workforce and develop seminars and strategies to improve skill and knowledge. This may include designing manuals, online learning programs, instructional techniques and scheduling classes for workers to attend.
Median Salary: $60,360 per year
Job growth through 2026: 11% (Much faster than average)
Typical Entry-level education: Bachelor's Degree