Pursue a Software Development Degree
Get matched to a Software Development Degree Program for FREE!
Online Software Developer degree programs help students gain solid technical computer skills while giving them a chance to explore their creative vision. Courses often focus on computer programming, web and application development.
With faster than average job growth in the computer technology sector, now is a perfect time to pursue a software developer degree online. i
If you like to solve problems and are fascinated by innovation, Education Connection can match you with a program for free.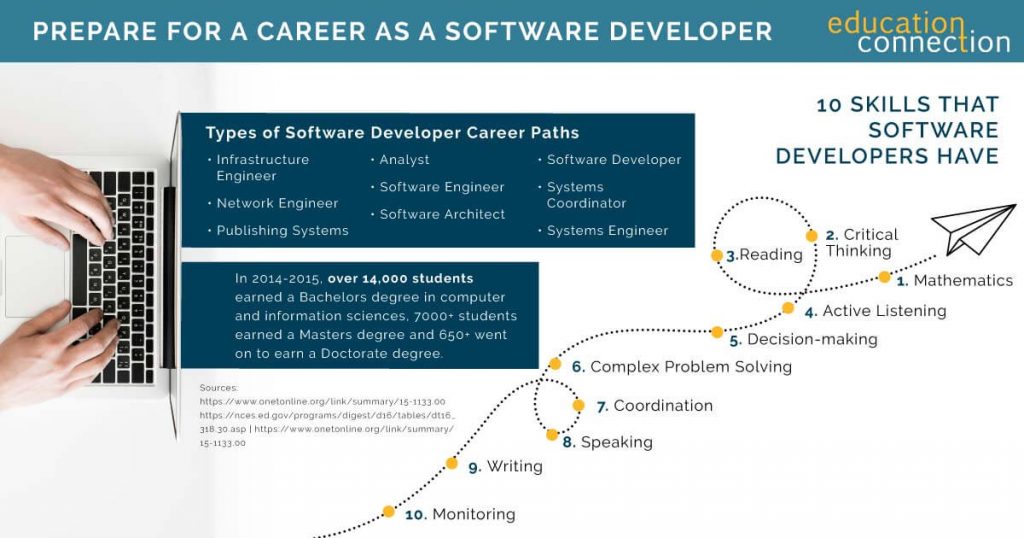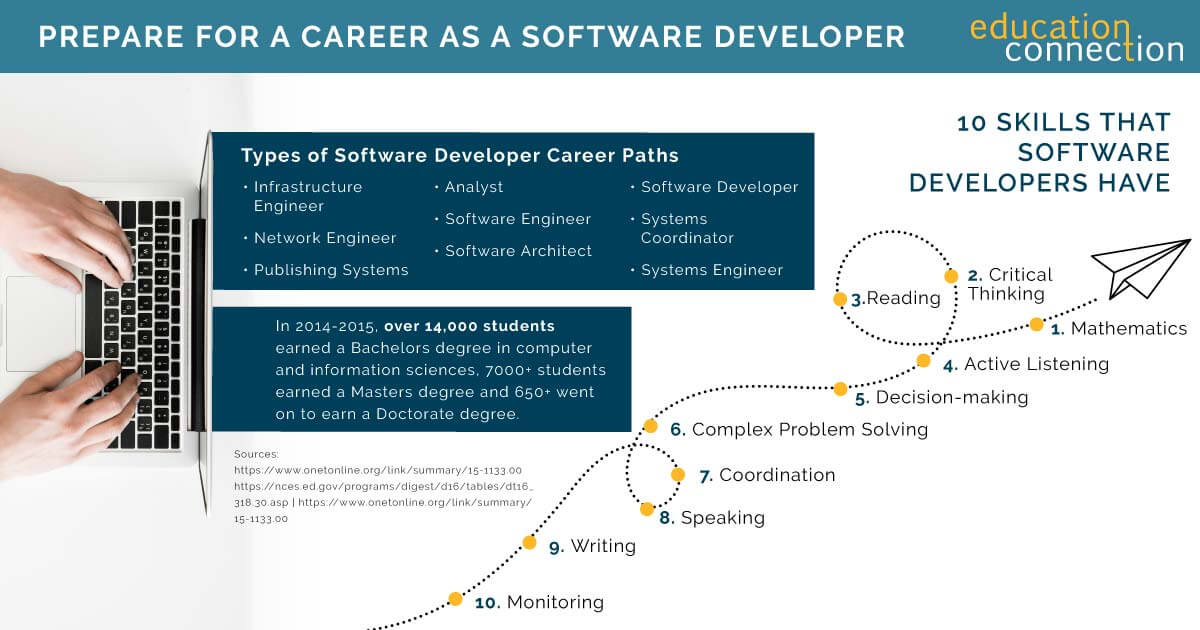 WHAT EDUCATION IS NEEDED TO BECOME A SOFTWARE DEVELOPER?

A bachelor's degree in computer science or software engineering is the entry-level education needed to become a software developer.ii
But software developers can also keep their fingers on the pulse of new tools and computer languages through certificates and graduate degrees.
Some bachelor's in software engineering online programs culminate with a capstone course. This may take the form of a comprehensive research project or portfolio of work. Either way, it allows students to show the knowledge and skills they have gained.
We will walk you through some of the basics of the industry and what to expect when you pursue a software developer degree online.

WHAT IS A SOFTWARE DEVELOPER?
Software developers are the brains behind smart phones, video games, computer Apps and digital animation. A few of the other things software developers do include: iv
Analyzing user needs
Designing, testing and developing software to meet these needs
Figuring out core functionality
Determining the level of security
Collaborating with Computer Programmers
Writing code or give instructions
It's also interesting to note that many Software Developers prefer certain types of work projects over others. There's a brief synopsis of two main types of developers below.
Which type of software developer do you identify with? It may be helpful to put some thought into your strengths. This way, you can select a program that seems to line up with your goals.

APPLICATIONS SOFTWARE DEVELOPERS
Would you like to create the applications that allow us to perform specific tasks on devices? Applications Software Developers create custom software, word processors and other computer applications that are sold to the public. They might also design programs used over the internet or intranet.
Some of the top industries for Applications Software Developers are: v
Software publishers
Manufacturing
Finance and Insurance
Management
Computer systems design
SYSTEMS SOFTWARE DEVELOPERS
You don't have to be a math whiz – but certainly might be. If so, other developers are the masterminds who develop the systems on which run the devices or that control networks. Referred to as Systems Software Developers, these persons work on operating systems. They also build a system's interface. The interface is the means by which a user interacts with a computer.
Some of the top industries for Systems Software Developers are:
Computer Systems Design
Manufacturing
Software Publishers
Finance and Insurance
Engineering services
HOW MUCH DOES A SOFTWARE DEVELOPER MAKE?
Based on data from the United States Bureau of Statistics (BLS), we know that in May 2017, the average annual salary for:
Applications Software Developers was $101,790vi
Systems Software Developers was $107,600
In both sectors, the BLS predicts much faster than average job growth through the year 2026. vii
Applications Software Developers: 31%
Systems Software Developers: 11%
Featured Online Schools
1
Southern New Hampshire University
Take advantage of some of the nation's most affordable tuition rates, while earning a degree from a private, nonprofit, NEASC accredited university
Qualified students with 2.5 GPA and up may receive up to $20K in grants & scholarships
Multiple term start dates throughout the year. 24/7 online classroom access.
Offering over 200 online degree
Popular Programs
Business Administration, Psychology, Information Technology, Human Services…

2
Ashford University
Accredited University offering Associate's, Bachelor's and Master's Degrees
Transfer up to 90 approved credits towards your BA degree and choose from 80+ online programs
Affordable tuition, 5-6 week courses, and various payment options
24/7 library & writing center assistance to help you get closer to your goal of earning a degree
Available Programs
AA or BA in Early Childhood Education, BA in Health Care Administration, BA or MA in Psychology…

3
Strayer University
Save up to 25%. Save thousands on your bachelor's with the Strayer Graduation Fund.
Strayer University is an accredited institution with a proud history of 125 years in quality education.
With the help of dedicated personal support and AI technology, earn your degree online or on campus.
Programs Include:
Accounting, Data Analytics, Cybersecurity, Business Administration, Criminal Justice & Information Technology

Sponsored
SHOULD I PURSUE A DEGREE IN SOFTWARE DEVELOPMENT ONLINE?
One potential advantage to pursuing an online software developer degree today is that you could learn up-to-date programming tools and computer languages. Plus, distance learning is adaptive to your schedule. Many schools offer:
24/7 access to courses
Multiple start dates through the year
Tech support
Self-paced study
Virtual labs
A few online colleges with such programs include:
Southern New Hampshire University (SNHU)
Herzing University
Purdue University Global
Strayer University
Walden University
DID YOU KNOW?

77% of Software Developers have a bachelor's degree, 17% a master's degree and 4% an Associate's degree.viii
ASSOCIATE OF SCIENCE IN SOFTWARE DEVELOPMENT
Some students may want to begin their studies after high school with an Associate of Science (AS) or Associate of Applied Science (AAS) degree in software development. Apart from general education courses, these programs may cover the fundamentals of:
Networking
Programming
Troubleshooting
Associate's degrees may entail 60 credits in total. Some are designed to be completed in from 20 months to two-years (full time). Graduates who earn their degree at an accredited online college might roll their credits into either the Software Development or Technology Management bachelor's degree programs for a wider net of possible career opportunities.
BACHELOR OF SCIENCE IN COMPUTER SCIENCE – SOFTWARE ENGINEERING
An online Bachelor of Science (BS) in Computer Science with a focus in Software Engineering could help you learn basic concepts and principles. Most online programs span a total of 120 credits and may take from 36 months to 4 years full time.
Software engineering courses typically cover the systematic approaches used to develop software on time, on budget and within specifications. Other possible topics include:
Emerging Systems Architecture and Technologies
Mobile Architecture and Programming
Reverse Software Engineering
BACHELOR OF SCIENCE IN SOFTWARE DEVELOPMENT
Another form of degree is a software developer bachelor's degree program (BSSD). This type of program may be helpful if your goal is to learn the programming or coding side of computers.
Students may gain the knowledge and skills to understand, analyze, test and design the software and systems. Topics of study could include things such as:
Programming Logic
Object-oriented Programming
Security Concepts
Applications Development
Business Analysis
Apart from the core courses, you might also deepen your grasp of information technology and software development techniques, as well business management concepts.
MASTER OF SCIENCE IN INFORMATION TECHNOLOGY – SOFTWARE ENGINEERING
Post-bachelor's students who want to fine-tune skills might pursue a Master of Science in IT with a focus in software development. Many programs are about 35 credits and take about 2 years to complete full time.
Master level programs often begin with a series of core topics in areas such as:
Programming
Networking
Database Management
Development
Participants also take advanced courses to evolve their technical ability. This may involve learning how to analyze user needs and software quality management. A final project may help students showcase their applied research skills.
SOFTWARE DEVELOPMENT CAREER PATHS
We've touched on the several potential career paths that may be on your radar if studying software development is your educational goal. Here are a few other possibilities.
WEB DEVELOPERS
Entry level education: Associate's Degreeix
Average annual salary (May 2017) $67,990
Job growth through 2026: 15% (Much faster than average)
COMPUTER HARDWARE ENGINEERS

Entry level education: Bachelor's Degreex
Average annual salary (May 2017) $115,120
Job growth through 2026: 5% (As fast as average)
COMPUTER INFORMATION RESEARCH SCIENTISTS

Entry level education: Master's Degree xi
Average annual salary (May 2017) $114,520
Job growth through 2026: 19% (Much faster than average)
GET MATCHED WITH AN ONLINE SOFTWARE DEVELOPER DEGREE
Choosing a software developer degree program is an incredibly personal decision. We realize that only you can properly evaluate whether a target school's syllabus lines up with your educational needs. We are here to help you find programs to evaluate and apply to. If you are ready to begin the process, let our easy-to-use matching tools guide you today.
(i) bls.gov/ooh/computer-and-information-technology/home.htm
(ii) bls.gov/ooh/computer-and-information-technology/software-developers.htm#tab-4
(iii) bls.gov/ooh/architecture-and-engineering/computer-hardware-engineers.htm#tab-4
(iv) bls.gov/ooh/architecture-and-engineering/computer-hardware-engineers.htm#tab-4
(v) bls.gov/ooh/computer-and-information-technology/software-developers.htm#tab-3
(vi) bls.gov/ooh/computer-and-information-technology/software-developers.htm#tab-3
(vii) bls.gov/ooh/computer-and-information-technology/software-developers.htm#tab-6
(viii) onetonline.org/link/summary/15-1133.00
(ix) bls.gov/ooh/computer-and-information-technology/web-developers.htm
(x) bls.gov/ooh/architecture-and-engineering/computer-hardware-engineers.htm
(xi) bls.gov/ooh/architecture-and-engineering/computer-hardware-engineers.htm