Information Systems Online Degree
Get matched to an Online Information Systems Degree Program for FREE!
WHAT IS AN ONLINE INFORMATION SYSTEMS DEGREE PROGRAM?
An online information systems degree studies the uses of technology to solve problems in a business setting. As a result, it looks computer applications, systems, hardware and software. Not the coding that underlies them.
An Information Systems degree could allow students to learn the technical aspects of computer science and how to use it. The goal of this program should be to learn how to develop solutions. Some degree options may include management. Others explore the latest tech. Some also may focus on design and architecture in the field.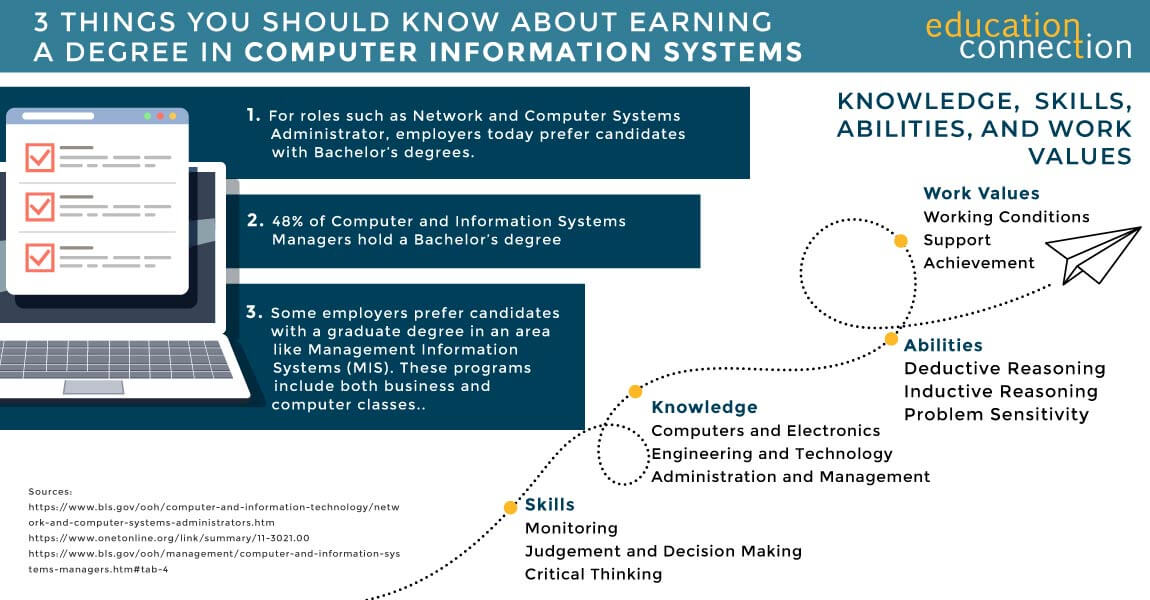 Online Information Systems Degree Levels
Associates
An Associate's degree tends to be a two year degree and basic. Likely about 60 credit hours. You may learn how networks function. And, how to keep computer systems secure.
You may also learn coding. And, programming languages like SQL, Java, Visual Basic, and C++. You may learn to build websites and databases, too.
This type of program could prepare you to move on to earn a BS, or, prepare  you for a career as a computer user support specialist, or help desk support specialist.
Course Examples:
Basic Programming
Business Processes
Operating Systems
Bachelors
An online Bachelor of Science dives deeper into the field and may grow more skill sets. It includes an overview of network design, systems analysis and cloud computing.
Plus, you could learn about emerging trends and practices. (Think Big Data and the Internet.) Business operations depend on CIS. So, you could take courses such as management and finance. some online schools also offer a choice of concentration such as Information Systems Security or Web Systems Development.
Course Examples:
Database Management Systems
IS Analysis & Database Design
Management Information Systems
Masters
A Master's program could take your knowledge to a new level and may enhance your career. These programs may cover decision making and problem solving using technology.
For instance, you could learn management or leadership skills. Or learn to use business tech in a strategic way. In this role, companies may want you to have a Master's degree. This program includes business and computer courses. It may also offer a focus that fit your goals. Examples include Security, Data Analytics, and Managing IT Projects.
Course Examples:
Application Development
Software Engineering
Data Management
Online Information Systems Degree Courses
Online classes will depend on your program's level (Bachelor's, Master's, MBA, PhD) and your program's focus. Look at several courses below. They explain some of the complex terms. See which courses appeal to your goals and interests.
Networking Fundamentals:&nbspThis course may introduce basic principles of networking. You may learn hardware and software terms. And, other facets of a network.
Business Systems Applications:&nbspThe goal of this course would be to teach you how to improve a business process using software. This may include a CRM or ERP.
Programming in Java:&nbspYou may learn the foundations of computer science. Examples include basic algorithms for simple automation programs. And, advanced systems that help run cities. This course could help you learn coding.
Applied Data Structure:&nbspReview data structure concepts with a goal of learning how to design and model data.
Principles of Cyber Security:&nbspYou may learn to detect threats. And, learn how security experts respond to threats. Also, explore how legal and human factors influence security strategies.
Data Mining:&nbspYou may see how pattern analysis is used to mine data. Other concepts could include clustering data and using search spams and data streams.
Data Policy and Decision Making:&nbspStudents may cover legal aspects of data governance and learn how to act ethically.
Data Validation:&nbspThe goal of this type of program would be to learn the importance of quality data before using it for analysis
HOW LONG DOES IT TAKE TO COMPLETE AN ONLINE INFORMATION SYSTEMS DEGREE PROGRAM?
To earn an online information systems degree the time it takes of course depends on what degree level you are looking to attain. an associates degree typically takes two years to earn while a bachelor's would take 4 years. Students looking to earn a masters degree would be likely looking at a two year time period before earning a degree. Of course, these are just guidelines and your circumstances may change how long it takes to earn the degree.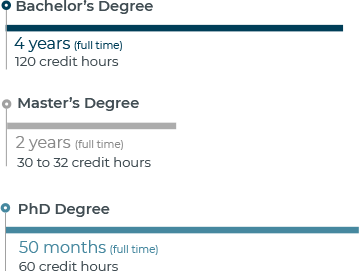 How Could I Earn My Degree Faster?
Look for schools that offer multiple start times per year. Some schools even offer weekly starts. This would enable you to start your studies right away instead of being tied to a fall or spring semester start.
Ask the school if they offer credit for life experience.
Look for a school that offers a flexible course length. Some online options may allow you to complete a class faster if you know the material, then you can move on to your next set of classes!
Apply any transfer credits you may have available.
What Might Cause Delays?
Will you be going to school full time or part time? A part time schedule would likely cause delays.
Finances.
do you have to do a capstone? How long is that capstone?
Total number of credits required by the program. While it is true that most degrees take 4 or 2 years depending on the level, some programs may require more credits than others.
HOW MUCH DOES AN ONLINE INFORMATION SYSTEM DEGREE PROGRAM COST?
According to NCES, CIS students taking online programs in 2019 paid an average tuition for $32,659. The in state rate was slightly lower at $27,660. This may be a factor of online programs being charged the out of state tuition rate. It's always a good idea to ask the school you would like to go to what discounts they may offer.
The two least expensive schools on the list offering an online information systems degrees are the University of the People with 2019 out of state tuition at $3,401, and, Brigham Young University. BYUs 2019 out of state tuition was $12,448.  Below is the out of state tuition cost for all of the schools that offered at least 3 different online CIS programs in 2019.
| School | # of Online CIS Programs Offered |  2019 Tuition | # of 2019 Grads |
| --- | --- | --- | --- |
| South Texas College | 4 | $16,553 | 101 |
| Walden University | 4 | $23,296 | 150 |
| Florida Atlantic University | 4 | $38,748 | 183 |
| Regis University | 4 | $55,508 | 133 |
| Metropolitan Community College | 3 | $14,400 | 110 |
| Gadsden State Community College | 3 | $16,048 | 7 |
| Western Texas College | 3 | $16,646 | 5 |
| Clovis Community College | 3 | $16,813 | 2 |
| Ivy Tech Community College | 3 | $20,981 | 94 |
| Park University | 3 | $23,450 | 174 |
| University of Arkansas – Pulaski Technical College | 3 | $24,080 | 12 |
| Dakota State University | 3 | $26,761 | 79 |
| Jefferson State Community College | 3 | $29,986 | 15 |
| University of Advancing Technology | 3 | $31,322 | 9 |
| Southern New Hampshire University | 3 | $52,086 | 1107 |
| Syracuse University | 3 | $73,069 | 246 |
Top Information Systems Degree Programs
According to NCES, 38,490 computer information system degrees were awarded in 2019. This includes degrees at all levels from associates to PhDs. Below is our list of top schools ordered by total number of graduating students with a CIS degree program. Some of these schools also offer online information system degrees.
25 Schools with Online Information Systems Degree Programs
We have ranked our top 25 schools based on the number of graduates from the program in 2018. Our process looks at 2018 data from the NCES. And, it may help you narrow your search down.
ACCREDITED CIS PROGRAMS
There are two levels of accreditation. The most common is regional or national accreditation. Always make sure your school is accredited. It is important. Why? It helps ensure the quality of your education. Also, accreditation is needed to get federal financial aid for those that may qualify.
There are also program accreditations monitored by third party organizations. This proves that your program meets industry standards. This may be important your career goals.
ABET is one such organization. They accredit computing and engineering technology programs at the bachelor level. ABET looks for these factors:
Worldwide recognition of quality
Self assessment and consistent improvement
Learning outcomes
Graduates who meet learning requirements for their professions
ABET does not certify graduate CIS programs. But, you could focus on the credentials you need in your industry.
Certification Spotlight: Certified Information Systems Auditor (CISA)
CISA is a cert offered by the ISACA and is designed for  IS auditors, control, assurance and information security pros. Over 151,000 people have passed this 150 question exam which covers 5 core areas:
IS auditing processes 21%
Governance and IT Management 17%
IS Development and Implementation 12%
IS Business Resilience 23%
Protection of Information Assets 27%
In order to sit for this exam it is important to note that you must first have at least 5 or more years of experience in the audit field.
WHAT CAN YOU DO WITH AN ONLINE INFORMATION SYSTEMS DEGREE?
There are many career paths you may choose. Computer networks are an asset that nearly every business needs. So, study careers for their specific duties. Then, look for a certain business where you would want to work. Retail, banking, healthcare, are a few.
According to the Bureau of Labor Statistics, many of computer technology jobs are in demand. Overall they forecast 11% more jobs by 2029. Since that is an average of all related fields, some areas expect even more growth.
So, what does the typical CIS grad look like? Most (81.2%) are male. And, the average age is 40.7 years old.