2019 Computer Information Systems Degree Online Programs
Get matched to an Computer Information Systems Degree Program for FREE!
WHAT IS A COMPUTER INFORMATION SYSTEMS DEGREE Online Program?
Computer information systems degree online programs cover computing platforms, software, and applications. They delve into how computing systems help organizations run. And, they could prepare students for potential career paths in the growing field of IT.
Simply put, CIS coursework explores how to create and use computer information systems. You may pursue skill areas like programming and data management. And, you may learn how to keep computer information systems safe and secure.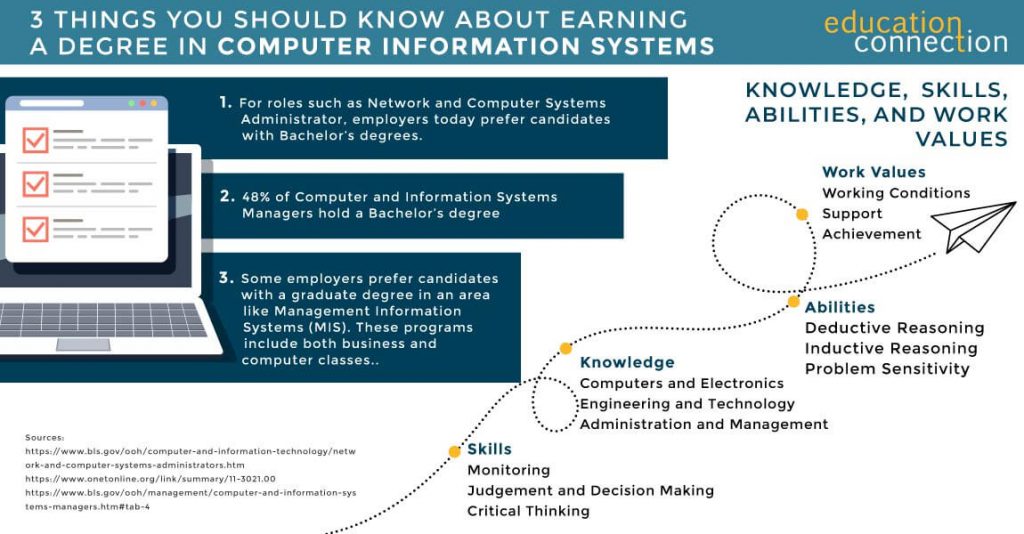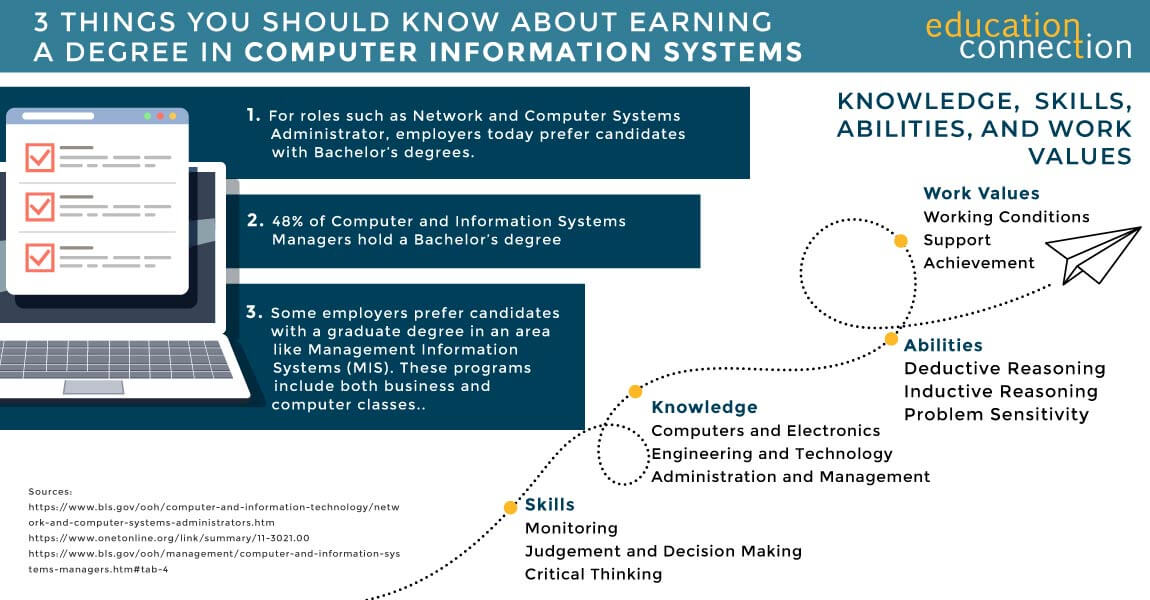 ASSOCIATE DEGREES
Computer Information Technology, A.S.
---
Provides students with an introductory set of computer skills relevant to today's IT field to include areas as diverse as beginning computer programming, database development and administration, software and application design, and internet development.
---
Basic Programming
Database Development
Software Development Concepts
BACHELOR's DEGREES
BS in Management Information Systems and Business Analytics
---
This program covers information systems as they apply to business management. Plus, you'll study how to use analytics to optimize business goals in different industries.
---
Basic Programming
Information Systems Analysis and Design
Data Mining
MASTER's DEGREES
Master of Science in Technology and Innovation Management – Information Systems
---
This program covers technology information management. You'll study how to use technology to manage and maintain information. And, you'll learn the theory and practice of IT leadership.
---
Databases & Business Intelligence
Principles of Cybersecurity
Data Warehousing & Decision Support
COMPUTER INFORMATION SYSTEMS DEGREE
Online PROGRAMS
Most computer information systems online degrees cover the design, use, and security of computing systems. You could practice new programming languages or discover how to keep hackers at bay. And, you could learn how to choose the perfect technology solution for any challenge.
CIS also plays an important role in business. So, many programs cover subjects like business communications, project management, and leadership. The focus is on using technology to solve practical problems within organizations.
That said, programs vary depending on the degree level. Let's take a look at some possible paths.
ONLINE COMPUTER INFORMATION SYSTEMS Degree PROGRAMS
At the Associate's level, you'll pursue an introduction to computer information systems. You may learn how networks function and how to keep computing systems secure. CIS Associate's programs may also teach coding. Students learn programming languages like SQL, Java, Visual Basic, and C++. And, they may learn how to build websites and databases.
At the Bachelor's level, expect to delve deeper into the field. You'll pursue a broad overview of network design, systems analysis, programming, and more. Plus, you could take a look at emerging trends and practices. (Think Big Data and the internet of things.) CIS plays a big role in business operations. So, you could take courses in management, finance, and other business topics. Finally, CIS Bachelor's programs may also let you choose a concentration. Examples include Information Systems Security, Cybersecurity, and Web Development.
Master's programs could help you take your knowledge to a new level and prepare for career enhancement. For instance, you could pursue managerial or leadership skill areas. And, you could learn how to plan business technology in a strategic way. For roles like Computer and Information Systems Manager, employers may prefer candidates with a Master's degree. Many Master's programs in CIS or related areas include business courses along with computer courses. CIS Master's programs may also offer concentrations that align with your goals. Examples include Security, Data Analytics, and IT Project Management.
Featured Online Schools
1
Southern New Hampshire University
Take advantage of some of the nation's most affordable tuition rates, while earning a degree from a private, nonprofit, NEASC accredited university
Qualified students with 2.5 GPA and up may receive up to $20K in grants & scholarships
Multiple term start dates throughout the year. 24/7 online classroom access.
Offering over 200 online degrees
Popular Online Programs
Business Administration, Psychology, Information Technology, Human Services…
2
Purdue Global University
Experience world-class education online with more than 175 programs at associate's, bachelor's, master's and doctoral levels.
Competency-based ExcelTrack™ Programs may allow you to earn your degree faster and for less money
Courses taught by highly respected faculty members who are experts in their fields
Full range of student services including no cost tutoring in math, science and writing
Available Online Programs
Business, Analytics, Computer Science, Cyber Security, Healthcare Management, RN to BSN, Criminal Justice, Psychology

3
Colorado State University
Ranked #8 by U.S.News & World Report for Best Online Bachelor's Programs
Apply up to 90 transfer credits for bachelor's students, and 9 transfer credits for master's degree students.
CSU Global graduates experience a return on investment of 4:1, which means they receive $4 in salary and benefits for every $1 they invest in their education.
Online Programs Include:
Accounting, Business Administration, Criminal Justice, Psychology & Information Technology

Sponsored
What Computer Information Systems Degree Online Courses Will I Take?
As you can see, there are different kinds of computer information systems degree programs available. This means your classes will depend as much on your program's level (Bachelor, Master, MBA, Ph.D.) as it will on a program's focus.
We'll take a look at several courses below that break down some of the complex terms. See which types of courses appeal to your goals and interests
Networking Fundamentals: This course serves as an introduction to cornerstone principles of networking to students. Students may learn about hardware, software, terminology and every other facet of a network.
Software Testing: This course may covers the basics of software testing all the way to advanced topics like configuration management test estimations, etc.
Programming in Java: Students may learn the about the foundations of computer science. From basic algorithms for simple automation programs to advanced systems that run factories and cities, this course helps build a foundation for coding.
System Administration & Security: Students may learn the role these admins play in the utilization and management of an organizations systems and applications. Subjects generally cover: virtualization management, compTIA Linux+, compTIAA+ and more.
HOW LONG DOES IT TAKE TO COMPLETE COMPUTER INFORMATION SYSTEMS DEGREE PROGRAM?
The time it takes to earn an online degree in computer information systems depends on things like program level, format, number of transfer credits, and course load. You can use the guide below but do some research to find individual school averages.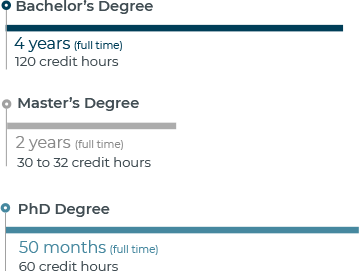 COMPUTER INFORMATION SYSTEMS DEGREE PROGRAMS THAT COULD BE COMPLETED IN 24 MONTHS
| School | Degree Level | # of Credits Required | Start Dates | Minimum Months to Complete |
| --- | --- | --- | --- | --- |
| Northcentral University | Master's | 30 | 52 (weekly) | 23 |
| Grand Canyon University | Master's | 34 | Multiple | 18 |
| Rasmussen College | Bachelor's | 90 | Multiple | 18 |
HOW MUCH DOES AN ONLINE COMPUTER INFORMATION SYSTEMS DEGREE COST TO EARN
The closest available tuition data is for Computer & Computer Systems Technology. Students in this field paid median in-state public tuition of $4,650 per year. Out-of-state private tuition was $23,472 per year.
Some programs charge by the credit. Compare the cost per credit at schools offering CIS degree programs, like these:
| School | Degree Level | # of Credits Required | Cost Per Credit | Total Tuition Cost |
| --- | --- | --- | --- | --- |
| Purdue University Global | Associate | 90 | $371 | $33,390 |
| Ashford University | Bachelor's | 120 | $485 | $58,200 |
| Colorado Technical University | Bachelor's | 186 | $325 | $60,450 |
TOP SCHOOLS FOR COMPUTER INFORMATION SYSTEMS DEGREE PROGRAMS
According the NCES, there were 133 schools with Computer & Computer Systems Technology programs. From those schools, there were 2,389 degrees awarded to students. The majority (75.4%) were Associate's degrees.
| SCHOOL | 2016 DEGREES AWARDED | 2018/19 TUITION* (OUT OF STATE UNLESS **) |
| --- | --- | --- |
| ECPI University | 268 | $16,039** |
| Harper College | 110 | $11,664 |
| Harrisburg University of Science and Technology | 102 | $23,900** |
| Pittsburgh Technical College | 94 | $16,801** |
| South Texas College | 86 | $7,680 |
| Technical Career Institutes | 85 | N/A |
| Excelsior College | 81 | N/A |
| Cuyahoga Community College District | 80 | $8,136 |
| Advanced Computing Institute | 74 | N/A |
| Arkansas State University-Beebe | 73 | $4,608 |
*Estimated for full-time, beginning undergraduate students
CHOOSING AN ACCREDITED COMPUTER INFORMATION SYSTEMS DEGREE PROGRAM
Accreditation helps you make sure your program teaches to industry standards. Depending on your career path, graduating from an accredited program may be required or recommended.
ABET accredits STEM programs, including computing programs at the Bachelor's level. They look for factors like:
International recognition of quality
Self-assessment and continuous improvement
Learning outcomes
Graduates who meet educational requirements for their professions
ABET doesn't accredit graduate CIS programs. But, you could look for industry-specific accreditations. For instance, CAHIIM may accredit CIS programs related to healthcare.
Finally, it's important to make sure your college or university holds accreditation. Even if your program is not accredited, school accreditation helps ensure the quality of your education. And, accreditation is required to apply for federal financial aid. (Financial aid may be available for those who qualify.)
GETTING A JOB WITH A COMPUTER INFORMATION SYSTEMS DEGREE
As of 2016, there were 382,245 Computer & Computer Systems Technology graduates in the workforce. And, employment in this field is growing by 2.11%. Computer and information technology jobs, overall, are projected to grow 13% by 2026.
So, what does the typical CIS degree-holder have in common with you? The majority (85%) are male. And, the average age of degree-holders in the workforce is 44.1 years old.
Top Salaries By State for Computer Information System Degree Holders
This salary information is for Network and Computer Systems Administrators. Salary varies for workers in other occupations.
| STATE | EMPLOYMENT | ANNUAL MEAN WAGE |
| --- | --- | --- |
| Maryland | 15,400 | $107,240 |
| New Jersey | 11,850 | $100,220 |
| District of Columbia | 2,450 | $98,020 |
| California | 40,700 | $96,420 |
| Virginia | 19,510 | $94,380 |
CAREERS WITH A COMPUTER INFORMATION SYSTEMS DEGREE
There are many career paths you may choose to pursue after attending online courses in a network and computer system administrator program. Computer networks are an asset nearly every business needs, so study careers for their specific responsibilities and then look for a certain business you may be interested in working for.
NETWORK AND COMPUTER SYSTEMS ADMINISTRATORS
While network and computer system administrators play a large role in installing and supporting a company's network, their responsibilities extend to other more analytical roles as well. They also collect data to measure network performance and ensure the system is meeting business needs and analyze what an organization needs in its system before installing upgrades.
Median Salary: $81,100 per year
Job growth through 2026: 6% (As fast as average)
Typical Entry-level education: Bachelor's Degree
COMPUTER AND INFORMATION SYSTEMS MANAGERS
Often referred to as IT managers, these professionals spearhead virtually all the information technology goals of an organization. They identify, plan and coordinate ways in which computer-related activities can make the company better and are the main individuals responsible for making sure these efforts are achieved. They play an administrative role that is supported by their advanced tech knowledge.
Median Salary: $139,220 per year
Job growth through 2026: 12% (Faster than average)
Typical Entry-level education: Bachelor's Degree
COMPUTER NETWORK ARCHITECTS
These professionals help build and design data communication networks for various organizations. The networks they create range in size from massive data networks that work on a global scale to small operations that link different areas of an office building. They choose what hardware is specifically needed for these efforts and consider other criteria such as data security in the process.
Median Salary: $104,650 per year
Job growth through 2026: 6% (As fast as average)
Typical Entry-level education: Bachelor's Degree