Online Master's Degree Programs
Get Matched Online Master's Programs for FREE!C+
What is an Online Master's Degree Program?
An online master's degree is  the first level of a post graduate college degree. Students must have a bachelor's degree to apply to these programs.
Master's programs tend to provide career specific skills and knowledge. Sometimes, this helps graduates enter or advance in a specific field. For example some Master's in Accounting programs ready students to become CPAs.
Some master's degree programs also pave the way for post-degree licensure or certification. One example is a Master's in Marriage and Family Therapy. Graduating from an accredited MFT degree program is one requirement for a state practice license.
Types of Master's Degrees
One may earn a master's degree online in a wide variety of majors and sub-fields. This provides prospective students an opportunity to develop mastery of a specific topic or career field of their choosing.
Within each field of study, some schools offer a few degree pathways to choose from. So, it is important to know what to look for and match the degree program with personal goals.
On a high level, master degrees can be broken down into three main types:
Master of Arts
Master of Science
Professional Master's Degrees
Master of Arts (MA) programs usually cover arts, humanities and social sciences. Courses tend to build skills in critical thinking and analysis.

A MA degree may focus on either research or academic. But most have students study theory and its impact on a specific area.

While Master of Science (MS) programs relate to STEM fields of study. MS programs thus tend to have technical courses.

Many also look at current research and its uses in the selected major. Some MS programs also build a basic set of quality research skills. Students often complete a master's thesis to cap their requirements.

Professional master's degrees focus on developing skills for a certain career path. While one may learn concepts, there is a practical side too. This means you are likely to study ways to apply theory to solve real problems. Often, a professional master's program awards a "Master of" the subject.
Examples:

Master of Arts in English
Master of Arts in Counseling

Examples:

Master of Science in Nursing
Master of Science in Data Analytics

Examples:

Master of Library Science
Popular Master's Degrees to Earn
At last count, 804,684 people earned master's degrees. Some of the most popular majors include:
Business – 187,404 degrees
Education – 145,680 degrees
Health Professions – 119,273 degrees
Engineering – 52,841 degrees
Computer Science – 46,555 degrees
Within these majors, there are a few very popular master's degrees.
1. Master of Business Administration (MBA)
An MBA is a Master of Business Administration degree. It is a professional master's degree for managers.
Most MBA programs cover managerial practices from all sides. From accounting and finance to strategy, human resources and marketing.
These key topics may touch on day to day operations and how to make decisions. Many students also take a handful of courses in a concentration area to tailor studies. Finance and technology management are examples.
2. Master of Public Administration (MPA)
An MPA is a Master of Public Administration degree. Like an MBA it is a professional master's degree. But it is for managers in public and nonprofit sectors.
Most MPA programs cover managerial practices too. But other topics touch on transparent leadership and public policy analysis.
3. Master of Education (MEd)
A Master of Education (MEd) is an advanced teaching degree. Such programs often help career switchers get a state license. Or pursue other official certifications.
Yet others may enable a teacher to refine skills and establish a teaching niche. Curriculum and Instruction,  early childhood education and elementary teaching to name a few.
4. Master of Social Work (MSW)
A Master of Social Work (MSW) is the entry-point to a career in clinical social work. Classes usually focus on improving the quality of life of individuals and groups. Like military social work health, children and families or mental health.
One may enter an MSW with or without a bachelor's degree in social work. Advanced standing MSW programs take into account prior education and are usually quicker. Look for programs with Council on Social Work Education (CSWE) accreditation.
5. Master's in Criminal Justice
A MS in Criminal Justice looks at areas like law enforcement and national security. Classes touch on the U.S. justice system, laws and courts. But one may also learn about criminal behavior and emergency management.
For those who want to fight cybercrime, this is a popular concentration. You might also pursue a Master's in Cybersecurity or Masters in Forensic Science.
How Long Does It Take to Earn a Master's Degree Online?
A full-time student may take from one to two years to earn a master's degree online. Many programs allow students to pace themselves. Either take a full course load or study with no summer break. There are part-time and accelerated online master's degree programs too. Part-time programs stretch graduation time out. Some schools may cap the number at five or six years.
An accelerated master's program is the opposite. It quickens the time to graduation. Plus, they usually cost less due to having fewer credit requirements. There are a few terms used by schools to describe these programs. Some online schools use "fast track", "fast forward" or "advanced standing". In some schools, accelerated programs put two degrees together. Like a bachelor's and master's degree. Instead of 4 plus 2 years, these are usually 5-year programs.
Other times, an accelerated master's program may provide credit for work experience, such as some accelerated MBAs for example. In these programs you may earn your master's degree in one year.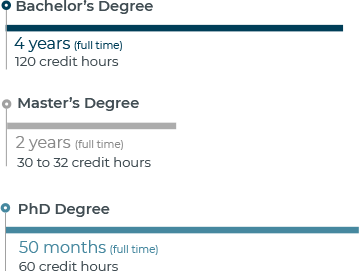 Are Online Master's Degrees Cheaper?
Pursuing a master's degree online may be cheaper than attending an on-campus program. Plus, there are many online colleges offer low tuition. Also consider that online students, do not have to move near campus. So, they don't need to worry extra about room and board or travel to school.
To figure out whether it is more affordable though, you'll need to weigh the cost of attending each school. Some institutions cost more to attend if you are not a resident. While other colleges and universities extend in-state tuition costs to online students. No matter their location
Are Online Masters Programs Accredited?
There are two levels of accreditation for online master's programs. One serves as a quality control for the institution itself. Another for the individual programs.
Schools with regional approval have to meet certain standards. These speak to its mission, faculty, student services and more. At one of these schools, one may apply for federal financial aid. Plus, accredited universities usually ease the transfer of credits.
A master's program in an accredited school may have another tier of quality approval. This is usually from a professional agency or third party. In most cases, this outside organization sets criteria for what a practitioner should know and be able to do. So, it may nurture curriculums which prepare grads to pursue their chosen career.
One example is the Commission on Collegiate Nursing Education. CCNE accreditation ensures the quality of bachelor's, graduate and residency nursing programs. Nurses who complete a CCNE approved program may take board and state license exams.
Accreditation in both cases is thus something to weigh. Especially if your field calls for a professional license or certificate. Most official boards want to see you earned your degree at a reputable school.
Lifetime Earnings with a Master's Degree
One study compared average weekly earnings for different levels of education. It found that people with a master's degree earn an average of $228 more per week than reported by workers with a bachelor's degree.
| | | | |
| --- | --- | --- | --- |
| | Associate Degree | Bachelor's Degree | Master's Degree |
| Median Weekly Earnings | $862 | $1,173 | $1,401 |
| Median Annual Earnings | $44,824 | $56,304 | $67,248 |
| Median Lifetime Earnings (Based on 45 Years Worked) | $2,017,080 | $2,533,680 | $3,026,160 |
Can You Get Financial Aid for Online Master's Programs?
Many online colleges offer financial aid to students enrolled in full-time programs. To take part in federal financial aid you must enroll in an accredited online school. Accreditation should come from an agency approved by the U.S. Department of Education
To know if you qualify for federal, state, and college financial aid for graduate school is to submit a FAFSA. The Free Application for Federal Student Aid figures out how much aid you qualify for. This includes federal and state grants and scholarships, as well as federal student loans, including:
Perkins Loans
Direct Unsubsidized Loans
Grad PLUS Loans
What Are the Highest Paying Online Master's Degrees?
A master's degree is the entry level education to some of the highest paying careers. In others, you may not need a master's degree to enter the field. But having one may lead to career advancement and more lucrative salaries. Many of the highest paying occupations you need a master's for pay more than a $100,000 per year.
Here are the 5 highest paying online master's degrees to consider:
Continuing Your Education
Depending on your goals, a master's degree may not be the end of the road. You may need to pursue a doctorate degree. Or work towards professional licensure and/or professional certifications. This is one reason to look for regionally accredited online colleges!
Doctoral Degrees
Doctoral degrees are the highest award one can earn. For some professions, a doctorate is the entry-point and you need one to get a job or license.
Licensed psychologists are one example. If you have a PhD in sight, you may want to pursue a master's degree with a thesis. This usually hones quality research skills which come in handy for a PhD.
Professional Certifications
A professional certification is a credential. It shows you have expertise in a certain method. Many industries value them. So, they often look good on a resume.
One example are IT certifications. To get one, you need to study a specific technique. Then pass an exam provided by the sponsoring agency.
Professional Licensure
Make sure to research your chosen career path ahead of time. Many professions require a license to practice. So, once you have a master's degree, you may need to take a state or national exam. This is the case if you want to become say, a Nurse Midwife.