Top Online Cyber Security Degree Programs
Get matched to an Online Cyber Security Degree Program for FREE!
WHAT IS AN Online CYBERSECURITY DEGREE?
An online cybersecurity degree studies internet threats and the ways to keep data safe. Also called information security (InfoSec) graduates may leave with key technical skills. These are crucial to detect, deter and deal with a wide range of cyber threats and security issues.
With cyber attacks real and imminent, pursuing a cybersecurity degree online may be worthwhile. Reports show that by 2021, there will be 3.5 million unfilled cybersecurity jobs. Why not prepare to meet this alarming trend with a trained eye and a computer-savvy skill set?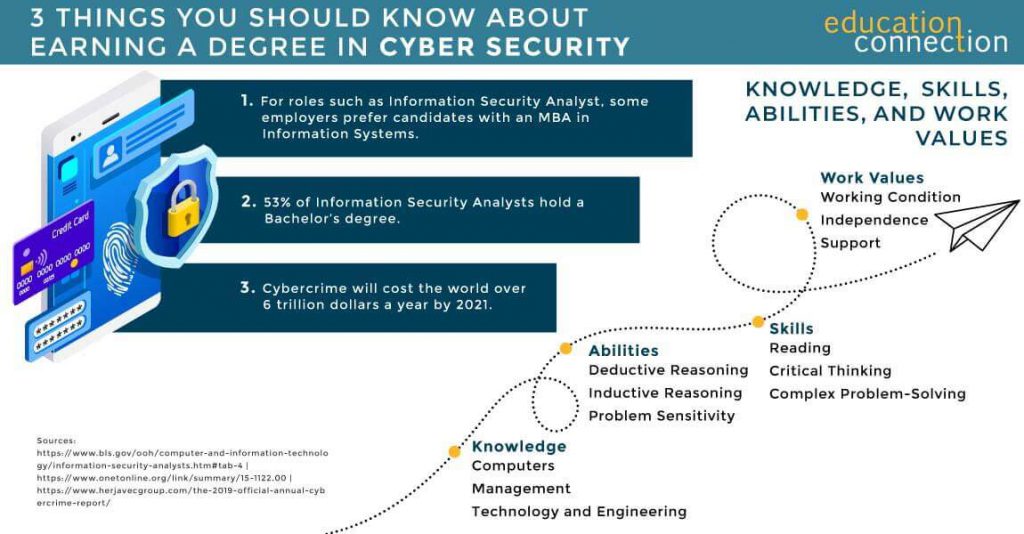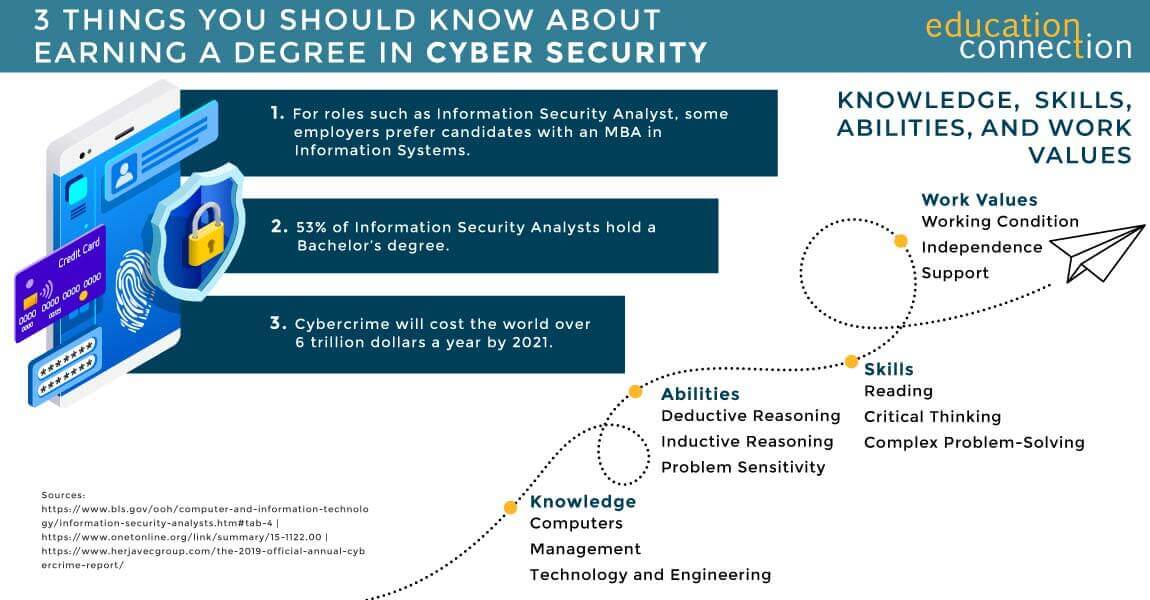 Associate Degree
Associate of Science in Cybersecurity
---
Covers basic concepts, products and practices. Students train in computer networks with courses in security defense tactics and strategy.
---
Dynamic Network Defense
Security and Vulnerability Tests
Digital Forensics
BACHELOR's DEGREE
Bachelor of Science in Cybersecurity
---
Covers basic concepts, products and practices. Students may learn how to apply current tools and methods as well as design secure systems. An optional internship may arm students with hands-on experience.
---
Ethical hacking

Network Security

Digital Forensics Malware Reverse
Engineering
Master's DEGREE
Master of Science in Cybersecurity
---
Exposes students to the latest tools, practices, methods and procedures used to manage and protect critical information infrastructures and other sensitive assets. You will gain the knowledge you need to protect systems, networks and data from disruption, unauthorized access, alteration or even destruction. This comprehensive program investigates the current trends and emerging threats in the industry.
---
Cybersecurity and Policy
Terrorism and Organized Crime
Security Risk Management
COMMON ONLINE CYBER SECURITY DEGREE PROGRAMS
Undergrads who enroll in online cybersecurity programs learn the basics of cybercrime. At the outset, you'll often study what it means to be the first line of defense against cyber attacks. Further on, you may fine-tune your interests by focusing on a
Many programs also look at trending issues in network safety. These may cover identity theft, computer viruses and hacking. They may also get into cyber terrorism and homeland security.
Your courses may provide a clear picture of what such intruders look like and how to guard against them. These skills are vital when it comes to protecting an organization's digital assets.
Along the way, many programs include hands-on practices. Purdue Global University is one example. Their program has learning labs. These copy the real-world with on-the-job scenarios. As a result, they may boost your comfort level with handling threats.
You may also learn things like which tactics and protocols to use. Like students enrolled in software development programs, many courses may be technical, and computer focused. You may learn how to use software tools to keep information systems safe from intrusion.
Other courses in digital forensics may help you develop your investigative skills. These are crucial when it comes to solving security related problems.
Featured Online Schools
1
Southern New Hampshire University
Take advantage of some of the nation's most affordable tuition rates, while earning a degree from a private, nonprofit, NEASC accredited university
Qualified students with 2.5 GPA and up may receive up to $20K in grants & scholarships
Multiple term start dates throughout the year. 24/7 online classroom access.
Offering over 200 online degrees
Popular Online Programs
Business Administration, Psychology, Information Technology, Human Services…
2
Western Governors University
An affordable way to earn your degree.
Tuition around $4,000 a term – about half the cost of most other online universities.
Over 60 accredited bachelor's and master's degrees.
Programs start monthly – Apply free this week!
Available Online Programs
Business Management, Human Resource Management, Information Technology Management, Computer Science, Cybersecurity, Healthcare Management, Elementary Education

3
Strayer University
Save up to 25%. Save thousands on your bachelor's with the Strayer Graduation Fund.
Strayer University is an accredited institution with a proud history of 125 years in quality education.
With the help of dedicated personal support and AI technology, earn your degree online or on campus.
Online Programs Include:
Accounting, Data Analytics, Cybersecurity, Business Administration, Criminal Justice & Information Technology

Sponsored
What Cyber Security Degree Classes Will I Take?
You'll study how someone hacked a system. Then, by going back through their steps, you'll learn about risks. In so doing, you'll be studying how to fix vulnerable and weak systems.
Thus, many programs spend time on countermeasures and mastering various industry tools.
Some schools also offer course plans that serve as study guides. Rasmussen College is one example. Their syllabus aims to ready grads to sit for cybersecurity certification exams:
Systems Security Certified Practitioner (SSCP)
Cisco Certified Network Associate (CCNA)
Certified Information Systems Auditor (CISA)
CompTIA Cybersecurity Analyst (CSA+)
To round things out, you may need to take some general education courses and a capstone. These may involve topics like math, computing and information technology.
We've compiled some sample courses below. Since schools bring unique courses, make sure you read their outlines.
HOW MANY YEARS DOES IT TAKE TO GET A DEGREE IN CYBER SECURITY?
If you study full time, it may take four years to earn a degree in cybersecurity. Add about two years for a master's degree.
That said, many schools offer ways to graduate sooner. Accelerated programs are one example. These allow you to transfer credits. Let's say you have an associate's or bachelor's degree from an accredited school. You may apply these credits to have a shorter timeline. The same goes for schools that offer credit for military training.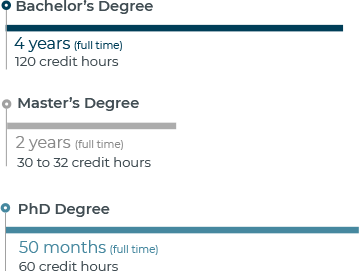 ONLINE CYBER SECURITY DEGREE PROGRAMS THAT COULD BE COMPLETED IN 18 MONTHS
School
Degree level
# of Credits Required
Start Dates
Minimum Months to Complete
Rasmussen College
Associate
90 credits
multiple
18 months
Purdue University Global
Bachelor'
s
180 credits
multiple
Apply up to 75% of undergraduate credits to graduate faster
Colorado State University Global Campus
Bachelor's
120
Every 4 weeks
Transfer up to 90 credits to graduate faster
HOW MUCH DOES AN ONLINE CYBER SECURITY DEGREE COST?
It may cost an average of $35,000 and up to earn an online cybersecurity degree. That said, prices depend on a few things.
One is state residency. Some schools charge more to out-of-state students. Others may have a set tuition for all online students. Current data shows a median in-state tuition of $6,563 (growing 1.12%). Also growing (by 3.58%), the median out-of-state tuition is $28,900. Another is technology fees which may be extra and above tuition.
| School | Degree Level | # of Credits Required | Cost Per Credit | Total Tuition Cost |
| --- | --- | --- | --- | --- |
| Purdue University Global | Bachelor's | 180 | $371 | $66,780 |
| Regent University | Bachelor's | 120 | $395 | $47,400 |
| Colorado Technical | Bachelor's | 182 | $325 | $59,150 |
TOP CYBERSECURITY DEGREE PROGRAMS
Last check, most schools that offer cybersecurity programs are Public, 2-year institutions. From those schools there were 6,983 degrees awarded to students. The majority (46.1 percent) of these programs were at the bachelor's degree level.
| School | 2017 Grads total/Degrees awarded | Tuition (Out of State) |
| --- | --- | --- |
| University of Maryland | 1,226 | $33,616 |
| Western Governors University | 652 | $24,280 |
| University of Phoenix Arizona | 531 | $38,432 |
| American Public University | 310 | $29,295 |
| ECPI University | 281 | $61,325 |
| Capella University | 211 | $16,538 |
| Baker College of Flint | 154 | $41,511 |
ACCREDITATION FOR ONLINE CYBER SECURITY DEGREE PROGRAMS
It is to your benefit to look for an accredited online cybersecurity program. For one, regionally accredited schools may have transfer credit policies. Any time you can apply past credits, you'll have fewer to do and pay for. Also, you'll be able to apply for federal financial aid.
The next level is professional accreditation. This kind of approval speaks to what a school teaches. It will assess whether the courses meet industry standards.
Because this process is voluntary, a school must submit an application. Once it passes the scrutiny of peers and meets criteria, it earns the status 'accredited'. Recently ABET began to approve bachelors in cybersecurity programs.
Not as new is the designation as a National Center of Academic Excellence in Cyber Defense.
The National Security Agency (NSA) and the Department of Homeland Security (DHS) jointly sponsor the National Centers of Academic Excellence in Cyber Defense (CAE-CD) program.
The goal of such programs is to produce persons with cyber defense expertise. You can check whether a two-year, four-year or grad school is a CAE-CD approved school on the NSA website.
TOP CYBER SECURITY SALARIES BY STATE
Take a look at the states with the highest salaries for information security analysts below.
| State | Employment | Annual Mean Wage |
| --- | --- | --- |
| District of Columbia | 1,310 | $121,170 |
| New Jersey | 3,210 | $120,020 |
| New York | 6,170 | $118,140 |
| Virginia | 13,190 | $110,450 |
| Maine | 250 | $110,080 |
What JOBS CAN GET WITH A CYBER SECURITY DEGREE?
Once you have a cyber security degree, you may pursue a wide range of potential careers.
INFORMATION SECURITY ANALYSTS (I)
Information security analysts implement and maintain information security throughout a company. That could mean creating and enforcing company policies regarding information use, as well as assigning various levels of permissions to users.
Median Salary: $95,510 per year
Job growth through 2026: 28% (Much faster than average)
In addition, these professionals may recommend and install security software and use monitoring software to detect and resolve threats. Duties often vary depending on your employer. For example, a large company with multiple branches may have more complex security requirements than a small business. Here are some general duties you may be expected to perform:
Evaluate computing environments in order to identify risk and make recommendations for security updates
Install anti-virus and malware software, firewalls, and other security software; encrypt data transmissions; implement access management
Help develop company information security policy and procedures
Train users in secure computing; monitor activity and handle any user violations
Perform data loss prevention procedures, such as file backup and recovery
Regularly re-audit security measures and make ongoing suggestions to improve security architecture, policies, and protocols
Serve as information security expert on projects involving electronic data and computing
Salary potential when you become an information security analyst varies by position, level of experience, and other factors. However, these stats related to earnings potential and job growth could give you an idea of what the salary potential is in this field.
According to the Bureau of Labor Statistics, cyber attacks have increased in frequency in recent years, impacting job growth in this field. Areas that may experience an increased need for cyber security professionals include the federal government and healthcare.
All Salary and Job Outlook information provided by the Bureau of Labor Statistics