Online Computer Science Degree Programs
Get matched to an Online Computer Science Degree Program FREE!
WHAT IS COMPUTER SCIENCE DEGREE?
Computer science (CS) degree programs cover the theory and tech behind computers. That includes how hardware and software is designed, built, and used to get to certain goals. You could study skill areas like how to program. And, you may learn how tech is used in all different fields, like business.
Earning a CS degree could help you prepare for diverse career paths. These include roles in the growing computer and IT field. This industry may have demand in areas like cloud computing and information security. You could touch on these topics and more in a CS program.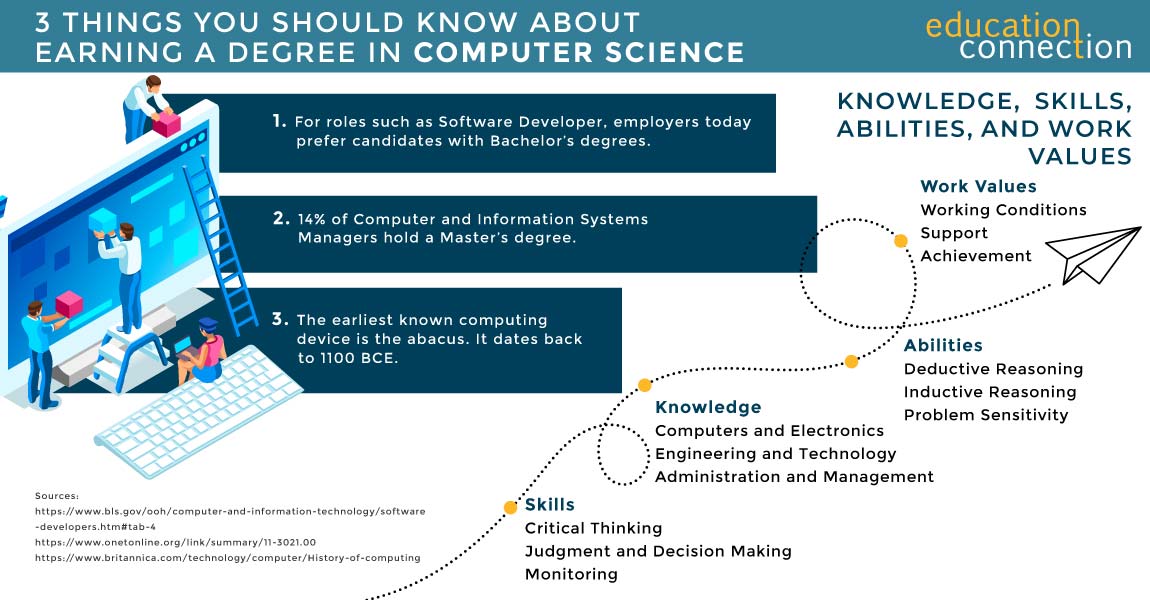 TYPES OF ONLINE COMPUTER SCIENCE DEGREE PROGRAMS
Bachelor of Science (B.S.) in Computer Science
The B.S. in Computer Science covers an overview of the field, with an eye toward how to solve tech problem. You may also study things from how to program to professional ethics.
Course Examples:
Operating Systems (OS)
Computer Architecture
Mobile & Smart Computing
No specific program accreditation
Master of Business Administration – Applied Computer Science
The M.S. is designed to help you gain a deeper knowledge of core areas of CS. You could pursue a general track, or choose one of four focus areas, like Data Science.
Course Examples:
Modern OS
Systems Engineering Methods
Data base Systems
No specific program accreditation
Master of Science (M.S.) in Computer Science
The MBA covers business concepts, along with tech trends and skill areas. You'll explore how CS can help a business get to their goals, while growing your manager knowledge.
Course Examples:
Managerial Decision Making
Program Languages
Computer Graphics
The MBA program is accredited by ACBSP.
ONLINE COMPUTER SCIENCE DEGREE PROGRAMS
Online CS programs may cover an end to end overview of computing tech. They could also help you prepare for other goals – like mobile app development, or how to keep information systems safe.
Programs will also vary by degree level. You can find undergrad, grad, and PhD programs in CS.
BACHELOR'S DEGREE
At the Bachelor's level, you'll study the foundations of this field. That might be things from software engineering to cyber security. Most programs place a strong focus on math. And, you'll learn how to code in many programming languages – like Python, Java, and C++.
CS pros could work in a range of industries. So, you may learn how to solve all types of problems in different settings. These could include anything from game design to enterprise computing.
Common programs include:
Bachelor of Science (BS) in CS. A BS program tends to focus more on science and applied math. This path may be ideal for science goals that involve computer science.
Bachelor of Arts (BA) in CS. A BA program focuses more on humanities and social science. If your goals in computer science revolve around making human connections and how to help to solve social problems, this path may interest you.
Bachelor's in computer science programs include courses like:
Data Structures and Algorithms
Computation Theory
Computer Programming
Systems Architecture
Software Design
Computer Platform Technologies
Many programs also include course work in professional development, plus gen ed courses like English.
MASTER'S DEGREE
An online Master's in CS program could help students deepen their knowledge in a certain area. For instance, you could take advanced courses in a certain area of focus. Potential focus areas are data science, network security, or software engineering.
You could also expand your knowledge of core concepts, exploring both theory and practice. Most programs include further study of data structures, programming languages, and computer systems.
Common programs include:
Master of Science (MS) is a common program at the grad level. But you may find other paths. For instance, a Master of Business Administration (MBA) in CS program covers computing tech in a business context.
Computer Science Bachelor's programs include courses like:
Machine Learning
Cloud Computing
Computational Geometry
Security Engineering
Object Oriented Design
Computer Graphics
DOCTORATE DEGREE
At the PhD level, CS programs tend to place a focus on research. You may focus on how to solve problems and apply theory within your field. And, you'll learn how to analyze and draw conclusions from data.
Common programs include:
PhD in Computer Science. A PhD is a research degree. So, candidates not only build expertise in the field of CS, but they study research methods. Depending on the program, a lot of your time may be devoted to research activity and writing an original dissertation.
Doctor of Computer Science (DCS). A DCS is an applied degree. So, you may focus less on original research and more on applying theory to problems in your field. These could include everything from how to resolve systems design flaws to how to improve business processes.
Computer Science Doctorate programs include courses like:
Analytics for Big Data
AI
Futuring and Innovation
Cyber security Management
Principles of Research Methods and Design
1
Take advantage of some of the nation's most affordable tuition rates, while earning a degree from a private, nonprofit, NEASC accredited university
Qualified students with 2.5 GPA and up may receive up to $20K in grants & scholarships
Multiple term start dates throughout the year. 24/7 online classroom access.
Popular Programs
Business Administration, Psychology, Information Technology, Human Services…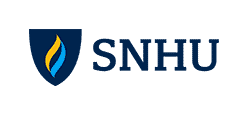 2
Ranked #8 by U.S.News & World Report for Best Online Bachelor's Programs
Apply up to 90 transfer credits for bachelor's students, and 9 transfer credits for master's degree students.
CSU Global graduates experience a return on investment of 4:1, which means they receive $4 in salary and benefits for every $1 they invest in their education.
Available Programs
Business, Computer Science, Criminal Justice, IT, Psychology…

3
Award-winning programs created to help you succeed.
A quality education doesn't have to be expensive. Earn an accredited degree for less.
Programs start monthly – Apply free this week!

Sponsored Schools
WHAT DO COMPUTER SCIENCE DEGREE COURSES LOOK LIKE?
Some common courses include:
Information Security:&nbspFind out how to protect data from cyber threats. A course like this may cover how to plan, best practices, and how to keep networks safe.
Big Data Technologies:&nbspPrepare to use data to predict outcomes and solve problems. This course may cover data analysis, modeling, and other methods.
Artificial Intelligence:&nbspThis course is all about AI – what it is and the promise it offers. Topics may include machine learning, robotics, and ways to use AI.
Scripting and Programming Apps:&nbspStudy what goes into building an app. You could learn programming languages like C++, plus key tools and methods.
Data base Management Systems:&nbspA course like this looks at how to build data bases that solve problems. Topics may include design, query languages, and more.
Network Administration:&nbspThis course covers the theory and practice of computer networking. You could learn how to build, fix, and manage networks.
HOW LONG DOES IT TAKE TO COMPLETE A COMPUTER SCIENCE DEGREE PROGRAM?
A Bachelor's in CS can take four years to earn, for full time students. You'll need to complete about 120 credits, more or less. Earning a Master's in CS can take at least two years. These programs are often 30 to 36 credits long, though some are longer. Earning a doctorate in CS may take between three and seven years. In addition to about 60 credits of course work, you may also need to complete a dissertation.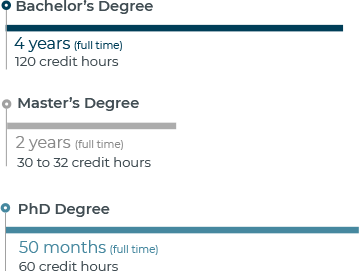 COMPUTER SCIENCE DEGREE PROGRAM EXAMPLES
| | | | |
| --- | --- | --- | --- |
| School | # of Credits Required | Start Dates | Minimum Months to Complete |
| Colorado Technical University | 48 | Multiple | 18 |
| Rasmussen College | 90 | Multiple | 18 |
| Northcentral University | 30 | 52 (weekly) | 23 |
THE AVERAGE COST OF A COMPUTER SCIENCE DEGREE PROGRAM
According to DataUSA, the median in state public tuition was $6,670 per year in 2017. Private and for profit schools cost $32,522 per year. You could find schools that cost more or less than these amounts. Compare costs for these online schools offering CS programs:
| | | | |
| --- | --- | --- | --- |
| School | # of Credits Required | Cost Per Credit | Total Tuition Cost |
| Trident University International | 120 | $405 | $48,600 |
| Regent University | 120 | $395 | $47,400 |
| Colorado Technical University | 100 | $598 | $59,800 |
TOP SCHOOLS FOR COMPUTER SCIENCE DEGREES
According to DataUSA, 852 schools offered CS programs. From those schools, 41,793 degrees were awarded to students.
| | | |
| --- | --- | --- |
| School | 2017 Degrees awarded | 2019/20 Tuition (out of state unless *) |
| University of Central Missouri | 1430 | $14,715 |
| University of Southern California | 1072 | $58,195* |
| University of California San Diego | 892 | $44,169 |
| University of Illinois at Springfield | 708 | $21,338 |
| University of California Berkeley | 605 | $44,007 |
| Oregon State University | 595 | $31,215 |
| Massachusetts Institute of Technology | 587 | $53,790* |
| Arizona State University Tempe | 574 | $29,428 |
| Stanford University | 549 | $53,529* |
| Columbia University in the City of New York | 525 | $61,788* |
Estimated for full time, beginning undergrad students
CHOOSING A COMPUTER SCIENCE DEGREE ONLINE ACCREDITED PROGRAM
Accredited CS degree programs have to uphold certain standards. So, you may want to pursue a degree that holds accreditation.
ABET accredits a variety of STEM programs, including Bachelor's programs in computing. ABET accreditation helps ensure programs meet global standards. They look at factors like educational quality and program outcomes.
Even if your program is not accredited, it's important to look for an accredited college or university. In fact, if you plan to apply for federal financial aid, accreditation is required. (Financial aid may be available for those who qualify.)
GETTING A JOB WITH A COMPUTER SCIENCE DEGREE
Per the most recent data, there were 2.06 million CS grads in the work force. As a whole, the computer and IT field is growing. Jobs are projected to grow 12% by 2028, faster than average for all occupations.
CS remains a male dominated field, with 78.6% men to 21.4% women. And, the average age of a degree holder in this field was about 40.7 years old.
TOP SALARIES BY STATE FOR COMPUTER SCIENCE DEGREE HOLDERS
This salary information is for Software Developers, Apps. Data may vary for other kinds of Software Developers.
| | | |
| --- | --- | --- |
| State | Employment | Annual Mean Wage |
| Washington | 53,860 | $131,790 |
| California | 148,550 | $127,950 |
| New York | 52,640 | $116,830 |
| Virginia | 38,110 | $113,690 |
| District of Columbia | 2,520 | $112,510 |
COMPUTER SCIENCE CAREER PATHS AND POTENTIAL SALARIES
Software Developer
Software Developers design apps and computer systems. That involves everything from how to analyze a users needs to how to fix bugs and perform upgrades. These pros can work in different industries. But, the largest number worked in CS design and related services.
According to 2020 BLS data:
Median Salary: $107,510 per year
Job Growth Through 2029: 22% (Much faster than average)
Typical Entry level Education: Bachelor's degree
Computer Programmer
Computer Programmers write code for computer apps and software. They also test programs for errors in the code. These pros need to know different programming languages, like C++ and Java. In some cases, their duties may overlap with those of Software Developers.
According to 2020 BLS data:
Median Salary: $86,550  per year
Job Growth Through 2029: -9% (Decline)
Typical Entry level Education: Bachelor's degree
Computer and Information Systems Managers
Computer and Information Systems Managers plan and manage IT within an organization. (They're often called IT Managers.) Some duties include how t0 analyze a businesses' tech needs and ensure network security. They can work in many fields.
According to 2020 BLS data:
Median Salary: $146,360 per year
Job Growth Through 2029: 10% (Much faster than average)
Typical Entry level Education: Bachelor's degree