Top Online Computer Science Degree Programs
WHAT IS COMPUTER SCIENCE DEGREE?
Computer science degree programs cover the theory and technologies behind computers. That includes how hardware and software is designed, built, and used to achieve goals. You could study skill areas like programming. And, you may learn how technology is used in different settings, like business.
Earning a computer science degree could help you prepare for diverse career paths. These include occupations in the growing computer and information technology field. This industry may have demand in areas like cloud computing and information security. You could touch on these topics and more in a computer science program.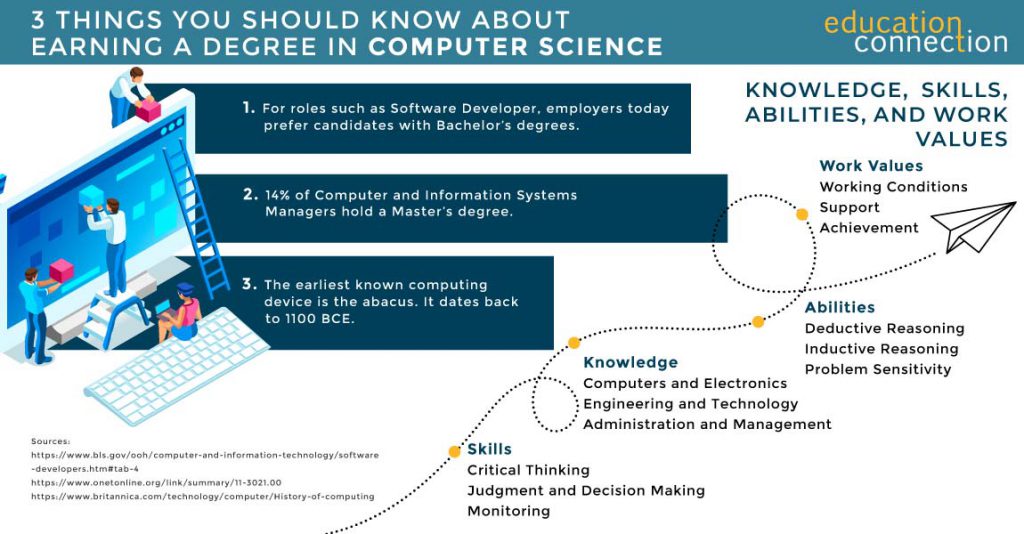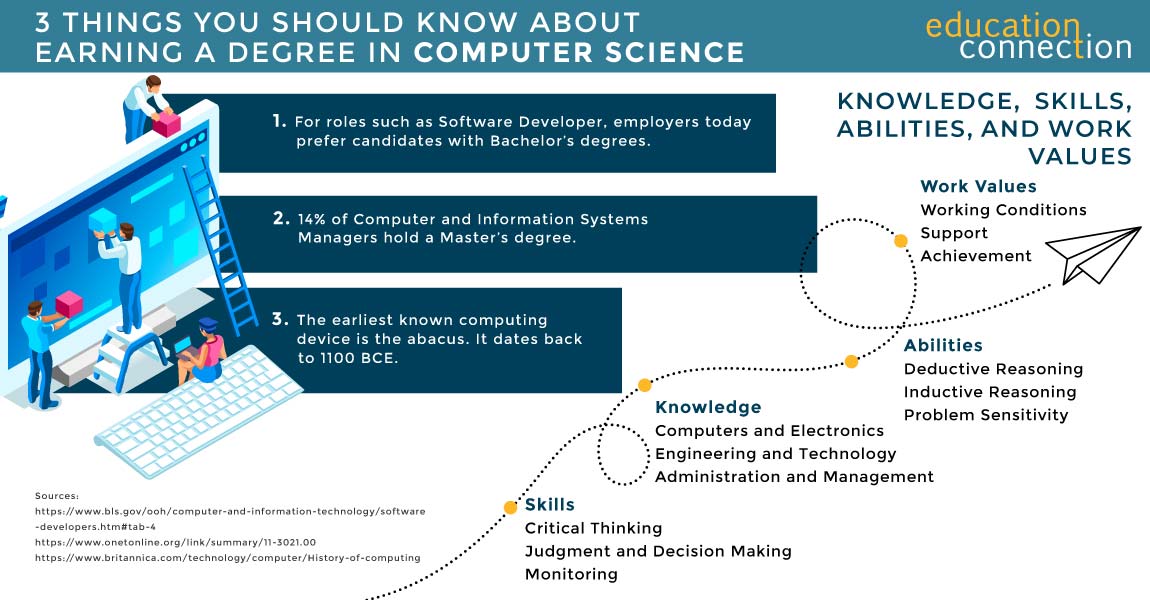 Bachelor's Degrees
Bachelor of Science (B.S.) in Computer Science
---
The B.S. in Computer Science covers an overview of the field, with an eye toward technology problem-solving. You'll study everything from programming to professional ethics.
---
Courses include:
Operating Systems
Computer Architecture
Mobile & Smart Computing
---
No specific program accreditation
MASTER'S DEGREES
Master of Business Administration – Applied Computer Science
---
The M.S. is designed to help you pursue deeper knowledge of core areas of computer science. You could pursue a general track, or choose one of four concentrations, like Data Science.

---
Courses include:
Modern Operating Systems
Systems Engineering Methods
Database Systems
---
No specific program accreditation
MASTER'S DEGREES
Master of Science (M.S.) in Computer Science
---
The MBA covers business concepts, along with technology trends and skill areas. You'll explore how computer science helps businesses achieve their goals, while enhancing your managerial knowledge.
---
Courses include:
Managerial Decision-Making
Programming Languages
Computer Graphics
---
The MBA program is accredited by ACBSP.
ONLINE COMPUTER SCIENCE DEGREE PROGRAMS
Online computer science programs may cover an end-to-end overview of computing technology. They could also help students prepare for more specific goals – like mobile app development, or keeping information systems safe.
Curriculum will also vary by degree level. You can find undergraduate, Master's, and doctorate programs in computer science.
ONLINE BACHELOR'S IN COMPUTER SCIENCE PROGRAMS
At the Bachelor's level, you'll study the foundations of this multidisciplinary field. That might include everything from software engineering to cybersecurity. Most programs place a strong focus on math. And often, you'll learn how to code in different programming languages – like Python, Java, and C++.
Computer science professionals could work in a range of industries. So, you may learn how to solve computing problems in different settings. These could include anything from game design to enterprise computing.
Two main types of Bachelor's in Computer Science program include:
Bachelor of Science (BS) in Computer Science. A BS program tends to focus more on the sciences and applied mathematics. This education path may be ideal for science or engineering goals that involve computer science.
Bachelor of Arts (BA) in Computer Science. A BA program focuses more on the humanities and social sciences. If your goals in computer science revolve around making human connections and solving social problems, this path may interest you.
That said, the differences between these two programs may mostly apply to your foundational courses. Your coursework in computer science could include:
Data Structures and Algorithms
Computation Theory
Computer Programming
Systems Architecture
Software Design
Computer Platform Technologies
Many programs also include coursework in professional development, plus general education courses like English Composition.
ONLINE MASTER'S IN COMPUTER SCIENCE PROGRAMS
An online Master's in Computer Science program could help students deepen their knowledge in a particular area. For example, you could take advanced courses in a concentration. Potential concentrations include data science, network security, or software engineering.
You could also expand your knowledge of core concepts, exploring both theory and practice. Most programs include further study of algorithms and data structures, programming languages, and computer systems.
You could also take courses like:
Machine Learning
Cloud Computing
Computational Geometry
Security Engineering
Object-Oriented Design and Programming
Computer Graphics
The Master of Science (MS) is a common program at the graduate level. But you may find other paths. For instance, a Master of Business Administration (MBA) in Computer Science program covers computing technology in a business context.
Online Doctorate in Computer Science
At the doctoral level, computer science programs tend to place emphasis on research. You may focus on solving problems and applying theory within your field. And, you'll learn how to analyze and draw conclusions from qualitative and quantitative data.

Two common types of computer science doctoral program include:

PhD in Computer Science. A PhD is a research degree. So, candidates not only build expertise in the field of computer science, but they study research methods. Depending on the program, a lot of your time may be devoted to research activity and writing an original dissertation.
Doctor of Computer Science (DCS). A Doctor of Computer Science is an applied degree. So, you may focus less on original research and more on applying theory to problems in your field. These could include everything from resolving systems design flaws to improving business processes.
Courses you could take at the doctoral level may include:

Analytics for Big Data
Artificial Intelligence
Futuring and Innovation
Cybersecurity Management
Principles of Research Methods and Design
Featured Online Schools
1
Southern New Hampshire University
Take advantage of some of the nation's most affordable tuition rates, while earning a degree from a private, nonprofit, NEASC accredited university
Qualified students with 2.5 GPA and up may receive up to $20K in grants & scholarships
Multiple term start dates throughout the year. 24/7 online classroom access.
Offering over 200 online degrees
Popular Online Programs
Business Administration, Psychology, Information Technology, Human Services…
2
Purdue Global University
Experience world-class education online with more than 175 programs at associate's, bachelor's, master's and doctoral levels.
Competency-based ExcelTrack™ Programs may allow you to earn your degree faster and for less money
Courses taught by highly respected faculty members who are experts in their fields
Full range of student services including no cost tutoring in math, science and writing
Available Online Programs
Business, Analytics, Computer Science, Cyber Security, Healthcare Management, RN to BSN, Criminal Justice, Psychology

3
Colorado State University
Ranked #8 by U.S.News & World Report for Best Online Bachelor's Programs
Apply up to 90 transfer credits for bachelor's students, and 9 transfer credits for master's degree students.
CSU Global graduates experience a return on investment of 4:1, which means they receive $4 in salary and benefits for every $1 they invest in their education.
Online Programs Include:
Accounting, Business Administration, Criminal Justice, Psychology & Information Technology

Sponsored
HOW LONG DOES IT TAKE TO COMPLETE A COMPUTER SCIENCE DEGREE PROGRAM?
A Bachelor's in computer science typically takes four years to earn, for full-time students. You'll need to complete about 120 credits, more or less.
Earning a Master's in computer science usually takes at least two years. These programs are often 30 to 36 credits long, though some are longer.
Earning a doctorate in computer science may take between three and seven years. In addition to about 60 credits of coursework, you'll usually need to complete a dissertation.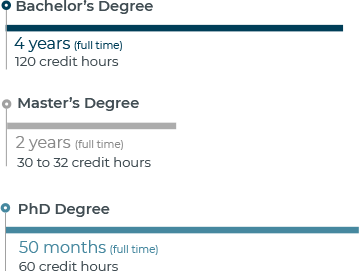 COMPUTER SCIENCE DEGREE PROGRAMS THAT COULD BE COMPLETED IN LESS THAN 24 MONTHS
| SCHOOL | DEGREE LEVEL | # OF CREDITS REQUIRED | START DATES | MINIMUM MONTHS TO COMPLETE |
| --- | --- | --- | --- | --- |
| Colorado Technical University | Master's | 48 | Multiple | 18 months |
| Rasmussen College | Bachelor's (degree completion) | 90 | Multiple | 18 months |
| Northcentral University | Master's | 30 | 52 (weekly starts) | 23 months |
THE AVERAGE COST OF A COMPUTER SCIENCE DEGREE PROGRAM
According to NCES, the average cost of attending a public, four-year school was $19,189 per year at last check. Private and for-profit schools cost $39,529 per year. You could find schools that cost more or less than these averages. Compare tuition costs for these online schools offering computer science programs:
| SCHOOL | DEGREE LEVEL | # OF CREDITS REQUIRED | COST PER CREDIT | TOTAL TUITION COST |
| --- | --- | --- | --- | --- |
| Trident University International | Bachelor's | 120 | $405 | $48,600 |
| Regent University | Bachelor's | 120 | $395 (online, full time) | $47,400 |
| Colorado Technical University | Doctorate | 100 | $598 | $59,800 |
TOP SCHOOLS FOR COMPUTER SCIENCE DEGREES
According to NCES, 773 institutions offered computer science programs. From those schools, 35,329 degrees were awarded to students. The majority (56.8%) of these were Bachelor's degrees.
| SCHOOL | 2016 DEGREES AWARDED | 2018/19 TUITION* (OUT OF STATE UNLESS **) |
| --- | --- | --- |
| University of Central Missouri | 1,058 | $14,442 |
| University of Southern California | 848 | $56,225** |
| University of California-San Diego | 574 | $43,159 |
| University of Illinois at Urbana-Champaign | 546 | $31,664 |
| University of Illinois at Springfield | 543 | $21,338 |
| Arizona State University-Tempe | 529 | $28,336 |
| Massachusetts Institute of Technology | 513 | $51,832** |
| University of North Carolina at Charlotte | 508 | $20,287 |
| Cornell University | 488 | $55,188** |
| Stanford University | 484 | $51,354** |
*Estimated for full-time, beginning undergraduate students
Choosing an Accredited Computer Science Degree Program
Accredited computer science degree programs have to uphold certain quality standards. So, you may want to pursue a degree that holds accreditation.

ABET accredits a variety of STEM programs, including Bachelor's programs in computing. ABET accreditation helps ensure programs meet global standards. They look at factors like educational quality and program outcomes.
Even if your program is not accredited, it's important to look for an accredited college or university. In fact, if you plan to apply for federal financial aid, accreditation is required. (Financial aid may be available for those who qualify.)
Getting a Job with a Computer Science Degree
Per the most recent census data, there were 1.85 million computer science graduates in the workforce. As a whole, the computer and information technology field is growing. Jobs are projected to grow 13% by 2026, faster than average for all occupations.

Computer science remains a male-dominated field, with 79% men to 21% women. And, the average age of a degree-holder in this field was about 40 years old.

Top Salaries by State for Software Developers
This salary information is for Software Developers, Applications. Data may vary for other kinds of Software Developers.
| STATE | EMPLOYMENT | ANNUAL MEAN WAGE |
| --- | --- | --- |
| Washington | 53,860 | $131,790 |
| California | 148,550 | $127,950 |
| New York | 52,640 | $116,830 |
| Virginia | 38,110 | $113,690 |
| District of Columbia | 2,520 | $112,510 |
Software Developer

Software Developers design applications and computer systems. That involves everything from analyzing user needs to fixing bugs and performing upgrades. Developers can work in different industries. But, the largest number worked in computer systems design and related services.
Median Salary: $105,590 per year
Job Growth Through 2026: 24% (Much faster than average)
Typical Entry-level Education: Bachelor's degree
Computer Programme
Computer Programmers write code for computer applications and software. They also test programs for errors in the code. Programmers need to know different programming languages, like C++ and Java. In some cases, their duties may overlap with those of Software Developers.
Median Salary: $84,280 per year
Job Growth Through 2026: -7%
Typical Entry-level Education: Bachelor's degree
Computer and Information Systems Managers
Computer and Information Systems Managers plan and manage IT within an organization. (They're often called IT Managers.) Some duties include analyzing businesses' technology needs and ensuring network security. They can work in many industries.
Median Salary: $142,530 per year
Job Growth Through 2026: 12% (Faster than average)
Typical Entry-level Education: Bachelor's degree