Top Online Social Work Degree Programs
Get matched to an Online Social Work Degree Program for FREE!
WHAT IS AN ONLINE SOCIAL WORK DEGREE?
Online social work degree programs offer flexible coursework on how to help others. You may also pursue an in-person practicum or internship, which could be near home.
Social work programs cover areas like human behavior and diverse populations. They explore how to assist individuals with challenges like unemployment, addiction, and illness. And, they could help students prepare for roles in the fast-growing social work field.
MASTER DEGREES
Master of Social Work – Mental Health
---
This MSW program focuses on the mental health needs of adults across the lifespan. The program also covers foundations in social work, including professional competencies.
---
Courses include:
Explanatory Theories of Health and Mental Health
Policy in Integrated Care
Research and Evaluation for Social Work
---
Program is accredited by the Council on Social Work Education (CSWE)
MASTER DEGREES
Master of Social Work – Families and Children
---
This MSW program covers the needs of children, youth, and their families. You'll study core social work skill areas, plus ways to foster supportive social environments for children.
---
Courses include:
Social Work Practice with Children and Families Across Settings
Policy and Macro Practice in Child, Youth and Family Services
---
Program is accredited by the Council on Social Work Education (CSWE)
MASTER DEGREES
M.S. in Human Services – Organizational and Social Services
---
This program focuses on improving quality of life for diverse populations. In the Organizational and Social Services concentration, you'll study how to manage resources and run programs that meet community needs.
---
Courses include:
History, Multiculturalism, and Diversity in Human Services
Human Development and Human Behavior in Context
---
No specific program accreditation
ONLINE SOCIAL WORK DEGREE PROGRAMS
Online social work degree programs can be found at the Bachelor's, Master's, and doctoral levels. What each program has in common is a focus on others' wellbeing. You'll explore the needs of diverse communities and populations. And, you'll discover ways you could make a difference.
ONLINE BACHELOR'S IN SOCIAL WORK PROGRAMS
In an online BSW program, you'll pursue a broad overview of the social work field. Courses in human behavior, psychology, and social policy lay the groundwork for more in-depth studies. Research and statistics may also be important at this level.
You may be able to choose electives or a focus area that interests you. Examples include addiction, criminal justice, healthcare, and child welfare.
Courses you could take include:
Human Behavior in the Social Environment
Ethics in Professional Helping
Chemical Dependency
Diversity and Multiculturalism
Social Work Research
Victimology
Working with Aging Populations
Introduction to Field Work
Although coursework is online, programs usually feature in-person field work and practicums. 400 to 600 hours of field work is typical for a BSW program. This is a chance to apply your knowledge in a social work setting, with professional supervision.
ONLINE MASTER'S IN SOCIAL WORK PROGRAMS
An online MSW program delves deeper than a BSW and may help students prepare for clinical, specialist, and advanced practice career paths. (A BSW is not needed to pursue an MSW degree program. But, students with a BSW could pursue Advanced Practice MSW programs and potentially earn the degree in less time.)
Coursework explores various applications and settings for social work, like schools and mental health clinics. Expect to study not just social work practice, but the theory and policies that inform practice. And, you could choose a specialization like Clinical Practice or Policy, Planning & Administration.
Courses you could take include:
Social Work History and Welfare Policy
Diversity and Oppression
Program and Strategic Planning
LGBT Psycho/Social/Political Issues
Social Work with Immigrants and Refugees
Finally, fieldwork plays a big role in most MSW programs. 900 hours of field education is typical. You could pursue this experience at a local hospital, community health agency, school, or other facilities.
ONLINE DOCTORATE IN SOCIAL WORK
Online doctorate programs emphasize social work theory, policy, and advanced topics. They usually require a dissertation or research project in the candidate's area of interest.
You may encounter two main types of social work doctorate. A Doctor of Social Work (DSW) program is usually practice-based. It may be aimed at those pursuing clinical or administrative roles. A PhD in Social Work program focuses more on research and qualitative methods. It may be ideal for those interested in academic career paths.
Featured Online Schools
1
Southern New Hampshire University
Take advantage of some of the nation's most affordable tuition rates, while earning a degree from a private, nonprofit, NEASC accredited university
Qualified students with 2.5 GPA and up may receive up to $20K in grants & scholarships
Multiple term start dates throughout the year. 24/7 online classroom access.
Offering over 200 online degrees
Popular Online Programs
Business Administration, Psychology, Information Technology, Human Services…
2
Purdue Global University
Experience world-class education online with more than 175 programs at associate's, bachelor's, master's and doctoral levels.
Competency-based ExcelTrack™ Programs may allow you to earn your degree faster and for less money
Courses taught by highly respected faculty members who are experts in their fields
Full range of student services including no cost tutoring in math, science and writing
Available Online Programs
Business, Analytics, Computer Science, Cyber Security, Healthcare Management, RN to BSN, Criminal Justice, Psychology

3
Colorado State University
Ranked #8 by U.S.News & World Report for Best Online Bachelor's Programs
Apply up to 90 transfer credits for bachelor's students, and 9 transfer credits for master's degree students.
CSU Global graduates experience a return on investment of 4:1, which means they receive $4 in salary and benefits for every $1 they invest in their education.
Online Programs Include:
Accounting, Business Administration, Criminal Justice, Psychology & Information Technology

Sponsored
HOW LONG DOES IT TAKE TO SOCIAL WORK DEGREE ONLINE?
Earning a BSW degree takes about four years for full-time students. These programs are usually around 120 credits long.
An online MSW program calls for around 36 to 60 credits. Program length depends on whether you have earned a BSW and are eligible for Advanced Standing. Advanced Standing students could earn an MSW in as little as one year. If you didn't earn a BSW and you don't qualify for Advanced Standing, it could take two or more years to earn your MSW.
Online DSW or PhD in Social Work programs may require 42 to 52 credits. They take about two to 3.5 years to earn.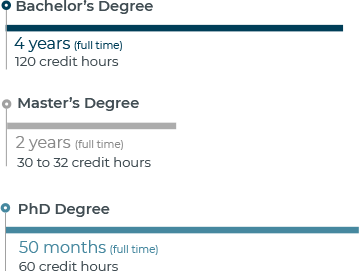 ONLINE SOCIAL WORK DEGREE PROGRAMS THAT COULD BE COMPLETED IN 24 MONTHS OR LESS
| School | # of Credits Required | Start Dates | Minimum Months to Complete |
| --- | --- | --- | --- |
| Simmons University | 65 | 5 | 16 |
| University of Southern California | 37 (Advanced Standing) | Multiple | 12 |
| University of Louisville | 60 | 3 | 24 |
HOW MUCH DOES AN ONLINE SOCIAL WORK DEGREE PROGRAM COST?
Last check, social work students paid median in-state public tuition of $6,912 per year. Out-of-state private tuition was $29,900 per year.
Often, online social work degree programs charge by the credit. Compare the cost per credit at these colleges and universities with online social work programs:
| School | # of Credits Required | Cost Per Credit | Total Tuition Cost |
| --- | --- | --- | --- |
| Regis College | 60 | $875 | $52,500 |
| Northcentral University | 60 | $2,163 (per course) | $43,260 |
| Purdue University Global | 45 | 420 | $18,900 |
TOP SCHOOLS FOR SOCIAL WORK DEGREE ONLINE PROGRAMS
According to the most recent data, 755 schools offered social work programs. From those schools, 52,122 degrees were awarded to students. The majority (53.2%!) of these were Master's degrees.
| School | 2016 Total Grads/Degrees | 2017/18 (Out of State Unless**) |
| --- | --- | --- |
| University of Southern California | 1,438 | $56,225** |
| Rutgers University – New Brunswick | 756 | $26,919 |
| The University of Texas at Arlington | 677 | $26,533 |
| New York University | 619 | $51,828** |
| Fordham University | 618 | $52,687** |
| CUNY Hunter College | 523 | $14,852 |
| Wayne State University | 485 | $27,991 |
| University of Maryland – Baltimore | 472 | $37,314 |
| Aurora University | 465 | $24,260** |
| Columbia University in the City of New York | 460 | $59,430** |
*Estimated for full-time, beginning undergraduate students
CHOOSING AN ACCREDITED ONLINE SOCIAL WORK PROGRAM
The Counsel on Social Work Education (CSWE) accredits Bachelor's and Master's programs in social work. Accreditation is based on many factors, like faculty qualifications and student diversity.
Accredited programs must have a curriculum that teaches at least nine social work competencies. These include demonstrating ethical and professional behavior, advancing human rights, and more.
In other words, choosing an accredited program can help you ensure the quality of your education. You can also look for regionally accredited colleges and universities. Attending an accredited school is needed to qualify for federal financial aid. (Financial aid may be available for those who qualify.)
WHAT CAN I DO WITH A SOCIAL WORK DEGREE?
Social work graduates in the workforce numbered 725,950 in 2016. This number is increasing by 6.14% (one-year growth). In fact, projected job growth for social workers is over twice the average for all occupations. 16% more jobs are expected to be added between 2016 and 2026.
Do you fit the profile of a social work degree-holder? The majority (87%) are female. And, the average age of a degree-holder in this field is 43.2.
TOP SALARIES BY STATE FOR SOCIAL WORKERS*
The following data is for Child, Family, and School Social Workers. The numbers will differ for other social work career paths.
| State | Employment | Annual Mean Wage |
| --- | --- | --- |
| Connecticut | 5,530 | $67,780 |
| New Jersey | 5,470 | $66,610 |
| District of Columbia | 2,100 | $64,800 |
| Rhode Island | 1,520 | $61,530 |
| Illinois | 12,420 | $58,140 |
*May 2017
SOCIAL WORKERS
This is the umbrella term for individuals who may work in schools, health care institutions or directly with people struggling with various psychological troubles. The requirements for employment are different from one institution to another, but the commonality is that all social workers actively try to assist people and find the help they need to overcome everyday problems.
See the BLS for median annual salary information
Job growth through 2022: 19 percent (faster than average)
Entry-level education: Bachelor's degree or higher
SUBSTANCE ABUSE AND BEHAVIORAL DISORDER COUNSELORS
These professionals specifically assist victims with addiction and those with behavioral issues that may affect bodily and psychological health. They put together programs and provide treatment and support for individuals to put them on a track toward recovery. Advising individuals may continue long after behaviors have been successfully modified.
See the BLS for median annual salary information
Job growth through 2022: 31 percent (faster than average)
Entry-level education: High school diploma or equivalent
SOCIAL AND COMMUNITY SERVICE MANAGERS
The public and private organizations where social workers are employed must be managed somehow. That's where an administrative staff of social and community service managers comes into play. These professionals focus on the bigger picture, coordinating social service programs and directing staff that provide assistance to the broader public. They direct where funding for the organizations goes and put together outreach programs to raise awareness and get people the help they need.
See the BLS for median annual salary information
Job growth through 2022: 21 percent (as fast as average)
Entry-level education: Bachelor's degree