Basics of Instructional Coordinator Degrees & Careers
Get matched to an Online Instructional Coordinator Degree Program for FREE!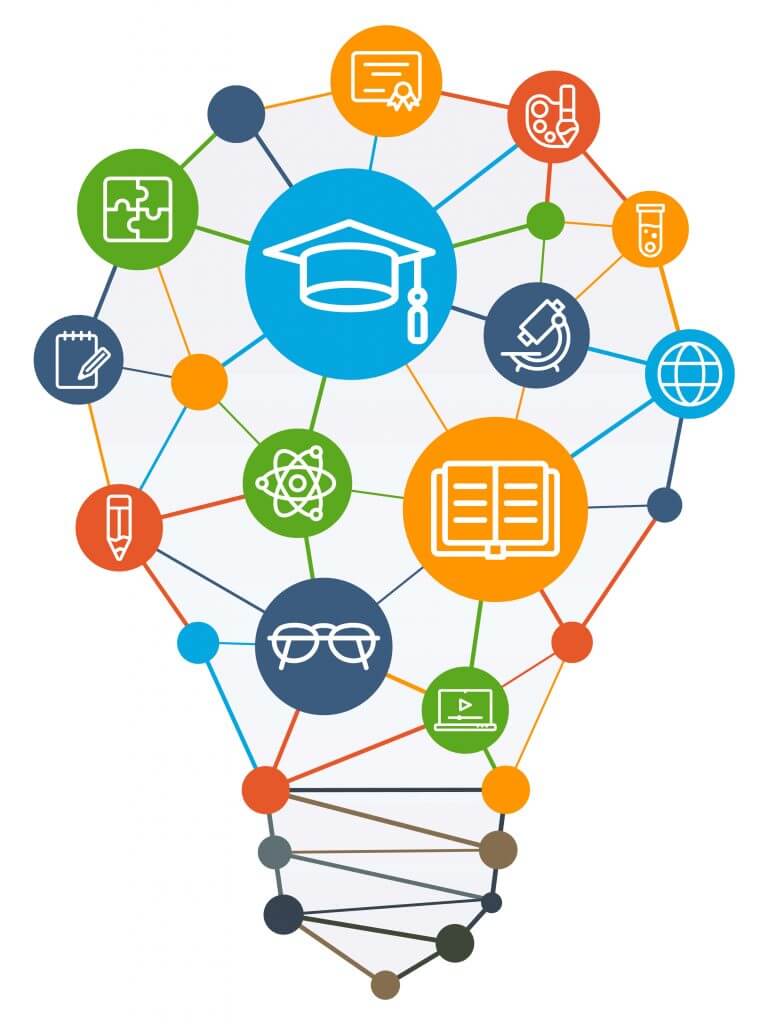 CURRICULUM AND INSTRUCTION DEGREES
When you step into a Curriculum and Instruction degree program, you are taught how to leave a footprint of innovative knowledge with educators that may span generations.
In the classroom, students are constantly being tested to ensure they're ready for life after primary education, but who's testing the teachers to make sure their lessons are working?
That's the job of the instructional coordinator. These professionals go from school to school and classroom to classroom to judge the effectiveness of school curricula and affirm that teaching standards meet a certain quality. What's more, instructional coordinators will also prepare instructional material for teachers and principals themselves. In essence, they are teachers for the teachers. They build seminars and courses on the best strategies for educating students, make sure school leaders understand all the material and judge the effectiveness of these new plans afterward.
Here is what you may consider when choosing an online instructional coordinator program:
Requirements for employment as an instructional coordinator often require a master's degree and relevant work experience, according to the U.S. Bureau of Labor Statistics.i
Moreover, many states require that instructional coordinators have a teaching license or an education administrator license for work in public schools. The exams and experience needed to attain these credentials varies from state to state.
Getting the necessary work experience for this position may mean working as a school teacher or a principal. While private schools do not necessarily require licensure, it may be beneficial for you to seek certifications.
Qualifications for becoming an instructional coordinator often involve receiving a bachelor's degree in a teacher education program or a related field and master's degree courses in curriculum design, instructional theory, data analysis and other areas.
To shape generations of students' education, you have to start with a plan. How should the teachers structure their lesson plans based on certain concepts? How should they evaluate the students and how should the teacher be evaluated themselves? Help teachers teach, and learners learn. Where does there need to be development and ordering of education materials for educators and students? What about assessing the teaching staff to recommend changes to strengthen teaching skills and then reviewing the effectiveness of the methods they are using, including their choice of research materials and curriculum.
Receiving preparation now to meet the challenges the education system is facing, in diverse and changing social, cultural, economic, and physical environments is crucial. An Instructional Coordinator degree will help in making progress toward the goals of student, teacher, and school advancement. In this program, there will be an exploration of the curriculum, professional development, teacher leadership, and instructional supervision combining the use of a broad perspective of education. Along with peers and faculty, analyzation of research will contribute to the comprehension of how teachers learn and grow in formal and informal learning communities.
Furthering education as an Instructional Coordinator will help with becoming a successful leader of the ever-changing education system in the 21st century.
Featured Online Schools
1
Southern New Hampshire University
Take advantage of some of the nation's most affordable tuition rates, while earning a degree from a private, nonprofit, NEASC accredited university
Qualified students with 2.5 GPA and up may receive up to $20K in grants & scholarships
Multiple term start dates throughout the year. 24/7 online classroom access.
Offering over 200 online degrees
Popular Online Programs
Business Administration, Psychology, Information Technology, Human Services…
2
Purdue Global University
Experience world-class education online with more than 175 programs at associate's, bachelor's, master's and doctoral levels.
Competency-based ExcelTrack™ Programs may allow you to earn your degree faster and for less money
Courses taught by highly respected faculty members who are experts in their fields
Full range of student services including no cost tutoring in math, science and writing
Available Online Programs
Business, Analytics, Computer Science, Cyber Security, Healthcare Management, RN to BSN, Criminal Justice, Psychology

3
Colorado State University
Ranked #8 by U.S.News & World Report for Best Online Bachelor's Programs
Apply up to 90 transfer credits for bachelor's students, and 9 transfer credits for master's degree students.
CSU Global graduates experience a return on investment of 4:1, which means they receive $4 in salary and benefits for every $1 they invest in their education.
Online Programs Include:
Accounting, Business Administration, Criminal Justice, Psychology & Information Technology

Sponsored
INSTRUCTIONAL COORDINATOR DEGREE COURSE WORK
As an Instructional Coordinator student, you will become engaged in active inquiry and learn how to address the real-world problems and scenarios facing school districts today. An Instructional Coordinator degree program promotes the best practices in education and demonstrates how to overcome the barriers students have in learning and teachers have in teaching.
Courses will pertain to the reoccurring need for change and diversity for students in the classroom. How will this happen? Learning about curriculum changes and the implementation of the new curriculum will be the best approach to helping districts as their instructional coordinator. Then assessing those changes that were implemented to be sure they are working the way they should.
The outcome should be matching the student abilities to excel. Learning how to evaluate and reevaluate data and critical information is a large part of being successful instructional coordinator. How to know when policies need reevaluation or when accountability requirements for everyone involved need reinforcement will be applied.
Some courses will teach how to apply the latest technology all the while seeing if and how there are lasting effects throughout families and the community. Discussion of educational trends and issues occur since they are a crucial part of bringing improved student performance. Many of these improvements come through innovative technology, so most Instructional Coordinator degree programs take a look at this too.
Some courses aim to broaden knowledge of various types of curriculum. They evaluate the best way to maximize the learning potentials for the students and the process it takes to unlock certain student potential. By examining learning-centered curricula that enhance the engagement and involvement of students; you will see how that brings about change for the better, all while facilitating effective student learning.
You will study the process of creating ongoing assessments for a diverse student population. By observing multiple curriculum designs throughout varying districts and reviewing their existing data, you will analyze how to redesign those curricula to accommodate multiple learning needs.
Through examination of multiple types of data you will assess how to 1) make inspired revisions to promote the improvement for all students on a continuing basis and 2) evaluate the data to see how it impacts the learner.
One of the critical things to learn while receiving an Instructional Coordinator degree is how to work alongside and guide educators and administrators. Programs show you how to work with the administration to identify problems academic or environmental and how to propose solutions through recommendations.
Learning how to design programs to lead educators through professional development is vital. You will gain the knowledge to develop and recommend improvement plans for those already in place or propose new innovative ones. The goal is to be the educator and administrator leader and help them figure out the best way to allow for student learning.
Also, coursework focuses on how to be a great mentor through activities such as professional learning/development opportunities within the school to equip educators with the potential to have a positive impact on student growth.
APPLYING YOUR INSTRUCTIONAL COORDINATOR DEGREE
An instructional coordinator brings result-based applications into classrooms by educating their colleagues in data investigation and the best forms of instruction and collaboration for the improvement of student learning. Play the part of professional education within the school setting by focusing on student learning needs. As schools take on varying teacher roles, this degree opens doors to developing an idealistic school environment where the respect is mutual, and there is a shared responsibility for student learning emerging.
Having a core understanding of advanced research, theory, and assessment skills will further any previous graduate studies in education that has been attained and will provide an opportunity to specialize in these more advanced roles of Instructional Coordinator.
Advancement of knowledge about curriculum, teaching, learning, teacher education and educational supervision through academic study and research will impact not only the schools of today but how the schools, teachers, and administrators progress in the future.
There need to be content-rich curricula throughout; this is a common feature of academically high-performing countries. The cumulative impact of a high-quality curriculum can be significant and matters significantly to achievement in the upper grades where a typical year on year learning gains are far lower than in the previous grades.
How much is known about what makes a curriculum useful exactly? Very little actually. That is where learning about data research and how it plays a considerable part in the Instructional Coordinator degree.
Much data is being collected in education today, giving rise to extensive amounts of information. An Instructional Coordinator degree will teach how to use that data to see whether instructional methods have had a growing impact on the ability to identify student strengths and weaknesses in multiple types of learning. When teachers use data to lead instruction, they are in a better position to support the outcomes for the students.
Thanks to the help Instructional Coordinators bring, educators and administrators will spend less time and energy on one time a year cumulative measures and more time focusing on productive uses of developmental and measurable assessment data to direct instruction and enrich improvement across schools and districts.
INSTRUCTIONAL COORDINATOR CAREER PATHS AND POTENTIAL SALARIES
The world of education is filled with positions closely related to instructional coordination. Research which options may be available using statistics compiled by the BLS.
INSTRUCTIONAL COORDINATOR II
These are the professionals that study the way students are taught and ensure that educators are held to a high teaching standard. They judge the effectiveness of classroom lessons, curriculums, school boards, and state and federal regulations on education. They review textbooks and course materials and ensure that classroom tools accomplish their intended use.
Median Salary: $63,750 per year in 2017
Job growth through 2026: 11% (Faster than average)
Typical Entry-level education: Master's Degree
Work experience in a related occupation: 5 Years or more
TRAINING AND DEVELOPMENT MANAGERS III
Training and development managers oversee staff and plan, direct, and coordinate programs to enhance the knowledge and skills of an organization's employees.
Median Salary: $108,250 per year in 2017
Job growth through 2026: 10% (Faster than average)
Typical Entry-level education: Bachelor's Degree
Work experience in related occupation: 5 years or more
ELEMENTARY, MIDDLE, AND HIGH SCHOOL PRINCIPALS IV
These professionals play an administrative role in public and private teaching institutions for students in kindergarten through grade 12. They are responsible for managing all school operations, from budgeting to hiring, and ensure that school staff perform their jobs effectively.
Median Salary: $94,390 per year in 2017
Job growth through 2026: 8% (As fast as average)
Typical Entry-level education: Master's Degree
(i) https://www.bls.gov/ooh/education-training-and-library/instructional-coordinators.htm#tab-4
(ii) bls.gov/ooh/education-training-and-library/instructional-coordinators.htm
(iii) bls.gov/ooh/management/training-and-development-managers.htm
(iv) bls.gov/ooh/management/elementary-middle-and-high-school-principals.htm