Top Online Technology Management Degree Programs for 2019 & Beyond
Get matched to a Technology Management Degree Program for FREE!
What is a Technology Management degree online program?
A technology management degree program studies computer and IT systems. How they help businesses to streamline processes and be more efficient. While studying technical aspects, many programs also touch on basic business concepts. Things like how to offer client care, work with teams, set budgets and handle projects.
Degrees in technology management are available at all levels. You can start out with an associate degree or bachelor's. There are also master's, MBAs and doctoral degrees, as well as certificate programs. At any stage, IT and managerial skills apply to many sectors. Web design, network and database management, engineering and cyber security are a few.
As such, a technology management degree may prepare you to pursue a wide range of jobs. Many of these are in high growth industries, making now a perfect time to get started.
Associate Degrees
Bachelor's Degrees
Master's Degrees

Associate of Science in Computer Information Technology

Bachelor of Science in Information Technology Management

Master of Science in Management – Information Technology and Project Management

This program covers general education courses, information technology courses and electives. While gaining intro-level computer skills, students also study core business topics.
This program provides a foundation in the function of information systems in management. While learning this, students also study the technical parts of IT systems

This program focuses on strategic management. It also emphasizes project planning tools and methods. While studying these topics, you'll also take technical IT courses

Programming Basics
Database Development
Internet Development

Foundations of MIS
Administering IT
Infrastructure
Systems Development

Information Technology Systems Development
Network Administration
Project Management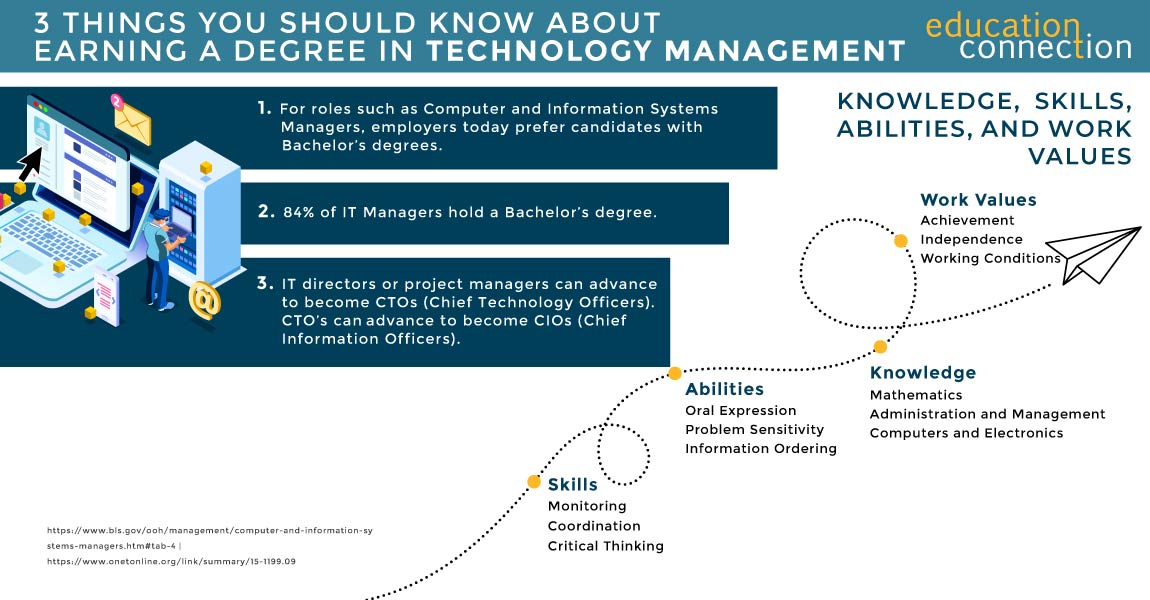 Technology Management Degree Online Programs
A typical technology management degree program looks at how businesses use information systems. Also, how technology adds value to a business. Most programs thus take a deep dive into areas of computing and systems support:
Information Technology Security
Asset Management
Organizational Policy
Risk Management
Infrastructure and Hardware
Enterprise Applications Support
Another very common class is Management Information Systems (MIS). MIS is the study of people, technology, organizations, and how they interact.
A class in MIS often covers elements of design. Things like how to analyze data. Then develop a system to make a company more efficient. It isn't all coding, but you might learn some programming along the way.
While studying technical aspects like network security, you may hone critical thinking skills. For instance, you might take away the ability to recommend a procedure or tool. One that will solve an IT issue for a client.
Apart from your major, you may need to complete some general arts and sciences courses. A final capstone is common too.
You can also expect that at each academic level, the courses become more complex. Here is a sample of some common programs.
Associates Degree in Technology Management
An associates degree in technology management usually covers basic topics. These may walk you through how to install, configure and troubleshoot.
While studying IP protocols, tech support and security, you may learn how to produce an IT plan. Most programs take 18 months to two years. Plus, it might shave time off a bachelor's degree if you can transfer credits.
Information Technology Associate Degree
This program covers the basics of IT systems. It may help you understand end-user support. You may also study systems analysis and design.
Bachelors Degree in Technology Management
A technology management bachelors degree is usually a Bachelor of Science (BS). It often requires about 120 credits and may take 4 years to complete full time. It is often the entry-level degree for jobs in the technology business world.
Bachelor of Science in Information Technology Management – Network Management
This program provides core instruction in major areas within IT. The focus in network management looks at technical issues. Especially ones that arise in network security. In tandem, you'll study wireless network protocols, e-business and how to assess risk.
Bachelor of Science in Computer Information Technology – Database Management
This program focuses on how to design, develop and both standard and unique databases. To round things out, there are courses in computer programming and network security.
Bachelor of Science in Technology Management – Degree Completion
This program might help you learn how to identify and solve an IT problem. While touching on systems analysis, it also covers operating procedures and support metrics. On the business side, you might study budgeting and how to manage a project from start to finish.
Masters, MBAs and Doctoral Degrees in Technology Management
A graduate degree in technology management includes masters and doctoral degrees. These include Master of Business Administration (MBA), Master of Science (MS), and Doctor of Philosophy.
Graduate programs often ask you to research. Also, they may go deeper into how to lead, plan and make decisions. Post-bachelor's it may take about 2 years fulltime to complete a MS in technology management.
Master of Professional Studies – Information Technology Management
This program touches on technology, human resources and business processes. How they interact to solve key business needs. Some topics help you understand IT rules, computer security and enterprise architecture. Other courses look at managing an IT department.
MBA – Technology Management
This program has a business management core. This means topics like finance, human resources and operations. Stacked onto this broad base, you'll study technical systems. Area like networking, databases and IT management.
Master of Science in Technology and Innovation Management (MSTIM)
This program looks at problem solving with new technologies. It covers areas like strategy and innovation. You can tailor the program with a focus in IT project management or Engineering Management.
Featured Online Schools
1
Take advantage of some of the nation's most affordable tuition rates, while earning a degree from a private, nonprofit, NEASC accredited university
Qualified students with 2.5 GPA and up may receive up to $20K in grants & scholarships
Multiple term start dates throughout the year. 24/7 online classroom access.
Offering over 200 online degree
Popular Programs
Business Administration, Psychology, Information Technology, Human Services…

2
Ranked #8 by U.S.News & World Report for Best Online Bachelor's Programs
Apply up to 90 transfer credits for bachelor's students, and 9 transfer credits for master's degree students.
CSU Global graduates experience a return on investment of 4:1, which means they receive $4 in salary and benefits for every $1 they invest in their education.
Available Programs
Business, Computer Science, Criminal Justice, IT, Psychology…

3
Save up to 25%. Save thousands on your bachelor's with the Strayer Graduation Fund.
Strayer University is an accredited institution with a proud history of 125 years in quality education.
With the help of dedicated personal support and AI technology, earn your degree online or on campus.
Programs Include
Accounting, Business Administration, Criminal Justice & Information Technology

Sponsored
How Long Does It Take to earn a Degree in Technology Management?
Studying full time, you may need 4 years to earn a bachelor's degree in technology management.
If you already have an associate degree you may need as few as 18 months. This will depend on whether all your credits transfer over.
Beyond the bachelor's level, a masters or MBA in technology management may take two years. Length will vary by program and your course load.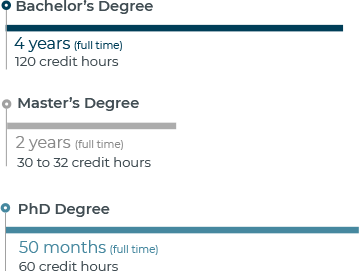 Technology Management Degrees That Could be Completed in 18 months
| | | | | |
| --- | --- | --- | --- | --- |
| School | Degree Level | # of Credits Required | Start Dates | Minimum Months to Complete |
| Trident University | Bachelors | 120 | Multiple | 48 |
| Colorado Christian University | Bachelors | 120 | Multiple | 48 |
| Rasmussen College | Bachelor's Completion | 90 | Multiple | 18 |
The Cost of a Technology Management degree program
The median annual tuition of a technology management degree program at an in-state college is $5,936. The median annual tuition at an out-of-state college is $27,986. You also need to factor in fees.
| | | | | |
| --- | --- | --- | --- | --- |
| School | Degree Level | # of Credits Required | Cost Per Credit | Total Tuition Cost |
| Trident University | Bachelors | 120 | $405.00 | $48,600 |
| Colorado Christian University | Bachelors | 120 | $469.00 | $56,280 |
| Ashford University | Bachelors | 120 | $485.00 | $58,200 |
Top Schools that offer Technology Management online degree programs
According to the NCES, there were over 250 schools that offer computer technology administration and management degrees or programs.  From those schools there were 24,293 computer technology administration and management degrees or programs awarded to students. The majority (25.3%) of these programs were associates degrees.
| | | |
| --- | --- | --- |
| School | 2017 Grads total/degrees awarded | Tuition (Out of State) |
| University of Phoenix – AZ | 1,822 | $9,552 |
| University of Maryland-University College | 1,226 | $12,336 |
| Western Governors University | 814 | $6,670 |
| ECPI University | 641 | $16.039 |
| American Public University | 582 | $6,880 |
| Capella University | 417 | $14,579 |
| Baker College | 231 | $9,800 |
| Sullivan University | 223 | $12,870 |
| New York University | 159 | $51,828 |
| Bellevue University | 150 | $7,827 |
| Colorado Technical University – Colorado Springs | 76 | $11,960 |
Choosing an Accredited Online Technology Management Degree Program
Many colleges with online technology management degree programs have regional accreditation. Regional accreditation is important for a few reasons.
For one, many regionally accredited colleges allow the transfer of credits from one to another. Also, studying at one of these schools, you may apply for financial aid.
As a quality measure for a college, accreditation is a process. It requires an online college to undergo a review by an external agency. There are six regional agencies who do this. Each one recognized by the U.S. Department of Education. You can check the status of your school on their website.
Online colleges with regional accreditation can put individual programs up for review too. Professional accreditors check the things students learn while in their program. The premise is that industries need talent and a formal way to input the educational process.
Each such agency has criteria and standards in place to guide the course work. The Association of Technology, Management, and Applied Engineering (ATMAE) is one such agency.
ATMAE is a specialized accreditor for technology, management and applied engineering degrees. The current scope of their accreditation applies to Associate, Bachelors and Masters degree programs. The status is good for 4 years, after which a school must renew.
Another professional accreditor is the PMI's Global Accreditation Center for Project Management (GAC). They set standards in the field of project, program, and portfolio management.
Top Salaries by State for Technology Management Graduates: IT Managers
| | | |
| --- | --- | --- |
| State | Employment | Annual Mean Wage |
| New York | 27,070 | $190,310 |
| California | 63,640 | $180,250 |
| New Jersey | 14,280 | $176,690 |
| Virginia | 13,450 | $173,290 |
| Delaware | 1,240 | $169,720 |
Source
Jobs with a Degree in Technology Management
Information Technology Manager
IT managers lead and guide the work of technical personnel. They also plan, develop and oversee information technology (IT) projects. Since they set the IT goals for a business, they are in charge of implementing steps to meet them.
Median Salary: $142,530
Job growth through 2026: 12% (Faster than average)
Entry-level education: Bachelor's degree
Database Administrators
Database administrators (DBAs) use industry software to store and organize data. Because this data is often sensitive or confidential, they need to ensure its safety. Some system DBA's also take care of the technical aspects of a database (E.g. upgrades). Applications DBAs usually do this but also write or debug programs.
Median Salary: $90,070
Job growth through 2026: 11% (Faster than average)
Entry-level education: Bachelor's degree
Information Security Analyst
Information security analysts are the pros who plan and carry out security measures. These include firewalls and encryptions programs. Things that are vital to protect a business' computer networks from cyber attacks.
Median Salary: $98,350
Job growth through 2026: 28% (Much faster than average)
Entry-level education: Bachelor's degree