MBA Online Programs
Get matched to a MBA Online Program for FREE!
What is an Online MBA Program?
If you are interested in advanced business management, then pursuing an MBA could be right for you. Online MBA (Master of Business Administration) programs offer you the opportunity to earn an advanced business degree. What can you expect from your online MBA program? In these programs, you cover the discipline of running an organization.
In an MBA program, you will often take courses across all corners of business. You could study everything from finance and accounting to marketing and strategy. And, many programs will let you choose a concentration in an area that interests you.
So, do you think you want a career in business? If you are interested in becoming a one of the nation's top executives, then you are wise to earn your MBA degree. This is especially true if you work for a large corporation. So, if you want to help businesses reach their goals, pursuing an online MBA could be a good start for you.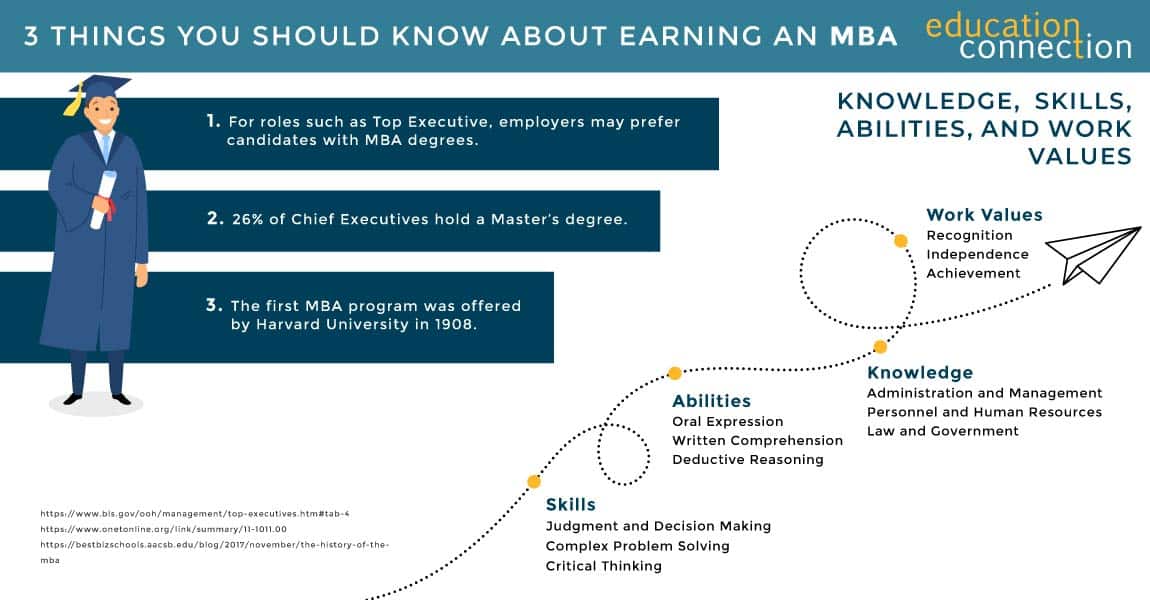 Types of Online MBA Programs
How do you know if you a good candidate for an online MBA program? You don't have to know all of your goals upfront. For one thing, you could design your MBA program to help you pursue your diverse set of goals. You could earn an MBA to focus on general business, for example. Or, you could delve into another concentration you prefer, such as human resources. Or, you could focus on finance.
MBA  in Health Care Administration

MBA in Operations Management

General MBA

In this program, you will apply the business concepts you have learned to the healthcare field. As a student, you will learn to manage health systems and resources. Also, you will learn what it takes to run hospital departments, long term care facilities, or clinics.
Concentrate your course work in Operations Management. You may study concepts such as quality management and logistics. You could also explore operations from a global perspective.
In this flexible program, you should gain a strong foundation in advanced business. Study everything from marketing to economics  through a managerial lens.
Course Examples:

Organization of Healthcare Systems and Policy
Strategic Thinking in Healthcare Economics and Finance
Healthcare Law and Accreditation

Course Examples:

Operations Management for Competitive Advantage
Global Financial Management
International Business Operations Management

Course Examples:

Behavioral Aspects of Management
Advanced Financial Management
Business Policy & Strategic Management
Additional MBA concentrations you could consider include:
Accounting
International Business
Health Care Management
Supply Chain Management
Sustainability
Computer Information Systems
Marketing
Entrepreneurship
Executive MBA Programs (EMBAs)
Are you interested in pursuing more than a traditional MBA program? A traditional program may be right for you if you have a diverse background and goals. However, if you want to go a step further, you should consider an EMBA program. EMBAs are right for you if you are already working in business.
What makes you a good candidate for an EMBA? Ask yourself a few questions about your goals. If you are hoping to pursue an advanced managerial role in the future, you may wish to earn an EMBA now. Also, if you are a working student now, an EMBA program may perfect for you. One thing you should note is that this route may offer you an accelerated track.
While you will often cover a broad overview of business in a traditional MBA, your work in an EMBA program would be different. There, you may focus more on applying business theories to your current workplace or interest area.
1
Take advantage of some of the nation's most affordable tuition rates, while earning a degree from a private, nonprofit, NEASC accredited university
Qualified students with 2.5 GPA and up may receive up to $20K in grants & scholarships
Multiple term start dates throughout the year. 24/7 online classroom access.
Popular Programs
Business Administration, Psychology, Information Technology, Human Services…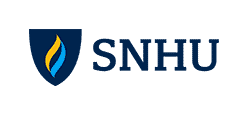 2
Ranked #8 by U.S.News & World Report for Best Online Bachelor's Programs
Apply up to 90 transfer credits for bachelor's students, and 9 transfer credits for master's degree students.
CSU Global graduates experience a return on investment of 4:1, which means they receive $4 in salary and benefits for every $1 they invest in their education.
Available Programs
Business, Computer Science, Criminal Justice, IT, Psychology…

3
Award-winning programs created to help you succeed.
A quality education doesn't have to be expensive. Earn an accredited degree for less.
Programs start monthly – Apply free this week!

Sponsored Schools
Online MBA Course Examples
You will find that what most programs have in common is a business core education. What does this mean for you as a student? It means that your core courses will  provide you with a foundation in the major aspects of businesses. As such, you will learn how companies run. You may also learn how they become profitable. That means you will be exploring everything from how to market a product, to how you could serve in a leadership role.
Fundamentals of Business:&nbspThis course offers you an overview of the business world. Expect to explore contemporary issues and case studies. And, you could practice skills like business analytics and strategy.
Corporate Finance:&nbspFinance is a key pillar of business. A corporate finance course will teach you the fundamental theories. You'll explore concepts like shareholder value and how financial markets work. And, you'll learn finance vocabulary and techniques.
Entrepreneurship:&nbspAre you interested in potentially launching your own business venture? Even if the answer is no, you may still take this course. It usually dives into topics ranging from economics to management strategies.
Corporate Communication:&nbspLearn how you can get your message across is essential for leadership. A business communications course covers speaking, listening, and writing. You could also learn communication strategies for different audiences.
Marketing:&nbspIn this course, you will explore the theory and practice of marketing. You'll study everything from consumer behavior to product development. And, you could learn about both domestic and global markets.
Accounting:&nbspIn this course, you will gain an understanding of financial accounting fundamentals for prospective consumers of corporate financial information
How Long Does It Take You to Earn an MBA Degree?
Are you wondering if you can afford the time it takes for you to earn a degree? You can easily research your options. Online MBA programs generally take you about two years to earn. In some accelerated programs, you will find that you may earn your degree in one year or less.
The length of your program usually depends on whether you study part time or full time. As an MBA student, you would be in the majority if you work full time while also pursuing a degree. There will be many others in your boat.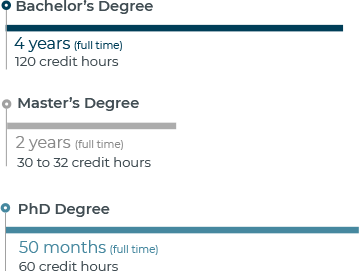 1 Year MBA Programs
| | | |
| --- | --- | --- |
| School | # of Credits Required | Min Months to Complete |
| University of Miami | 35 | 7 Months, full time |
| American Intercontinental University | 48 | 12 Months, full time |
| Emporia State University | 36 | 12 months |
| Pepperdine | 46 | 12 Months, if you have a business undergrad degree |
| Capella | 45 | 12 Months |
How Much Does an MBA Program Cost You?
Per DataUSA, the median in state tuition you could expect to pay at public universities was $6,930 per year. You should keep in mind that's according to the most recent data, from 2021. You can guess that if you attend private or for profit schools, you will pay more, at $30,440 per year. Compare tuition for these MBA programs below:
| | | | |
| --- | --- | --- | --- |
| School | # of Credits Required | Cost Per Credit | Total Tuition Cost |
| Colorado Christian University | 39 | $583 | $22,737 |
| American Intercontinental University | 48 | $611 | $29,328 |
| Emporia State University | 36 | $350 | $12,600 |
Top Schools that offer MBA Degrees
Are you wondering what the top schools are? Or where you should start when it comes to choosing your MBA program? You will find that DataUSA lists 2,873 institutions with Business Administration, Management, and Operations programs (including MBA programs). You can see those schools awarded 387,561 degrees to students in 2017 (the most recent data). Most of these degrees, you will find, were at the MBA level.
| | | |
| --- | --- | --- |
| School | 2021 Degrees awarded | 2022/23 Graduate Tuition |
| University of Phoenix Arizona | 12,225 | $9,552* |
| Western Governors University | 7,891 | $8,010* |
| Ashford University | 3,265 | $13,160* |
| University of Maryland University Global Campus | 3,738 | $7,848 |
| Southern New Hampshire University | 7,164 | $15,380* |
| Columbia Southern University | 2,450 | $6,015* |
| Liberty University | 3,446 | $22,511 |
| DeVry University Illinois | 2,690 | $17,488* |
| Colorado Technical University Colorado Springs | 4,006 | $12,696* |
| Broward College | 2,980 | $8,952 |
How Do You Choose Your Accredited MBA Program?
Accreditation, you will learn, is a stamp of quality for your MBA program. So, how do you choose an accredited MBA program that is right for you? It is an important step for you to keep in mind. What does it mean for you to pursue an accredited MBA program? It means that your program must uphold standards set forth by an organization.
You will find three main organizations that accredit your MBA program or business school. These include:
If you pursue an online MBA program, you can access accreditation. That said, not all programs you will come across will hold a specific business accreditation. It is important that you always make sure that your college or university is accredited by an organization recognized by the U.S. Department of Education.
What Can You Do with an MBA?
You can do a lot with an MBA. If you look at the most recent data, you will see there are 11.2 million Business Administration, Management, and Operations degree holders in the workforce. You will find that count includes graduates of MBA programs.
Did you know the industry on a whole is growing? This, you will learn, know is partly due to globalization and the expanding economy. In fact, you will see, business and financial occupations are projected to grow 7% from 2018 to 2028. As  you can imagine, that is faster than average for all jobs. In total, you can count on about 591,800 new jobs to be created. You should know that your prospects may be strongest if you have a specialty, like data analytics or market research.
Whether you are male or female, and you wish to earn your degree, you will be almost evenly split in the field gender wise. But, slightly more graduates (51.2%) were male. You will find, the average age of a business graduate in the workforce is 43.7 years old.
Top Salaries by State for Chief Executives
The table below shows states with the highest salaries for CEOs. This career path often needs a degree in business administration.
| | | |
| --- | --- | --- |
| State | Employment | Annual Mean Wage |
| South Dakota | 460 | $334,240 |
| New Jersey | 1,200 | $414,350 |
| New York | 4,910 | $324,370 |
| North Carolina | 1,680 | $322,120 |
| Texas | 5,150 | $314,060 |
What Jobs Can You Get with an MBA Degree?
Chief Executive Officer (CEO)
Do you see yourself in a leadership role?  You can dream big. What would you do as a Chief Executive Officer? As a CEO, you would oversee an entire organization. You would provide big picture direction and management. Also, you will implement company wide policies. You will come across other kinds of Chief Executive titles as well, such as, Chief Operating Officer (COO), or, Mayor.
According to 2022 BLS data:
Median Salary: $100,090 per year
Job Growth Through 2032: 3% (As fast as average)
Entry Level Education: B.S.
Financial Manager
What does a Financial Manager (FI) do? As an FI, you would manage your organization's overall financial health. Cover everything from planning investments to finding ways you can cut costs. You may supervise employees who perform finance related tasks. And, you may make financial recommendations to company leadership. As an FI, you would most likely work in finance or insurance.
According to 2022 BLS data:
Median Salary: $139,790 per year
Job Growth Through 2032: 16% (Much faster than average)
Entry Level Education: B.S.
Chief Technology Officer
As a Chief Technology Officer, (CTO) you would manage computer and information systems. You would also assess whether that tech could help your organization reach their goals. And, you would design and implement IT solutions. In some companies, you would work with under a Chief Information Officer (CIO).
According to 2022 BLS data:
Median Salary: $164,070 per year
Job Growth Through 2032: 10% (Much faster than average)
Entry Level Education: B.S.