How to Become an Operations Research Analyst
Get Matched to a Degree for FREE!!
What Do Operations Research Analysts Do?
Operations research analysts help businesses solve problems and reach their goals. They do this through math and methods in analytics. For one, they gather info from sources like customers or sales records. Then, they use that data to suggest a course of action to improve sales. This could mean anything from changing prices to arranging products.
Analysts could work in many industries. A few are logistics, health care, and manufacturing. Their biggest employers are finance and insurance companies. No matter where they work, this role is growing. Jobs in this field should increase 23% between 2022 and 2032. That's much faster than average.
Much of this growth is due to advances in tech. It's now much easier for a business to collect data. Which helps lead companies to improve sales, operations, and cost efficiency. Analysts are the key link between raw data and insights that could help companies run better. That explains the demand for their services, plus their salary potential.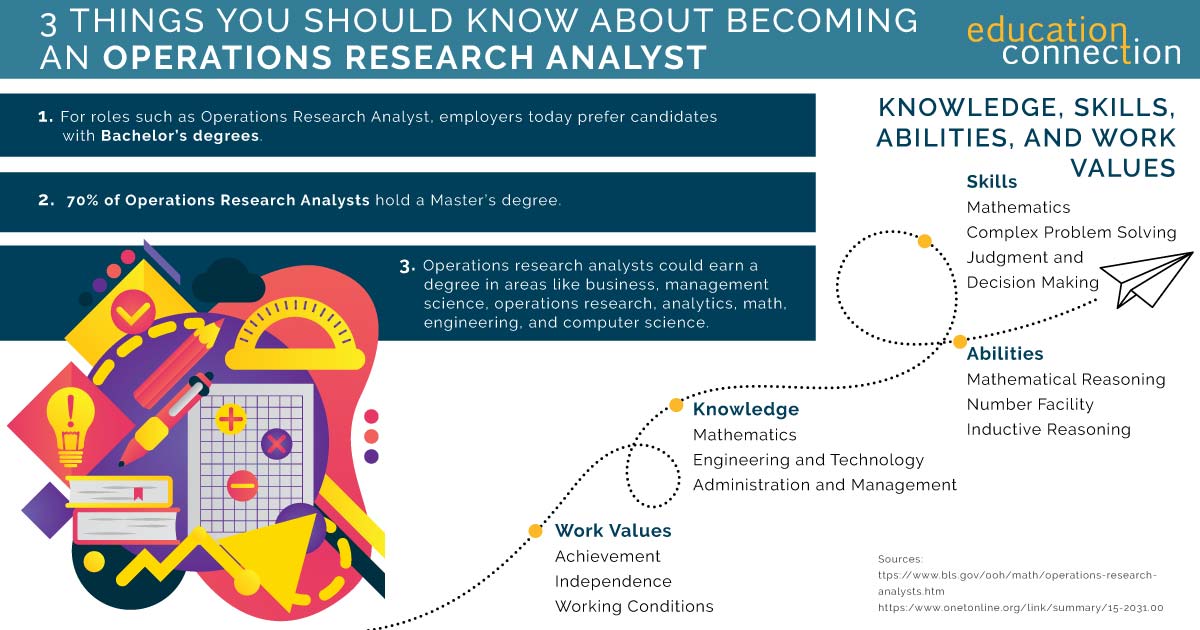 What Degree Should I Earn to Become an Operations Research Analyst?
You could choose from a few degree paths. Only some schools offer programs in this field. But, you could also earn a related degree instead. Let's go over some options:
Bachelor's in Operations Research
This program covers problem solving. You'll learn to model data, plus use math and CS to solve problems. Some programs focus on fields like management, engineering, and more. You may find programs like:
BA in Operations Research and Management Science
BS in Operations Research
S. in Operations Research and Engineering
CS covers how to use computers and networks. You could learn everything from computer architecture to how to program. And, you could learn how to use tech to work with data and solve problems. That's key for someone in this field.
Bachelor's in Business Analytics
Business analytics covers the use of big data in business. Big data is a term for massive data sets. Experts can use mining, programming, and analytics to draw insights from data. A business analytics degree program teaches these methods.
A math program may cover what's called pure math. That means subjects like algebra, geometry, and analysis. The program could also cover applied math. That includes areas like CS and physics. You may find paths like:
BA in Mathematics: This program may offer more flexibility for electives. This could leave you room for courses like CS and statistics.
BS in Mathematics: The BS could help you prepare for grad math programs. It could lay the ground work for advanced study, like how to solve proofs. Since it's more focused, there are fewer chances to take electives.
Bachelor's in Engineering
This program covers how to design and develop solutions. That could be things from highways and bridges to software programs. It depends on your engineering specialty. In any case, you'll take many math and science courses. These topics are useful for operations research analysts.
Some employers look for analysts with a Master's degree. Again, your degree could be in any number of areas. You could study math, CS, business intelligence, or something else. But, some schools offer grad programs in operations research.
A Master's in Operations Research program covers the skills to solve problems using data. You'll study areas like math how to program, stochastic models, and simulation. Some programs offer fields of study. These could be in areas like health care, logistics, and finance. So, you could study topics that deal with your industry.
5 Key Skills for Operations Research Analyst
Operations research analysts may learn skills in school. While degree paths vary, future pros in this field take a lot of math courses. Some are veterans of the U.S. Armed Forces. So, they may learn certain skills while in the military.
Data analysis: This is the process of how to find useful info in data sets. Many tools and methods make this possible. Some are data mining and modeling.
Research analysis: Analyzing info is a key part of research. This skill draws on the same tools and methods as data analysis. You could use these methods when doing research in your field.
Microsoft Excel: Microsoft Excel is a program for making spread sheets. The program stores and sorts data. Tools in Excel help you work with and visualize info.
Data Modeling: Data modeling is a way of planning or showing how to use data. By making a model, you can see how data is stored and used.
Simulation: A simulation imitates a process or system. You could create a computer simulation that shows how something works. This is one way to plan before making or doing something.
1
Take advantage of some of the nation's most affordable tuition rates, while earning a degree from a private, nonprofit, NEASC accredited university
Qualified students with 2.5 GPA and up may receive up to $20K in grants & scholarships
Multiple term start dates throughout the year. 24/7 online classroom access.
Popular Programs
Business Administration, Psychology, Information Technology, Human Services…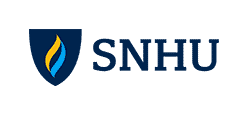 2
Ranked #8 by U.S.News & World Report for Best Online Bachelor's Programs
Apply up to 90 transfer credits for bachelor's students, and 9 transfer credits for master's degree students.
CSU Global graduates experience a return on investment of 4:1, which means they receive $4 in salary and benefits for every $1 they invest in their education.
Available Programs
Business, Computer Science, Criminal Justice, IT, Psychology…

3
Award-winning programs created to help you succeed.
A quality education doesn't have to be expensive. Earn an accredited degree for less.
Programs start monthly – Apply free this week!

Sponsored Schools
How Do I Become an Operations Research Analyst?
You must earn at least a Bachelor's degree. But, some employers want you to earn a Master's degree.
Since there are few Bachelor's degree programs in the field, most analysts study something else. This should be in a close field. Common programs include engineering, computer science (CS), business, and math.
No matter which program you choose, you'll need to take a lot of math courses. Classes in calculus, algebra, and CS should help. Also keep in mind that many fields rely on operations research. Courses in areas like economics could help you in the field you'd like to work in.
Finally, military experience may be useful. This field of study is important to the gov't and armed forces. So, veterans sometimes pursue this career path. For some roles, you may need a back ground check and security clearance.
Working as an Operations Research Analyst
California employs the most operations research analysts, with over 11,300 roles. It's followed closely by Texas, Virginia, New York, and Illinois.
These and other states are home to companies in many fields that need analysts. These include gov't and defense contractors. Northrop Grumman is a major employer in this arena. As an aerospace and defense tech company, they often hire these pros. American Systems is another gov't services contractor that employs analysts. They offer IT solutions. Companies like these directly serve the gov't and military. So, you may need security clearance to work for them.
Internet companies also need analysts. Facebook is no exception. This company hires experts who can use data to improve processes. The e commerce market place Amazon may hire one of these analysts for other reasons. These could include routing delivery trucks to help optimize efficiency.
The finance and insurance industry is also one to watch. For instance, companies like Invesco often hire analysts. This investment management company needs experts to interpret financial data. This informs risk management and investment strategy. The same is true for banks like JPMorgan Chase. Not to mention, financial services companies like American Express.
Someone in this field could even work in the research industry. Yes, some companies build around the work of research analysts! This is true of Forrester Research, a market research company. Forrester needs analysts to help turn data into insights.
Many other companies hire operations research analysts. But, these employers could be a good starting point as you explore some career paths.
Top Industries for Operations Research Analysts
These pros could work in any industry that needs to turn data into solutions. That said, some places are more likely to need them. These are:
| | |
| --- | --- |
| Industry | Annual Mean Wage |
| Federal gov't | $124,610 |
| Manufacturing | $106,28 |
| Professional, scientific, and technical services | $96,210 |
| Management of companies | $90,600 |
| Finance and insurance | $81,470 |
Professional Certifications for Operations Research Analysts
Operations research analysts may have their pick of skill based certs to earn. These could help prove your knowledge in anything from analytics to modeling. Here are some to check out:
Certified Analytics Professional
Certified Analytics Professional (CAP) tests and proves your analytics skills. It covers areas like data, model building, and business problem framing. Some employers may look for pros who have earned CAP cert. To get started, you should:
You could take a CAP prep course. Or, you can study on your own, using CAP guides and materials.
You must create a MYCAP account and apply. You'll need to meet certain requirements.
Pass the exam. You must take a computer based exam that tests your knowledge of key subjects.
CAP must renew every three years. You will need to complete professional development units.
IWLA Certification Programs
Pros who work in logistics should consider these cert programs. IWLA offers them at many career levels. These include:
Qualified Ware house Logistics Professional (QWLP): This credential is for entry level logistics pros. You must attend two IWLA courses in ware housing.
Certified Ware house Logistics Professional (CWLP): This is the next step after QWLP. You must complete many IWLA courses and events, among others. And, you must have two years of experience in ware housing or logistics.
Executive Warehouse Logistics Professional (EWLP): This is the most advanced cert. You must have at least an officer level role with your employer. And, you must serve in many roles, like chair or co chair of an IWLA committee. Other requirements apply.
IBM Certification Programs
IBM offers many credentials related to its products. A lot of them could be useful for an analyst in this field. Some to think about are:
Professional Organizations for Operations Research Analysts
Joining a group may offer benefits for you. These include chances to learn, grow your career, and meet others in your field. Here are a few orgs to consider:
Top Salaries by State for Operations Research Analysts
| | | |
| --- | --- | --- |
| State | Employment | Annual Mean Wage |
| Alabama | 510 | $109,160 |
| New Jersey | 3,000 | $106,820 |
| Virginia | 6,890 | $121,460 |
| New York | 6,040 | $108,260 |
| Hawaii | 360 | $107,920 |
Types of Careers in Operation Research Analytics