Online Project Management Degree Programs
Get matched to an Online Project Management Degree Program for FREE!
WHAT IS A PROJECT MANAGEMENT DEGREE?
A project management degree is part of the wider area of business programs. It looks at how to plan, execute and oversee all aspects of a task from start to finish. You'll often learn how to create timelines, budgets, forecasts and handle problems.
You can find project management (PM) degrees at all levels. A bachelor's degree is the least you'll need for most entry level jobs. It often builds system management and organizational skills.
Masters and MBA's in PM often hone expertise to advance a career. These may enable managers to focus their planning skills on a certain area like IT or supply chain. Or, work on more complex projects that take a deeper knowledge of business.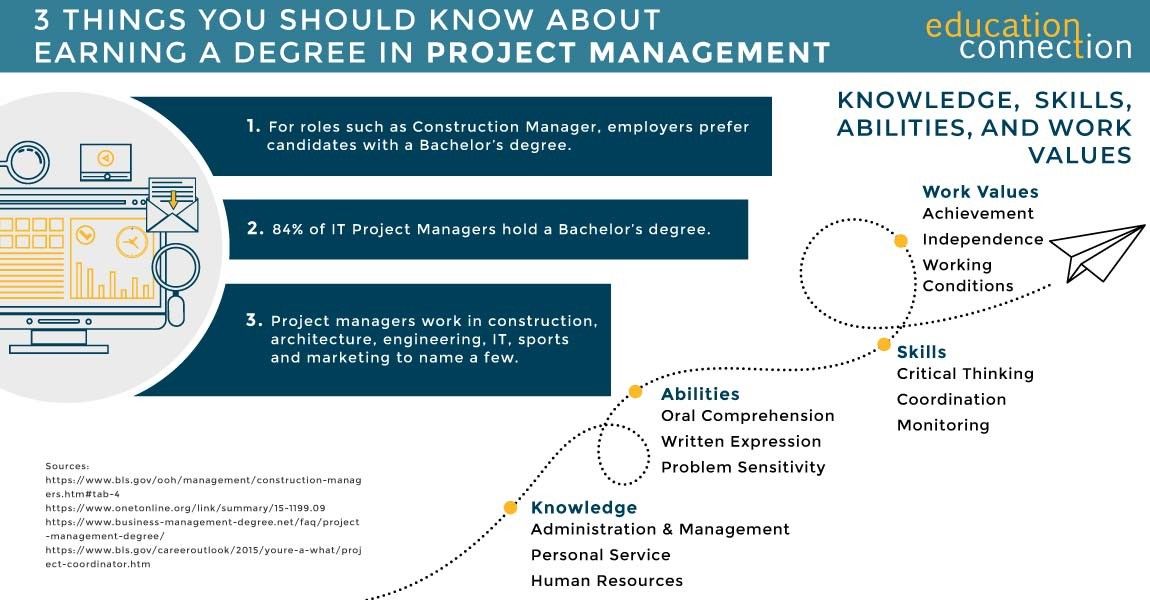 TYPES OF ONLINE PROJECT MANAGEMENT DEGREE PROGRAMS
Bachelor of Science (BS) in Project Management
In this program, you'll study to gain key PM skills. Some courses focus on contracts and securing assets. Others touch on risk and project planning. This includes how to schedule, budget, track and control tasks. The program may also serve as a study guide for the PMP exam.
Course Examples:
Project Management Tools
Project Leadership
Principles of Management
Master of Business Administration – Project Management
This focus explores principles, concepts, tools, and methods to improve project performance and effectiveness. Learners will look at strategies that relate to how to manage many projects as well as the concepts of earned value PM.
Course Examples:
Project Management
Business Ethics
Principles of Project Management
Doctor of Business Administration – Project Management
This program may focus on the core aspects of personal fitness training and exercise science, including topics like sports nutrition, techniques for strength training and more. Plus, you could focus on learning the best ways to motivate and instruct in order to lead fitness classes, train an athlete, or even coach a sports team.
Course Examples:
Project Management
Cost Control
Risk Assessment
ONLINE PROJECT MANAGEMENT DEGREE PROGRAMS
A bachelor's degree in project management may require you to earn 120 credits. Of these, some may be gen ed courses and a capstone. Others are about how handle all facets of a project in an efficient, organized and timely manner.
Depending on your goals, you can pursue a BS, BA or Bachelor of Business Administration (BBA) degree in PM. Each of these will approach the PM major in a different way.
BA programs may cover more liberal arts courses. Topics like economics, ethics and organizational theory. BS programs may include more technical courses. This can take the form of statistics, strategy and analysis.
BBA programs are business focused. It often starts with core courses that discuss various functions. These often touch on human resources, marketing, and operations. Also, the basics of managing finances and supply chain. Plus, they'll offer a handful of courses about managing projects.
Either way, a major in PM is about learning to plan out a task in full. This means you may take intro classes in how to budget and figure out costs. Other topics may discuss the finer points of leading teams and obtaining resources.
BA IN PUBLIC RELATIONS AND MARKETING/PROJECT MANAGEMENT SPECIALIZATION
In a PR degree program, you'll study the many ways to communicate with the public. Topics often cover things like consumer behavior, how to advertise and promote, as well as things like research and strategy. To support your interest in PM, you can choose it as a field of study.
BA IN SPORTS AND RECREATION MANAGEMENT – PROJECT MANAGEMENT SPECIALIZATION
In a sports management degree program, you'll study the business of sports. Topics often cover things like accounting, business, information systems and economics. To support your interest in PM, you can choose it as a field of study.
BACHELOR OF SCIENCE IN BUSINESS ADMINISTRATION – PROJECT MANAGEMENT
In a BSBA program, you'll take most of your credits in business and manager basics. Some of these will thus relate to accounting, finance and business law. Others to marketing and operations. For the focus in PM, you'll take many extra courses. These may help you prep for PM certifications. For example, CTU's program covers key areas contained in the Project Management Body of Knowledge (PMBOK®) exam.
MASTERS IN PROJECT MANAGEMENT
Master's degrees in PM include MA, MS and MBA programs. These may involve about 36 credits or so beyond the bachelor's degree. They'll often prep you for leadership. Not to mention a PhD degree if you can think ahead.
Usually, the MS offers a more holistic set of PM courses. You can also find programs that focus on a certain type of project management. Nonprofit management is one example. IT project management is another.
MBA programs are business oriented. Like the BBA, you'll take a slew of manager like courses along with your PM focus. These may refine existing manager skills while targeting more complex tools and theories.
1
Take advantage of some of the nation's most affordable tuition rates, while earning a degree from a private, nonprofit, NEASC accredited university
Qualified students with 2.5 GPA and up may receive up to $20K in grants & scholarships
Multiple term start dates throughout the year. 24/7 online classroom access.
Popular Programs
Business Administration, Psychology, Information Technology, Human Services…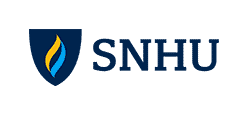 2
Ranked #8 by U.S.News & World Report for Best Online Bachelor's Programs
Apply up to 90 transfer credits for bachelor's students, and 9 transfer credits for master's degree students.
CSU Global graduates experience a return on investment of 4:1, which means they receive $4 in salary and benefits for every $1 they invest in their education.
Available Programs
Business, Computer Science, Criminal Justice, IT, Psychology…

3
Award-winning programs created to help you succeed.
A quality education doesn't have to be expensive. Earn an accredited degree for less.
Programs start monthly – Apply free this week!

Sponsored Schools
WHAT DO PROJECT MANAGEMENT DEGREE COURSES LOOK LIKE?
Along the way, you may have exercises that boost your skills in how to communicate. Project managers need to be confident, assertive, and adapt to unforeseen events.
Some common courses include:
Intro to Project Management:&nbspFor those new to the concept, an intro class speaks to main concepts and methods. It often discusses the entire life cycle of a project. How to start, plan, execute, control and close projects. You are likely to find out about PM software too.
Integrated Cost & Schedule Control:&nbspThis class explains how to plan a project's scope. Some of the things that impact this are client budget and schedule constraints. You may also study the ways to identify potential risks. As a result, you may come away with tools to take corrective actions.
Project Procurement Management:&nbspThis relates to the things one needs to know to set projects and goals. It's at the heart of partnering between buyers and sellers. Things like how to bid for a project, craft a proposal and negotiate terms.
Project Risk Management:&nbspIn this course, you may learn how to assess project risk in different industries. You could also study ways to reduce and control risk.
Project Management Tools:&nbspPMs use many tools for keeping projects on track, and this course covers some of them. You could learn tools for cost estimation, scheduling, communications, and more.
HOW LONG DOES IT TAKE TO EARN A PROJECT MANAGEMENT DEGREE?
It may take a full time student four years to earn a project management degree online. For master's and MBA programs, it may take a full time student about one to two years beyond that.
Yet many things affect program length. One is if you have any transfer credits that could reduce your course load. Another is how many courses you can take each semester.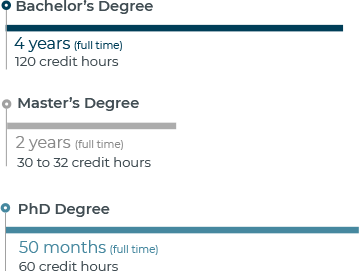 PROJECT MANAGEMENT DEGREE PROGRAM EXAMPLES
| | | | |
| --- | --- | --- | --- |
| School | # of Credits Required | Start Dates | Minimum Months to Complete |
| Colorado State University Global | 120 | Fall, Winter, Spring | 4 years or less depending on transfer credits |
| Ashford University | 120 | Multiple | 208 weeks |
| Colorado Technical University | 180 | April, May, July | 74 weeks |
HOW MUCH DOES A PROJECT MANAGEMENT DEGREE COST?
Tuition for project management degrees average $7,380 for in state public colleges. For out of state private colleges it is $31,450.
There are other factors that may impact the cost of earning a PM degree online. One of these is how many credits your program requires you to complete. The fewer credits you have (let's say from transfer credits) the fewer you may for.
You'll also need to factor in extra fees. Some schools charge a tech and/or graduation fee. Add to these, the cost of your books, materials and other things.
| | | | |
| --- | --- | --- | --- |
| School | # of Credits Required | Cost Per Credit | Total Tuition Cost |
| Colorado State University Global | 120 | $350 | $42,000 |
| Ashford University | 120 | $485 | $58,200 |
| Purdue University Global | 180 quarter credits | $371 | $66,780 |
TOP SCHOOLS FOR PROJECT MANAGEMENT DEGREE PROGRAMS
As per DataUSA, there were over 132 schools that offer PM degrees or programs.  From those schools there were 4,237 project management degrees awarded to students.
| | | |
| --- | --- | --- |
| School | 2021 Degrees awarded | 2022/23 Tuition (out of state unless *) |
| University of Phoenix Arizona | 497 | $9,552* |
| Capella University | 268 | $14,328* |
| Colorado State University Global Campus | 367 | $8,400* |
| Embry Riddle Aeronautical University Worldwide | 134 | $11,185* |
| Ashford University | 120 | $13,160* |
| Grantham University | 96 | $8,280* |
| Bellevue University | 89 | $8,790* |
| University of Wisconsin Platteville | 58 | $16,800 |
| Columbia Basin College | 77 | $7,738 |
| Colorado Technical University Colorado Springs | 88 | 12,696* |
Estimated for full time, beginning undergrad students
CHOOSING AN ACCREDITED PROJECT MANAGEMENT DEGREE PROGRAM
Choosing an accredited school for your online degree in project management is important. For one, accreditation is a form of quality control.
You'll come across schools that hold one of two kinds of accreditation. The first is national. It usually applies to vocational schools or special programs. The second is regional form one of six different boards across the U.S.
At these schools, you'll be able to apply for financial aid. Degrees from regionally accredited schools are also valid in any state. This means you may be eligible to transfer credits.
Some PM programs are also accredited. These undergo a next level of quality control to make sure what you learn is current and applicable.
One agency to look for is from the Project Management Institute (PMI). It's called the Global Accreditation Center for Project Management Education Programs (GAC). Since they offer cert exams, some schools use PMI guidelines in their program. This acts as a study guide should further credentials be your goal.
As a standard setter, the GAC only accredits schools that meet its criteria. Plus, the status is good for seven years, so schools need to re certify. When they do this, they must show they have improved to meet the times.
Beyond this, there are business school accreditors who may accredit some PM programs. These are usually part of a larger business admin degree. The Accreditation Council for Business Schools and Programs (ACBSP) is one such example.
WHAT CAN I DO WITH A PROJECT MANAGEMENT DEGREE?
There are 11.5 million people working in PM, a number that is growing by 3.28%. The average employee age is 43.7 years, and most are male. Most of the people in the work force have bachelor's degree.
TOP SALARIES BY STATE FOR PROJECT MANAGEMENT DEGREE HOLDERS
The following information is for Construction Managers Salary and employment numbers will differ for other career paths.
| | | |
| --- | --- | --- |
| State | Employment | Annual Mean Wage |
| Alaska | 1,020 | $165,010 |
| New York | 6,310 | $148,960 |
| New Jersey | 10,450 | $146,660 |
| District of Columbia | 1,310 | $135,930 |
| Massachusetts | 6,800 | $131,730 |
CAREERS WITH A PROJECT MANAGEMENT DEGREE
The ability to manage complex projects is a skill that cuts across many industries. IT, marketing, construction, and business to name a few. As a result, there are may be many unique career paths to choose from.
ARCHITECTURAL AND ENGINEERING MANAGERS
Architectural and engineering managers plan, direct, and lead projects in these areas. In their role they need to know both their industry and the ins and outs of dealing with complex projects. This means, how to coordinate and budget, people, time, training and resources. Often, because they are in charge, they'll assign tasks to others.
According to 2022 BLS data:
Median Salary: $159,920 per year
Job Growth Through 2032: 4% (As fast as average)
Typical Entry level Education: Bachelor's degree
CONSTRUCTION MANAGERS
Construction managers also have job titles like contractors or PMs. They plan, budget, and schedule construction projects through the life cycle. In their role they need to know how to oversee contractors and staff. Plus, they must be up to speed on building and safety codes and other regulations.
According to 2022 BLS data:
Median Salary: $101,480 per year
Job Growth Through 2032: 5% (Faster than average)
Typical Entry level Education: Bachelor's degree
ADMINISTRATIVE SERVICES MANAGERS
Admin services managers have job titles like business office manager. They are in charge of office upkeep which means they wear many hats. Some duties relate to how to manage records and supervise staff. But they'll also check that the office is clean, safe, stocked with supplies and runs well.
According to 2022 BLS data:
Median Salary: $101,870 per year
Job Growth Through 2032: 5% (Faster than average)
Typical Entry level Education: Bachelor's degree