Nonprofit Management Degree Online
Get matched to an Nonprofit Management Degree Online for FREE!
WHAT IS AN ONLINE NONPROFIT MANAGEMENT DEGREE?
An online nonprofit management degree is a type of business degree. The courses may cover to a wide range of subjects that apply to nonprofits. Those subjects include budgeting, fundraising and marketing. But that's not all you could learn. You may also learn to attract, hire and oversee volunteers and other workers. Along the way, you might also gain vital soft skills. What types of skills are those? Things like teamwork. Those skills may lead to your success.
A nonprofit manager may serve members of a group. For example, a labor union. But a nonprofit manager may want to serve everyone. For instance, as part of a social welfare agency. A nonprofit, after all, is not designed to make money for itself. Nonprofits get their money from others to support others. So, a nonprofit manager may need to speak well and be friendly.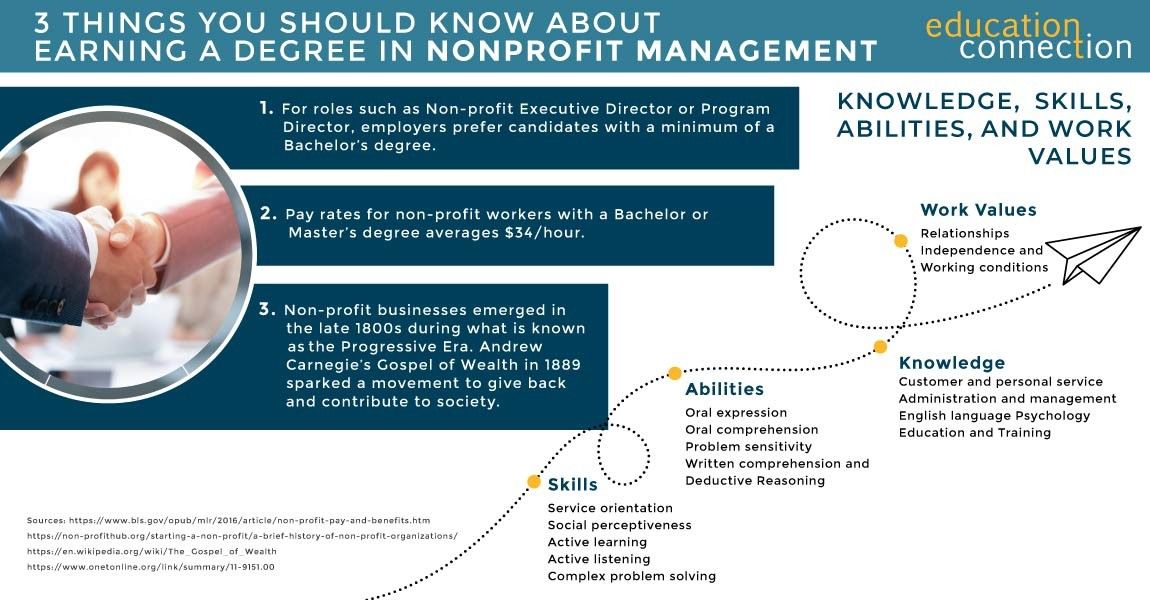 TYPES OF ONLINE NONPROFIT MANAGEMENT DEGREE PROGRAMS
AS in Nonprofit Management
What could this degree do for you? First, it can give you basic knowledge about the nonprofit field. Second, the courses provide an overview of the profession. This is how you may find out if this career is right for you. But that is not all you could learn. In addition, you may learn about laws, finances and how to raise funds to build programs.
Course Examples:
Nonprofit Program Development
Resource Development and Marketing
Nonprofit Governance
BS in Business Administration w/conc. in Nonprofit Management
What makes this degree important? First, it provides you with deeper knowledge in this field. That is because it aims to teach you how to find your mission. Then, you may learn to help a nonprofit succeed. Second, the courses help you learn more about different jobs in this profession. Lastly, the core courses may give you excellent training in important areas. Things like how to be a boss and manage people.
Course Examples:
Entrepreneurship
Grant Writing
Nonprofit Management
MPA in Nonprofit Management
What would this degree prepare you to do? First, this degree program may teach you skills in public a running a nonprofit. Second, it covers basic principles and leadership practices for nonprofits. Third, the skills you developed as an undergrad may become stronger. That is because the courses offer more in depth knowledge. In conclusion, you are likely to gain more knowledge of nonprofits. That may also include learning to be an ethical leader.
Course Examples:
Marketing
Budgeting
Ethical Leadership
NONPROFIT MANAGEMENT DEGREE ONLINE PROGRAMS
How could you benefit from earning an online degree in nonprofit management? For one thing, this field is growing. If you have the skills you may be on your way to success. You might not realize how much nonprofit management is growing. But did you know that one in 12 people in the U.S. work in the nonprofit field? It is true. This fact comes from Independent Sector, a research company. In addition, the same company reports that $670 billion are earned by nonprofits each year. You could have a major role in building a strong and growing business. That is true even though nonprofits are different from for profit businesses. Nonprofits take any money they receive and put it back into the business. The money is used to promote the company's mission and serve others. For instance, some nonprofits support the arts or fund medical research.
As you have learned, a nonprofit is not like other businesses. A business for profit tends to spend money on itself. But a nonprofit seeks to use money to benefit others. Many groups depend on money from nonprofits. As a result, a nonprofit operates under a strict set of rules and tax laws. Those rules and laws are known as governance. As such, governance is a big part of most nonprofit management degree programs.
Finance is another major area of study. This is because a nonprofit must raise money from donors and grants. This means you may learn how to write grant proposals. You write a grant proposal to request money from a person or group. The goal is to win support for your cause. You may also learn to raise funds by hosting events. It is important, then, for a manager to learn budgeting to handle money wisely.
Hiring the Right Workers Is Important
Here is one important way for a nonprofit manager to succeed. Hire the right people. Not just the right staff workers. Hiring the right volunteers matters, too. It is important to hire people who will devote time to help the company. Those workers are crucial to the success of any nonprofit. A good nonprofit management program may teach you to identify the right people. After all, companies that don't hire the right people may not succeed. First, a manager must find the right full time workers. Then, a manager has to hire high quality volunteers. Online degree programs may shine a spotlight on this area. How? By exploring ways to train and manage volunteers.
How do nonprofits speak to the public? First, they create marketing plans to spread their key messages. So, a manager must find the right workers. Workers who speak well. Workers who enjoy dealing with people. That is because those workers have an important job. Their job is to reach, educate, motivate and help people. As a result, some online programs may focus on teaching these skills. That may include how to use tools to analyze data. Those tools may help leaders speak to the public.
There are three levels of study in nonprofit management. Each level is unique. Here, we will walk you through the Associate's, Bachelor's and Master's level degree programs.
Associate's in Nonprofit Management
What does an Associate's degree offer? First, it introduces you to an exciting and growing field. As such, this program may take a very general view of the field. What is required to earn this degree? Many programs cover 60 credits. A full time student may need two years to earn the degree.
What can you do with this degree? An Associate's degree can provide a path to a Bachelor's degree in nonprofit management or business. Therefore, the Associate's degree program may include general classes.
In this program, you may learn the basics in nonprofit management. Usually, this includes an overview of the laws that govern nonprofits. Finances and fundraising are two key areas of the program, too. Do you want to learn to set up a nonprofit company? With this program, you may be on your way.
Bachelor's in Nonprofit Management
A Bachelor's degree in Nonprofit Management may broaden your knowledge of the field. It may build on core principles of nonprofit management. For instance, the program may examine the role nonprofits play in the world. The program could also show you how to build a nonprofit from the ground up.
This program may require you to take a wide range of general classes. As such, the list of classes may include applied statistics and finances. Those classes can teach you money management skills. What's more, other courses may highlight other skills. For example, accounting, grant writing, and how to manage a nonprofit. Learning these skills may lead to success.
Often, this program covers a range of careers. Management and finance, for example. As such, the program may cover key skills and practices. One of those skills could be how to work in teams. Other skills may involve gathering and using data to make decisions. Being good at using data could help any manager succeed. In addition, this program could teach you how to set goals. Also, the right way to reach those goals.
What does it take to earn this degree? It takes 120 credits in most online Bachelor's degree online programs. As a full time student, you may need four years to finish. But there are ways to do it in less time. For instance, many online colleges have generous transfer credit policies that could save you time.
Master's in Nonprofit Management
Looking for greater knowledge in this field? Then you may consider this degree. A Master's in Nonprofit Management may be a concentration in another program. An MBA, for example. Or a Master's in Public Administration. Yes, it does takes extra time to earn this degree. But it may be a huge benefit to your career.
As such, the program may cover a wide range of business and leadership topics. It could also cover some basic topics in nonprofit management. Here are a few examples. First, how to raise money. Second, how to understand laws and taxes in the profession. Finally, how to recruit full time workers and volunteers.
Other content may help you develop the skills you need for specific duties. Managing a team is one example. Fundraising is another example. Creating a budget is one more example. Study topics may also include marketing and promotion, hiring a diverse staff, and ethics.
In addition, you may find course plans that offer you added value in research classes. Above all, these classes may teach you to start your own nonprofit from scratch. Do you want to be your own boss? If so, you may benefit from these classes.
So, how long could it take to earn the Master's degree? Programs vary, but most require 36 credits. As a full time grad student, you may complete the program in two years. However, you may already have credits that can be transferred. Or your experience in previous jobs could allow you to take fewer classes.
1
Take advantage of some of the nation's most affordable tuition rates, while earning a degree from a private, nonprofit, NEASC accredited university
Qualified students with 2.5 GPA and up may receive up to $20K in grants & scholarships
Multiple term start dates throughout the year. 24/7 online classroom access.
Popular Programs
Business Administration, Psychology, Information Technology, Human Services…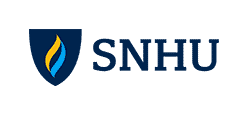 2
Ranked #8 by U.S.News & World Report for Best Online Bachelor's Programs
Apply up to 90 transfer credits for bachelor's students, and 9 transfer credits for master's degree students.
CSU Global graduates experience a return on investment of 4:1, which means they receive $4 in salary and benefits for every $1 they invest in their education.
Available Programs
Business, Computer Science, Criminal Justice, IT, Psychology…

3
Award-winning programs created to help you succeed.
A quality education doesn't have to be expensive. Earn an accredited degree for less.
Programs start monthly – Apply free this week!

Sponsored Schools
WHAT DO COURSES IN NONPROFIT MANAGEMENT LOOK LIKE?
Different kinds of online nonprofit management degree programs exist. The list includes programs for Associate's degrees, Bachelor's degrees, Master's degrees, MBAs, MPAs and PhDs. So, the courses you take may depend on your program's level. It may also depend on your program's focus. As such, it is important to ask yourself what kind of position you want to pursue. Where do you want to go in this field?
Basically, the same skills needed in for profit businesses are needed in nonprofit businesses. So, let's look at 10 courses of study that a nonprofit manager may need. First, research and development. Second, marketing. Third, fundraising. Fourth, financial expertise. Fifth, production. Sixth, sales. Seventh, public speaking. Eighth, public relations. Ninth, training workers. Tenth, human resource development.
How Courses in Governance May Help
Learning skills in governance may be the most important, however. Yes, it is important for a manager to get the money to achieve a company's goals. But it may be more important to run a business that follows industry rules and laws. In the end, that is how a business earns the public's trust and support.
We have shown you several courses. These courses teach the skills needed to be a nonprofit manager. Now, you may have a better idea of what courses appeal to your goals and interests.
Some common courses include:
Nonprofit Agency Management:&nbspThis course may introduce you to nonprofits. For example, the subjects range from a company's mission to ways to manage a nonprofit. So, students may learn to raise funds, oversee staff, marketing and public relations.
Grant Writing:&nbspThis course may look at how nonprofits secure funding. For instance, students may learn to write grant proposals. A grant proposal tries to match the needs of the nonprofit with possible donors.
Accounting for Nonprofits:&nbspThis course may look at general and specific nonprofit accounting practices. For example, students may learn about laws, rules and tax filing. The importance of budgeting and financial reporting may be included, too.
Volunteer Management:&nbspThis course may help you understand the role of each member of a nonprofit. For example, this includes the executive director, trustees, volunteers and staff. In addition, it may teach ways to attract, train, oversee and engage volunteers.
HOW LONG DOES IT TAKE TO EARN A NONPROFIT MANAGEMENT DEGREE?
Of course, students learn at their own pace. Typically, you may need four years of full time study to earn a Bachelor's degree in Nonprofit Management. However, if you transfer credits from an Associate's degree program, you may need around two years. Also, your previous work experience could help you earn a Bachelor's degree sooner. Finally, if you pursue a Master's degree in Nonprofit Administration, it may take two years.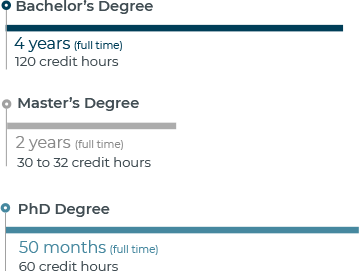 NONPROFIT MANAGEMENT DEGREE PROGRAM EXAMPLES
| | | | | |
| --- | --- | --- | --- | --- |
| School | Degree | # of Credits Required | Start Dates | Min Months to Complete |
| Colorado Christian University | Associate's | 60 | 3 | 24 |
| Southern New Hampshire University | Bachelor's | 120 | 6 | 48 |
| North Central University | Master's | 36 | Weekly | 25 |
HOW MUCH DOES A NONPROFIT MANAGEMENT DEGREE PROGRAM COST?
Tuition costs for various majors in Nonprofit Management are provided here. On average, the tuition cost is $7,376 for in state public colleges. The cost is $28,890 for out of state private colleges. Many online colleges charge a per credit rate plus fees. For example, Associate's degree programs require an average $485 per credit. In contrast, Bachelor's degree programs cost an average of $469 per credit. In addition, Master's degree programs cost an average of $600 per credit. Most courses are for three credits each.
Figuring out your financial aid to pay for college may concern you. But don't let it hold you back. Remember, if you believe you may need financial aid, there are options to choose. These financial aid options could ease the cost of earning your degree. But no matter what option you choose, you always have to pay back financial aid. The one exception is if you receive a grant. Grants do not have to be repaid.
| | | | |
| --- | --- | --- | --- |
| School | # of Credits Required | Cost Per Credit | Total Tuition Cost |
| Colorado Christian University | 60 | $469 | $31,866 |
| Southern New Hampshire University | 120 | $320 | $38,400 |
| Ashford University | 120 | $485 | $55,700 |
TOP SCHOOLS FOR NONPROFIT MANAGEMENT DEGREE PROGRAMS
There are 231 schools offering online degrees or programs in Nonprofit, Public and Organizational Management, according to the most recent data. From those schools there were 2,892 degrees in these majors awarded to students. Most of these degrees were in Master's degree programs. Here is a list of top schools for Nonprofit Management degree online programs.
| | | |
| --- | --- | --- |
| School | 2017 Grads total/degrees awarded | 2019/20 Tuition (Out of State unless *) |
| Fairleigh Dickinson University – Metropolitan Campus | 189 | $42,220* |
| Brandeis University | 108 | $57,561* |
| DeVry University | 96 | $18,139* |
| Northern Arizona University | 87 | $26,516 |
| Arizona State University-Downtown Phoenix | 87 | $29,428 |
| Northeastern University | 74 | $53,506* |
| Regis University | 59 | $38,180* |
| Fordham University | 55 | $54,393* |
| North Park University | 52 | $31,030* |
| Alvernia University | 51 | $36,350* |
| Columbia University in the City of New York | 49 | $61,788* |
| St Catherine University | 47 | $40,984* |
BECOMING AN ACCREDITING NONPROFIT MANAGER
What does accredited mean? It means a school has met standards set by the Department of Education.
If you study at an accredited school, it is possible to apply for financial aid. Also, it may be possible to transfer credits to this school from another school.
The process of becoming accredited is voluntary, however. First, a school must apply to one of the agencies that oversees its region. Then, it must pass the agency's review. After passing, the school must uphold or improve its standards to renew. This may take place about every seven years. You can check the standing of a college on the accrediting agency's website. They usually have a data base.
Another tier of approval is at the program level. Some schools may put their programs up for review as well. The agency in charge of accrediting nonprofit management programs is the Nonprofit Academics Centers Council. The NACC oversees programs in:
Nonprofit and NGO studies and management
Social entrepreneurship
Social purpose organizations leadership
Philanthropy studies and management
A main goal of the NACC is to ensure that the school offers a well developed program. How does the NACC do this? It maps out the themes that a course plan should address at both undergrad and graduate levels. A list of these themes includes ethics, finance, human resources, and rules and policies. There are other themes as well.
NONPROFIT CERTIFICATION AND LICENSURE
You don't have to be certified to work in the nonprofit sector.  But going the extra mile to become certified may help you stand out. The Certified Fund Raising Executive program is one way to do it. The program is offered by the CFRE International. Many fundraising managers apply for it. You qualify if you have five years of related work and 80 hours of continued education.
In addition, fundraisers must apply for renewal every three years to keep their credentials valid.
TOP SALARIES BY STATE FOR FUNDRAISING MANAGERS
The table below shows states with the top average salaries for Fundraising Managers. This career path often needs a degree in public relations or nonprofit management.
| | | |
| --- | --- | --- |
| State | Employment | Annual Mean Wage |
| District of Columbia | 5,990 | $191,960 |
| New York | 6,550 | $174,240 |
| New Jersey | 2,100 | $165,470 |
| Virginia | (8) | $162,630 |
| Rhode Island | 370 | $155,830 |
JOBS WITH A NONPROFIT MANAGEMENT DEGREE
A degree in Nonprofit Management may prepare you to pursue a wide range of potential careers.
If you earn this degree, you could become an Executive Director of a nonprofit. This job is similar to a Chief Executive Officer at a for profit company. With this degree, you could also become a Director. There are different kinds of Directors. A Director of Development at a nonprofit is in charge of fundraising. A Director of Marketing and Communications is usually in charge of getting attention for the nonprofit. What kind of attention? Articles in newspapers, magazines or online, for example. News stories on TV or radio are other examples. This type of Director may also interact with the public. In addition, a nonprofit may have a Director or Manager in charge of the company's information systems.
You may become a Program Manager after earning a nonprofit management degree. That job would put you in charge of handling the company's support services. A nonprofit may have a Manager in charge of special projects. For instance, a unique fundraising event could be the special project. The event may or may not happen again. In addition, with this degree, you may work as a Community Organizer. In that job, you would provide services to the public on a regular basis. Other career options are also possible.
Executive Director
An Executive Director sets goals and policies for a nonprofit. As such, this person will develop plans and processes to meet those goals. That means making decisions about a company's finances, budget and staff. In addition, they also consult with other managers, board members and workers. In the end, this person usually has the final say in assessing performance and strategy.
According to 2020 BLS data:
Average Annual Salary: $107,680
Job Growth through 2029:  4%(faster than average)
Entry-level Education: Bachelor's
 PROPJECT MANAGEMENT SPECIALIST
According to 2020 O*NET data:
Average Annual Salary: $77,420
Job Growth through 2029: 5% to 7% (Faster than average)
Entry-level Education: Bachelor's
Community Organizer
A Community Organizer oversees social service programs and the people who work for them. Social service programs are designed to help certain groups. These groups may include the homeless, veterans, children, the unemployed, addicts or older adults. A key part of this job is fundraising. Writing grant proposals is one way to raise funds. This person may also plan and manage outreach efforts to generate support.
According to 2020 BLS data:
Average Annual Salary: $67,150
Job Growth through 2029: 17% (much faster than average)
Entry-level Education: Bachelor's