Explore Criminal Justice Degree Online Programs
Get matched to an Online Criminal Justice Degree Program for FREE!
WHAT IS AN ONLINE CRIMINAL JUSTICE DEGREE?
An online criminal justice degree consists of interdisciplinary coursework. You'll study subjects like psychology, sociology, and criminology. You could also study law enforcement and how to keep communities safe.
Since criminal justice is a broad field, you might want to narrow your focus. Interested in crimes that take place online? You could choose a concentration in cybercrimes. Want to keep your nation safe from threats? A concentration in homeland security might interest you.
And, your program could help you pursue career paths in several growing industries. These include protective services and community & social services.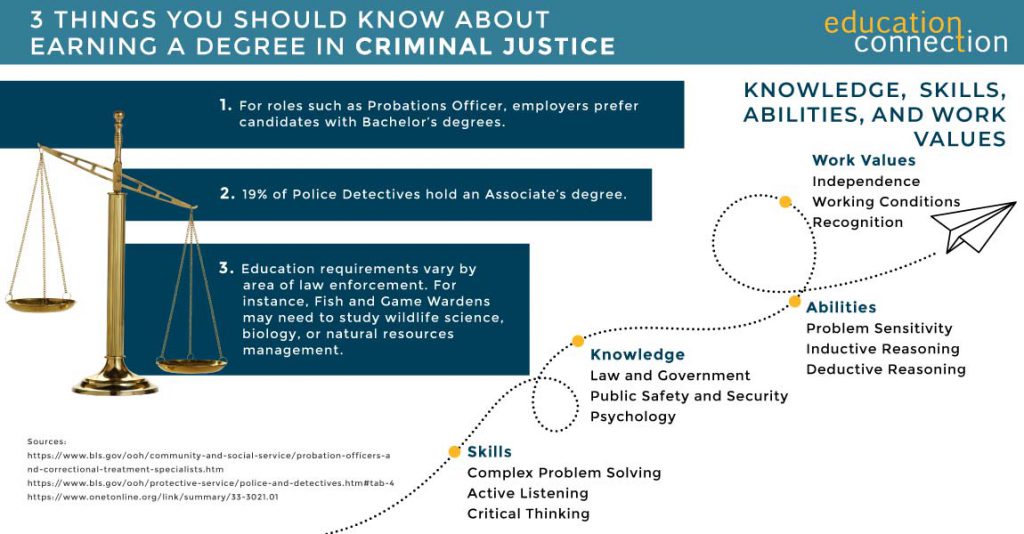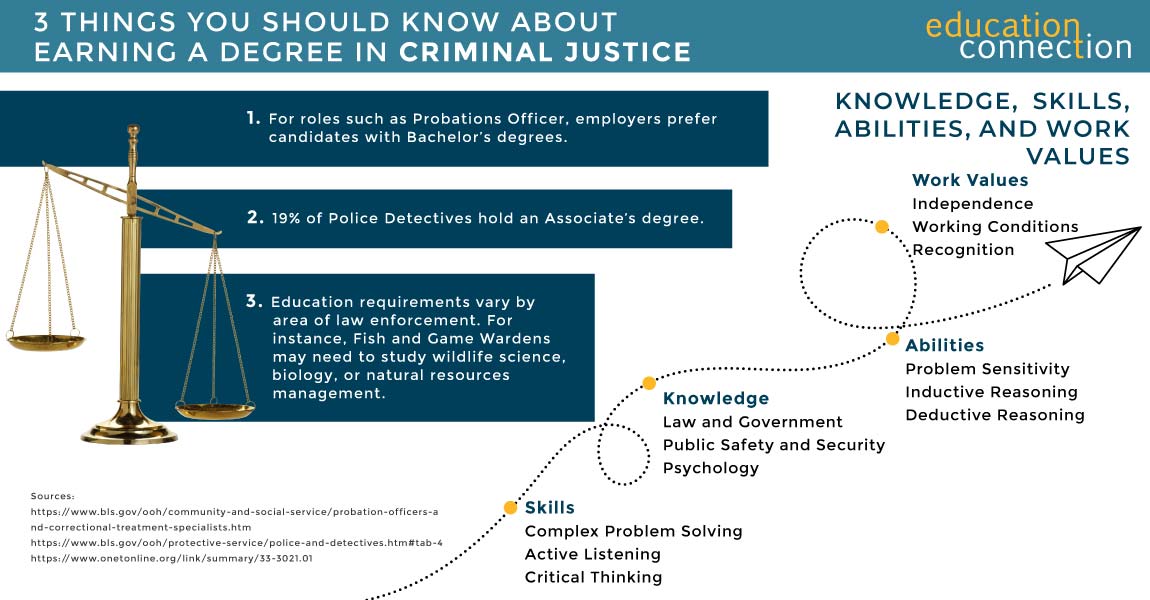 ASSOCIATE DEGREES
Associate of Science in Criminal Justice
---
This program introduces students to theory, practice, and trends in the field of criminal justice. It covers three main areas: law enforcement, victim advocacy, and corrections.
---
Law Enforcement Operations
Investigative Techniques
Court Procedure/Evidence
BACHELOR's DEGREES
B.S. in Criminal Justice
---
The Bachelor of Science in Criminal Justice covers foundational knowledge in the field, from criminal law to abnormal psychology. Choose concentrations like forensic psychology, crime scene investigation, and more.
---
Applied Criminal Justice Ethics
Crime Prevention
Supervisory Practices in Criminal Justice
MASTER's DEGREES
Master of Science in Criminal Justice
---
The M.S. program covers advanced areas like policy development and decision-making. You'll analyze topics like homeland security to victimology. And, you'll devise strategies to solve criminal justice challenges.
---
Advanced Review of Criminal Justice
Criminology and Public Policy
Corrections Management
CRIMINAL JUSTICE DEGREE ONLINE PROGRAMS
You could earn an online criminal justice degree at the undergraduate or graduate levels. What most programs have in common is that they span many disciplines. You'll study obvious subjects, like criminal law and the court system. But, you'll also explore topics like psychology and public policy.
ONLINE ASSOCIATE'S DEGREE IN CRIMINAL JUSTICE
An online Associate's degree in criminal justice covers foundations in the field, including the principles of the U.S. criminal justice system. This program could be ideal for those new to criminal justice. It could also be a great path for current professionals who want to understand the theory behind law enforcement and the court system.
Common programs include:
Associate of Science (AS) in Criminal Justice
Associate of Arts (AA) in Criminal Justice
Associate of Applied Science (AAS) in Criminal Justice
Associate's in criminal justice programs include courses like:
Introduction to Criminal Justice
Juvenile Justice System
Judicial Process
Criminal Law
Corrections
Criminology
You'll also take general education courses, like psychology, writing, and math. Some programs require a capstone project, a practicum, or even an internship.
ONLINE BACHELOR'S DEGREE IN CRIMINAL JUSTICE
An online Bachelor of Criminal Justice program takes a broad look at theory and practice. You'll study interconnected systems that administer justice and keep communities safe. And, you'll explore everything from the philosophy of criminal justice to research methods used in the field.
Common programs include:
Bachelor of Science (BS) in Criminal Justice
Bachelor of Arts (BA) in Criminal Justice
Some students also choose a concentration, depending on their career goals. For example, a concentration in crime scene investigation covers techniques for collecting and using evidence. A homeland security concentration covers causes and responses to threats, like terrorism.
Criminal Justice Bachelor's programs include courses like:
Criminal Procedure
Crisis Negotiation
Policing in America
Courts and the Prosecution Process
Research Methods in Criminal Justice
Computers, Technology, and Criminal Justice Information Systems
You'll also take general education coursework. That may include courses in the social sciences, like psychology, sociology, and American government. And, many programs have a final research project or capstone.
Featured Online Schools
1
Southern New Hampshire University
Take advantage of some of the nation's most affordable tuition rates, while earning a degree from a private, nonprofit, NEASC accredited university
Qualified students with 2.5 GPA and up may receive up to $20K in grants & scholarships
Multiple term start dates throughout the year. 24/7 online classroom access.
Offering over 200 online degrees
Popular Online Programs
Business Administration, Psychology, Information Technology, Human Services…
2
Purdue Global University
Experience world-class education online with more than 175 programs at associate's, bachelor's, master's and doctoral levels.
Competency-based ExcelTrack™ Programs may allow you to earn your degree faster and for less money
Courses taught by highly respected faculty members who are experts in their fields
Full range of student services including no cost tutoring in math, science and writing
Available Online Programs
Business, Analytics, Computer Science, Cyber Security, Healthcare Management, RN to BSN, Criminal Justice, Psychology

3
Colorado State University
Ranked #8 by U.S.News & World Report for Best Online Bachelor's Programs
Apply up to 90 transfer credits for bachelor's students, and 9 transfer credits for master's degree students.
CSU Global graduates experience a return on investment of 4:1, which means they receive $4 in salary and benefits for every $1 they invest in their education.
Online Programs Include:
Accounting, Business Administration, Criminal Justice, Psychology & Information Technology

Sponsored
ONLINE GRADUATE DEGREE PROGRAMS IN CRIMINAL JUSTICE
Online Master's degree programs in criminal justice could be ideal for those pursuing administrative or leadership career paths. You could learn about developments in law, technology, and other corners of the changing criminal justice field. And, you may study skill areas like communication and management.
Online doctoral programs in criminal justice might be perfect for those pursuing roles in research or academia. Beyond studying criminal justice theory, you could contribute to the field by researching new solutions. Earning a doctorate usually requires writing an original dissertation.
HOW LONG DOES IT TAKE TO COMPLETE AN ONLINE CRIMINAL JUSTICE DEGREE PROGRAM?
Associate's in Criminal Justice programs call for 60 to 65 credits of coursework. They can usually be earned in under three years.
Bachelor's in Criminal Justice programs may be earned in about four years. On average, they require 120 to 125 credits.
Master's in Criminal Justice programs usually take two to three years of study. Doctorate programs may take anywhere from two to five years.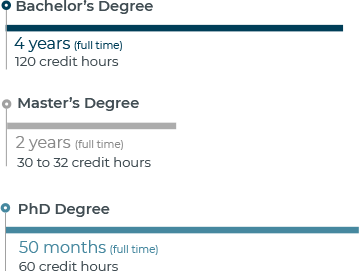 CRIMINAL JUSTICE DEGREE PROGRAMS THAT COULD BE COMPLETED IN 24 MONTHS OR LESS
| School | # of Credits Required | Start Dates | Minimum Months to Complete |
| --- | --- | --- | --- |
| Northcentral University | 30 | 52 (weekly) | 16 |
| Rasmussen College | 91 to 93 | Multiple | 18 |
| Regent University | 30 | Multiple | 18 |
THE AVERAGE COST OF AN ONLINE CRIMINAL JUSTICE DEGREE PROGRAM
According to the most recent data, Criminal Justice & Corrections students paid median in-state public tuition of $5,936 per year. Out-of-state private tuition was $27,100 per year.
Many online universities charge by the credit. Compare cost per credit for these institutions that offer master's in criminal justice programs.
| School | # of Credits Required | Cost Per Credit | Total Tuition Cost |
| --- | --- | --- | --- |
| Purdue University Global | 55 | $420 | $23,100 |
| Norwich University | 30 to 90 | $375 | $11,250 to $33,750 |
| University of Louisville | 36 | $714 | $25,704 |
TOP SCHOOLS FOR ONLINE CRIMINAL JUSTICE DEGREE PROGRAMS
Last check, there were 2,047 schools offering Criminal Justice & Corrections programs. From those schools, 131,999 degrees were awarded to students. The majority (57.6%) were Bachelor's degrees.
| SCHOOL | 2016 DEGREES AWARDED | 2018/19 TUITION* (OUT OF STATE UNLESS **) |
| --- | --- | --- |
| University of Phoenix – Arizona | 2,687 | $9,552** |
| American River College | 2,063 | $8,712 |
| Rio Salado College | 2,050 | $7,854 |
| CUNY John Jay College of Criminal Justice | 1,683 | $14,940 |
| East Los Angeles College | 1,307 | $7,746 |
| Santa Rosa Junior College | 1,186 | $8,174 |
| American Public University System | 960 | $6,880** |
| Kaplan University-Davenport Campus | 914 | N/A |
| Sam Houston State University | 845 | $18,256 |
| Ashford University | 815 | $12,160** |
*Estimated for full-time, beginning undergraduate students
CHOOSING A CRIMINAL JUSTICE DEGREE ONLINE ACCREDITED PROGRAM
According to the Council for Higher Education Accreditation (CHEA), there are no specific program accreditations for criminal justice education.
But that doesn't mean accreditation isn't important. You'll need to attend an accredited college or university if you hope to be eligible for federal financial aid. (Financial aid may be available for those who qualify.)
Choosing an accredited school can help ensure the quality of your education. You may also have an easier time transferring credits to other programs or qualifying to pursue further study. So, make sure to look for criminal justice degree programs from accredited schools.
GETTING A JOB WITH A CRIMINAL JUSTICE DEGREE
As of 2016, there were about one million Criminal Justice & Corrections graduates in the workforce. This number showed one-year growth of 5.42%. The largest share of graduates (11.3%) worked as Police Officers.
So, what do you have in common with the average Criminal Justice degree-holder? Slightly more men than women (53.8%) earned this degree. The average age of a degree-holder in the field is 39.2 years old.
TOP SALARIES BY STATE FOR CRIMINAL JUSTICE DEGREE HOLDERS
The following information is for Detectives and Criminal Investigators. Salary and employment numbers will differ for other criminal justice career paths.
| State | Employment | Annual Mean Wage |
| --- | --- | --- |
| Alaska | 100 | $116,130 |
| California | 11,700 | $103,810 |
| New Jersey | 3,090 | $100,980 |
| Maryland | 950 | $99,880 |
| Virginia | 3,360 | $94,800 |
CRIMINAL JUSTICE CAREER PATHS AND POTENTIAL SALARIES
Maintaining security, upholding the law, and investigating criminal acts may require specialized expertise. Earning an online criminal justice degree may help you pursue a career in one of these areas of the criminal justice field. Because there are many branches of the justice and law enforcement sectors, the salary and growth projection in this list of criminal justice jobs broadly range from a prisoner-guarding corrections officer to a bar-passing lawyer.
POLICE OFFICERS AND DETECTIVES
Police officers protect lives and property. Detectives and criminal investigators, who are sometimes called agents or special agents, gather facts and collect evidence of possible crimes.
Median Salary: $62,960 per year
Job growth through 2026: 7% (As fast as average)
Typical Entry-level education: Police and detective applicants must have at least a high school diploma or equivalent, although many federal agencies and some police departments require some college coursework or a bachelor's degree.
CORRECTIONAL OFFICERS AND BAILIFFS
Correctional Officers oversee suspects awaiting trial, or prisoners who are serving time. They may escort, supervise, and search inmates. Bailiffs provide security and maintain order in courtrooms. They may guard and escort court personnel, jurors, and prisoners.
Median Salary: $43,510 per year
Job Growth Through 2026: -7%
Typical Entry-level Education: High school diploma or equivalent (a Bachelor's degree may be required for employment at federal prisons)
PRIVATE DETECTIVES AND INVESTIGATORS
These professionals investigate legal, financial, and personal concerns. For instance, they could help prove spousal infidelity or even find a missing person. They use a variety of methods, from interviewing subjects to searching public records. Many Private Detectives and Investigators are self-employed.
Median Salary: $50,700 per year
Job Growth Through 2026: 11% (faster than average)
Typical Entry-level Education: High school diploma, but some jobs require a 2- or 4-year degree