Explore Criminal Justice Degree Online Programs
Get matched to an Online Criminal Justice Degree Program for FREE!
WHAT IS AN ONLINE CRIMINAL JUSTICE DEGREE?
An online criminal justice degree prepares you to work in fields like law enforcement, corrections and the justice system. The courses consist of subjects like forensic science, law and court procedures. You could also study law enforcement and how to keep people safe. A degree in criminal justice offers you a chance to explore the impact of crime and the best ways to reduce it at the local, state and federal level. As a student in an online criminal justice degree program, you will learn about policies and practices of criminal justice systems like law enforcement and the courts. This degree will prepare you for a career in the criminal justice field at a time when the job industry is growing. Many go on to pursue higher degrees in areas like law, forensics or social science.
Earning an online degree in criminal justice can open up many paths for different careers in the field. Correction officers, bailiffs and police officers often begin their career with this kind of degree. Since criminal justice is such a broad field, you might want to narrow your focus. For example, if you have an interest in crimes that take place online, you could choose to study cyber crimes. Or if you want to keep your nation safe from threats, a focus on homeland security might be of interest to you. And, your program could help you pursue career paths in growing industries like protective services or community & social services.
Although many of these entry level careers do not require a degree, obtaining one could greatly increase your chance of securing a job. For example, a bachelor's degree in criminal justice can increase your odds of landing an entry level police job which only ask that candidates complete non degree training programs.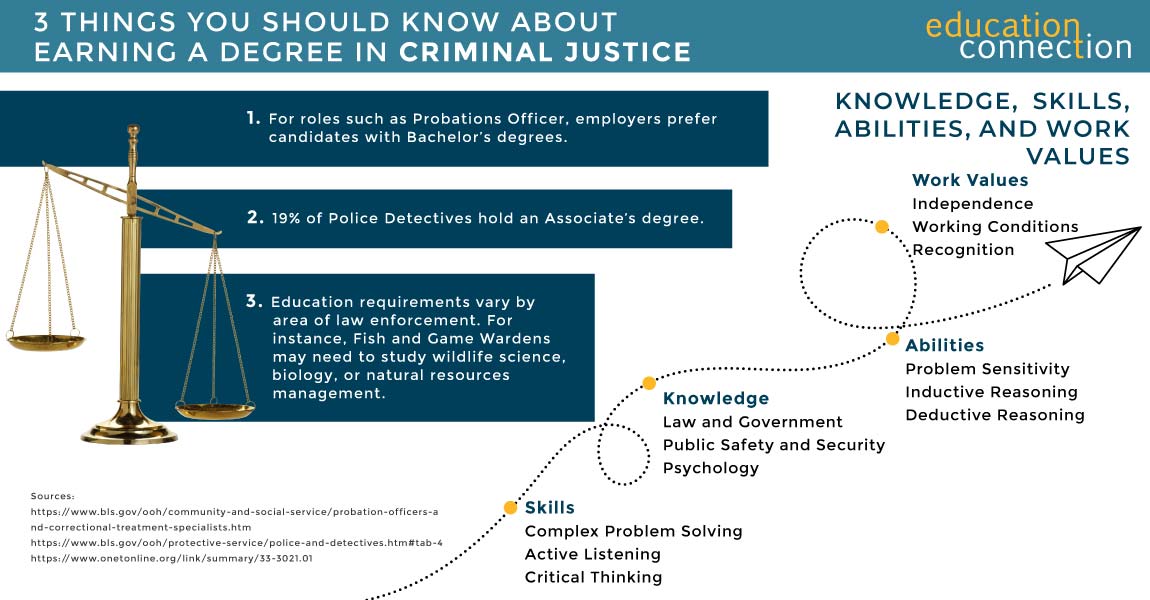 TYPES OF ONLINE CRIMINAL JUSTICE DEGREE PROGRAMS
Associate of Science in Criminal Justice

B.S. in Criminal Justice

Master of Science in Criminal Justice

An Associate's degree in criminal justice prepares students for many entry level jobs in the field. This degree program will introduce students to the theory, practice, and trends in the field. It covers many areas like corrections, criminal law and social science. In many cases, the credits earned can be transferred to a criminal justice bachelor's degree program.
The Bachelor of Science in Criminal Justice provides students with a broad range of knowledge of the criminal justice system. It covers courses in the fields related to police, courts and corrections systems. This program gives students an in depth understanding of all aspects of the criminal justice system. Students can also choose to focus on areas like forensic psychology, crime scene investigation (CSI), and more.
The M.S. program covers advanced areas like policy design and decision making. The program will allow students to become ethical and skilled decision makers in many areas that fall under the field of criminal justice. They will also be able to come up with strategies that help to to solve problems in the field. An M.S. degree in criminal justice can also help your chance of being able to compete for better jobs and can also help to advance you into a higher degree program.
Course Examples:

Introduction to Corrections
Crime in America
Court Procedure/Evidence

Course Examples:

Applied Criminal Justice Ethics
Crime Prevention
Correctional Strategies

Course Examples:

Advanced Review of Criminal Justice
Criminal Profiling
Corrections Management
CRIMINAL JUSTICE DEGREE ONLINE PROGRAMS
Whether you are looking for an entry level job or to advance your career, a degree in criminal justice will give you the tools you need to increase your experience as well as your potential to earn more. This degree can help get you ready for many different careers in the field, such as an FBI agent or a teacher. And, because there are a wide range of roles and careers in this field, you can find a job that is a good fit for your interests, skills and income goals.
You could earn an online criminal justice degree at both the undergraduate and graduate level. What most programs have in common is that they span many areas of the field. You'll study the more obvious subjects, like criminal law and the court system. But, you'll also explore topics in the social sciences and in public policy. You may also be able to gain real world experience through an internship. Many programs may also allow you to focus on a specific area that you may be interested in.
But, before you start looking for programs you may want to consider what your career goals are first. If you are thinking about future doctoral studies, which focus on areas like teaching or research, you don't want to end up in a practice based program.
ASSOCIATE'S DEGREE
An online associate's degree in criminal justice can usually be earned in two years. And some schools offer faster paced programs that allow students to finish their degree in as few as 18 months. This program will prepare you to enter the field with the skill that is needed to excel in your career.
These degree programs covers the basis of the field, including the U.S. criminal justice system and may be ideal for you if you are new to the criminal justice field. It could also be a great path for you if you are a current working professional who wants to be able to better understand the theory behind law enforcement and the court system. Many times, the credits that are earned in these programs can be transferred to a bachelor's degree program in criminal justice.
There are two types of degrees that can be earned when going for your associate's degree in a criminal justice program. These are the Associates of Arts (A.A.) and Associates of Science (A.S.). For the most part, both degrees should get you ready for careers in the field of criminal justice. However, there are some differences to be noted about each degree type. For example, an A.A. degree is less specialized than an A.S. degree. So, if you would like to study the criminal justice field more in depth and plan to enter into a career in an area like forensics, then an A.S. degree might be a better fit for you.
In general, however, criminal justice students will take many social science classes as well as classes that teach about the government and law. In total, students must complete 60 credit hours before they are able to graduate.
Common programs include:
Associate of Science (AS) in Criminal Justice
Associate of Arts (AA) in Criminal Justice
Associate's in criminal justice programs include courses like:
Introduction to Criminal Justice
Juvenile Justice System
Corrections
You'll also take general courses, like writing and math. Some programs require a capstone project or even an internship.
BACHELOR'S DEGREE
An online Bachelor of Criminal Justice program takes a broad look at theory and practice. A student enrolled in a 4 year program will learn about topics that range from forensic science to criminal justice to how the courts work with law enforcement. You'll study the many systems that deal with justice and keep communities safe. And, you'll explore everything from the theory of criminal justice to the methods that are used in the field.
A B.S. in Criminal Justice is designed to give students an in depth look at all of the different areas of criminal justice. The program prepares you to become a working professional in the field. Students may have the choice to select an area of specialty such as corrections or loss prevention. And students that graduate may choose to continue their studies to become lawyers or teachers.
Common programs include:
Bachelor of Science (BS) in Criminal Justice
Bachelor of Arts (BA) in Criminal Justice
Some students also choose a specialty, depending on their career goals. For example, a focus on CSI covers the ways to collect and use evidence.
Criminal Justice Bachelor's programs include courses like:
Criminal Procedure
Policing in America
Research Methods in Criminal Justice
You'll also take general courses. That may include courses in social science and U.S. government. And, many programs have a final research project or capstone.
GRADUATE DEGREE
Online Master's degree programs in criminal justice could be a great choice for you if you are looking for a career in leadership. You could learn about new developments in law and other aspects of the changing field. And, you may study skill areas like how to better communicate and manage. Master's programs also give you the chance to learn about the ways that policies are changed over time as well as the nature of a crime and the effects of crime on society.
Master's degrees can help students to jump start or advance their careers. Many students that choose to pursue this degree will usually have some kind of work experience that they want to build on so that they can land a better position or earn more money. Students with a master's degree may go on to get a job in research or in teaching. Most schools will give you with the choice to complete your master's degree with a thesis or by completing a project, exam or taking an extra set of classes.
A master's degree can also help to prepare students for doctoral level studies. An online PhD programs might be perfect for you if you are looking for a role in research or teaching. Beyond learning about criminal justice theory, you could contribute to the field by finding and doing research on new solutions to help improve the system. Earning a doctorate usually requires writing a dissertation.
For both a master's and doctorate degree, you can choose to pursue a specific area of criminal justice which may allow you to keep working in your chosen field while you earn your degree.
Common programs include:
Master of Science (MS) in Criminal Justice
Master of Arts (MA) in Criminal Justice
PhD in Criminal Justice
Criminal Justice Master's programs include courses like:
Issues in Policing
Criminal Mind and Behavior
Correctional Leadership
Criminal Justice Doctorate programs include courses like:
Race in Crime and Criminal Justice
Public Safety Leadership
Featured Online Schools
1
No application fee for April & June terms.
Take advantage of some of the nation's most affordable tuition rates, while earning a degree from a private, nonprofit, NEASC accredited university
Qualified students with 2.5 GPA and up may receive up to $20K in grants & scholarships
Multiple term start dates throughout the year. 24/7 online classroom access.
Popular Programs
Business Administration, Psychology, Information Technology, Human Services…

2
Ranked #8 by U.S.News & World Report for Best Online Bachelor's Programs
Apply up to 90 transfer credits for bachelor's students, and 9 transfer credits for master's degree students.
CSU Global graduates experience a return on investment of 4:1, which means they receive $4 in salary and benefits for every $1 they invest in their education.
Available Programs
Business, Computer Science, Criminal Justice, IT, Psychology…

3
Offering two quality, competency based online learning formats: FlexPath and GuidedPath.
FlexPath lets you set your own deadlines and move through courses at your own speed.
GuidedPath offers structured learning with a virtual course room and weekly schedule.
With FlexPath, you can earn your degree in 12 months and under $11,500. Assumes accelerated pace. Price varies based on your pace and transfer credits. Other fees may apply.
Programs Include
Business, Counseling, Psychology, IT, Nursing, Social Work

Sponsored
WHAT DO CRIMINAL JUSTICE DEGREE COURSES LOOK LIKE?
Criminal justice involves enforcing laws as well as being able to protect U.S. citizens and punish those who commit crimes. A bachelor's degree in criminal justice is created to give students a broad knowledge of the criminal justice system. Students that are enrolled in a 4 year criminal justice program will learn about various topics such as law ethics, corrections and forensic science. They will also learn about how courts work with law enforcement and how corrections systems work. Another thing you may learn about is criminal justice theory.
The goal of a bachelor's degree is to give you a solid background in education. Although it might seem like taking classes in math or science is not needed, these courses help you to learn about different concepts and ideas that can help to expand your mind. As for whether or not you will use what you learned on the job, you might be surprised.
When it comes to your core classes, the goal is to give you knowledge and skill in many areas of the field. Common core classes focus on ethics, law and even crime scenes. Having experience in these areas is an important part of your college degree.
Of course, classes vary depending on each school's program. Even though each school has different courses, most will provide you with a well rounded study plan. You can also take support classes in other areas like social science in order to learn the soft skills that are needed for a career in many areas of criminal justice.
Some common courses include:
Introduction to Law Enforcement:&nbspThis course will introduce students to policing and show the ways it has changed over time and also goes over topics like recruiting and use of force. The course is designed to help students gain a working knowledge of the world of policing.
Criminal Law Procedure:&nbspCourses in Criminal Law Procedure look at the history and nature of criminal law. They analyze the general nature of crime, common law and modern statutory criminal codes. Students will learn how to analyze and brief criminal cases and identify and discuss criminal issues.
Criminal Investigation:&nbspA criminal investigation course will introduce students to the basics of criminal investigation. Strategies for interviews, evidence collection and CSI provide students with a basis on how to manage an investigation.
Current Issues in Criminal Justice:&nbspTopics discussed in this course include prison violence, gangs, changes in society and their impact on correction and the death penalty. A student taking this course will examine the impact of these problems and look at their effect on the criminal justice system.
Police and Society:&nbspPolice and society courses examine the function of police in society and the problems that arise between citizens and police. Students will learn the ways in which social changes impact law enforcement.
Data Analysis in Criminal Justice:&nbspThese courses examine the various types of data used in criminal justice and the fundamentals of statistics and analysis. The course provides students with the best ways to analyze data, how to collect data and how to interpret findings.
HOW LONG DOES IT TAKE TO COMPLETE AN ONLINE CRIMINAL JUSTICE DEGREE PROGRAM?
There are criminal justice degrees available at every level from a certificate to a PhD. Certificates take the least time to complete and you can also earn a certificate at the same time as your degree if you want to add to your education. Undergrad certificates can provide an introduction to the field but you won't be able to work in the field with just an undergrad certification. These certificates can take between 6 to 12 months to earn while graduate certificates take closer to 1 year to earn.
There are 3 different types of associate's degrees you can earn in criminal justice. An A.A., A.S., or A.A.S. Associate's in Criminal Justice programs call for 60 to 65 credits of coursework. They can usually be earned in under three years.
If you are going for your bachelor's degree, you can choose to go for either your B.A. or B.S. A Bachelor's in Criminal Justice program may be earned in about 4 years. On average, they require 120 to 125 credits. You can also start with your associate's degree and choose to add on with a bachelor's degree later down the line. If you choose to do this, you will be adding on to the credits you earned from your associate's degree and can rest easy knowing you won't have to start all over.
If you want to earn your Master's degree, you will need to earn about 30 credits hours after completing your bachelor's degree. Many students choose to work in the field while earning their master's degree. Master's in Criminal Justice programs usually take two to three years of study. PhD programs may take anywhere from two to five years.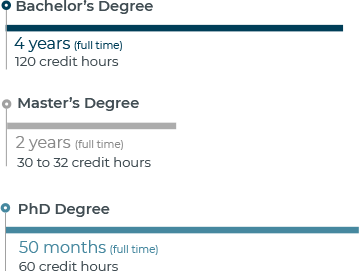 CRIMINAL JUSTICE DEGREE PROGRAM EXAMPLES
| | | | |
| --- | --- | --- | --- |
| School | # of Credits Required | Start Dates | Minimum Months to Complete |
| Northcentral University | 30 | 52 (weekly) | 16 |
| Rasmussen College | 91 to 93 | Multiple | 18 |
| Regent University | 30 | Multiple | 18 |
THE AVERAGE COST OF AN ONLINE CRIMINAL JUSTICE DEGREE PROGRAM
According to the most recent data, Criminal Justice & Corrections students paid a median in state public tuition of $5,742 per year. Out of state private tuition was $26,950 per year.
Many online schools charge by the credit. Compare cost per credit for these schools that offer master's in criminal justice programs.
| | | | |
| --- | --- | --- | --- |
| School | # of Credits Required | Cost Per Credit | Total Tuition Cost |
| Purdue University Global | 55 | $420 | $23,100 |
| Norwich University | 30 to 90 | $375 | $11,250 to $33,750 |
| University of Louisville | 36 | $714 | $25,704 |
TOP SCHOOLS FOR ONLINE CRIMINAL JUSTICE DEGREE PROGRAMS
Last check, there were 2,128 schools offering Criminal Justice & Corrections programs. From those schools, 129,022 degrees were awarded to students. The majority were Bachelor's degrees.
| | | |
| --- | --- | --- |
| School | 2017 Degrees awarded | 2019/20 Tuition (out of state unless *) |
| University of Phoenix  Arizona | 2,147 | $9,552** |
| American River College | 2,054 | $8,928 |
| Rio Salado College | 1,781 | $7,854 |
| CUNY John Jay College of Criminal Justice | 1,757 | $15,420 |
| East Los Angeles College | 1,370 | $8,110 |
| San Antonio College | 1,117 | $14,220 |
| Santa Rosa Junior College | 1,069 | $8,170 |
| Sam Houston State University | 907 | $18,664 |
| American Public University System | 897 | $7,324* |
| Liberty University | 793 | $22,747* |
Estimated for full time, beginning undergrad students
CHOOSING A CRIMINAL JUSTICE DEGREE ONLINE ACCREDITED PROGRAM
Accreditation is a concern for many students in any degree program. And, students are smart to seek out these types of programs since they are usually more concerned with the outcomes that can help to promote a student's success.
According to the Council for Higher Education Accreditation (CHEA), there are no specific program accreditations for a degree in criminal justice.
But, that doesn't mean accreditation isn't important. You'll need to attend an accredited school if you hope to be eligible for federal financial aid. (Financial aid may be available for those who qualify.)
Choosing one of these types of schools can help ensure the quality of your education. You may also have an easier time transferring credits to other programs or being able to pursue further study. So, make sure to look for a degree program from an accredited school.
GETTING A JOB WITH A CRIMINAL JUSTICE DEGREE
Last check, there were about 1.1 million Criminal Justice & Corrections graduates in the workforce. This number showed one year growth of 1.78%.
So, what do you have in common with the average Criminal Justice degree holder? Slightly more men than women (54.1%) earned this degree. The average age of a degree holder in the field is 39.6 years old.
TOP SALARIES BY STATE FOR CRIMINAL JUSTICE DEGREE HOLDERS
The following information is for Detectives and Criminal Investigators. Salary and employment numbers will differ for other criminal justice career paths.
| | | |
| --- | --- | --- |
| State | Employment | Annual Mean Wage |
| Alaska |  100 | $113,420 |
| Hawaii |  450 | $109,320 |
| California |  11,810 | $107,760 |
| New Jersey |  3,440 | $103,460 |
| Massachusetts |  1,390 | $102,350 |
CRIMINAL JUSTICE CAREER PATHS AND POTENTIAL SALARIES
As you can see, a degree in criminal justice, unlike many other degree programs in related fields, focuses on real world application. Because of this, there is a demand by employers in both the public and private sectors for students with this degree. Students in criminal justice programs study theory at the same time as they gain practical skills. This allows them to hit the ground running when they are able to land their first job.
When you think about a career in criminal justice, you may think of jobs such as police officers or correctional officers. But the career choices don't just stop there. Because the field of criminal justice involves many other areas like business and science, there are many jobs that you can choose to pursue with this degree.
Earning an online criminal justice degree may help you to pursue a career in many areas in the field. Because there are many branches of the justice and law enforcement sectors, the salary and growth projection in this list of criminal justice jobs broadly range from a corrections officer to a lawyer that has passed the bar.
POLICE OFFICERS AND DETECTIVES
Police officers protect lives and property. Detectives and criminal investigators, who are sometimes called agents or special agents, gather facts and collect evidence of possible crimes.
Median Salary: $63,380 per year
Job Growth Through 2028: 5% (As fast as average)
Typical Entry level Education: Police and detective applicants must have at least a high school diploma or equivalent, although many federal agencies and some police departments require some college courses or a bachelor's degree.
CORRECTIONAL OFFICERS AND BAILIFFS
Correctional Officers oversee those awaiting trial, or prisoners who are serving time. They may escort and search inmates. Bailiffs provide security and maintain order in courtrooms. They may guard and escort court personnel, jurors, and prisoners.
Median Salary: $44,400 per year
Job Growth Through 2028: -7% (Decline)
Typical Entry level Education: High school diploma or equivalent (a Bachelor's degree may be required for federal prisons)
PRIVATE DETECTIVES AND INVESTIGATORS
These professionals investigate legal, financial, and personal concerns. For instance, they could help prove spousal infidelity or even find a missing person. They use many methods, from interviewing subjects to searching public records. Many Private Detectives and Investigators are self employed.
Median Salary: $50,090 per year
Job Growth Through 2028: 8% (Faster than average)
Typical Entry level Education: High school diploma, but some jobs require a 2 or 4 year degree