Online Marriage and Family Therapy Degree Programs
WHAT IS AN Online Marriage and Family Therapy Degree
An online marriage and family therapy degree program focuses on family dynamics and issues. This degree goes more in depth than traditional psychology degree programs. Some courses discuss how marriages, families, and relationships function. But others explore the ways interpersonal bonds affect mental and emotional well-being.
Many online MFT programs aim to ready people to pursue a license as a marriage and family therapist. These professional counselors use a group-based point of view. Their goal is to help people manage and overcome problems within relationships. Often, they work with couples, children, parents and extended relatives. They might also carve out a specialty. For instance, working with military families, troubled teens or LGTBQ couples. Within their goals, MFT counselors strive to help their clients overcome stressors. If this sounds like a career path you'd like to pursue, you'll need a master's degree and a license to practice. Luckily, this is a perfect moment to get started. Integrated healthcare is rising in popularity. And, the demand for marriage and family therapists is growing much faster than average.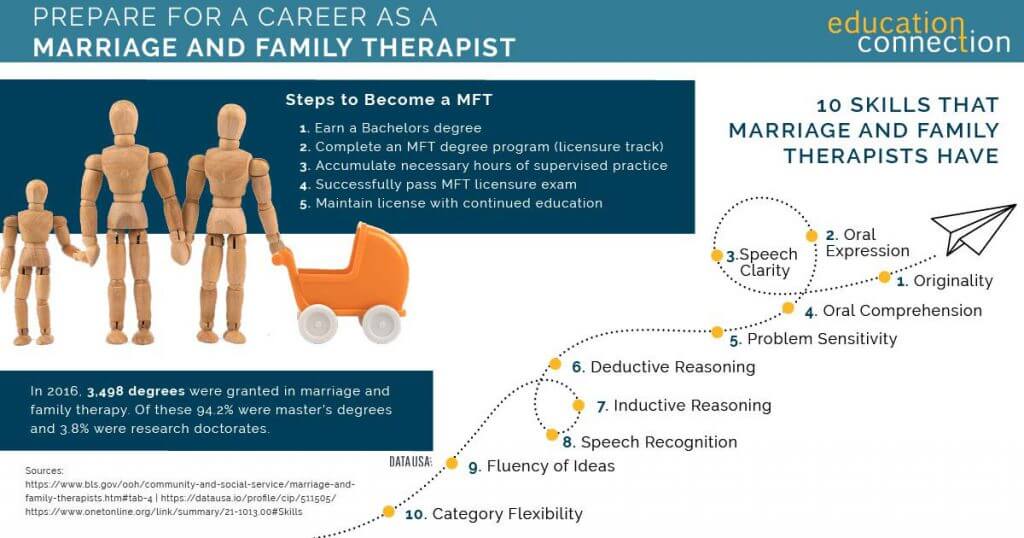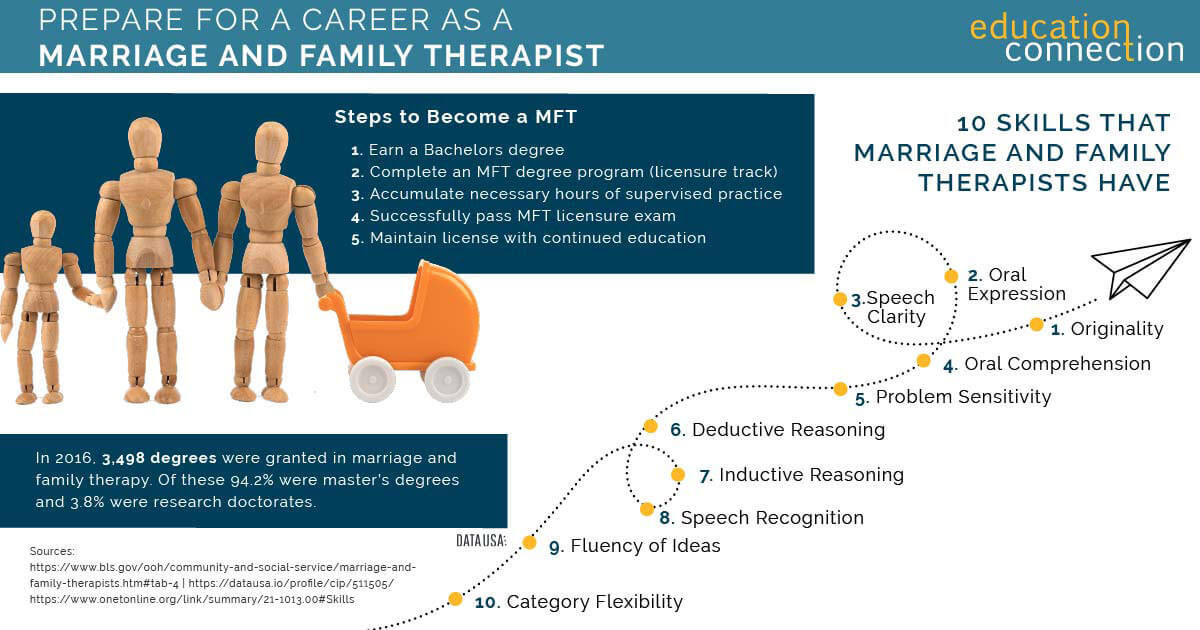 Bachelor's Degrees
Bachelor of Arts in Behavioral Psychology
---
Learn about individual, family, and community problems and their solutions
---
Statistics and Research
Behavioral Science
Social Problems and the Workplace
MAster's Degrees
Master of Arts in Marriage & Family Therapy – General Family Therapy
---
Focus on development of skills for professional practice as a marriage and family therapist. Fulfill requirements to be able to pursue an MFT license
---
Family Systems Theory
Practicum, Internships, Clinical Supervision
The Couple Life Cycle
---
Commission on Accreditation for Marriage and Family Therapy Education (COAMFTE)
Doctorate Degrees
Doctor of Philosophy in Marriage & Family Therapy – Medical Family Therapy
---
Understand how to help individuals, couples and families that are facing medical, emotional or other difficulties
---
DMFT internship/portfolio/practicum
Systemic Leadership
The Business of Therapy
---
Commission on Accreditation for Marriage and Family Therapy Education (COAMFTE)
ONLINE MARRIAGE AND FAMILY THERAPY DEGREE PROGRAMS
General online marriage and family therapist degree programs help students sharpen their counseling skills. This involves an understanding of family systems theory and specific diagnostic tools. For example, how to assess mental and emotional disorders, and resolve conflicts such as:
Divorce
Trauma causing events
Child rearing
School issues
Family Violence
Drug, alcohol abuse, addictions
Couple conflicts
Other courses deal with family structures and intra-personal nuances. Such as life-cycle dynamics, inter-generational influences, and healthy family functioning. These topics help students to identify prevention-based strategies that create family wellness.
Master's level MFT coursework often involves several key topics. These may delve into psychopathology, addiction and substance abuse. Extra topics could pertain to the laws and ethics that guide modern counseling. Students may review case studies to learn about different methods and techniques.
Doctoral programs often weight curricula with research. This may help students refine observational and clinical skills. At the same time, they may develop expertise in working with a focal group. Or the business savvy to work in private practice.
Another component of an online MFT program is hands-on work. This usually means completing a set number of supervised fieldwork hours. Many schools enable students to take the majority of classes online (if not all). Practicum/internships/and clinical supervision activities are often completed in students' community.
Students who work towards an MFT degree online may also choose to focus their studies. For instance, working with a certain type of population such as LGTBQ or military. Otherwise, one may want to gain skills to work with a defined issue like addiction.
We've listed a few examples below. It's important to choose a program that you feel aligns with your personal goals and concerns. Each concentration comes with its own topics, research and training.
COUPLE THERAPY
Couple therapy courses discuss the challenges faced in marriage and long-term relationships. Topics often explore the couple life cycle and points of change or distress. Students may also learn about creating a therapeutic alliance with the couples.
MEDICAL FAMILY THERAPY
Medical family therapy looks at issues that individuals, couples, and families face during chronic illness. Some topics may help students identify health complaints and diseases. Others may discuss how norms and cultural beliefs can impact the illness experience.
MILITARY FAMILY THERAPY
A Military Family Therapy focus views stressors through a family systems lens. Courses may delve into the specific behavioral health challenges (E.g. PTSD) faced by veterans. Students may learn specific clinical assessments and evidence-based treatments.
CHILD AND ADOLESCENT THERAPY
A focus in child and adolescent therapy looks at children's mental and emotional behavioral difficulties. Through the systemic lens, it explores the couple relationship, family structure and parenting. Students may explore methods such as play therapy and parental tactics.
Featured Online Schools
1
Southern New Hampshire University
Take advantage of some of the nation's most affordable tuition rates, while earning a degree from a private, nonprofit, NEASC accredited university
Qualified students with 2.5 GPA and up may receive up to $20K in grants & scholarships
Multiple term start dates throughout the year. 24/7 online classroom access.
Offering over 200 online degrees
Popular Online Programs
Business Administration, Psychology, Information Technology, Human Services…
2
Purdue Global University
Experience world-class education online with more than 175 programs at associate's, bachelor's, master's and doctoral levels.
Competency-based ExcelTrack™ Programs may allow you to earn your degree faster and for less money
Courses taught by highly respected faculty members who are experts in their fields
Full range of student services including no cost tutoring in math, science and writing
Available Online Programs
Business, Analytics, Computer Science, Cyber Security, Healthcare Management, RN to BSN, Criminal Justice, Psychology

3
Colorado State University
Ranked #8 by U.S.News & World Report for Best Online Bachelor's Programs
Apply up to 90 transfer credits for bachelor's students, and 9 transfer credits for master's degree students.
CSU Global graduates experience a return on investment of 4:1, which means they receive $4 in salary and benefits for every $1 they invest in their education.
Online Programs Include:
Accounting, Business Administration, Criminal Justice, Psychology & Information Technology

Sponsored
LGBTQ COUPLE AND FAMILY THERAPY
Same-sex couples face many of the same relational issues as heterosexual couples. Yet any differences can also create unique challenges. Students in this type of program take a family systems lens to LGTBQ couples.
How Long Does It Take to Earn an Online Degree in Marriage and Family Therapy?
An average, full-time student may need about two and a half years to complete their MFT degree online. Most such programs entail about 45 credit hours, but students should also factor in supervised practicums and internship hours.
PhD and Doctor of Marriage and Family Therapy (DMFT) programs may take between four to five years to complete. These programs may entail about 69 credit hours. Students should also factor in supervised practicums and/or dissertation research.
ONLINE MFT DEGREE PROGRAMS THAT COULD BE COMPLETED IN 2.5 YEARS

While no two online MFT degree programs are alike, there are several master's level degrees that may take a full-time student less than three years to complete. See the chart below for some examples, then refer to individual schools for details.
| School | # of Credits Required | Start Dates | Minimum Months to Complete |
| --- | --- | --- | --- |
| Northcentral University | 45 | Every Monday | 33 |
| Grand Canyon University | 37 | Multipule start dates | 25 |
| Liberty University | 60 | Multipule start dates | 30 |
HOW MUCH WILL A MARRIAGE AND FAMILY THERAPIST DEGREE COST?

Tuition costs for Marriage & Family Therapy majors are, on average, $6,000 for in-state public colleges, and $30,240 for out of state private colleges. Prices may fluctuate between schools so make sure to check recent figures.
| School | # of Credits Required | Cost Per Credit | Total Tuition Cost |
| --- | --- | --- | --- |
| Northcentral University | 45 | $548 | $41,540 |
| Grand Canyon University | 74 quarter credits | $515 | $38,110 |
| Liberty University | 60 | $565 | $33,900 |
TOP COLLEGES THAT OFFER MARRIAGE AND FAMILY THERAPIST DEGREES

Last check, 2920 degrees in Marriage and Family Therapy were awarded to students. The majority (2833) of these programs were master's degrees. The table below shows some of the institutions that awarded the most MFT degrees.
| School | Total Degrees Awarded | Graduate Tuition |
| --- | --- | --- |
| Capella University | 206 | $14,365 |
| University of Phoenix – CA | 195 | $16,071 |
| Brandman University | 159 | $11,520 |
| Alliant International University | 116 | $27,413 |
| Palo Alto University | 91 | $21,227 |
| Nova Southeastern University | 83 | $18,932 |
| Northcentral University | 82 | $16,553 |
HOW LONG DOES IT TAKE TO BECOME A MARRIAGE AND FAMILY THERAPIST?

In all states, marriage and family therapists need a license. Licensure itself requires a master's degree (about 2-3 years). You'll also need from 2,000 to 4,000 hours of post-degree supervised clinical experience to earn the licensure (6 months to 2 years). Also called an internship or residency, these hours are crucial to apply skills to real life.
Once a person has their degree and said hours, they may be eligible to take a state-recognized MFT exam. The MFT examination is available at any authorized PSI testing center.
Licensing information for marriage and family therapists is available through the Association of Marriage and Family Therapy Regulatory Boards (AMFTRB). To maintain their license, graduates complete annual continuing education classes.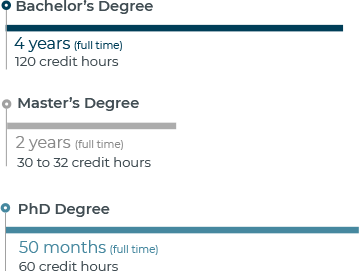 CAREER OPPORTUNITIES FOR MFT DEGREE GRADUATES
There are 3.98 million people in the workforce who have a career relating to marriage and family therapy. While the average age is 43.2, people joining the workforce are getting younger. Most recent graduates are female. i
TOP STATES FOR MARRIAGE AND FAMILY THERAPIST PROFESSIONALS
States with the highest employment level of marriage and family therapist professionals are listed below. You can see salaries vary in each location.
| State | Employment | Annual Mean Wage |
| --- | --- | --- |
| California | 72,980 | $102,860 |
| Texas | 56,200 | $96,190 |
| New York | 42,500 | $103,500 |
| Ohio | 28,970 | $90,070 |
| Virginia | 27,760 | $100,090 |
CAREERS FOR MFTS
Below you'll find a guide to some of the popular career paths that many MFT graduates pursue. We've also listed the minimum education needed to enter the field along with salary (2017) and job outlook through 2026.
LICENSED MARRIAGE AND FAMILY THERAPISTS (LMFTS)
Licensed marriage and family therapists help people handle (and get to the other side of) problems. Such issues may occur within their family and interpersonal relationships. Many LMFTs apply cognitive behavioral therapy which is a goal-oriented approach.
Average annual salary (2017): $48,790
Job Growth through 2026: 23% (Much faster than average)
Entry-level education: Master's degree
COUNSELING PSYCHOLOGISTS
Counseling psychologists use a science-focused lens to view the brain and human behaviors. They help patients deal with and make sense of many types of social, emotional, behavioral and cognitive problems. This can include issues at home, at the workplace, or in the community. Psychologists often need a doctorate degree and state-issued license.

Average annual salary (2017): $77,030
Job Growth through 2026: 14% (Faster than average)
Entry-level education: Doctorate (PhD or PsyD) degree
MENTAL HEALTH COUNSELORS
Mental health counselors help people who suffer from mental or behavioral problems. This includes alcoholism, drug addiction, and eating disorders. Also, they often work with mental health issues like anxiety and depression. These professions may provide both support and treatment. Like the MFT, a mental health counselor may need to get a license to practice in all states.
Average annual salary (2017): $43,300
Job Growth through 2026: 23% (Much faster than average)
Entry-level education: Bachelor's or Master's depending on job