Top Online Emergency Management Degree Programs
Get matched to an Online Emergency Management Degree Program for FREE!
WHAT IS AN EMERGENCY MANAGEMENT DEGREE?
An emergency management degree is often found at the bachelor's level. It is the entry education for most EM jobs in government and private industry.
Many EM degrees are part of a broader context. Criminal justice, homeland security and public administration, to name a few. In short, they study the managerial functions relating to two main areas. Reducing risks to hazards and coping with natural and terrorism-related crisis.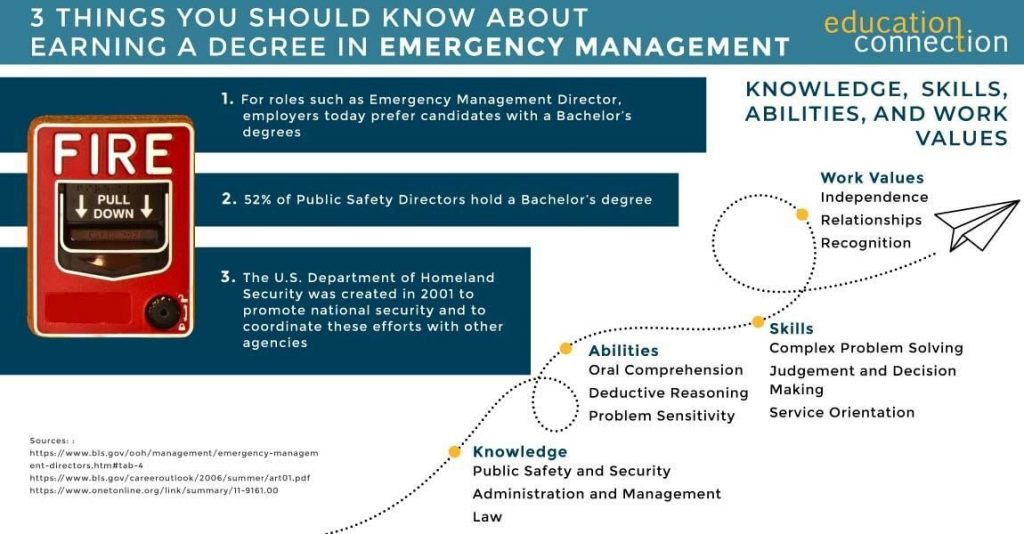 Associate Degrees
Associate of Arts in Emergency Management
---
The program provides a foundational knowledge and initial exposure to the Emergency Management field. Students explore aspects within the discipline, including: the four phases of emergency management, terrorism in emergency management and interagency disaster management
---
Disaster Mitigation and Preparedness
Disaster Response and Recovery
Terrorism in Emergency Management
Interagency Disaster Management
BACHELOR's DEGREES
Bachelor of Arts (BA) in Homeland Security and Emergency Management
---
In this program, you'll study criminal justice and criminal processes. Other courses deal with planning, strategy and inter-agency communications. You'll also study terrorism, risk and basic business practices.
---
Criminal Law
Criminology
HR & Administrative Issues in Homeland Security and Emergency Management
Master's DEGREES
Master of Science in Homeland Security and Emergency Management
---
This program explores how private and federal organizations find effective security and emergency management solutions on a local, reginal, national and global level.
---
Economics and resource availability
Regulation and law
Politics of security
Dynamics of emergency management
ONLINE EMERGENCY MANAGEMENT DEGREE PROGRAMS
In an emergency management degree course plan, you'll study the ways to plan for times of crisis. This includes natural events like hurricanes, earthquakes and floods. It also means high-stress events like terrorist attacks or shootings.
Per FEMA, there are four key phases in the EM process.
Mitigation – Reducing Risk
Emergency Planning
Emergency Response
Recovery – Interagency communication
Most EM programs thus touch on several themes. One relates to the kinds of things that threaten local and national security. From criminal behavior to cybercrime and beyond. This may help you gain insight into how to deter and prevent breaches. You may also gain basic knowledge of
Criminal Justice
Counter-terrorism
Intelligence Analysis
Another relates to what team efforts have to happen so normalcy returns. As the saying 'it takes a village' goes, many agencies take part in response. There is a specific way to communicate between agencies and with the public at these times.
You may also learn the various pieces that go into recovery. As such, you may study topics like how to lead, organize and manage people. This may help you learn the ins and outs of emergency procedures. Or detect weak areas in a disaster response system.
Take a look below at a few sample classes and programs. Expect general education courses – if you haven't already completed them and a capstone.
Intro to Homeland Security and Emergency Management: This class is a broad overview of homeland security in the U.S. It may cover principles, missions and theories. You may look at past and current issues, policies, and potential career paths.
Emergency Response to Terrorism: This class aims to help you assess an emergency. What is its scope? What is the function of the first responders? Which agencies do we alert? How are first responders dispatched? It may include some hands-on practice as you create a recovery plan
Legal Aspects of Emergency Services: This class may cover the legal issues that relate to emergency services. Arson law, criminal and civil law are some examples. It may also get into the legal duties of emergency services officers.
BS IN CRIMINAL JUSTICE – HOMELAND SECURITY AND EMERGENCY MANAGEMENT
This program is a Bachelor of Science degree in Criminal Justice with a Homeland Security and Emergency Management concentration. Apart from EM planning, it may offer a wider view of criminal justice and criminal processes. It may also cover facets of terrorism, constitutional law and intelligence.
BS IN FIRE SCIENCE AND EMERGENCY MANAGEMENT
A BS in Fire Science and EM may help emergency responders to understand how to plan and lead in a crisis. Some courses may touch on managerial topics like personnel and finance. Others may speak to recovery, risk reduction and response.
BA IN HOMELAND SECURITY AND EMERGENCY MANAGEMENT
A BA-HSEM may furnish a broad view of homeland security and emergency preparedness. It may discuss counter-terrorism, planning for natural disasters, and terrorism responses. Other topics may touch on ethics, global relations and cybercrime.
MASTER OF PUBLIC ADMINISTRATION – EMERGENCY MANAGEMENT AND HOMELAND SECURITY
An MPA degree is like an MBA but focuses on managerial skills for public offices. It often covers public budgeting, public policy and national security. Adding a focus in EM and homeland security may help you forecast and diffuse threats. Other courses may build a decisive and strategic mindset
MS IN HOMELAND SECURITY AND EMERGENCY MANAGEMENT
An MS-HLS program studies the practices and processes that keep the nation safe. It may help you develop as a leader. The topics you'll study often include risk analysis, planning and operations.
MASTER OF SCIENCE IN HOMELAND SECURITY – EMERGENCY MANAGEMENT AND PUBLIC HEALTH
A focus in public health may help you understand the nature of epidemics. How to prepare and respond in times of crisis. Effective strategies like quarantine and surveillance of symptoms.
MASTER OF SCIENCE IN CRIMINAL JUSTICE – EMERGENCY AND CRISIS MANAGEMENT
A MS-CJ offers a focus in emergency and crisis management. You'll start with courses about criminal justice systems and policies. Then move onto EM courses. These relate to key concepts like how to manage crisis. Electives enable you to tailor studies to your interests.
Featured Online Schools
1
Southern New Hampshire University
Take advantage of some of the nation's most affordable tuition rates, while earning a degree from a private, nonprofit, NEASC accredited university
Qualified students with 2.5 GPA and up may receive up to $20K in grants & scholarships
Multiple term start dates throughout the year. 24/7 online classroom access.
Offering over 200 online degrees
Popular Online Programs
Business Administration, Psychology, Information Technology, Human Services…
2
Purdue Global University
Experience world-class education online with more than 175 programs at associate's, bachelor's, master's and doctoral levels.
Competency-based ExcelTrack™ Programs may allow you to earn your degree faster and for less money
Courses taught by highly respected faculty members who are experts in their fields
Full range of student services including no cost tutoring in math, science and writing
Available Online Programs
Business, Analytics, Computer Science, Cyber Security, Healthcare Management, RN to BSN, Criminal Justice, Psychology

3
Strayer University
Save up to 25%. Save thousands on your bachelor's with the Strayer Graduation Fund.
Strayer University is an accredited institution with a proud history of 125 years in quality education.
With the help of dedicated personal support and AI technology, earn your degree online or on campus.
Online Programs Include:
Accounting, Data Analytics, Cybersecurity, Business Administration, Criminal Justice & Information Technology

Sponsored
HOW LONG DOES IT TAKE TO BECOME A PRESCHOOL TEACHER?
In most states, you have to have a bachelor's degree to become a preschool teacher. Therefore, it could take at least four years to work in the profession. In addition to earning a college degree, you might have to earn the Childhood Development Associate (CDA) credential. This credential is offered by the Council for Professional Recognition. Earning your CDA may take additional time unless your degree program specifically prepares you to earn one.
In rare cases, you only have to have an associate's degree or a high school diploma to work as a preschool teacher. This depends primarily on what state you intend to work in. It also depends on if you want to work for a private or public school or government-funded program. To increase your job possibilities, earn a bachelor's degree in early childhood education. If you don't have the time or money to earn a bachelor's degree right now, begin by earning an associate's degree. Work with a counselor to ensure you can transfer your credits later.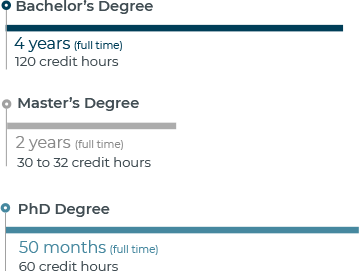 HOW LONG DOES IT TAKE TO GET AN EMERGENCY MANAGEMENT DEGREE?
It may take a full-time student four years to earn a bachelor's degree in emergency management. These usually entail about 120 credits. Having transfer credits may help you graduate sooner.
A master's degree can take as little as one year, although two years is more common. A doctoral degree may take at least four years to complete.
EMERGENCY MANAGEMENT DEGREES THAT COULD BE COMPLETED IN 208 WEEKS
| School | Degree | # of Credits Required | Start Dates | Minimum Months to Complete |
| --- | --- | --- | --- | --- |
| Ashford University | BA Homeland Security & Emergency Planning | 120 credits | multiple | 208 weeks |
| Colorado Technical University | BS in Criminal Justice – Homeland Security & Emergency Management | 182 quarter credits | April, May, July | 15 terms, self-paced |
| Purdue University Global | BS in Fire and Emergency Management | 180 quarter credits | May, July, October | Four years or less with transfer credits |
THE AVERAGE COST OF AN EMERGENCY MANAGEMENT DEGREE
There are several things that may affect how much it costs to earn a degree in emergency management.
One is whether you pursue your degree in or out of state. The average in-state tuition for a degree in homeland security is $6,150. Out-of-state tuition is $28,000.
The other factor is how many credits you need to complete. When paying a cost per credit, having fewer to do may save you money. Some schools also extend discounts to military students.
| School | # of Credits Required | Cost Per Credit | Total Tuition Cost |
| --- | --- | --- | --- |
| Ashford University | 120 credits | $485 | $58,200 |
| Colorado Technical University | 182 quarter credits | $325 | $59,150 |
| Purdue Global University | 180 quarter credits | $371 | $66,780 |
TOP SCHOOLS FOR ONLINE EMERGENCY MANAGEMENT DEGREE PROGRAMS
Last check, there were 50 schools that offer homeland security degrees or programs. From those schools, there were 1,251 Crisis/emergency/disaster management degrees awarded to students. The majority (54%) of these programs were bachelor's degrees.
| School | 2017 Grads total/degrees awarded | Tuition (Out of State) |
| --- | --- | --- |
| American Public University System | 919 | $6,640 |
| Utica College | 225 | $21,382 |
| Fayetteville Technical College | 216 | $8,688 |
| Saint Leo University | 169 | $12,120 |
| Columbia Southern University | 155 | $5,535 |
| Grand Canyon University | 128 | $17,050 |
| Capella University | 97 | $14,579 |
| Naval Postgraduate School | 97 | $0 |
| University of Phoenix- AZ | 75 | $9,552 |
| Walden University | 33 | $12,120 |
HOW DO YOU BECOME A CERTIFIED EMERGENCY MANAGER?
One way to encourage your resume to stand out is through EM certifications. Becoming a certified emergency manager shows that you have met specific criteria.
In some states, once hired, directors will need to certify within a set amount of time. It's a way of showing you understand how to manage and make decisions in stressful situations.
There are two standard national certifications for EMs. Both of them are from the International Association of Emergency Managers. The IAEM is the largest national agency in this field.
Associate Emergency Manager (AEM)
Certified Emergency Manager (CEM)
Of the two, you'll need to have a bachelor's degree to pursue the CEM. Once certified, you'll need to renew every 5 years. Some employers prefer you have either your CEM or your CBCP.
The Disaster Recovery Institute International (DRI) awards the Certified Business Continuity Professional certificate. To be eligible, you need to have work experience and pass an exam. Once certified, you'll need to renew every 2 years.
Many agencies and states also offer voluntary certification programs. These aim to help EM directors pick up extra skills that may suit their location. You can check if your state has an Emergency Preparedness Association.
HOW DO I GET A JOB IN EMERGENCY MANAGEMENT?
The homeland security workforce is 1 million strong and growing at a rate of 5.4%. Most people (71.3%) with a degree in protective services are men, aged 39.2.
Workers who have a bachelor's degree are in the majority (78.7%). Other common workforce degrees are the master's (26.3%) and professional degree (3.8%).
TOP SALARIES BY STATE FOR EMERGENCY MANAGEMENT DEGREE HOLDERS
| State | Employment | Annual Mean Wage |
| --- | --- | --- |
| California | 940 | $125,750 |
| District of Columbia | 200 | $120,330 |
| New York | 630 | $100,640 |
| Maryland | 90 | $99,760 |
| Washington | 160 | $97,260 |
CAREERS WITH AN EMERGENCY MANAGEMENT DEGREE
There are many unique career paths in EM. Some focus on the managerial side of planning and preparing for crises. Others handle the response, recovery, and relief. Most (64%) jobs are in government jobs or in the private sector.
EMERGENCY MANAGEMENT DIRECTORS
Emergency management directors are leaders. They plan and direct the responses to crisis of all types. From the natural ones like floods, hurricanes and earthquakes. To times of war, terrorist attacks, hostage taking or hazardous oil spills. Being in charge of emergency plans and processes means they may also train others.
Median Salary: $72,760
Job growth through 2026: 8% (as fast as average)
Typical Entry-level education: Bachelor's degree
EMERGENCY MANAGEMENT SPECIALISTS
Emergency management specialists hold a variety of job titles.. Many work in local and state governments, hospitals, power plants and supply services. While others work with relief services. In all, their efforts are vital to homeland security. They help people, businesses, and communities to avoid and better react to crises
Median Salary: $45,670
Job growth through 2026: 8% (as fast as average)
Typical Entry-level education: Bachelor's degree
INDUSTRIAL SAFETY AND HEALTH ENGINEERS
Health and safety engineers design systems and processes. Some are to protect people from illness. Others are to keep property free from damage. They make sure that things like chemicals, machinery, software, furniture are safe. As such, they need to stay up-to-date about health and safety rules as well as industrial methods.
Median Salary: $88,510
Job growth through 2026: 9% (as fast as average)
Typical Entry-level education: Bachelor's degree