Online Emergency Management Degrees
Get matched to an Online Emergency Management Degree Program for FREE!
WHAT IS AN EMERGENCY MANAGEMENT DEGREE?
When earning an emergency management (EM) degree, you may study the ways to plan in times of crisis.  You can expect this to include natural events such as hurricanes, earthquakes and floods. Also, you could learn to plan for high stress events. These could include terrorist attacks or shootings.
Per FEMA, there are four key phases you should know in the Emergency Management process.
Mitigation (Reducing Risk)
Emergency Planning
Emergency Response
Recovery (Inter Agency communication)
You can expect most EM programs to touch on several themes. One theme you may learn about is the things that threaten local and national security. You could expect these to include, for example, criminal behavior, cyber crime, and more. As a result of the course, you may learn how to stop and prevent breaches. You may also gain basic knowledge of:
Criminal Justice
Counter Terrorism
Intelligence Analysis
TYPES OF ONLINE EMERGENCY MANAGEMENT DEGREE PROGRAMS
Associate of Arts in EM
In this program, you may gain a foundation of knowledge in the Emergency Management field. As a student, you could explore aspects within EM. These may include, for example, the four phases of emergency management, terrorism in emergency management and inter agency disaster management.
Course Examples:
Disaster Mitigation and Preparation
Disaster Response and Recovery
Terrorism in EM
Inter Agency Disaster Management
Bachelor of Arts (BA) in Homeland Security and EM
In this program, you may study criminal justice and criminal processes. Other courses, similarly, may deal with planning, strategy and inter agency communications. You could also study terrorism, risk, and basic business practices.
Course Examples:
Criminal Law
Criminology
HR & Administrative Issues in Homeland Security and EM
Master of Science in Homeland Security and EM
In this program, you may explore how private and federal organizations find effective security and emergency management solutions. These could be, for instance, on a local, regional, national, and global level.
Course Examples:
Economics and resources
Regulation and law
Politics of security
Dynamics of EM
Emergency Management Degree Specializations
BS IN CRIMINAL JUSTICE  (HOMELAND SECURITY AND EM)
In this program, you would earn a BS degree in Criminal Justice with a Homeland Security and EM concentration. In addition to learning about Emergency Management planning, you may gain a wider view of criminal justice and criminal processes. Also, you may cover topics such as terrorism, constitutional law and intelligence.
BS IN FIRE SCIENCE AND EMERGENCY MANAGEMENT
If you plan to go into Emergency Response, earning a BS in Fire Science and EM may help you learn how to plan and lead in a crisis. In some courses, as such, you may learn leadership topics, such as HR and finance. In others, for example, you may cover recovery, risk reduction, and response.
BA IN HOMELAND SECURITY AND EMERGENCY MANAGEMENT
Earning a BA in HSEM may give you a broad view of homeland security and emergency preparation. In this course, you may learn about counter terrorism and planning for natural disasters. You could also learn about terrorism responses. Other topics you may touch on, could include, similarly, ethics, global relations and cybercrime.
MASTERS OF PUBLIC ADMINISTRATION (EM AND HOMELAND SECURITY)
Earning an MPA degree is similar to earning an MBA. However, in an MPA degree, you may focus on more on managerial skills in public offices. You could also learn about public budgeting and public policy, for example. Or, about national security. In addition, a focus on EM and homeland security may help you predict and stop threats. Other courses you could take may help you to build a more decisive and strategic mindset.
MS IN HOMELAND SECURITY AND EMERGENCY MANAGEMENT
In an MS HLS program, you may study the practices and processes that keep our nation safe. As such, this course may help you develop as a leader. You may study topics, for example, like risk analysis, planning and operations.
MS IN HOMELAND SECURITY (EM AND PUBLIC HEALTH)
A focus on public health may help you to understand the nature of epidemics. You could, for example, learn how to prepare for and respond to crisis. You may also learn effective solutions to crises, such as how to quarantine and monitor symptoms.
MS IN CRIMINAL JUSTICE  (EMERGENCY AND CRISIS MANAGEMENT)
Earning an MS CJ could allow you to focus on emergency and crisis management. You could start with courses that cover criminal justice systems and policies. Then, you may move on to EM courses. These courses relate to key ideas, such as, how to manage crisis. Electives will enable you to tailor your studies to your interests.
1
Take advantage of some of the nation's most affordable tuition rates, while earning a degree from a private, nonprofit, NEASC accredited university
Qualified students with 2.5 GPA and up may receive up to $20K in grants & scholarships
Multiple term start dates throughout the year. 24/7 online classroom access.
Popular Programs
Business Administration, Psychology, Information Technology, Human Services…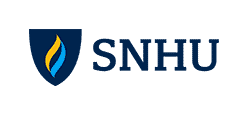 2
Ranked #8 by U.S.News & World Report for Best Online Bachelor's Programs
Apply up to 90 transfer credits for bachelor's students, and 9 transfer credits for master's degree students.
CSU Global graduates experience a return on investment of 4:1, which means they receive $4 in salary and benefits for every $1 they invest in their education.
Available Programs
Business, Computer Science, Criminal Justice, IT, Psychology…

3
Award-winning programs created to help you succeed.
A quality education doesn't have to be expensive. Earn an accredited degree for less.
Programs start monthly – Apply free this week!

Sponsored Schools
Online Emergency Management Degree Courses You May Take
Have you heard of the saying, "It takes a village?" Many agencies think this way in times of an emergency response. At these times, you must remember this idea. As such, your courses may cover how agencies communicate with the public.
You may also learn about the different pieces that go into recovery. As such, you may study topics like how to lead, or how to organize and manage people. This may help you to learn the ins and outs of emergency procedures. You could also learn how to predict weak areas in a disaster response system.
Below, you can take a look at a few sample classes and programs you could take. You could also expect to take general edu courses, if you haven't already completed them, and a capstone.
Course Examples:
Intro to Homeland Security and EM:&nbspIn this course you could learn about homeland security in the U.S. You may cover principles, missions and theories. Or, you may look at past and current issues, policies, and potential career paths.
Emergency Response to Terrorism:&nbspIn this course, you may learn how to assess an emergency. What is the function of first responders? Which agencies do we alert? How are first responders dispatched? You may cover hands on practice as you create a recovery plan.
Legal Aspects of Emergency Services:&nbspIn this class, you may cover the legal issues that relate to emergency services. Arson law, criminal, and civil law, are some examples. You may study the legal duties of emergency services officers.
Fire Science Tech:&nbspThese courses may teach you the industry's latest practices including administration, fire safety, investigation, leadership, and more.
Emergency and Disaster Incident Command:&nbspIn this course, you may learn the history, principles, and org structure of the Incident Command System. Learn about emergency planning, and response or recovery efforts.
Chemistry of Hazardous Materials:&nbspIn this course, you could learn to work safely at the scene of a hazardous materials incident by understanding the potential hazards.
Psychology of Disaster:&nbspIn this course, you may learn about the role of mental health, psychosocial needs, and associated response in complex emergencies.
HOW LONG DOES IT TAKE TO EARN AN ONLINE EMERGENCY MANAGEMENT DEGREE?
If you are a full time student, it may take you four years to earn a BA in EM. You will usually need to earn about 120 credits. However, if you have transfer credits, you could graduate sooner.
If you would like to get an MS, it can you take as little as one year. Two years is more common though. If you pursue a PHD degree, it may take you at least four years to complete.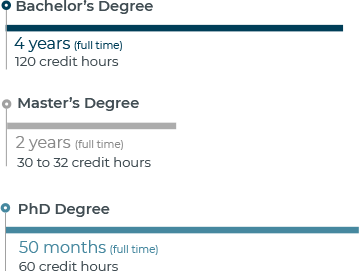 Example Time Frames
| School | Degree | # of Credits Req | Start Dates | Min Months to Complete |
| --- | --- | --- | --- | --- |
| Ashford U | BA HS & Emergency Planning | 120 credits | Multiple | 208 weeks |
| Colorado Technical University | BS in Criminal Justice, HS & EM | 182 quarter credits | April, May, July | 15 terms, self paced |
| Purdue University Global | BS in Fire and EM | 180 quarter credits | May, July, Oct. | Four years or less with transfer credits |
THE AVG COST OF AN EMERGENCY MANAGEMENT DEGREE
There are several things that may affect how much it could cost you to earn an online degree in emergency management.
One thing you may consider, for example, is whether you will earn your degree in or out of state. The avg in state tuition for you to obtain a degree in Homeland Security is $7,049. An out of state tuition for you could be $28,710.
The other factor at play for you, is how many credits total that you will need to complete. When paying by cost per credit, you having fewer credits to earn may save you money.  If you are a military student, some schools may also extend discounts to you.
| School | # of Credits Req | Cost Per Credit | Total Tuition Cost |
| --- | --- | --- | --- |
| Ashford | 120 credits | $485 | $58,200 |
| Colorado Technical University | 182 quarter credits | $325 | $59,150 |
| Purdue Global University | 180 quarter credits | $371 | $66,780 |
TOP SCHOOLS FOR ONLINE EMERGENCY MANAGEMENT DEGREE PROGRAMS
At the last check, you can see, 113 schools offered Homeland Security degrees or programs. From those schools, you will find that 2,080 degrees in crisis, emergency, and disaster mgmt were awarded to students. Most of these were BA programs.
| School | 2021 Grads total / degrees awarded | 2019/20 Tuition (out of state unless *) |
| --- | --- | --- |
| Webster University | 98 | $29,840* |
| Penn State University World Campus | 15 | $15,054* |
| Eastern Kentucky University | 143 | $20,222 |
| Miami Dade College | 160 | $9,661 |
| Virginia Commonwealth University | 112 | $37,786 |
| University of New Haven | 97 | $44,184 |
| Madonna University | 14 | $26,100* |
| St Petersburg College | 86 | $9,286 |
| Thomas Edison State University | 22 | $9,556 |
| Tiffin University | 46 | $30,120 |
HOW CAN YOU BECOME A CERTIFIED EM?
One way that you can make your resume stand out more is through EM certification. Becoming a certified EM shows that you have met high level criteria.
In some states, once you are hired, directors may ask you to be certified within a set amount of time. This is a way you can show that you understand how to manage. Also, it shows that you can make decisions in stressful situations.
You will see that there are two standard national certifications for EMs. Both of these, you will find, are from the International Association of Emergency Managers (IAEM). The IAEM is the largest national agency that you will find in this field.
Associate Emergency Manager (AEM)
Certified Emergency Manager (CEM)
You will need to have a BA  to pursue being a CEM. Once you are certified, you will need to renew it every 5 years. Some employers would prefer that you have either your CEM or your Certified Business Continuity Professional certificate (CBCP).
The Disaster Recovery Institute International (DRI) awards you with the CBCP certificate. To be eligible, you need to have work experience. You also need to pass an exam. Once you are certified, you will need to renew it every 2 years.
You may also find that many agencies and states offer voluntary certification programs. If you are an EM director and you take a course, you can pick up extra skills that may be a good fit for your location. You can easily check if your state has an Emergency Preparedness Association.
EMERGENCY MANAGEMENT CAREERS
You will be happy to learn that the HS work force is over 1M strong. You can see it is growing at a rate of 0.745%. Also, you will find that most people (69.7%) with a degree in protective services are men, age 39.8.
You will see that workers with a BA are in the majority.
Top Salaries by States for Emergency Management Directors
In the table below, you can see which states have the highest salaries. You will find that this career path often needs a degree in emergency management, or in public admin.
| State | Employment | Annual Mean Wage |
| --- | --- | --- |
| District of Columbia | 140 | $161,790 |
| California | 800 | $122,390 |
| Washington | 140 | $112,040 |
| Maryland | 100 | $110,170 |
| Idaho | 110 | $113,520 |
HOW CAN YOU GET A JOB IN EM?
There are many career paths you could take in EM. For instance, you may decide to focus on the manager side of planning and preparing for crises. Or, you could handle response, recovery, and relief sides. You will find that most (64%) EM jobs are government jobs or private sector jobs.
EMERGENCY MANAGEMENT DIRECTORS
You will find that Emergency management directors are leaders. As an EM director, you would plan and direct responses to crisis of all kinds. These could mean, for example, that you would respond to natural crises such as floods, hurricanes and earthquakes. As an EM director, you could also step in during terrorist attacks, hostage taking or dangerous oil spills. Being in charge of emergency plans means that you could also train others.
According to 2022 BLS Data:
Avg Salary: $79,180 per year
Job growth through 2032:3% (As fast as average)
Entry Level Degree: BA
INDUSTRIAL SAFETY AND HEALTH ENGINEERS
Health and safety engineers design systems and process. You will find that some of these systems are to protect people from illness. Others, you can see, keep property free from damage. As a health and safety engineer, you would make sure that chemicals, machinery, software, and furniture are safe. As such, you would need to stay informed on health and safety rules. You would also need to make sure you are up to date on the industrial methods that are used.
According to 2022 BLS Data:
Avg Salary: $100,660 per year
Job growth through 2032: 4% (as fast as average)
Entry Level Degree: BA