Top Online Public Administration Degree
What is an Online Public Administration Degree?
An online public administration degree studies social issues and how to implement policy to meet the goals of local, state or federal governments or other nonprofit organizations.
Online public administration degree programs are available at all levels. But the most common are the bachelor's and master's degree levels.
Bachelors programs often cover basics. Like how to manage people, projects and operations. Master of Public Administration programs go deeper. They look at the skills needed to run public programs or drive policy changes.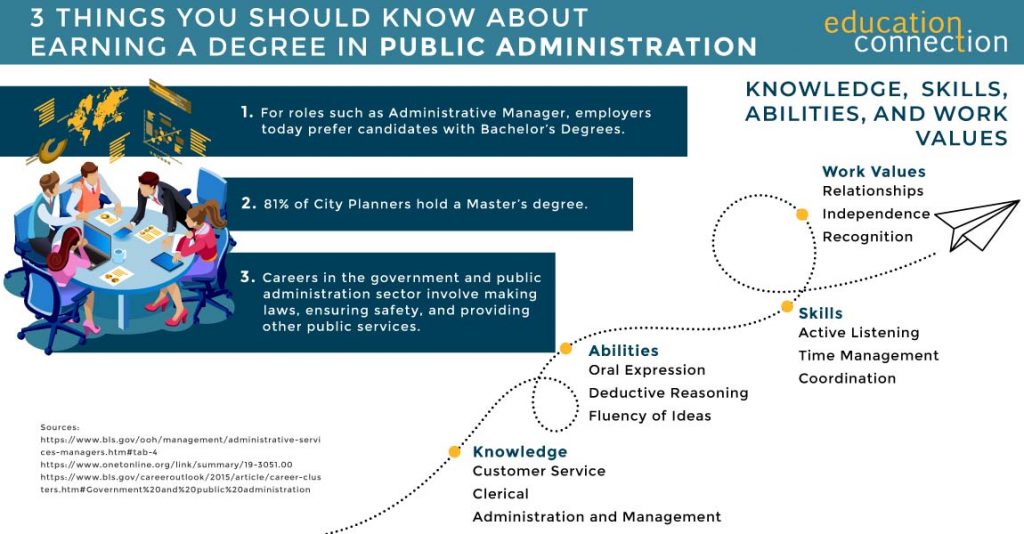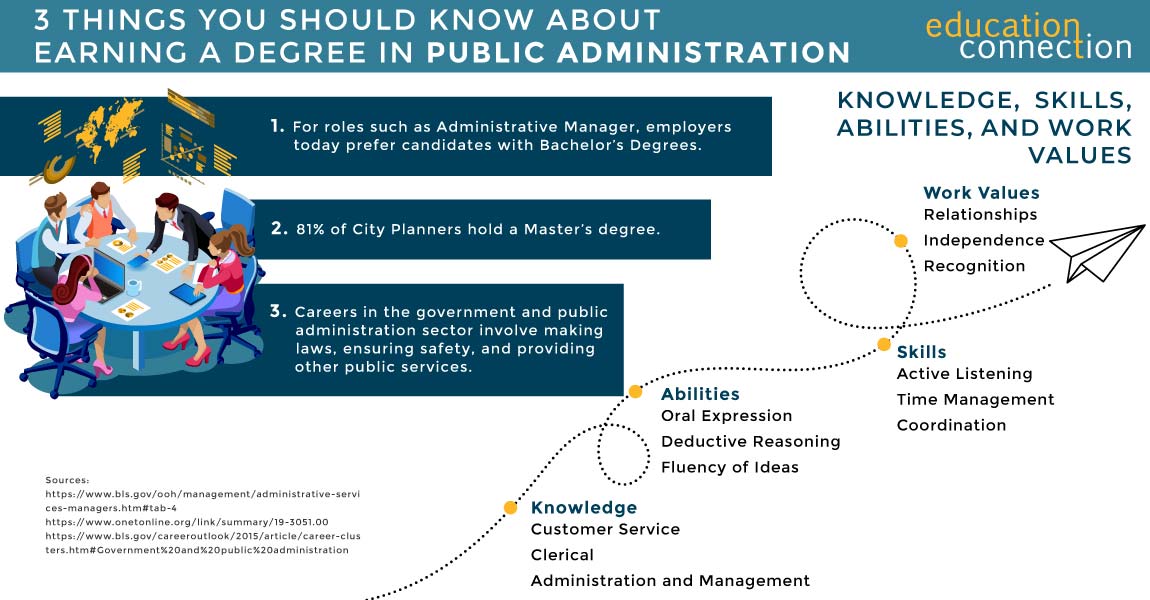 Associate DEGREES
Associates of Applied Science degree in Public Administration
---
This AAS program introduces students to the legal, ethical, political and social context of public administrations and its processes.
---
Ethics in the Public Sector
Public Sector Management
Public Relations for the Public Sector
BACHELOR's DEGREES
Bachelor of Science in Business Administration – Public Administration
---

The BSBA program covers the basics of business management, leadership and operations. In other facets, students learn key aspects of finance, accounting, and statistics. The curriculum also looks at how to manage multicultural teams in a global market place. With a choice of 10 areas of concentration, one has the option to focus on interests.

---
Grant Writing Basics

State and Local Government

Administrative Law
Master's Degrees
Master of Science in Organizational Leadership – Public Administration
---
This program can help prepare students for leadership positions in a variety of organizations by preparing students to manage government relations, organizational policies, politics, urban planning
---
American Government
Business Communication
State and Local Government
Online Public Administration Degree Programs
At the bachelor's level, a public administration degree is usually a business program. For instance, a BS in business administration with a public administration focus.
When this is the case, the main part of the study plan may cover all aspects of business. These may be basic courses at first that look at the day to day practices of corporate life.
On top of managerial themes, you are also likely to study how government operates. This means you will often study politics and the legislative process in the United States. Some programs also cover policy analysis and administrative law.
Here are a few examples of public administration classes. The names will change from school to school. But you can extract some common themes.
Introduction to Public Policy
Social Science Research Methods
Fundamentals of Policy Analysis
Group Communication
Management Skills Development
Bachelor of Arts – Public Sector Management (PSM)
A bachelors in PSM program may draw on analytics, concepts and practical methods. It may also culminate in an internship or field study. Some of the courses relate to management. How to deal with staff and organizational issues. Yet others tackle politics, public policy and policy implementation.
Bachelor of Science – Public Administration
A BS-PA program helps students about management for local, state, or federal levels. At the center of the curriculum, you will often find many topics relating to analysis. These deal with the economy and finance. You will also typically study the nature of politics and policy-making.
Master of Public Administration
The MPA is a professional master's degree. It is for those who want to grow as leaders. Most students are seeking to work in local and federal government and the non-profit sector.

The focus of the courses is on building managerial skills. For instance, how to be good at managing people, projects and resources. You may also study business courses like economics, finance and the use of data for decisions.

But most programs cover other topics too. These may inform you how to translate community needs into policy solutions. So, to round things out, you will often study regional and urban planning. Sociology, anthropology, political science and public policy as well.

Course names vary between schools. Yet the following sample MPA degrees give you a peek inside a typical study plan.

Public Administration and Management
Leadership in the Public Sector
Finance and the Administration of Public Funds
Human Resource Management in the Public Sector
MPA graduates might continue studying at the doctoral level. A Doctor of Public Administration (DPA) is a terminal degree for professionals. It may help you apply what you know. For instance, to create change government, nonprofits, or other policy organizations.

Master of Science in Criminal Justice – Public Management and Leadership
This program exposes students to the field of criminal justice. You will likely look at law enforcement, the courts and corrections. How they function, and how they interact at local, state and federal levels. While studying the ways criminals behave, you may build specific managerial skills. Elements like victimology and homeland security may also be central.
Featured Online Schools
1
Southern New Hampshire University
Take advantage of some of the nation's most affordable tuition rates, while earning a degree from a private, nonprofit, NEASC accredited university
Qualified students with 2.5 GPA and up may receive up to $20K in grants & scholarships
Multiple term start dates throughout the year. 24/7 online classroom access.
Offering over 200 online degrees
Popular Online Programs
Business Administration, Psychology, Information Technology, Human Services…
2
Purdue Global University
Experience world-class education online with more than 175 programs at associate's, bachelor's, master's and doctoral levels.
Competency-based ExcelTrack™ Programs may allow you to earn your degree faster and for less money
Courses taught by highly respected faculty members who are experts in their fields
Full range of student services including no cost tutoring in math, science and writing
Available Online Programs
Business, Analytics, Computer Science, Cyber Security, Healthcare Management, RN to BSN, Criminal Justice, Psychology

3
Colorado State University
Ranked #8 by U.S.News & World Report for Best Online Bachelor's Programs
Apply up to 90 transfer credits for bachelor's students, and 9 transfer credits for master's degree students.
CSU Global graduates experience a return on investment of 4:1, which means they receive $4 in salary and benefits for every $1 they invest in their education.
Online Programs Include:
Accounting, Business Administration, Criminal Justice, Psychology & Information Technology

Sponsored
How Long Does It Take to earn a Public Administration Degree?
A Bachelor's degree in public administration often entails 120 credits and four years. This is the average for students who pursue their degree full-time.

But since many online programs omit summer breaks, one may earn their degree sooner. Transfer credits from an associate degree help in this goal too. For instance, a Bachelor's degree completion program might include 60 credits. As such, it may take 2.5 years.

If you are pursuing an MPA degree, it may take about one to two years to complete an average of 36 credits. Here too, some schools offer accelerated and part-time formats.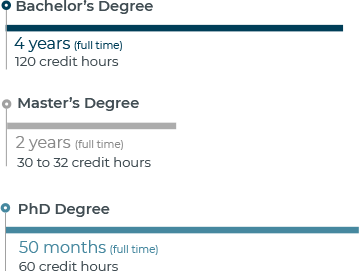 Public Administration Degrees That Could be Completed in 78 weeks

| SCHOOL | DEGREE LEVEL | # OF CREDITS REQUIRED | START DATES | MINIMUM MONTHS TO COMPLETE |
| --- | --- | --- | --- | --- |
| California State University Northridge | Bachelor's | 60 | 2 | 30 |
| UMass Online | Bachelor's | 120 | 3 | 48 |
| Colorado Technical University | Bachelor's | 180 | 3 | 18 |
The Cost of a Public Administration Degrees

The cost of public administration degrees varies. Some schools offer two tuition rates. One for in-state residents, the other for out-of-state students. At present, the average in-state tuition is $6,698.The average out-of-state tuition is $29,688.

| SCHOOL | DEGREE LEVEL | # OF CREDITS REQUIRED | COST PER CREDIT | TOTAL TUITION COST |
| --- | --- | --- | --- | --- |
| Colorado Technical University | Bachelor's | 180 | $325 | $58,500 |
| California State University Northridge | Bachelor's | 60 | $661 | $39,660 |
| UMass Online | Bachelor's | 120 | $332 | $39,840 |
Top Schools that offer Public Administration Degrees
According to the NCES, there were 2,497 schools that offer public administration degrees or programs. From those schools there were 17,154 public administration degrees or programs awarded to students. The majority (71.5%) of these programs were master's degrees.
| SCHOOL | 2017 GRADS TOTAL/DEGREES AWARDED | TUITION (OUT OF STATE) |
| --- | --- | --- |
| Indiana University – Bloomington | 711 | $19,836 |
| California State University – Northridge | 422 | $18,773 |
| Columbia University – NYC | 401 | $59,430 |
| Harvard University | 352 | $50,420 |
| New York University | 309 | $51,828 |
| Walden University | 272 | $12,120 |
| University of Phoenix – AZ | 269 | $9,552 |
| Syracuse University | 260 | $51,853 |
| Ashford University | 188 | $12,169 |
| Grand Canyon University | 172 | $17,050 |
Choosing an Accredited Online Public Administration Degree Program
Many schools with regional accreditation offer public administration degree programs. Pursuing your degree at one of them may enable you to use transfer credits.

This can be important if you want to continue your education later. Regional accreditation also means you may be eligible to apply for federal aid to study at that school.

The process of accreditation involves an external (regional or national) agency which sets standards. These enable the agency to see how the school measures up. Then, relay the information to the public.

An agency's rubber stamp is good for a specific period of time. After that, the school has to once again volunteer to have the agency review it. It must then show it is maintaining or improving upon the criteria. If so, the institution gets to renew its status.

In some cases, a public administration degree comes from a business school. In this event, there are three main agencies that accredit them. There is also one agency that accredits MPA programs only, called NASPAA.

As a consumer, it is useful to know where you can check the status of a school or specific program. The following accreditors maintain databases on their websites.

Program accreditors decide which concepts public admin or business admin degrees should cover. It is much the same process as regional accreditation. That is, there is a review, report and possible renewal (about every 7 years).

What can you do with a degree in Public Administration?
There are 735,273 people working in public administration, and this is going up by 1.28%. The average age of a person in the workforce with degree in public administration and social service is 43. Most of these workers are female.
Top Salaries by State for Administrative Services Manager
| STATE | EMPLOYMENT | ANNUAL MEAN WAGE |
| --- | --- | --- |
| New York | 18,350 | $137,480 |
| New Jersey | 10,960 | $130,770 |
| Rhode Island | 570 | $129,870 |
| District of Columbia | 1,410 | $125,770 |
| Washington | 5,030 | $122,570 |
Administrative Service Managers
Administrative services managers make sure that an organization runs well. They plan, coordinate, and direct a broad range of activities to further this goal. These tasks might include office support or taking care of the facility. Some have job titles like Office Manager or Business Manager.
Median Salary: $96,180
Job growth through 2026: 10% (Faster than average)
Typical entry-level education: Bachelor's degree
Urban and Regional Planners
Urban and Regional Planners identify community needs. Then come up with short-and long-range land use plans and programs. These may provide solutions to make a specific area thrive. This may involve meeting with public officials, developers and residents.
Median Salary: $73,050
Job growth through 2026: 13% (Faster than average)
Typical entry-level education: Master's degree
Social and Community Service Managers
Social and community service managers run and oversee social and human services programs. They also manage workers who provide social services to the public. Depending on how large the agency they work for, some may have a specific type of role. This could be running one type of program or working with a certain population. For example, working with the homeless, substance abuse or chronic hunger.
Median Salary: $65,320
Job growth through 2026: 18% (Much faster than average)
Typical entry-level education: Bachelor's degree