Online Forensic Science Degree Programs
What is an Online Forensic Science Degree Program?
Online Forensic Science degree programs cover the science behind solving crimes. They teach practices like investigating crime scenes, collecting evidence, and analyzing your findings.
The field of forensics brings together the natural sciences, criminal justice, and law. In your program, you'll study subjects like biology, psychology, and chemistry. And, you'll learn how they apply to criminal cases. That includes everything from comparing fibers under a microscope to analyzing DNA.
Criminal investigation is even more complex than popular culture depicts. If you're interested in using science to get to the heart of real-life mysteries, this field could be for you.
Associate's Degree
Bachelor's Degree
Master's Degree
A.S. in Crime Scene Technology
B.S. in Criminal Justice – Forensic Science
M.S. in Forensic Science
This program is designed to introduce students to the field of criminalistics. They can then choose a specialty in Crime Scene Investigation or Forensic Science. You'll learn how the criminal justice system works, and how to use scientific methods to work with and interpret evidence.
This program delivers a criminal justice core, along with forensic science methods and applications. You'll learn how to collect, analyze and interpret evidence. And, you'll explore subjects like arson evidence, DNA, and even voice analysis.
This program covers the science of forensics alongside its legal and ethical concerns. You'll study areas like controlled substance analysis, CSI, and pattern evidence. A research project and internship in a forensic laboratory are part of the program.

Biotechnology
Human Behavior and Criminal Justice
Fingerprinting

Computer Forensics,
Crime Scene Imaging
Forensic Law

Law and Forensic Sciences
Forensic Toxicology
Forensic Biology
Online Forensic Science Degree
Online Forensic Science degree programs apply the natural and physical sciences to criminal and civil law. They cover the skill areas needed across the field – from collecting evidence at a crime scene to analyzing toxins in the lab. Theory and practice converge to offer an understanding of this complex field.
Undergraduate Forensic Science Degree Programs
Professionals like Forensic Science Technicians must typically earn at least a Bachelor's degree. At this level, expect to take many foundational courses in math and the natural sciences. You'll build on this knowledge as you delve deeper into the field of forensics. For instance, courses in organic chemistry inform the study of forensic chemistry, toxicology, and beyond.
Some courses focus on the practice of investigating a crime scene. For instance, you could learn the best practices for forensic photography. You could learn how to properly collect and document evidence, like fingerprints. And, you could find out how to reconstruct a crime scene to learn more about what took place there.
In addition, you could pursue an overview of the criminal justice field. Many programs delve into topics like ethics, legal procedures, and the criminal mind. Understanding the context for criminal investigations is as important as the science behind them.
Wondering how forensic science can be taught online? Technology offers ways to bring crime scenes to life. For instance, you could investigate a virtual cold case and even analyze evidence in a virtual lab.
Look for programs like:
Associate in Applied Science (AAS) in Forensic Science
Bachelor of Science (B.S.) in Forensic Science
S. in Investigative Forensics
Bachelor of Forensic Science/Crime Scene Investigation (CSI)
Graduate Forensic Science Programs
Graduate programs in forensic science build on scientific foundations like biology and chemistry. In fact, some prospective Forensic Science Technicians earn an undergraduate degree in the natural sciences, then earn a Master's degree in forensic science.
Some graduate programs offer the chance to focus on one area of the field. For instance, a digital forensics program takes a closer look at cybercrimes. You'll examine crimes that take place in a virtual space, using technical knowledge to uncover evidence.
Another potential focus area is forensic psychology. This field examines how psychology can inform criminal and legal cases. You could study everything from personality theory to psychology in the courtroom.
Doctoral forensic science programs are not as common, but they do exist. These often focus on research and new discoveries in the field. Expect to dive into advanced topics in forensics, plus learn the research methods needed for independent exploration.
Look for programs like:
Master of Science in Forensic Science (M.S.F.S.)
M.S. in Criminal Justice – Forensic Science
Masters of Professional Studies in Forensic Science
Ph.D. in Forensic Science
Featured Online Schools
1
Take advantage of some of the nation's most affordable tuition rates, while earning a degree from a private, nonprofit, NEASC accredited university
Qualified students with 2.5 GPA and up may receive up to $20K in grants & scholarships
Multiple term start dates throughout the year. 24/7 online classroom access.
Offering over 200 online degree
Popular Programs
Business Administration, Psychology, Information Technology, Human Services…

2
Ranked #8 by U.S.News & World Report for Best Online Bachelor's Programs
Apply up to 90 transfer credits for bachelor's students, and 9 transfer credits for master's degree students.
CSU Global graduates experience a return on investment of 4:1, which means they receive $4 in salary and benefits for every $1 they invest in their education.
Available Programs
Business, Computer Science, Criminal Justice, IT, Psychology…

3
Save up to 25%. Save thousands on your bachelor's with the Strayer Graduation Fund.
Strayer University is an accredited institution with a proud history of 125 years in quality education.
With the help of dedicated personal support and AI technology, earn your degree online or on campus.
Programs Include
Accounting, Business Administration, Criminal Justice & Information Technology

Sponsored
What Do Forensic Science Degree Courses Look Like?
Forensic science courses span the natural sciences, plus delve into how science informs crime scenes. Some common courses include:
Criminal Procedure and Evidence&nbspThis course covers the laws and procedures for collecting evidence at a crime scene. You'll gain a better understanding of statutes and case law governing evidence. And, you'll study concepts like due process, search and seizure, and the evaluation of evidence.
Criminalistics&nbspWhen applied to evidence, science has much to reveal about the nature of crimes. Criminalistics explores the theory and practice of examining evidence in a crime lab. You'll learn how to use lab techniques to analyze trace evidence, firearms, and more.
Fingerprinting&nbspResearch and technology related to fingerprints has evolved, and today's forensic science experts can learn a lot from prints. A course on fingerprinting covers the science of fingerprints and how to detect them on different surfaces. You'll also learn the challenges involved in relying on fingerprints as evidence.
Forensic Toxicology&nbspThis course covers the evaluation of toxins in the human body. You'll learn to detect and identify toxins, plus determine their quantity. You'll also learn the pharmacology of substances, and how they affect the body.
How Long Does It Take to Earn a Degree in Forensic Science?
Earning a Bachelor's in Forensic Science usually takes four to five years for full-time students. Earning a Master's often takes around two years. But, program length can vary.
Forensic Science Degrees That Could be Completed in 24 Months or Less
| | | | | |
| --- | --- | --- | --- | --- |
| School | Degree Level | # of Credits Required | Start Dates | Minimum Months to Complete |
| Miami Dade College | Associate's | 60 | N/A | 24 |
| Liberty University | Master's | 36 | N/A | 20 |
| University of Florida | Master's | 32 | Multiple | 24 |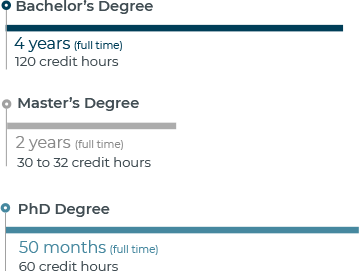 The Cost of Earning a Forensic Science Degree
NCES states that the average annual cost of attending a public, four-year school is $19,189. Average tuition was higher for private and for-profit schools, at $39,529. Compare tuition for these schools that offer forensic science degree programs:
| | | | | |
| --- | --- | --- | --- | --- |
| School | Degree Level | # of Credits Required | Cost Per Credit | Total Tuition Cost |
| University of Maryland University College | Bachelor's | 120 | $499 | $59,880 |
| Colorado Technical University | Bachelor's | 182 | $305 | $55,510 |
| Grand Canyon University | Bachelor's | 120 | $687.50 | $82,500 |
Top Schools That Offer Forensic Science Degree Programs
NCES lists 274 institutions with Forensic Science & Technology programs. From those schools, students were awarded 3,243 degrees in 2016 (the most recent data). The most common degree awarded in this field was the Bachelor's (47.2%).
| | | |
| --- | --- | --- |
| School | 2016 Degrees awarded | 2018/19 Tuition (out of state unless *) |
| University of New Haven | 179 | $39,270* |
| Farmingdale State College | 135 | $18,086 |
| Virginia Commonwealth University | 98 | $35,834 |
| Phoenix College | 86 | $7,854 |
| St Petersburg College | 84 | $9,286 |
| University of Central Oklahoma | 83 | $18,376 |
| American Public University System | 81 | $6,880* |
| CUNY John Jay College of Criminal Justice | 78 | $14,940 |
| Miami Dade College | 70 | $9,661 |
| University of Maryland-University College | 67 | $12,336 |
Choosing an Accredited Forensic Science Degree Program
Accreditation may help ensure the quality of forensic science programs. You could look for a degree program accredited by the Forensic Science Education Programs Accreditation Commission (FEPAC). This organization assesses Bachelor's and Master's programs in forensic science. They also accredit programs in the natural and computer sciences that offer a concentration in forensic science.
FEPAC accreditation requires programs to cover the curriculum you need to be well-versed in forensics. Among other subjects, FEPAC-accredited programs must teach biochemistry, biology, chemistry, and genetics.
What Can You Do with a Forensic Science Degree?
The most current census data states that there are over 1 million Protective Services graduates in the workforce. That includes graduates of forensic science programs. This field is expanding, with a one-year growth rate of 7.86%.
Forensic science is part of the life, physical, and social sciences. Occupations in this area are projected to grow 7% from 2018 to 2028 – faster than average for all jobs. Roles like Forensic Science Technician are growing even faster. There are several reasons for this increase. For starters, state and local governments may need to hire more technicians to process high numbers of cases. In addition, advances in science and technology have made forensics more accurate and useful. So, forensic science technicians may be in demand to assist law enforcement agencies and courts.
Wondering what you have in common with the average forensic science graduate? More females (73.8%) than males hold degrees in this field. And, the average graduate in the workforce is 39.3 years old.
 Top Salaries by State for a Forensic Science Technician
| | | |
| --- | --- | --- |
| State | Employment | Annual Mean Wage |
| Illinois | 450 | $87,660 |
| California | 2,110 | $85,280 |
| Massachusetts | 90 | $79,440 |
| Connecticut | 90 | $73,970 |
| New Hampshire | 40 | $70,960 |
Source: https://www.bls.gov/oes/current/oes194092.htm#st
Jobs with a Forensic Science Degree
Forensic Science Technician
Forensic Science Technicians help solve criminal investigations by collecting and analyzing evidence. They may have a more general role, or else specialize in crime scene investigation or laboratory analysis. At crime scenes, they analyze and document the site, plus gather evidence like fingerprints and body fluids. In the lab, they analyze evidence using chemical, biological, and microscopic methods.
Median Salary: $58,230 per year
Job Growth Through 2028: 14% (Much faster than average)
Typical Entry-level Education: Bachelor's degree
Biological Technician
Biological Technicians work with biological and medical scientists to help them conduct laboratory tests and experiments. They set up and maintain instruments and equipment, like microscopes. They prepare biological samples, like blood or bacterial cultures. They may also conduct lab tests and record their findings.
Median Salary: $44,500 per year
Job Growth Through 2028: 7% (Faster than average)
Typical Entry-level Education: Bachelor's degree
Chemical Technician
Chemical Technicians help chemists and chemical engineers perform research and test chemicals. They perform tasks like set up and maintain laboratory instruments, prepare chemical solutions, and interpret the results of experiments. Many work in testing laboratories.
Median Salary: $48,160 per year
Job Growth Through 2028: 2%
Typical Entry-level Education: Associate's degree