Top Online Educational Leadership Degree Programs
Get matched to an Educational Leadership Degree Online for FREE!
What Is an Online Educational Leadership Degree Program?
Online Educational Leadership degree programs covers the theory and practice of leading within schools. You'll study what goes into running an educational institution or department. This includes everything from hiring and training teachers to managing budgets.
Leading in a school often calls for business knowledge, like finance. You'll also build on past teaching knowledge and experience. For instance, you could study educational technology or classroom management. In short, you could bring together elements of business leadership and teaching. The goal: to help your school become more effective across the board.
Master's Degrees
Doctorate Degrees
Graduate Certificate
Master of Education in Educational Leadership
Doctor of Education in Organizational Leadership – K-12 Leadership
Graduate Certificate in School Leadership

This program delves into leadership skill areas to guide your school to success. Choose from three concentrations: Teacher Leadership, School Leadership, and School Leadership designed for candidates who wish to pursue principal certification.
This program could help candidates prepare to lead in diverse settings – including departments, schools, and districts. You'll study and apply leadership behaviors and strategies. And, you'll explore the trends, policies, and challenges at play in K-12 education.
This 9-credit program teaches the leadership knowledge needed to solve problems in educational settings. You'll study ethics, contemporary issues, and how to lead in diverse settings.

Principles of Instructional Supervision
School Improvement
Financial Management for Schools

History and Politics of K-12 Education
Strategic Planning and Change

Leadership and Supervision in Education
Contemporary Issues in Educational Policy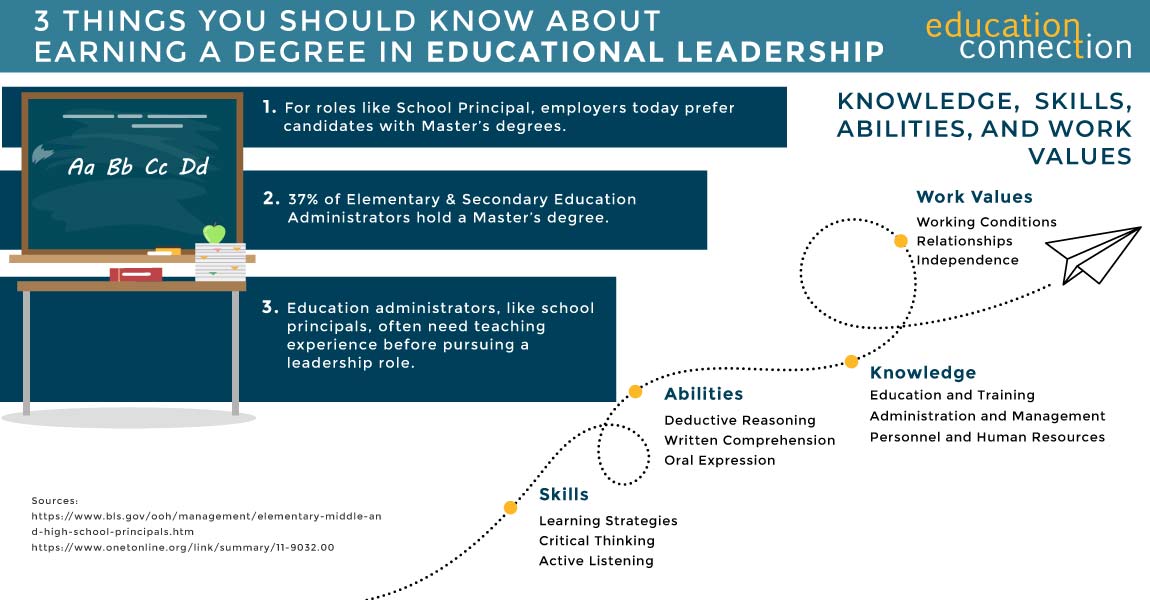 Online Educational Leadership Degree Programs
Educational leadership programs are usually designed to help teachers prepare for new responsibilities. So, they tend to be graduate degrees which builds on past learning and experience. You'll study what it takes to go beyond the classroom and lead a department, school, or district.
 Master's in Education Leadership Programs
At the Master's level, you'll study how to apply organizational leadership concepts to a school setting. For example, you could explore human resources as it applies to faculty and staff. Courses like school law and finance can help you get a handle on running an educational organization from the ground up.
Your program should also touch on elements of teaching and learning. School leaders do more than manage operations. They also play a role in curriculum planning and student performance. So, you could take courses in everything from instructional design to building community relationships fostering student success.
Finally, programs sometimes offer concentrations that could help you prepare for your target career path. These may include principal preparation, teacher leadership, education policy, learning technologies, and more.
Master's in Education Leadership programs may include:
Master of Education (M.Ed.) in Teacher Leadership
Ed. in School Leadership
Master of Science (M.S.) in Education Improvement and Transformation
Master of Arts (M.A.) in Educational Leadership
Doctorate in Education Leadership Programs
PhD or Ed.D in education leadership programs could build on what you learned at the Master's level. Or, you could potentially enter your doctorate program with a Bachelor's. Either way, educational leadership doctoral programs feature advanced coursework and an emphasis on research.
That said, programs may have different focus areas. A PhD in Educational Leadership program may center on solving problems in schools and beyond. You'll study research techniques specific to education. And, you'll delve into new discoveries in an effort to help future education leaders better serve their schools.
On the other hand, Ed.D. in Education Leadership programs take a more practice-based approach. While research is part of the program, you'll focus on applying theory within educational settings. If you're hoping to lead a school or district, pursuing this path may be perfect.
Featured Online Schools
1
Take advantage of some of the nation's most affordable tuition rates, while earning a degree from a private, nonprofit, NEASC accredited university
Qualified students with 2.5 GPA and up may receive up to $20K in grants & scholarships
Multiple term start dates throughout the year. 24/7 online classroom access.
Offering over 200 online degree
Popular Programs
Business Administration, Psychology, Information Technology, Human Services…

2
Ranked #8 by U.S.News & World Report for Best Online Bachelor's Programs
Apply up to 90 transfer credits for bachelor's students, and 9 transfer credits for master's degree students.
CSU Global graduates experience a return on investment of 4:1, which means they receive $4 in salary and benefits for every $1 they invest in their education.
Available Programs
Business, Computer Science, Criminal Justice, IT, Psychology…

3
Save up to 25%. Save thousands on your bachelor's with the Strayer Graduation Fund.
Strayer University is an accredited institution with a proud history of 125 years in quality education.
With the help of dedicated personal support and AI technology, earn your degree online or on campus.
Programs Include
Accounting, Business Administration, Criminal Justice & Information Technology

Sponsored
What Courses Could I Take in an Educational Leadership Degree Program?
Courses typically apply organizational leadership concepts to education. So, you'll study subjects related to how schools run. This includes everything from staffing and operations to curriculum planning.
Beyond the practical side, you could take courses touch on theory, trends, and research. Classes like these could inspire you to solve contemporary challenges in education!
Common Educational Leadership Degree course courses include:
Financial Management for Schools:&nbspEducation leaders must ensure a school runs smoothly with its available resources. A course in financial management covers the essential of planning and preparing a budget…and making it work for your goals!
Theories of Teaching and Learning: &nbspThis course takes a big-picture approach to how learning works. You'll study psychological research and teaching theories that can be applied to learning challenges in your department or school.
School and Community Partnerships: &nbspIt takes a village to ensure learners are successful. This course focuses on nurturing the relationship between your school and its environment. You'll learn how to do a better job connecting with parents, outside organizations, and other learning partners.
School Law and Policy: &nbspThis course covers the legal basis of education. You'll study the foundations of school law and how it impacts policy. And, you'll delve into practical considerations – like common school legal situations and preventive measures.
How Long Does It Take to Earn a Degree in Educational Leadership?
A Master's in education leadership program may take about two years to earn. PhD or Ed.D. programs in educational leadership could take three to five years, or longer. Program length depends on factors like whether you study full time or part time.
Educational Leadership Degrees That Could be Earned in 12 Months
| | | | | |
| --- | --- | --- | --- | --- |
| School | Degree Level | # of Credits | Start Dates | Min Months |
| Western Governors University | Master's | Varies | Multiple | 12 |
| Concordia University | Master's | 30 | Multiple | 12 |
| George Washington University | Post Master's Certificate | 18 | Multiple | 12 |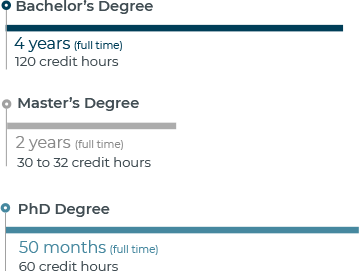 The Cost of Earning an Educational Leadership Degree Program
NCES states  the average annual cost of attending a public, four-year school was $19,189. At private and for-profit schools, the average cost was 39,529. Compare tuition for these schools offering educational leadership programs:
| | | | | |
| --- | --- | --- | --- | --- |
| School | Degree Level | # of Credits Required | Cost Per Credit | Total Tuition Cost |
| Penn State World Campus | Master's | 30 | $903 | $27,090 |
| Colorado Christian University | Master's | 36 | $533 | $19,188 |
| George Mason University | Master's | 30 | $852 (out of state) | $25,560 |
Top Schools That Offer Educational Leadership Online Degree Programs
NCES lists 725 institutions with general educational leadership and administration programs. From those schools, students were awarded 28,849 degrees in 2016 (the most recent data). The most common educational leadership degree awarded was the Master's (65%).
| | | |
| --- | --- | --- |
| School | 2016 Degrees awarded | 2018/19 Graduate Tuition |
| Lamar University | 1,506 | $13,704 (out of state) |
| Liberty University | 722 | $7,904 |
| The College of Saint Rose | 675 | $14,382 |
| Grand Canyon University | 639 | $9,916 |
| American College of Education | 588 | $5,640 |
| Concordia University-Portland | 563 | $20,910 |
| The University of Texas at Arlington | 337 | $18,996 (out of state) |
| Concordia University-Irvine | 314 | $7,774 |
| Western Governors University | 304 | $7,500 |
| University of Phoenix-Arizona | 282 | $16,752 |
| Northern Arizona University | 282 | $19,217 (out of state) |
Choosing an Accredited Program
Graduating from an accredited education leadership program can help you know your education meets the standards in your field. The Council for the Accreditation of Educator Preparation (CAEP) accredits schools that may offer education leadership programs. They may also accredit individual programs.
In any case, look for a college or university that is regionally accredited. The Council for Higher Education Accreditation (CHEA) recognizes seven regionally accrediting organizations. These meet CHEA's expectations for academic quality, improvement, and accountability.
What Can You Do with an Educational Leadership Degree?
The most recent census data says there are over 5 million education degree-holders in the workforce. That number includes educational leadership degree-holders. The average degree-holder in the workforce is 46.2 years old. And, 66.5% of degree-holders were female.
In general, education leadership roles are growing. For example, elementary, middle school, and high school principal jobs are projected to grow 8% by 2026. Openings may depend on factors like state and local budgets. Principals who retire could also open up new hiring opportunities.
At the college level, education leadership occupations may be growing even faster. Increasing enrollment leads to the need for more professionals to serve students. So, postsecondary administrator roles should grow about 10% by 2026.
Top Salaries by State
The table below shows states with the highest employment levels for School Principles.
| | | |
| --- | --- | --- |
| State | Employment | Annual Mean Wage |
| New York | 20,670 | $127,970 |
| New Jersey | 9,050 | $127,570 |
| Connecticut | 3,940 | $127,390 |
| California | 22,950 | $124,500 |
| Washington | 5,330 | $117,190 |
What Kind of Jobs Could You Get With An Educational Leadership Degree?
School Principal
School Principals lead schools at the elementary, middle, or high school levels. They manage faculty and staff, plus oversee the school's budget and operations. They may plan and manage curriculum to reach goals across the school. And, they meet with students (and their parents and teachers) to provide counseling and discipline.
Median Salary: $95,310 per year
Job Growth Through 2026: 8% , which is as fast as average
Entry Level Degree: Master's degree
Superintendent
Superintendents are higher-level education administrators. They are often in charge of several public schools or a school district. So, they play a big-picture role when it comes to everything from academics to school operations. School principals usually report to superintendents.
Median Salary: $95,310 per year
Job Growth Through 2026: 5 to 9% (as fast as avg.)
Typical Entry level Education: Master's degree
Dean
Deans are education administrators usually found in colleges and universities. But, they can be found at other educational institutions, as well. They usually direct a range of activities, from research to instruction. They may also advise students and administrate student activities.
Median Salary: $94,340 per year
Job Growth Through 2026: 10 to 14% (faster than average)
Typical Entry level Education: Master's degree