Online Entrepreneurship Degree Programs
Get matched to an Online Entrepreneurship Degree Program for FREE!
WHAT IS AN ONLINE ENTREPRENEURSHIP DEGREE?
An entrepreneurship degree online program studies general business management models. Then applies them to starting a business from the ground up.
Like business majors, you'll study things like sales, marketing, finance and personnel. But you'll look at them through the eyes of a business owner. Someone who has complete control over how a business operates and grows.
As such, you may graduate knowing how to raise capital, develop a product and market a business. You may also have the skills to manage a team of employees and expand into global markets.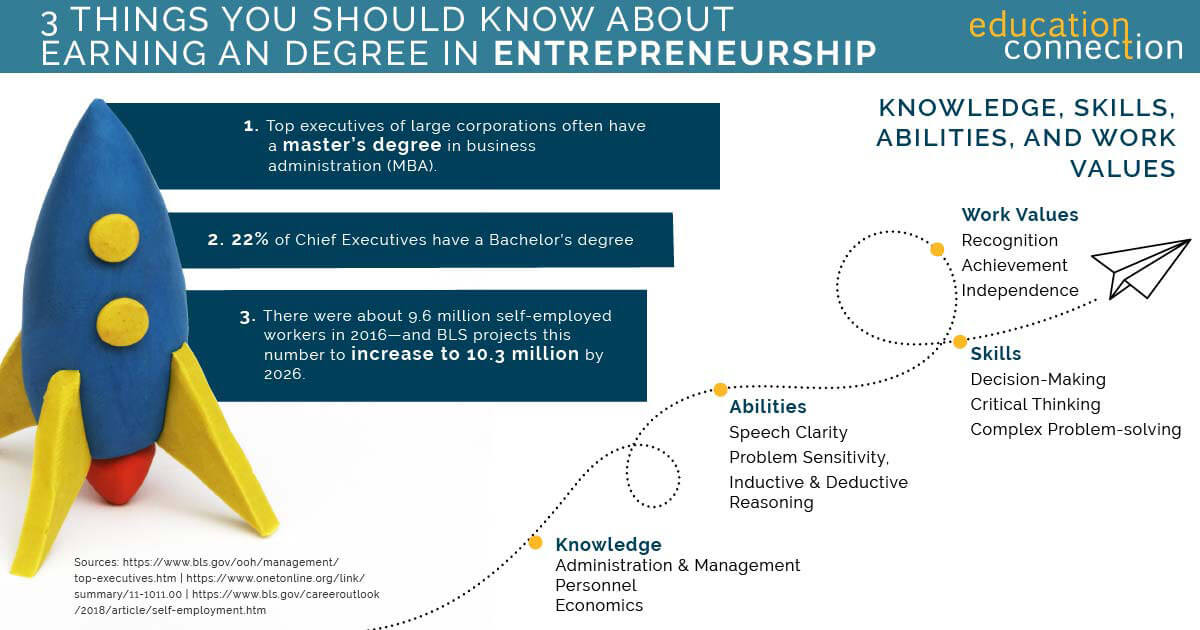 TYPES OF ONLINE ENTREPRENEURSHIP DEGREE PROGRAMS
A.A.S. in Business Administration
This program melds the functional areas of business with strategic planning and analysis. It may help you learn to get a business off the ground.
Course Examples:
Venture Capital and Banking
Microeconomics
Principles of Management
Business Management Bachelor's Degree – Completion Program – Entrepreneurship Specialization
This program focuses on business management. It may help you learn to manage projects, people and portfolios. There is an option to add a concentration in entrepreneurship.
Course Examples:
Accounting for business managers
International Business
New Business Development
Master of Business Administration – Entrepreneurship
This MBA program features a real world curriculum and exposes students to strategic and financial mindied theories to help facilitate entrepreneurship.
Course Examples:
Budgeting
Team Leadership
Contracts and Procurement
ONLINE ENTREPRENEURSHIP DEGREE PROGRAMS
An online entrepreneurship degree program tends to have a business management core. In these courses, you'll learn about the functional areas of business.
Yet other topics may introduce you to what it means to be an entrepreneur. How to harness your vision, create a business plan and get your idea up and running.
Many programs also offer for credit internships and opportunities to build your business network. Or, you may need to submit a final project. These experiences may help you identify opportunity, manage risks and solve problems.
What is the difference between entrepreneurship and business? While many classes overlap, in choosing a program, there are two main options to consider:
Entrepreneurship major – (E.g. Bachelor of Science, Master of Science)
Business administration major with a concentration in entrepreneurship – (E.g. Associate of Business Administration, Bachelor of Business Administration, MBA)
Because your major guides your study plan, you may find it helpful to know a little about these two majors.
THE ENTREPRENEURSHIP MAJOR
A bachelor's degree in entrepreneurship may hone networking and other business skills. The courses may break down what it takes to launch a small venture.
Some of the classes you'll take may cover organizational and operational topics. These examine labor laws. As such, you may learn to negotiate with unions or secure contracts. They may also help you understand workplace behavior and manage staff.
Other classes often get into finance, accounting and other money matters in depth. For instance, you may study the global economy to understand international markets. Such courses usually talk about how to raise capital. Or bootstrap with personal funds. They may also help you measure risk and gauge your competition.
Another aspect of entrepreneurship is planning and strategy. These classes may help you hone instincts as you try to bring new ideas to fruition. In doing so, you may have the opportunity to create a workable blueprint or business plan. You may also take a range of courses in areas like:
Creativity and Innovation
Internet Marketing
Small Business Ventures
Microeconomics
Organizational Ethics
Within an entrepreneurship program, there may be room to pursue a concentration. One possibility is logistics management. This may help you develop skills in analysis. It may also add value if you want to know about transport and distribution costs.
Taking this degree to another level, you may choose to pursue your master's. A Master of Science in Entrepreneurship may help you turn an idea into reality. It may do so through topics like advanced business models, managerial finance and product design.
THE BUSINESS MAJOR
Undergrads who want to get their feet wet in the business sector might start with an associate's degree. An associate's in business administration may cover some of the simpler principles. Things like sales, customer service and practical management.
At the bachelor's level a degree in business may provide an overview of what it takes to succeed as a business manager. This type of program may break down business operations into the day-to-day aspects.
By laying these things out, you may learn to work with people and projects within a business. Along the way, it may show you how to use data to make decisions. In tandem, you'll likely build a deeper understanding of topics such as:
Economics
Accounting
Finance
Marketing
Management
Organizational Leadership
From this base, you'll be able to choose a concentration in entrepreneurship. While only a part of your credits it may cover a few key topics. These may help you think and act like a team leader. Depending on your goals, you may want to apply these skills to a specific industry. One example is sports management.
Taking this degree further, you might pursue a Master of Business Administration. An MBA in Entrepreneurship may help you build a portfolio of consulting skills. You may even create a business plan and submit it to an investor for feedback. Or apply strategic skills to a family-run enterprise.
1
Take advantage of some of the nation's most affordable tuition rates, while earning a degree from a private, nonprofit, NEASC accredited university
Qualified students with 2.5 GPA and up may receive up to $20K in grants & scholarships
Multiple term start dates throughout the year. 24/7 online classroom access.
Popular Programs
Business Administration, Psychology, Information Technology, Human Services…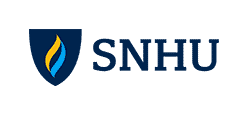 2
Ranked #8 by U.S.News & World Report for Best Online Bachelor's Programs
Apply up to 90 transfer credits for bachelor's students, and 9 transfer credits for master's degree students.
CSU Global graduates experience a return on investment of 4:1, which means they receive $4 in salary and benefits for every $1 they invest in their education.
Available Programs
Business, Computer Science, Criminal Justice, IT, Psychology…

3
Award-winning programs created to help you succeed.
A quality education doesn't have to be expensive. Earn an accredited degree for less.
Programs start monthly – Apply free this week!

Sponsored Schools
WHAT DO ENTREPRENEURSHIP DEGREE COURSES LOOK LIKE?
Some common courses include:
Introduction to Entrepreneurship:&nbspTake a peek at the building blocks of new ventures. You could study the ideas, creativity, and resources that go into start-ups.
Venture Capital:&nbspThis course may focus on the basics of financing a business venture. Through ideas and case studies, you could learn how to raise the funds you need.
E-Business:&nbspA lot of business happens online, and this course may offer a glimpse of how. You may study the role of the internet in commerce, along with digital tools.
Financial Accounting:&nbspIn this course, you could study the role of financial info in business firms. You may learn how to read statements, prepare balance sheets, and more.
Marketing:&nbspDive into the basics of marketing methods and tools. You could study how to analyze the competition, position a company, and more.
Managerial Economics:&nbspThis course may cover how to use economics to make decisions as a manager. You may study a variety of business situations where economics could help.
Operations Management:&nbspTake a close look at business operations – how they work and what role a manager plays. You could learn about quality improvement, managing a team, and other topics.
HOW LONG DOES IT TAKE TO COMPLETE AN ONLINE ENTREPRENEURSHIP DEGREE PROGRAM?
If you pursue a bachelors entrepreneurship degree online and study full time, it may take four years. This is the average time it takes to complete a 120 credit bachelor's degree. An associate degree in entrepreneurship can be earned in as little as two years with only a 60 credit threshold to earn the degree.
A variety of master's and MBA programs follow this principle. They often have transfer policies that credit experience or past education. Usually, as a full time student a grad degree takes about 2 years. But many schools offer accelerated programs which take half the time. In both cases, you should check school policy.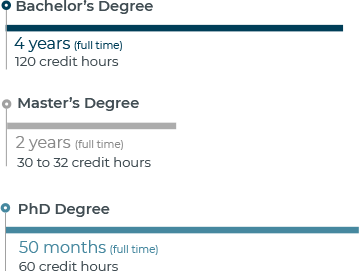 ENTREPRENEURSHIP DEGREE PROGRAM EXAMPLES
| | | | |
| --- | --- | --- | --- |
| School | # of Credits Required | Start Dates | Minimum Months to Complete |
| Ashford University | 120 | Multiple | 208 weeks |
| Rasmussen College | 90 | Multiple | 18 |
| American Intercontinental University | 180 | Multiple | 48 |
THE AVERAGE COST OF AN ENTREPRENEURSHIP DEGREE
On average, an Entrepreneurial Studies degree costs $7,114 per year for in state public colleges. For out of state private colleges, it may cost an average of $34,493 per year.
Since these are norms, you'll find schools that are more affordable and more expensive. Other things that may dip into your wallet are books, technology, and graduation fees. Some schools also charge different rates if you study on a part time basis.
The table below shows how the number of credits you must complete to earn a bachelor's in entrepreneurship and its role in calculating cost.
| | | | |
| --- | --- | --- | --- |
| School | # of Credits Required | Cost Per Credit | Total Tuition Cost |
| Ashford University | 120 | $485 | $58,200 |
| Rasmussen College | 90 | $209 | $53,190 |
| American Intercontinental University | 180 | $400 | $72,000 |
TOP SCHOOLS FOR ENTREPRENEURSHIP DEGREE PROGRAMS
As per DataUSA, the largest share of institutions with Entrepreneurial Studies programs are Public, 2 year institutions. From those schools there were 8,484 degrees in Entrepreneurial Studies awarded to students. The majority of these programs were bachelor's degrees.
| | | |
| --- | --- | --- |
| School | 2021 Degrees awarded | 2022/23 Tuition (out of state unless *) |
| Valencia College | 253 | $9,383 |
| University of Pennsylvania | 204 | $63,452 |
| University of Iowa | 136 | $32,316 |
| Broward College | 149 | $8,952 |
| Indian River State College | 543 | $10,201 |
| Central Michigan University | 74 | $13,650 |
| Florida State College at Jacksonville | 120 | $9,992 |
| CUNY Bernard M Baruch College | 86 | $15,414 |
Estimated for full time, beginning undergrad students
ACCREDITATION FOR ENTREPRENEURSHIP DEGREE PROGRAMS
Regionally accredited colleges offer online entrepreneurship programs. Within these schools some business programs also have approval for their curriculum. For each type of accreditation, an outside agency sets guidelines. It then conducts a review to see if these quality standards are in place.
There are several reasons regional accreditation matters. One is such colleges often have transfer policies between them. You'll also be able to apply for federal financial aid. Plus, these are schools that meet and must maintain standards. These standards speak to things like faculty and student services.
Once accredited, it is up to the institution to apply when the period of approval ends. As a student, you can check the accreditation status of a school on the agency website. The Council for Higher Education Accreditation (CHEA) has this info for institutions. It keeps a database of each regional accreditor and the schools they recognize.
The next level of quality control is for individual business programs. Again, because it is a voluntary process, each school has to apply to an outside agency. Then, it commits to a process of self-study, on-site visitation, and assessment. Three accreditors of business programs are:
Before endorsing a business program an accreditor checks if the curriculum is up-to-date. They'll often want to see that it teaches the skills and knowledge today's employers look for. Also, the school continues to improve per agency guidelines.
This type of accreditation may play a role in the future. For instance, if you want to pursue a masters or MBA. The extra level of recognition may be important to the grad school.
WHAT JOBS CAN YOU GET WITH AN ENTREPRENEURSHIP DEGREE?
Degree programs in entrepreneurship may help students learn more about accounting, ethics, economics, finance, marketing and management. As a result of this kind of education, many entrepreneurship degree graduates go on to start their own business. For some, this means self employment and autonomy. Yet, there are other careers one might pursue with the skills of a self-starter.
Experts tell us that entrepreneurship plays a vital role in the growth of the U.S. economy. With 11.2 million people in the entrepreneurial work force, the number is growing by 3.01%. Of these, there is a higher proportion of men.
Of them, most have a bachelor's degree. Many others hold a masters degree. Over 318,000 have a professional degree. We also know that the average age is 43.7 years and that isn't changing much with time.
TOP SALARIES BY STATE FOR ENTREPRENEURSHIP DEGREE HOLDERS
The following table outlines the states where Chief Executives earn more.
| | | |
| --- | --- | --- |
| State | Employment | Annual Mean Wage |
| South Dakota | 460 | $334,240 |
| New Jersey | 1,200 | $414,350 |
| New York | 4,910 | $324,370 |
| North Carolina | 1,680 | $322,120 |
| Texas | 5,150 | $314,060 |
ENTREPRENEUR CAREER PATHS AND POTENTIAL SALARIES
As you can see, a degree in criminal justice, unlike many other degree programs in related fields, focuses on real world application. Because of this, there is a demand by employers in both the public and private sectors for students with this degree. Students in criminal justice programs study theory at the same time as they gain practical skills. This allows them to hit the ground running when they are able to land their first job.
When you think about a career in criminal justice, you may think of jobs such as police officers or correctional officers. But the career choices don't just stop there. Because the field of criminal justice involves many other areas like business and science, there are many jobs that you can choose to pursue with this degree.
Earning an online criminal justice degree may help you to pursue a career in many areas in the field. Because there are many branches of the justice and law enforcement sectors, the salary and growth projection in this list of criminal justice jobs broadly range from a corrections officer to a lawyer that has passed the bar.
CHIEF EXECUTIVE OFFICERS
Chief Executive Officers (CEOs) are policymakers. Their role is to ensure that private or public enterprises meet goals. As the highest level of managers, they are the ones who plan, direct and guide the operations. They also have titles such as executive director, managing director, or president. Their role is to ensure that private or public enterprises meet goals.
According to 2022 BLS Data:
Median Salary: $122,480 per year
Job Growth Through 2032: 6% (Faster than average)
Typical Entry level Education: Bachelor's degree (or MBA)
TRAINING AND DEVELOPMENT MANAGERS
Training and development managers oversee staff. It is their role to plan, direct, and coordinate programs for their employees. Such activities are key to enhancing the knowledge and skill levels of personnel.
According to 2022 BLS Data:
Median Salary: $120,000 per year
Job Growth Through 2032: 6% (Faster than average)
Typical Entry level Education: Bachelor's degree
SALES MANAGERS
Sales managers oversee sales teams. It is their role to set sales goals and analyze data to see whether a product is selling well. They'll also develop training programs for sales reps and track customer preferences.
According to 2022 BLS Data:
Median Salary: $130,600 per year
Job Growth Through 2032: 4% (As fast as average)
Typical Entry level Education: Bachelor's degree