Top Gerontology Degrees Online in 2019
Get matched to a Gerontology Degree Online Program for FREE!
What is a Gerontology Degree Online Program?
A gerontology degree will prepare you to work with the senior population in various ways. You will learn to analyze aging issues. You will also learn how to help the public with human development issues facing seniors. This is an expanding industry due to the baby boomer generation. Online degree programs range from RNs to nurse practitioners to doctoral degrees. Many degrees are in health and psychology with an emphasis on gerontology.
Bachelor's Degrees
Master's Degrees
Doctorate Degrees
Human Services (BA) – Gerontology Concentration
Gerontology (GRN) MS
PhD Program in Leadership and Gerontology
The Bachelor's in Human Services degree program prepares the graduate to assess the needs of clients and populations and to plan and implement programs and services that will assist in promoting improvement in personal and social functioning.
The master's degree in Gerontology provides students many hands-on and application-oriented activities to maximize understanding of the interconnectedness of the bio-psycho-social-spiritual aspects of aging.
The PhD program in leadership with a specialization in gerontology provides a multidisciplinary framework from which to respond to existing age-related questions, and intensive, in-depth training for those who want unique preparation for leadership roles for addressing issues related to aging.

Perspectives in aging
Aging and wellness
Aging, politics, and Policy

Biology of Aging
Psychology of Aging
Aging in a Diverse Society

The Physiology of Aging
Gerontological Theory
Sociocultural Aspects of Aging
Gerontology Degree Online Programs
Professionals in gerontology generally have already earned their degree of choice and add courses related to aging if they choose to specialize. They may also take these courses while studying for other degrees. There are few schools that offer a gerontology degree, but that number is growing. The three biggest areas are in human services, health sciences, and public health.
Programs for gerontology include Nursing, Human Services, Psychology, Social Work, and Rehabilitation Studies. Also included are Occupational Therapy, Health Service Management, and Community Health Work.
To become a Gerontology Nurse Practitioner (AGNP) requires an advanced degree and training. AGNPs have more independence than RNs. They can work in a variety of settings, including private practices. AGNPs have the ability to prescribe medicines and order diagnostic tests.
Gerontologists are scientists who study the health and social needs of older adults. Some medical doctors and psychologists are also gerontologists. They provide specialized care in hospitals and assisted living facilities. They may also perform and publish studies to help other medical professionals.
Bachelor's in Human Services with a Gerontology Concentration
An online bachelor's degree in human services typically takes 120 credits. The classes will include sociology, ethics, public policy, and case management courses. To these, there will be classes specific to various perspectives on aging.
Those with a bachelor's in human services who specialize in gerontology may find careers as a group home manager, a residential counselor, a case manager, a social services liaison, or a community outreach manager.
Master's in Gerontology
An online master's degree often requires a bachelor's degree plus another 30-36 credits of courses specific to all aspects of aging. Classes can include such courses as biology of aging, psychology of aging, and research methodology.
Those with a master's in gerontology are better prepared to become advocates for the elderly and to hold positions in leadership to improve living conditions for the aging population.
Doctorate in Gerontology
An online PhD will require a master's degree, a writing sample, letters of recommendation, plus an additional 30 credit hours. These additional credit hours will include courses in research, leadership, and classes specific to the field of gerontology.
Those holding a doctorate degree in gerontology may find careers in local and federal government within the aging network established by federal law. Other careers may be in academic or research settings or in healthcare.
Featured Online Schools
1
Take advantage of some of the nation's most affordable tuition rates, while earning a degree from a private, nonprofit, NEASC accredited university
Qualified students with 2.5 GPA and up may receive up to $20K in grants & scholarships
Multiple term start dates throughout the year. 24/7 online classroom access.
Offering over 200 online degree
Popular Programs
Business Administration, Psychology, Information Technology, Human Services…

2
Ranked #8 by U.S.News & World Report for Best Online Bachelor's Programs
Apply up to 90 transfer credits for bachelor's students, and 9 transfer credits for master's degree students.
CSU Global graduates experience a return on investment of 4:1, which means they receive $4 in salary and benefits for every $1 they invest in their education.
Available Programs
Business, Computer Science, Criminal Justice, IT, Psychology…

3
Save up to 25%. Save thousands on your bachelor's with the Strayer Graduation Fund.
Strayer University is an accredited institution with a proud history of 125 years in quality education.
With the help of dedicated personal support and AI technology, earn your degree online or on campus.
Programs Include
Accounting, Business Administration, Criminal Justice & Information Technology

Sponsored
What Do Gerontology Degree Courses Look Like?
A typical program will include varied subject matter that affects seniors. These may include social, health, cultural, ethical, biblical, and economic issues facing seniors. You can also expect to see courses that examine the effect of aging on families and other caregivers. Each individual track will vary depending on the focus of the degree or program.
Introduction to Gerontology:&nbspAn introductory gerontology course gives an overview of the field of gerontology. Students typically learn about major concepts, theories and principles of gerontology.
Aging & Health:&nbspThis type of course examines the health concerns and issues of older persons. It covers physical, mental and emotional health.
Death & Dying:&nbspThis type of course examines the psychosocial aspects of death and dying. Topics may include preparation for death, care of terminally ill patients, grief practices and more.
Ethical & Legal Aspects of Aging:&nbspTypically, this course explores ethical and legal issues that impact older adults. The student may study cases and court decisions.
How Long Does It Take to Earn a Degree in Gerontology?
The length of time it takes to get a gerontology degree will depend on the program. On average, a full-time student may need 4 years to earn a bachelor's degree in gerontology. This can sometimes be completed in two years if you already have an associate degree. Students pursuing a master's degree full-time may need about 2 years. A PhD program will take about 4 years to complete.
Gerontology Degrees That Could be Completed in 48 Months to Complete
| | | | | |
| --- | --- | --- | --- | --- |
| School | Degree Level | # of Credits Required | Start Dates | Minimum Months to Complete |
| Ashford University | Bachelors | 120 | Multiple | 48 |
| Southern New Hampshire University | Bachelors | 120 | Multiple | 48 |
| Park University | Bachelors | 120 | Multiple | 48 |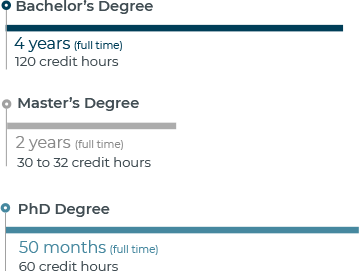 The Cost of a Gerontology Degree Program
The cost of an online gerontology degree depends on the college chosen, the number of credits required, and whether you qualify for tuition discounts. Tuition may be lower if you qualify for in-state tuition or military discounts.
| | | | | |
| --- | --- | --- | --- | --- |
| School | Degree Level | # of Credits Required | Cost Per Credit | Total Tuition Cost |
| Ashford University | Bachelors | 120 | $485 | $58,200 |
| Southern New Hampshire University | Bachelors | 120 | $320 | $38,400 |
| Park University | Bachelors | 120 | $415 | $49,800 |
Top Schools that Offer Gerontology Degree Programs
According to the NCES, there were 864 schools that offer gerontology degrees or programs.  From those schools there were 1,451 gerontology degrees or programs awarded to students. 32.6 percent of these programs were master's.
| | | |
| --- | --- | --- |
| School | 2016 Grads total/degrees awarded | Tuition (Out of State) |
| University of Southern California | 116 | $51.400 |
| Portland Community College | 92 | $8,140 |
| University of Massachusetts-Boston | 65 | $31,700 |
| California State University – Sacramento | 63 | $16,600 |
| Stark State College | 46 | $5,900 |
| Wisconsin Indianhead Technical College | 45 | $6,260 |
| Brenau University | 39 | $26,800 |
Choosing an Accredited Gerontology Degree Program
Choosing an accredited gerontology degree program is important because it helps to show that the school meets quality standards. Employers often need applicants that have a degree from an accredited school or program.
To see if a school is current on accreditation, you can visit the Database of Accredited Postsecondary Institutions and Programs (DAPIP).
What Can You Do With a Gerontology Degree?
In 2017, there were over 860,000 people working in careers involving gerontology and this is currently growing by 6.62%. This includes many different specialized career fields. Women are more likely to hold degrees and the average age of degree holders is 41.
Top Salaries by State for a Medical and Health Services Manager
| | | |
| --- | --- | --- |
| State | Employment | Annual Mean Wage |
| California | 34,510 | $125,770 |
| Texas | 30,010 | $105,450 |
| New York | 25,830 | $143,030 |
| Pennsylvania | 16,410 | $97,310 |
| Massachusetts | 15,380 | $133,900 |
Jobs with a Gerontology Degree
Healthcare Social Worker
Social workers help others cope with issues in their lives. Healthcare social workers help people and families dealing with chronic, acute, or terminal illnesses.
Median Salary: $58,470
Job growth through 2026: 16% (Much faster than average)
Typical entry-level education: Bachelor's degree
Medical and Health Services Managers
Medical and Health Services Managers can also be healthcare executives or healthcare administrators. They may manage an entire healthcare facility, a specific department, or even a medical practice.
Median Salary: $99,730
Job growth through 2026: 20% (Much faster than average)
Typical entry-level education: Bachelor's degree
Social and Human Service Assistants
Social and human service assistants provide support for families in a wide variety of fields, such as psychology, rehabilitation, and social work. They may assist others, such as social workers.
Median Salary: $33,750
Job growth through 2026: 16% (Much faster than average)
Typical entry-level education: High school diploma and on the job training