Gerontology Degree Online
Get matched to a Gerontology Degree Online Program for FREE!
What is a Gerontology Degree Online Program?
Perhaps you have heard of a gerontology degrees online program. Maybe, you don't know what it is? Let's get you updated. You probably know that the aging population is in increasing need of care. As such, a gerontology degree will prepare you to work with the senior population. This can be very rewarding for you. You could use the skills you gain from your program in various ways. You will cover several issues in your program. For example, you will learn to analyze basic aging issues. Then, you will learn how to help the public understand those issues. So, you can have a role teaching others about the human development issues facing seniors.
If you enter this field, you will find it to be an expanding industry. As you can gather, this is due to the baby boomer generation. Wondering if this path suits you? Read on to see if you are you interested in pursuing an online degree. You can ask yourself some questions first. Do you have flexibility or do you have a specific interest? You will find these programs range from RNs to  NP degrees. You can also pursue a Ph.D. degree. In addition, you will see degrees in health and psychology. In this case, you can focus on gerontology within your course work.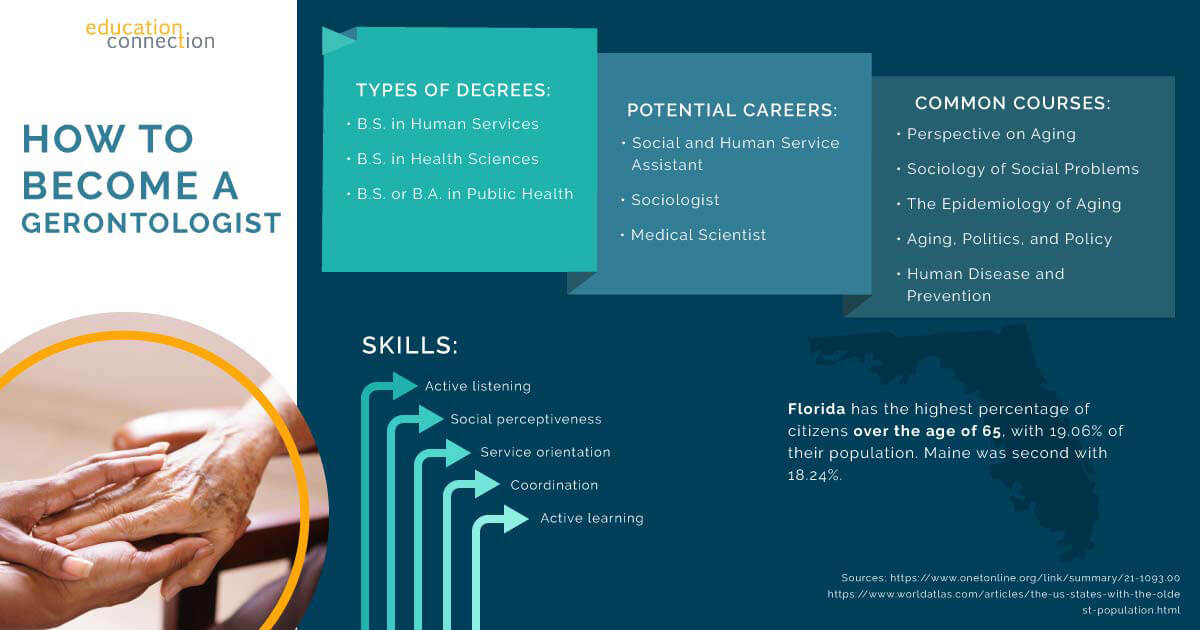 TYPES OF GERONOLOGY DEGREE PROGRAMS
Human Services (B.A.) Gerontology Concentration
In a B.A. in Human Services degree program, you will learn to assess the needs of your clients. You could also focus on the needs of different populations or groups. You will learn to plan and implement programs and services. The services you provide assist in promoting improvement in your clients' personal functioning. You could also help them socially.
Course Examples:
Perspectives in aging
Aging and wellness
Aging, politics, and Policy
Gerontology (GRN) M.S.
An M.S. degree in Gerontology provides you with hands on action. You would take on application oriented activities. This is so you can maximize your understanding of aging. As such, you will study the inter connectedness of aging. As such, you would look at the biological and psychological aspects of aging. And, you could examine the spiritual side, too.
Course Examples:
Biology of Aging
Psychology of Aging
Aging in a Diverse Society
Ph.D. Program in Leadership and Gerontology
In a Ph.D. program in leadership with a specialization in gerontology, you will cover a multidisciplinary framework of studies. So, you can learn how to respond to existing age related questions. You will have intensive, in depth training. This will uniquely prepare you for leadership roles. You will train and prepare to address issues related to aging.
Course Examples:
The Physiology of Aging
Gerontological Theory
Sociocultural Aspects of Aging
Gerontology Degree Online Programs
Are you interested in pursuing a gerontology degree online program? Well, if so, you likely will have already earned your degree of choice. In this case, if you choose to specialize, you can add courses related to aging. You could also take these courses while you study for other degrees. There are only a few schools that will offer you a gerontology degree alone. However, you should know, that number is growing. The three biggest areas where you will find gerontology degree programs are: human services, health sciences, and public health.
In addition, you can find programs for gerontology within Nursing. You can study gerontology in the Human Services field as well. Or, if you are interested in Psychology, you can study it through there. The same goes for you if you pursue Social Work. You can find more gerontology programs in Rehabilitation Studies and Occupational Therapy. And, you can even find the gerontology focus in Health Service Management and Community Health Work programs.
Are you wondering what you really do as a Gerontologist? Well, let's break it down for you. You are essentially a scientist who studies the health and social needs of older adults. Does that sound interesting to you? Did you know, you will often see that some medical doctors and psychologists are also gerontologists? You will find they provide specialized care in both hospitals and assisted living facilities. As a gerontologist, you would also perform studies to help other medical professionals. You could also publish those studies.
B.A. in Human Services with a Gerontology Concentration
If you pursue an online B.A. degree in human services, it will typically take you 120 credits to earn. Your classes will include subjects such as sociology and ethics. You could also study public policy. You can take on case management courses as well. Along with these, you could take classes specific to various perspectives on aging.
If you have a B.A. in human services and you specialize in gerontology, you may find a variety of careers available to you. For example, you could work as a group home manager. Or, you could work as a residential counselor. You could take on a case manager role. Additionally, you could serve as a social services liaison, or you can become a community outreach manager. There are a lot of paths available to you.
M.S. in Gerontology
If you pursue an online M.S. degree, then you will often be required to have a B.A. degree already. Additionally, you will need another 30 to 36 credits. Your courses could be specific to all aspects of aging. You can choose courses such as the biology of aging, and the psychology of aging. You could also study research methodology.
If you have an M.S. degree in gerontology, then you are better prepared to become an advocate for the elderly. You are also better prepared to hold positions in leadership. As such, you are more equip to improve the living conditions for the aging population.
To become a Gerontology Nurse Practitioner (AGNP), you will need an advanced degree and training. As an AGNP, you would have more independence than an RN. And, as an AGNP, you can work in a variety of settings. You could even set up your own private practice. As an AGNP, you also have the ability to prescribe medicines to your patients. In addition, you can order diagnostic tests for your patients.
Ph.D. in Gerontology
If you pursue an online Ph.D., then more will be required of you, as you may gather. Firstly, you will need an M.S. degree. Additionally, you will need a writing sample, and letters of recommendation. You will also need an additional 30 credit hours. Your credit hours will include your courses in research, and leadership. Plus, you could take other classes specific to the field of gerontology.
Holding a Ph.D. in gerontology may help you find careers in your local and federal government. You could work within the aging network established by federal law. Or, you could pursue careers in academic or research settings. And, you could work in healthcare.
1
Take advantage of some of the nation's most affordable tuition rates, while earning a degree from a private, nonprofit, NEASC accredited university
Qualified students with 2.5 GPA and up may receive up to $20K in grants & scholarships
Multiple term start dates throughout the year. 24/7 online classroom access.
Popular Programs
Business Administration, Psychology, Information Technology, Human Services…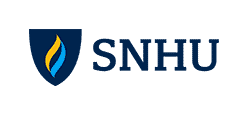 2
Ranked #8 by U.S.News & World Report for Best Online Bachelor's Programs
Apply up to 90 transfer credits for bachelor's students, and 9 transfer credits for master's degree students.
CSU Global graduates experience a return on investment of 4:1, which means they receive $4 in salary and benefits for every $1 they invest in their education.
Available Programs
Business, Computer Science, Criminal Justice, IT, Psychology…

3
Award-winning programs created to help you succeed.
A quality education doesn't have to be expensive. Earn an accredited degree for less.
Programs start monthly – Apply free this week!

Sponsored Schools
What Do Gerontology Degree Courses Look Like?
What, you may wonder, will you study in your program? Well, in a typical gerontology degree program, you will study the varied subject matter that affects seniors. So, you could study the social, health and cultural issues affecting seniors. You could also dive into the ethical, biblical, and economic factors facing seniors. You can expect your courses to examine the effect of aging on families. And, you will learn how that affects other caregivers. You will find that each individual track will vary depending on your focus.  Do you have a focus in mind? You could design your degree or program to suit your interests.
Sample Courses:
Introduction to Gerontology:&nbspAn introductory gerontology course will give you an overview of the field of gerontology. Students typically learn about major concepts, theories and principles of gerontology.
Aging & Health:&nbspIn this type of course, you will examine the health concerns and issues of older persons. It covers physical, mental and emotional health.
Death & Dying:&nbspIn this type of course you examine the psychosocial aspects of death and dying. Topics may include preparation for death, care of terminally ill patients, grief practices and more.
Ethical & Legal Aspects of Aging:&nbspTypically, in this this course you will explore ethical and legal issues that impact older adults. The student may study cases and court decisions.
How Long Does It Take You to Earn a Degree in Gerontology?
So, are you wondering what kind of commitment you need to earn a gerontology degree online? Well, the length of time it takes you will depend on the program you choose. If you are a full time student, you may need 4 years to earn a B.A. degree in gerontology. You could sometimes complete it in two years if you already have an A.S. degree. If you are pursuing a n M.S. degree full time, you may need about 2 years. A Ph.D. program, meanwhile, will take you about 4 years to complete.
Gerontology Degrees That Could be Completed in 48 Months to Complete
| | | | |
| --- | --- | --- | --- |
| School | Degree Level | # of Credits Required | Min Months to Complete |
| Ashford University | B.A. | 120 | 48 |
| Southern New Hampshire University | B.A. | 120 | 48 |
| Park University | B.A. | 120 | 48 |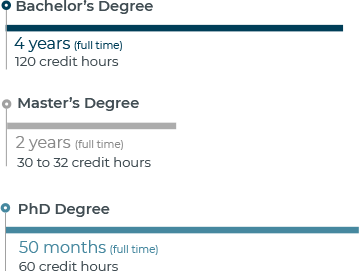 How Much Does a Gerontology Degree Program Cost You?
What you pay for your online gerontology degree depends on the college you choose. It will also depend on the number of credits required of you. Additionally, you can check whether you qualify for tuition discounts. Your tuition may be lower if you qualify for in state tuition. You could also be eligible for military discounts.
| | | | | |
| --- | --- | --- | --- | --- |
| School | Degree Level | # of Credits Required | Cost Per Credit | Total Tuition Cost |
| Ashford University | B.A. | 120 | $485 | $58,200 |
| Southern New Hampshire University | B.A. | 120 | $320 | $38,400 |
| Park University | B.A. | 120 | $415 | $49,800 |
Top Schools that Offer Gerontology Degree Programs
According to the DataUSA, you can find 189 schools that offer gerontology degrees or programs.  From those schools, you will see, there were 1,234 gerontology degrees or programs awarded to students.
| | | |
| --- | --- | --- |
| School | 2021 Degrees Awarded | 2022/23 Tuition (Out of State unless *) |
| University of Southern California | 157 | $64,726* |
| California State University Sacramento | 65 | $19,364 |
| Portland Community College | 43 | $9,670 |
| Stark State College | 35 | $7,644 |
| University of Massachusetts Boston | 24 | $36,105 |
| University of Nebraska at Omaha | 33 | $21,718 |
How Do You Choose an Accredited Gerontology Degree Program?
So, how important is it for you to choose an accredited gerontology degree program? Well, it is very smart for you to choose one. This is because it helps you in your career. You see, if you can show that your school meets quality standards, you will be better evaluated by employers. Also, you should know, employers often require you to have a degree from an accredited school or program.
Do you want to see if your school is current on accreditation? Well, you can visit the Database of Accredited Postsecondary Institutions and Programs (DAPIP) where you can find out.
What Can You Do With a Gerontology Degree?
As of 2021, you will find there were over 902,496 people working in careers involving gerontology. Did you know this number is currently growing by 4.61%. You will find many different specialized career fields under this umbrella. You will also see that women are more likely to hold gerontology degrees. The average age of a degree holder, you will find, is 41.7.
| | | |
| --- | --- | --- |
| State | Employment | Annual Mean Wage |
| D.C. | 880 | $60,930 |
| CA | 58,040 | $48,740 |
| AK | 1,320 | $45,430 |
| NJ | 21,030 | $45,190 |
| WA | 6,920 | $45,040 |
What Jobs Can You Get with a Gerontology Degree?
Healthcare Social Worker
As a healthcare social worker, your role would involve utilizing a variety of skills to assist individuals in coping with life challenges. Primarily, you would provide support to people and their families navigating chronic issues, addressing situations such as acute or terminal illnesses.
According to 2022 BLS Data:
Median Salary: $60,280
Job growth through 2032: 16% (Much faster than avg.)
Entry level education: B.A. degree
Medical and Health Services Managers
As a Medical and Health Services Manager, you qualify for higher-level roles, such as healthcare executive or administrator. These positions may involve managing an entire healthcare facility, overseeing specific departments, or even running a medical practice.
According to 2022 BLS Data:
Median Salary: $104,830
Job growth through 2032: 28% (Much faster than average)
Entry level education: B.A. degree
Social and Human Service Assistants
If you work as a social and human service assistant, your role involves providing support to families across various fields, including psychology, rehabilitation, and social work. In social work, you may assist other professionals in their tasks.
According to 2022 BLS Data:
Median Salary: $38,520
Job growth through 2032: 9% (Much faster than average)
Entry level education: H.S. diploma and on the job training