Hospitality Management Degree Online
Get matched to a Hospitality Management Degree Online Program for FREE!
What is a Hospitality Management Degree Online Program?
Hospitality management degree online programs study the business side of four sectors. These are travel, tourism, food and drink, leisure and lodging. While covering managerial topics, they also focus on ways to make guests feel welcome.
There are online hospitality management degree programs at all levels. From associate's and bachelor's degrees to masters and PhDs. Degrees conferred in this field may go by other names, like hotel management. A common thread is how to oversee events, lead people and budget within a hospitality setting.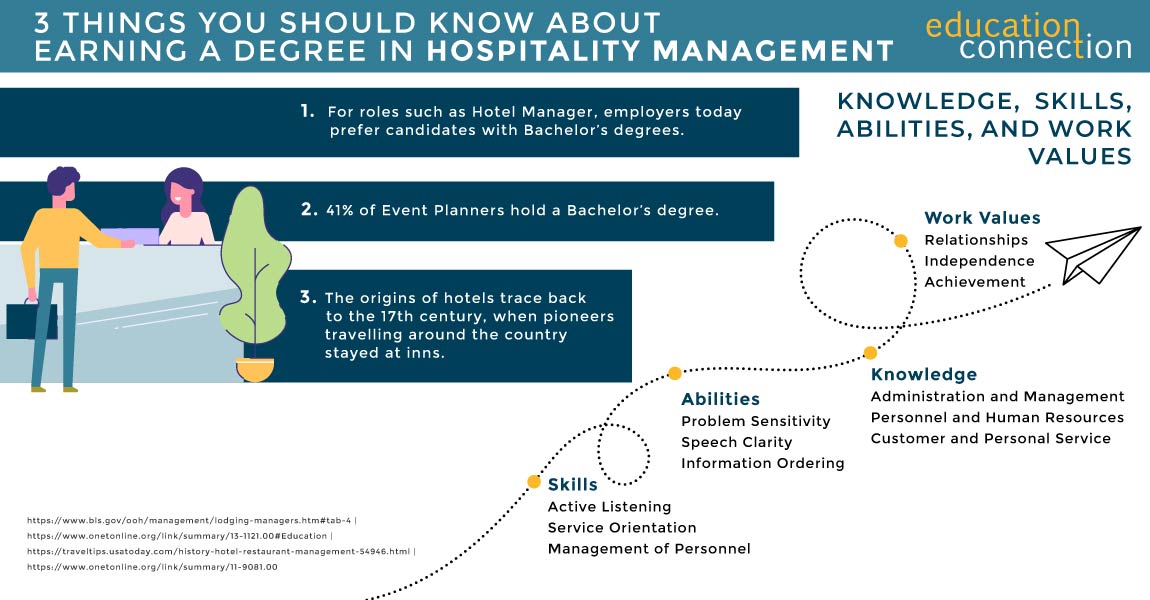 TYPES OF HOSPITALITY MANAGEMENT DEGREES
Associate of Applied Science (AAS) in Business Administration – Hospitality Management
This program features a business core. As such, it covers key areas of management for day-to-day operations. You'll also take electives in hospitality management to better understand industry software, client care and trouble-shooting.
Course Examples:
Accounting
Finance
Marketing
Bachelor of Science in Hospitality Management
This program blends classes with hands-on internship experiences. While covering business topics, it also delves into areas such as customer service, data analysis and operations.
Course Examples:
Intro to hospitality
Food and beverage service management
Human resources
Master of Science in Sport Management: Sport Tourism & Hospitality Management
This program covers key marketing and business principles. You'll also study topics that relate to leadership. This includes ways to manage sport facilities, sport events, and sport sales.
Course Examples:
Sport sponsorship and marketing
Financial management in the sports industry
Sport recreation, tourism, law
Hospitality Management Degree Online Programs
In general, there are two kinds of online hospitality degree programs. One type covers a broad set of business and managerial concepts. Then stacks a handful of hospitality courses as a concentration. Another type focuses on a sector of hospitality (like hotel management), covering it in depth.
Associate in Hospitality Management
A hospitality management associate degree program often sets people up with basic skills. Classes may cover human resources, marketing, sales and finance. While studying these areas, you'll likely learn key service concepts. You may also learn how to use industry software and develop solid work habits. These topics may be useful to begin a career in the hospitality or management fields.
Bachelor's in Hospitality Management
A hospitality management bachelor's degree program often covers an array of topics. Classes may take a deep look at what it takes to oversee the administrative tasks of a hotel, casino or resort. This often means learning to make decisions using data and critical thinking. You may also study how to manage staff, meetings, events, regulatory issues and clients. Grads may have the skills to enter a wide range of managerial career paths.
Master's in Hospitality Management
A hospitality management master's degree program often focuses on how to lead. Classes may emphasize strategy to generate revenue or build a brand. A common type of program is a Master of Science in Hospitality and Tourism Management (HTM). It is a business-focused hospitality degree. The aim is to help managers with HTM industry experience rise to new levels.
1
Take advantage of some of the nation's most affordable tuition rates, while earning a degree from a private, nonprofit, NEASC accredited university
Qualified students with 2.5 GPA and up may receive up to $20K in grants & scholarships
Multiple term start dates throughout the year. 24/7 online classroom access.
Popular Programs
Business Administration, Psychology, Information Technology, Human Services…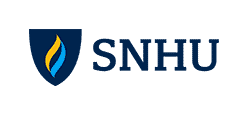 2
Ranked #8 by U.S.News & World Report for Best Online Bachelor's Programs
Apply up to 90 transfer credits for bachelor's students, and 9 transfer credits for master's degree students.
CSU Global graduates experience a return on investment of 4:1, which means they receive $4 in salary and benefits for every $1 they invest in their education.
Available Programs
Business, Computer Science, Criminal Justice, IT, Psychology…

3
Experience a Purdue Global undergraduate program for an introductory 3-week period. There's no financial obligation beyond the application fee
Apply eligible work experience and prior college credits toward up to 75% of your undergraduate degree.
More than 175 programs at associate's, bachelor's, master's and doctoral levels.
Programs Include
Business, Cyber Security, Psychology, IT, Nursing, Criminal Justice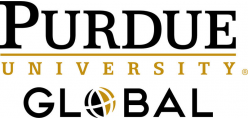 Sponsored Schools
What classes are required for hospitality management?
As you can tell, there are different kinds of online hospitality management degree programs available. This means, the classes you take will depend as much on your program level (Associate, Bachelor, Master) as it will on the program's focus.
Basics of Hospitality: &nbspThis type of class may survey all the sectors that make up the hospitality and tourism industry. Students may learn key concepts and practices for a wide range of services. Hotels, restaurants, theme parks, gaming, clubs, cruises, event planning and more.
Food and Beverage Management:&nbspThis type of course looks at how to plan, organize and oversee a food service business. Students may how to buy wines, beers and spirits, keep an inventory and manage the accounting.
Resort Management: &nbspThis type of course looks at operation in the context of ski, golf, gaming, and other types of resorts. Apart from key managerial concepts, one often studies marketing and operations.
Event, Meeting and Conference Management: &nbspThis type of course may focus on the strategy and logistics of running organized events. Students may learn about ADA and other laws and regulations. Side topics often cover labor planning and how to negotiate contracts.
How Long Does It Take to earn a Degree in Hospitality Management?
The time it takes to earn a degree in hospitality management depends on several things. One is the program level. Another is your course load (part time or full time).
In general, it takes about 2 years to earn an associate degree in hospitality management. Some students may use these credits to shave time of a bachelor's program. Otherwise, the usual time to complete a BS in hospitality management is four years. If you study to earn a master's degree in hospitality management, it may take an extra two years.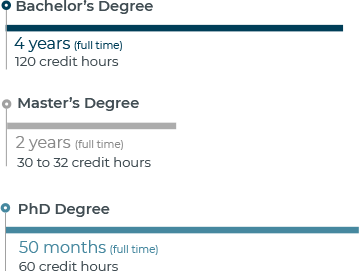 Hospitality Management Degrees Program Examples
| | | | | |
| --- | --- | --- | --- | --- |
| School | Degree Level | # of Credits Required | Start Dates | Minimum Months to Complete |
| American Intercontinental University | Bachelors | 180 | Multiple | 12-24 |
| Grand Canyon University | Bachelors | 120 | 6 | 48 |
| Ashford University | Bachelors | 120 | Multiple | 48 |
The Cost of a Hospitality Management online program
Tuition costs for Hospitality Management majors are, on average, $6,062 for in state public colleges, and $28,035 for out of state private colleges.
One also needs to factor in extra fees and course materials.
| | | | | |
| --- | --- | --- | --- | --- |
| School | Degree Level | # of Credits Required | Cost Per Credit | Total Tuition Cost |
| American Intercontinental University | Bachelor's | 180 | $297 | $53,460 |
| Grand Canyon University | Bachelor's | 120 | $470 | $56,400 |
| Ashford University | Bachelor's | 120 | $485 | $58,200 |
Top Schools that offer Online Hospitality Management degree programs
According to the NCES, there were 434 schools that offer hospitality management degrees or programs.  From those schools there were 11,586 hospitality management degrees or programs awarded to students. The majority of these programs were bachelor's degrees.
| | | |
| --- | --- | --- |
| School | 2017 Grad degrees awarded | 2019/20 Tuition (Out of State unless *) |
| Florida International University | 787 | $18,963 |
| University of Nevada Las Vegas | 585 | $23,342 |
| University of Central Florida | 544 | $22,467 |
| California State Polytechnic University Pomona | 391 | $19,276 |
| Ivy Tech Community College | 360 | $8,661 |
| Northern Arizona University | 269 | $26,516 |
| Michigan State University | 268 | $39,766 |
| CUNY New York City College of Technology | 257 | $15,270 |
| Washington State University | 233 | $26,419 |
| Sinclair Community College | 198 | $7,356 |
Choosing an Accredited Online Hospitality Management Degree Program
Many colleges with regional accreditation offer online hospitality management degree programs. Studying at one of these schools means you may be able to apply for financial aid. It also means the school meets or exceeds educational quality standards.
Some individual programs within these schools may have another level of approval. This level allows the program to examine itself in relation to a specific set of standards. In the hospitality sector, there is an agency involved in this process. The Accreditation Commission for Programs in Hospitality Administration (ACPHA).
ACPHA grants accreditation to schools that follow their guidelines. These speak to ethical practices and delivering quality experiences to guests. Their approval lasts for a period of seven years. After that, the program must undergo another self study. This allows it to stay abreast of industry changes and update the courses to reflect trends.
| | | |
| --- | --- | --- |
| State | Employment | Annual Mean Wage* |
| District of Columbia | 150 | $119,460 |
| Hawaii | 450 | $92,190 |
| North Carolina | -8 | $90,070 |
| New York | 780 | $86,200 |
| New Jersey | 520 | $84,420 |
Jobs with a Hospitality Degree
A hospitality management degree may set you up for success in a wide range of potential careers.
Hotel Manager
Hotel managers ensure a hotel is welcoming for guests on vacation. They also have to run a tight operation that makes a profit by building repeat business. Other duties reflect the size of the hotel and extent of its amenities. For instance, larger hotel chains may have many departments (housekeeping, reception) and layers of management.
According to 2020 BLS Data:
Median Salary: $54,430 per year
Job growth through 2029: -12% (Decline)
Typical Entry level education: Bachelor's degree
Senior Event Planner
Senior event planners handle the logistics of meetings, conferences and parties. Some focus only on weddings. But many organize details for banquets, charity races and food drives. This often means picking the place, arranging transport, and handling the finances.
According to 2020 BLS Data:
Median Salary: $50,600 per year
Job growth through 2029: 8% (Much faster than average)
Typical Entry-level education: Bachelor's degree
Food and Beverage Director
Food and beverage directors handle all aspects of running a restaurant. Or any place (like a club, casino) that serves food and drinks. In part, their role is to ensure customers have fun and leave satisfied. Behind-the-scenes, they deal with employees, schedules, inventory and food safety among other duties.
According to 2020 BLS Data:
Median Salary: $23,000 per year
Job growth through 2029: 10% (Much faster than average)
Typical Entry-level education: Bachelor's degree