Top Accredited Online International Business Degree Programs
Get matched to an Online International Business Degree Program for FREE!
WHAT IS AN Online INTERNATIONAL BUSINESS DEGREE?

An international business degree studies how a business operates. Then applies these key functions to the global market place.

Most programs touch on topics from management, finance, and a foreign language. As a result, graduates may have the skills to do business with companies, banks and people from all over.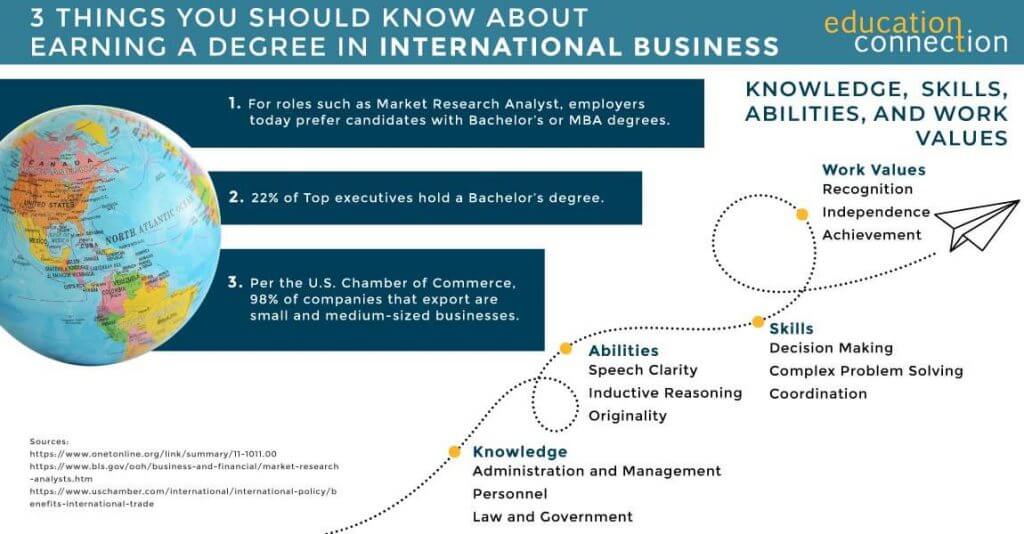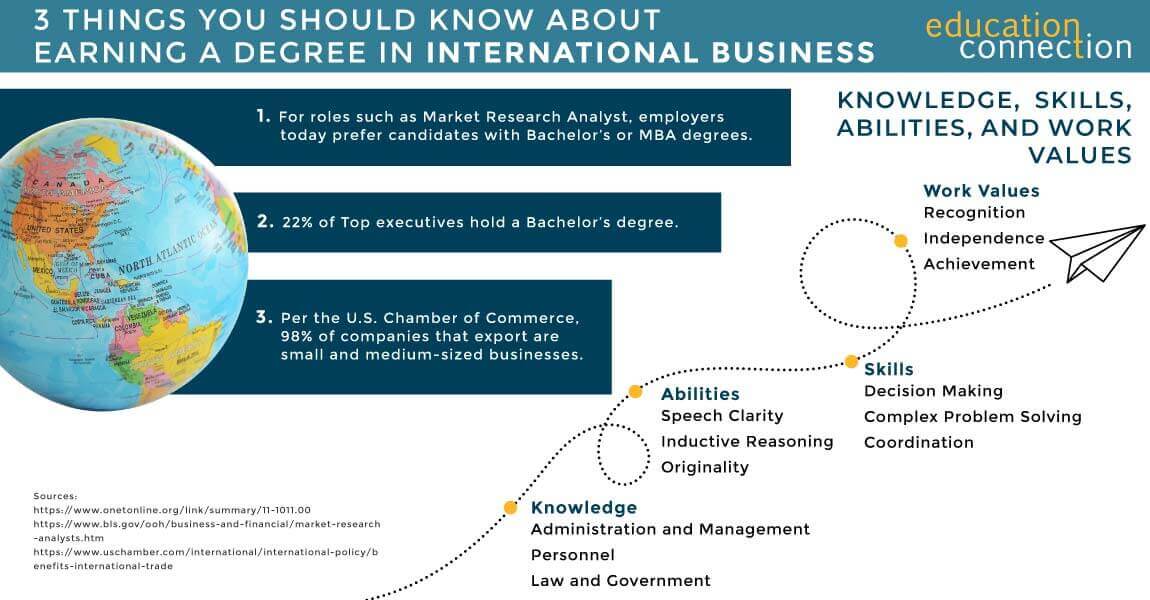 ASSOCIATE DEGREES
Associate of Science in International Business
---
This program blends business, political science and finance courses and the ethical impact of international business. It may help you understand basic business practices and may prepare you for an entry-level career in global firms
---
International Marketing
International Economics
Intercultural Communication
BACHELOR'S DEGREES
Bachelor of Science (BSBA) in Business Administration – International Business
---
This program has a business and management core. It may help you understand these areas yet prepare for the global economy. Some courses touch on themes like cross-cultural communication and global negotiation. While others discuss trade law and leadership for virtual teams.
---
Global Managerial Economics
Financial Statement Analysis
International Business Practices
MASTER'S DEGREES
MASTER OF BUSINESS ADMINISTRATION: INTERNATIONAL BUSINESS
---
This specialization focuses on international law, economics, marketing, TQM in International Business, and strategic management to prepare individuals as leaders and managers in the international context.
---
International Business Finance
Human Resources Administration
Leadership and Management
Online INTERNATIONAL BUSINESS DEGREE PROGRAMS

A typical international business degree is a 120-credit bachelor's degree. It consists of general and core courses, as well as some type of capstone. Even if you pursue your degree online, there may also be an opportunity to study abroad.

Most course plans include topics from different disciplines. One is business and management. Topics in this area may explain how to market a product to other countries. Or the logistics of international trade.

Another area you are likely to study is international finance. These classes may discuss investments, tariffs and interest rates. They may help you learn to assess risks and profit margins.

Along the way, you'll often study wider contexts for these issues. Things like global economics and comparative politics. You may have to learn a foreign language too.

Yet other courses may speak to ethics, laws and conduct. For instance, how to interact with virtual teams. In fact, you may also find classes in cross-cultural communication and global negotiation.

Apart from your classes, you may have the opportunity to build a wide range of skills. These may improve your ability to write and make effective presentations. Though others are more about decision making. For instance, how to assess risk, analyze data and come up with tactical plans.

What International Business Degree Courses May I Take?

As you can see, there are different kinds of online international business programs available. This means your classes will depend as much on your program's level (Associate, Bachelor, Master, MBA, Ph.D.) as it will on a program's focus. Below is a sample curriculum with some examples of course descriptions and program names. You can use them to see where your interests lie.
International Marketing: This type of class examines how business markets products and services worldwide. It may also discuss domestic strategies and how to adapt them. This may mean studying how economics, politics and culture impact campaigns.
International Finance: This type of class often explores the world of corporate finance and investments. It may highlight things like how to figure out exchange rates and risks. Other topics may also relate to international money markets, banking and financing.
International Business Communications: This class may teach students how to effectively communicate across cultures by learning to address political, economic, social, cultural and military concerns of the local populations during business campaigns.
International Economics: This type of class often looks at key economic variables that affect firms. These might cover things like GDP, inflation, interest and exchange rates. Other topics may cover international trade and regional issues in the global economy.
Featured Online Schools
1
Southern New Hampshire University
Take advantage of some of the nation's most affordable tuition rates, while earning a degree from a private, nonprofit, NEASC accredited university
Qualified students with 2.5 GPA and up may receive up to $20K in grants & scholarships
Multiple term start dates throughout the year. 24/7 online classroom access.
Offering over 200 online degrees
Popular Online Programs
Business Administration, Psychology, Information Technology, Human Services…
2
Purdue Global University
Experience world-class education online with more than 175 programs at associate's, bachelor's, master's and doctoral levels.
Competency-based ExcelTrack™ Programs may allow you to earn your degree faster and for less money
Courses taught by highly respected faculty members who are experts in their fields
Full range of student services including no cost tutoring in math, science and writing
Available Online Programs
Business, Analytics, Computer Science, Cyber Security, Healthcare Management, RN to BSN, Criminal Justice, Psychology

3
Colorado State University
Ranked #8 by U.S.News & World Report for Best Online Bachelor's Programs
Apply up to 90 transfer credits for bachelor's students, and 9 transfer credits for master's degree students.
CSU Global graduates experience a return on investment of 4:1, which means they receive $4 in salary and benefits for every $1 they invest in their education.
Online Programs Include:
Accounting, Business Administration, Criminal Justice, Psychology & Information Technology

Sponsored
How Long Does It Take to earn an International Business Degree?

A full-time student may need up to four years to earn an international business degree. If you go further, Masters and MBA programs usually take from one to two years. For doctoral programs like the DBA, it may take from three to six years.
Having transfer credits to apply to your degree can shorten the time to completion. Many online schools also offer accelerated programs. These may allow you to take a full course load with no summer breaks.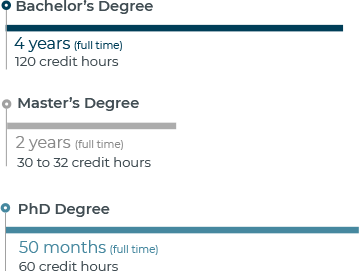 INTERNATIONAL BUSINESS DEGREES THAT COULD BE COMPLETED IN 208 WEEKS
| SCHOOL | DEGREE LEVEL | # OF CREDITS REQUIRED | START DATES | MINIMUM MONTHS TO COMPLETE |
| --- | --- | --- | --- | --- |
| Ashford University | Bachelors | 120 | Multiple | 208 |
| Colorado Technical University | Bachelors | 180 | May, July, August | 15 terms or less |
| Colorado Christian University | Bachelors | 120 | Fall, Spring, Summer | 70 weeks |
THE COST OF AN INTERNATIONAL BUSINESS DEGREE

One of the things that may impact how much it costs to earn a degree in international business is where you study. The average in-state tuition is $6,833, while out-of-state tuition averages at $32,210.

Another factor that influences the cost of tuition is how many credits you need to complete. Here again, transfer credits may be useful as they may reduce your expenses. The table below outlines the cost per credit at several schools.

| SCHOOL | DEGREE LEVEL | # OF CREDITS REQUIRED | COST PER CREDIT | TOTAL TUITION COST |
| --- | --- | --- | --- | --- |
| Ashford University | Bachelors | 120 | $485 | $58,200 |
| Colorado Technical University | Bachelors | 180 | $325 | $58,500 |
| Regent University | Bachelors | 120 | $395 | $47,400 |
TOP SCHOOLS THAT OFFER INTERNATIONAL BUSINESS DEGREES

According to the NCES, there are over 50 schools that offer International business/trade/commerce degrees or programs. From those schools there were 8,720 International business/trade/commerce degrees or programs awarded to students. The majority (67%) of these programs were bachelor's degrees.

| SCHOOL | 2017 GRADS TOTAL/DEGREES AWARDED | TUITION (OUT OF STATE) |
| --- | --- | --- |
| Florida International University | 588 | $18,954 |
| Hult International Business School | 482 | $40,650 |
| University of South Carolina -Columbia | 214 | $33,298 |
| Arizona State University -Tempe | 176 | $27,372 |
| Northeastern University | 150 | $51,522 |
| George Washington University | 128 | $55,230 |
| Georgetown University | 119 | $54,104 |
CHOOSING AN ACCREDITED INTERNATIONAL BUSINESS DEGREE

Many institutions with regional accreditation also have another tier of approval. It shows that the business school or a specific program meets quality standards.
To earn this status, a school needs to submit to a full review. This process checks that the curriculum is up to date, ethical and preps grads for the industry.

The status is usually good for a period of time. For instance, with the AACSB it is five years. After this time, the school needs to undergo another formal process. Again, to check courses and student outcomes.

There are several agencies involved in this process. Each maintains a database if you want to verify the status of your program or school.
WHAT CAN I DO WITH AN INTERNATIONAL BUSINESS DEGREE?

There are 10.5 million people in the international business workforce. At that, employment estimates are going up by 1.61 percent. The most common ages of employees with this major are 46 and 35 years, and a larger share are female.

Top States for Sustainability Degree Holders
| STATE | EMPLOYMENT | ANNUAL MEAN WAGE |
| --- | --- | --- |
| South Dakota | 540 | $251,950 |
| District of Columbia | 1,880 | $247,500 |
| Rhode Island | 320 | $242,350 |
| Texas | 5,260 | $239,680 |
| New Jersey | 660 | $233,050 |
WHAT KIND OF JOBS CAN YOU GET WITH AN INTERNATIONAL BUSINESS DEGREE?
Business and financial careers may grow 10% from 2016 to 2026. That's faster than average for all occupations! Here are a few career paths to consider if you plan to earn a business degree.

TOP EXECUTIVES

Top executives may have job titles like Managing Director, Chief Operating Officer (COO) or Chief Financial Officer (CFO). At these levels, the work is to set strategy and policy so that a business meets its goals. This means planning, directing and making informed decisions.
Median Salary: $104,700
Job growth through 2026: 8% (As fast as average)
Typical entry-level education: Bachelor's or Master's – MBA
MANAGEMENT ANALYSTS

Management analysts are also referred to as Management Consultants. Their role is to improve an organization's profitability and efficiency. This often means conferring with managers and analyzing business and financial data.
Median Salary: $82,450
Job growth through 2026: 14% (Faster than average)
Typical entry-level education: Bachelor's or Master's – MBA
MARKET RESEARCH ANALYSTS

Market research analysts use strong math and analytical skills to study market conditions. Their role often helps companies to understand buyer behavior. This information helps to forecast trends, monitor client satisfaction and product demand.
Median Salary: $63,230
Job growth through 2026: 23% (Much faster than average)
Typical entry-level education: Bachelor's or Master's – MBA