Medical Billing and Coding Training Online
Get matched to a Medical Billing and Coding Training Online Programs for FREE!
WHAT IS MEDICAL BILLING AND CODING TRAINING?
A medical billing and coding professional, also known as a medical biller or a medical coder is the person responsible for the prompt and accurate billing and coding of insurance claims. As a medical biller, you will submit documents to insurance companies, handle the day to day procedures of medical billing and complete insurance claim forms. You may also do things like explain insurance benefits to a patient.
Medical billing and coding training programs teach you how to work with health data. You will study all areas from medical terms to coding systems. And, you will learn how to record, submit, and track patient information. As a medical biller, you can work in many medical settings such as dental or doctors offices, hospitals, nursing homes or labs.
You may need to pursue a medical billing and coding program for roles like a Medical Coder who assigns codes to patient data, often for insurance billing. That said, they need to know how health care systems and payment work. These programs will cover that, plus other skill areas in this growing field.
IS THERE A DIFFERENCE BETWEEN MEDICAL BILLING AND MEDICAL CODING?
Although both of these are as important and both rely on the other to complete the medical claims and billing process, the two are different. Medical coding comes first. This is the process of giving a special code to each service rendered by a health care provider and putting the code into a form or system. The second part is where the medical biller uses that information to create a claim or bill for the services provided. The bill is then sent to an insurance company. They assess how much they are responsible for paying and return to the biller. The biller then sends the bill to the patient to charge them for the rest of the payment due.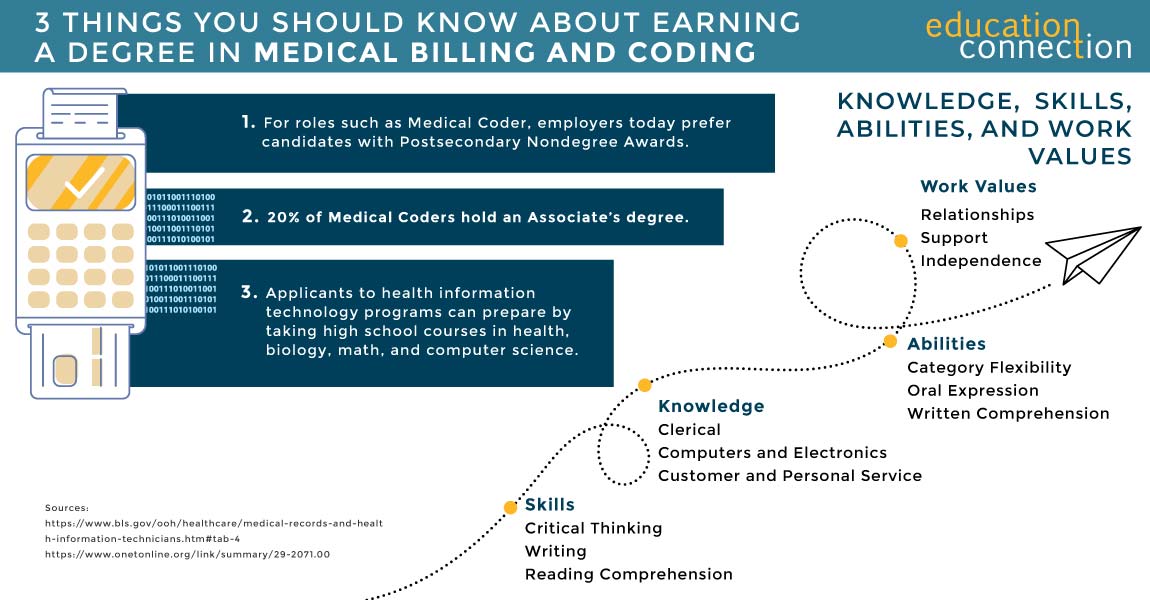 TYPES OF ONLINE MEDICAL BILLING AND CODING TRAINING CERTIFICATES
Medical Coding and Billing Certificate
Learn about individual, family, and community problems and their solutions. This degree focuses on the study of human behavior as well as how people interact with one another.
Course Examples:
Procedural Coding
Medical Office Systems
Coding Ethics
Medical Administrative Assistant Certificate
Work on development of skills for professional practice as a marriage and family therapist. It also fulfills the requirements that are needed to be able to pursue an MFT license.
Course Examples:
Law, Ethics and Health Care
Medical Office Best Practices
Medical Terminology
ONLINE MEDICAL BILLING AND CODING TRAINING PROGRAMS
Online medical billing and coding training programs vary in scope. You could earn a certificate, which covers the basic knowledge that you may need to do well in the field. But, some careers require more advanced knowledge. For instance, Health Information Technicians will usually need to earn a 2 year degree. This will include gen ed courses along with your medical billing and coding courses.
You should expect to study how the health care system works, and how to deal with a patient's data. You could explore everything from medical coding to the ethical concerns of handling health records. You'll learn the terms for medical procedures and diagnoses. And, you'll learn how to classify and code medical data for different needs like billing.
Many programs are designed to help students prep for national certification exams. They may teach the three main billing and coding manuals: CPT, ICD 9 CM, and HCPCS. Online labs could offer you a chance to practice with real medical records.
1
Take advantage of some of the nation's most affordable tuition rates, while earning a degree from a private, nonprofit, NEASC accredited university
Qualified students with 2.5 GPA and up may receive up to $20K in grants & scholarships
Multiple term start dates throughout the year. 24/7 online classroom access.
Popular Programs
Business Administration, Psychology, Information Technology, Human Services…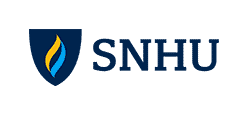 2
Ranked #8 by U.S.News & World Report for Best Online Bachelor's Programs
Apply up to 90 transfer credits for bachelor's students, and 9 transfer credits for master's degree students.
CSU Global graduates experience a return on investment of 4:1, which means they receive $4 in salary and benefits for every $1 they invest in their education.
Available Programs
Business, Computer Science, Criminal Justice, IT, Psychology…

3
Award-winning programs created to help you succeed.
A quality education doesn't have to be expensive. Earn an accredited degree for less.
Programs start monthly – Apply free this week!

Sponsored Schools
WHAT DO MEDICAL BILLING AND CODING PROGRAMS COURSES LOOK LIKE?
Medical billing and coding online programs teach students to turn treatments, diagnoses and services into special codes. These codes are then used to translate documents such as a lab report or medical chart. The courses are made to teach you these special codes and how to use them in many different cases.
Medical Coders have the skill that is needed to maintain patient accounts and arrange to collect payment for services. That includes being able to know the different processes used for billing an insurance company or a patient. You'll also dive into topics like medical terms.
Medical Secretaries may also need some knowledge of medical billing and coding. But, they will often do a lot more like prepare reports and put together case histories.
Some common courses include:
Procedural Coding:&nbspLearn about the ICD 10 PCS coding system and the codes that are needed to be able to transcribe information related to medical procedures.
Medical Office Systems:&nbspExplore the range of software used in a medical office. These systems can be software than handle billing, appointments and health records.
Coding Compliance and Ethics:&nbspPrepare yourself to handle private patient information in an ethical way and how to comply with policies in place to protect patients and their information.
Body Systems:&nbspLearn about the human body's systems. These courses are made to educate MA students about the parts and structures that make up the human body.
HOW LONG DOES IT TAKE TO COMPLETE AN ONLINE MEDICAL BILLING AND CODING TRAINING PROGRAM?
There are medical billing and coding programs available at all levels. Certificates will take the least time to complete and you can also earn a one at the same time as your degree if you want to add to your education. An online cert program calls for around 24 to 38 credits, give or take a few, and often takes less than one year to earn.
An online associate's in this program calls for about 60 to 65 credits of course work. Earning this degree may take about two years, for full time students.
It will usually take four years to get a bachelor's degree in this field. If you finish a two year degree before you enroll in a bachelor's program, you can transfer your credit hours and complete your bachelor's program in less time.
A master's degree can be finished in 1 to 2 years. The master's degree is designed for those who want to find a top level position in an area like management.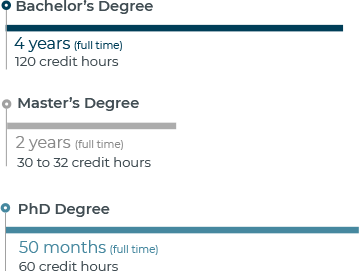 Sponsored Listings
THE AVERAGE COST OF AN ONLINE MEDICAL BILLING AND CODING TRAINING PROGRAM
As per DataUSA, the data shows the average in state public tuition as $3,963. Private out of state schools cost more, at $13,000. Compare tuition costs for other programs in the field:
TOP SCHOOLS FOR MEDICAL BILLING AND CODING TRAINING
According to the most recent data, 600 schools have Medical Insurance Coding Specialist programs. From those schools, 10,977 degrees were awarded to students. Most of these were 2 year degrees.
| | | |
| --- | --- | --- |
| School | 2017 Degrees awarded | 2019/20 Tuition (out of state unless *) |
| Florida Technical College | 370 | $14,025* |
| Allen School-Phoenix | 317 | $14,718* |
| Keiser University-Ft Lauderdale | 191 | $22,000* |
| Grantham University | 169 | $8,280* |
| Ivy Tech Community College | 150 | $8,661 |
| Bryant & Stratton College-Online | 145 | $14,834* |
| Rasmussen College-Florida | 134 | $10,935* |
| American Career College-Ontario | 128 | $36,900* |
| Community Care College | 128 | $17,891* |
| Herzing University-Madison | 126 | $12,750* |
Estimated for full time, starting undergrad students
WHAT IS A CERTIFIED CODING ASSOCIATE?
Certified Coding Associates (CCAs) have earned certification from AHIMA. This proves you have coding skills for both hospitals and physician practices. To be able to earn this cert, you must have a high school diploma and pass an exam.
Why get certified? Most employers wish to hire health information techs that are certified. Or, they may want an employee to get certified after they've been hired. Several places besides AHIMA award certifications. They include:
AAPC. AAPC has several programs. The Certified Professional Biller (CPB) requires that you pass an exam that covers billing regulations, insurance, and more. The Certified Professional Coder (CPC) calls for at least two years of coding knowledge, plus an exam. An associate's degree is suggested if you want to pursue either of these types of certs.
AMBA. The AMBA awards two types of certifications. To become a Certified Medical Reimbursement Specialist (CMRS), you must be an AMBA member and pass an exam. To become a Certified Medical Coding Specialist (CMCS), you must also meet the above requirements. Plus, you must have either experience or education in coding.
NCRA Certified Tumor Registrar (CTR). CTR certification is for workers who handle health data related to cancer. There are several paths you can take in order to be able to sit for the CTR exam. For instance, you could earn an NCRA accredited associate's degree and complete a clinical internship.
Once you earn your cert, you may need to renew it after a certain amount of time. That often means taking continuing education courses to keep your knowledge up to date!
GETTING A JOB AFTER A MEDICAL BILLING AND CODING TRAINING PROGRAM
Per the most recent data, the work force included 4.28 million  grads.
As a whole, this field is growing. Health info techs (which includes medical billing and coding) jobs are expected to grow 11% by 2028. That's faster than average for all careers.
So, do you fit into this world? 92% of grads in this field were female. And, the average age of a grad in the work force was 42.8 years old.
Top Salaries by State for Medical Billing and Coding Training Program Graduates
This salary information is for Medical Records and Health Information Techs. This includes Medical Coders and CTRs.
| | | |
| --- | --- | --- |
| State | Employment | Annual Mean Wage |
| New Jersey | 2,640 | $54,020 |
| District of Columbia | 470 | $53,430 |
| California | 21,970 | $51,880 |
| Connecticut | 1,800 | $51,400 |
| Hawaii | 660 | $50,940 |
CAREERS IN THE MEDICAL BILLING AND CODING FIELD
Careers in this field play a key role between health care providers and the patients or insurance companies that pay for their services. Whether you work for an employer or as a private contractor, much of your job will include being able to record, process, transmit and keep track of personal patient account info. If you have a career in medical billing and coding, you will be involved in every step of the billing cycle. This job will require you to make sure that patients are billed correctly, that a health care provider is paid for their services and that an insurance company is not over charged. We've listed some of the more common careers in this field below.
MEDICAL BILLING SPECIALISTS
Medical Billing Specialists compile data, calculate charges, and prepare invoices. They need to be familiar with medical software, plus other office equipment and procedures. They typically work in doctor's offices and hospitals. But, some work for other types of health care employers.
According to 2020 O*NET data:
Median Salary: $34,090 per year
Job Growth Through 2029: 8% (Much higher than average)
Typical Entry level Education: High school diploma or Associate's degree
MEDICAL CODERS
Medical Coders are a type of health information tech. They assign codes to different aspects of patient care. That includes procedures and diagnoses. They often serve as a link between medical providers and billing offices.
According to 2020 O*NET data:
Median Salary: $39,590 per year
Job Growth Through 2029: 1% to 2% (Slower than average)
Typical Entry level Education: Post secondary non degree Award
MEDICAL SECRETARIES
Medical Secretaries perform tasks that keep medical offices running smoothly. That includes billing patients and making appointments. They also need knowledge of medical terms and procedures. Most work for hospitals or doctors' and dentists' offices.
According to 2020 O*NET data:
Median Salary: $37,350 per year
Job Growth Through 2029: 8% or higher (Much faster than average)
Typical Entry level Education: Some college or a post secondary certificate