Pursue an Online English Degree
Get matched to an Online English Degree Program for FREE!
WHAT IS AN ONLINE ENGLISH DEGREE?
In an online English degree program, you will often study U.S., British and world literature in depth. You will pursue a strong focus on the English language. And, you will also study grammar and composition.
Some programs will help you learn the English language from the inside out. As such, you will touch on lesson planning and teaching tactics. In others, you will focus on clear writing and research. You will also learn critical methods for skillful communication.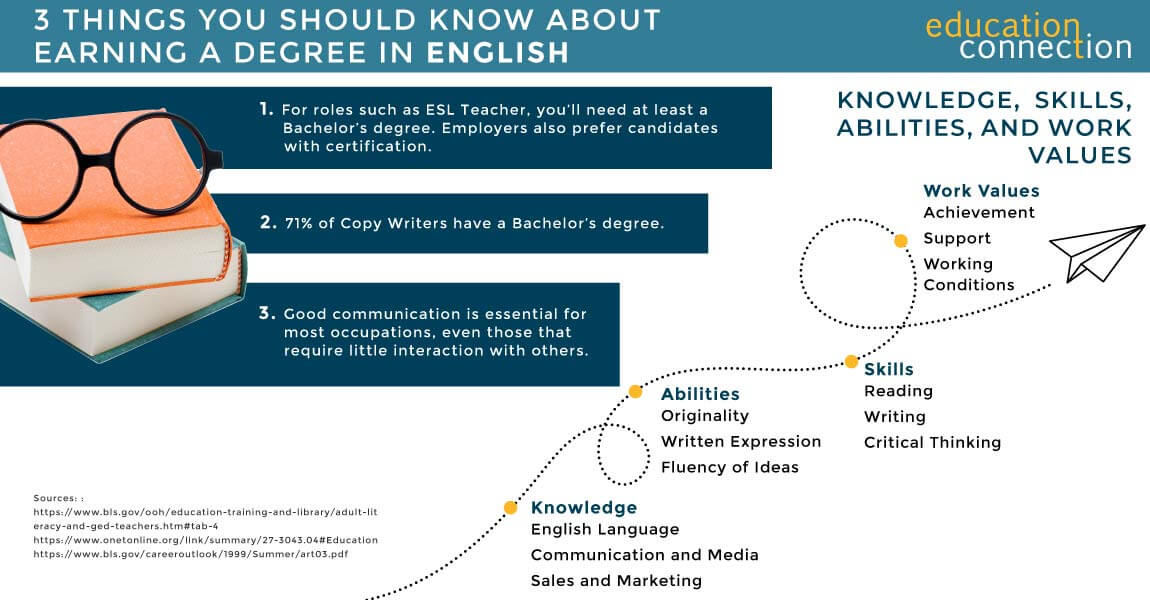 TYPES OF ONLINE ENGLISH DEGREE PROGRAMS
A.A. in English

B.A. in English

M.A. in English

In an Associate's program, you will gain a solid base in literature, poetry and critical theory principles. At the same time, it gets into writing skills for different uses. These span business, media, web, fiction and creative writing.
This program focuses on reading, writing and critical thinking. It will expose you to theory, linguistics, and composition, in addition to surveys of literature.
Many M.A. programs provide you with options for intensive study in critical theory, cultural theory, and film theory. You could also explore interdisciplinary methods, minority literature, and women's studies. Traditional areas of study include Renaissance, eighteenth century, nineteenth century, modern, and contemporary literature, as well as rhetoric and composition.
Course Examples:

Advanced Reading
Critical Thinking
World Literature

Course Examples:

Elements of Journalism
American Literature
Business and Professional Writing

Course Examples:

British Literature
American Literature
Methods in Cinema and Media Studies
ENGLISH DEGREE ONLINE PROGRAMS
Most online English degree programs are 120 credits. Of these, over half may be general education courses. The others are set up around your major and electives.
To cap your studies, you may need to hand in a final project. Or, you could put in some hours inside a classroom to practice teaching English, if that was your focus.
Many programs will have book lists which may expose you to the basic elements of fiction, poetry, and drama. Common themes include the literary works of British and American authors.
Apart from reading English literature, you will often study the art of perception. You will look at literature within a context like gender, race, and religion. Then, you will apply these ideas in order to understand the author's style, message, and techniques.
While you learn to read with a critical eye, you'll likely learn to write an effective narrative. Courses usually help you learn to persuade readers. This often means learning how to follow a line of thinking and edit your writing, so it is clear and concise.
If you're interested in writing, your study plan may allow you some choice in this area. This may be to develop skills for science writing or to learn how to tell a story. A class (or 2) in English composition may help you in this area.
In composition classes, you will learn how to analyze, develop and organize your thoughts. Or, you could adapt your style to different audiences. At the end of your studies, you may be able to use library resources to support your ideas.
Writing classes may ask you to take part in workshops with your instructors and peers. They will often help you to learn the ins and outs of giving and receiving feedback.
Featured Online Schools
1
No application fee for April & June terms.
Take advantage of some of the nation's most affordable tuition rates, while earning a degree from a private, nonprofit, NEASC accredited university
Qualified students with 2.5 GPA and up may receive up to $20K in grants & scholarships
Multiple term start dates throughout the year. 24/7 online classroom access.
Popular Programs
Business Administration, Psychology, Information Technology, Human Services…

2
Ranked #8 by U.S.News & World Report for Best Online Bachelor's Programs
Apply up to 90 transfer credits for bachelor's students, and 9 transfer credits for master's degree students.
CSU Global graduates experience a return on investment of 4:1, which means they receive $4 in salary and benefits for every $1 they invest in their education.
Available Programs
Business, Computer Science, Criminal Justice, IT, Psychology…

3
Save up to 25%. Save thousands on your bachelor's with the Strayer Graduation Fund.
Strayer University is an accredited institution with a proud history of 125 years in quality education.
With the help of dedicated personal support and AI technology, earn your degree online or on campus.
Programs Include
Accounting, Business Administration, Criminal Justice & Information Technology

Sponsored
WHAT DO ENGLISH DEGREE COURSES LOOK LIKE?
English courses you take may deal with the language itself. In these classes, you may cover form and function. Some topics may cover the theories of how we form language skills. In others, you may touch on the uses of language in a specific context like law, politics or propaganda.
There are several kinds of online English programs to look for. The one you choose should reflect your goals.
Do you want to teach English to young children?
Are you hoping to teach at the university level?
Would you like to prepare to teach English as a Second Language (ESL)?
Are you an aspiring author, journalist or editor?
We'll walk you through 4 classes common to English programs as well as popular types of English programs. This may be useful as you frame your interests and objectives.
Some common courses include:
English Composition&nbspThis class looks at the skills that go into planning, writing and editing an essay. Some of the topics look at sentence structure and grammar. Others touch on how to backup your ideas with clear statements and conclusions.
Intro to the English Language&nbspThis class studies the structure and history of the English language. Some topics may get into linguistic and comparative grammar. Others may look at how we use language in society.
Creative Writing&nbspThis class may help you stretch your wings as an author. You'll often study and practice writing fiction, nonfiction, and poetry. At the same time, you'll often join workshops where you'll learn how to critique creative works.
Principles in Journalism&nbspThis class provides an overview of Journalistic principles and ethical practices. The course also covers news reporting, feature writing, beat reporting and writing for the web.
HOW LONG DOES IT TAKE TO EARN AN ONLINE ENGLISH DEGREE?
If you are a full time student, pursuing an English degree online may take you about 4 years. This is about the time it would take you to complete a 120 credit B.A. degree. Do you want to earn your English degree in less time? Then, you can find out whether your school accepts transfer credits. If you are eligible, many will allow you to transfer up to 90 credits, which means you will need less time. Graduate programs may take you about 1 to 2 years (M.A.) and 4 to 6 years (Ph.D.).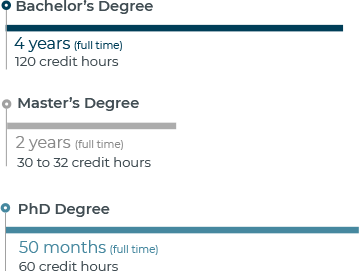 ENGLISH DEGREE PROGRAM EXAMPLES
| | | | |
| --- | --- | --- | --- |
| School | # of Credits Required | Start Dates | Minimum Months to Complete |
| Regent University | 120+ | Multiple | 4 years or less |
| Ashford University | 120 | Multiple | 4 years or less |
| Grand Canyon University | 120 | Multiple | 4 years or less |
HOW MUCH DOES AN AVERAGE ENGLISH DEGREE COST YOU?
You can see that reports show the average in state cost for pursuing an English degree at a public institution is $6,991. The average out of state cost at a private institution, you will find, is $32,540.
Since these are norms, you will find programs that are more expensive, and ones that may cost less. Also, if you are able to transfer credits into your program, you will have fewer to pay for. In the table below, you can see the cost per credit of several schools where you might pursue a B.A. in English degree online.


| | | | |
| --- | --- | --- | --- |
| School | # of Credits Required | Cost Per Credit | Total Tuition Cost |
| University of Massachusetts Online (U Mass) B.A. in English | 120 | $380 | $45,600 |
| Regent University B.A. in English, History | 120 | $395 | $47,400 |
| Liberty University B.S. Teaching English as a Second Language | 120 | $390 | $46,800 |
TOP ENGLISH DEGREE PROGRAMS BY STATE
Last check, you can see, the largest share of institutions that offer General English Language & Literature degrees are private, not for profit, 4 year or above institutions. From those schools, you can see, there were 61,715 degrees awarded to students. The majority (78.6%) of these programs were B.A. degrees.
| | | |
| --- | --- | --- |
| School | 2017 Degrees awarded | 2019/20 Tuition (out of state unless *) |
| Southern New Hampshire University | 797 | $30,756 |
| Chattahoochee Technical College | 753 | $4,272 |
| Florida State University | 529 | $19,084 |
| University of Minnesota  Twin Cities | 485 | $22,210 |
| University of Pittsburgh, Pittsburgh | 474 | $28,828 |
| George Mason University | 434 | $28,622 |
| Texas State University | 398 | $16,820 |
| University of California  Berkeley | 378 | $34,098 |
| Columbia University, NY | 280 | $46,846 |
*Estimated for full time, beginning undergrad students
THE IMPORTANCE OF AN ACCREDITED ENGLISH DEGREE PROGRAM
As you decide on where to earn your online degree in English, it may be to your benefit to look at accredited schools. Do you know what accreditation is? Well, it is one way of saying, 'quality control.' It shows that your college or university meets standards.
Attending an accredited school means you will be able to apply for financial aid. You will also be able to apply to grad school. You will find that accredited universities will check where you earned any prior degree(s).
Most schools with English degree programs, you will find, are regionally accredited. You can see there are six regional agencies in the U.S., each covering a specific region. And, you will find, that they are, in turn, given the ability to accredit schools by an agency. Two you should know are:
Once accredited, you will find that a school must maintain its status. What does that mean? Well, it means your school must submit every few years (e.g. 7 to 10) to a peer review. It is simple for you to verify the status of a school offering an online English degree program. All you need to do is check the list of accredited schools on agency websites.
Do you plan to pursue any extra credentials, like a teaching certificate? If so, you will want to check that you enroll in a state approved teacher education program.
WHAT CAN YOU DO WITH AN ENGLISH DEGREE?
You will find the number of English graduates in the workforce to be 1.45 Million and growing by 3.48%. This is not surprising given the potential versatility you will have with the degree.
The majority (225,850), you will find, work for Elementary and Secondary Schools. You will also find high numbers of English graduates in the following industries:
Colleges, Universities and Professional Schools including Junior Colleges (163, 627)
Legal Services (66,416)
Hospitals (42,449)
Insurance Carriers and Related Activities (39,107)
You will find that most people in the workforce are 43.6 years old and have a B.S. degree. You will also find they are more likely to be women.
TOP SALARIES BY STATE FOR ENGLISH DEGREE HOLDERS
The visual below shows the states where salaries for Technical Writers are highest.
| | | |
| --- | --- | --- |
| State | Employment | Annual Mean Wage |
| CA | 6,340 | $90,780 |
| MA | 2,450 | $86,130 |
| D.C. | 700 | $84,370 |
| NJ | 1,980 | $83,240 |
| WA | 1,240 | $81,810 |
CAREERS AND POTENTIAL SALARIES FOR ENGLISH DEGREE MAJORS
Your salary as an English professional is largely decided by your specific job title. It will also depend on your level of education, your experience and your skill. You could consider the following careers, with statistics compiled by the U.S. BLS in 2016.
WRITERS AND AUTHORS
As a writer or author, you would develop written content for various types of media, including advertisements, books, magazines, movies, plays and television scripts, and blogs.
Median Salary: $61,820 per year
Job Growth Through 2028: 8% (As fast as average)
Typical Entry level Education: Bachelor's degree.
PUBLIC RELATIONS SPECIALISTS
As a public relations specialist, you would create and maintain a favorable public image for the organization you represent. You would craft media releases. You would also develop social media programs in order to shape public perception of your organization. Your goal would also be to increase the awareness of your company's work and goals.
Median Salary: $59,300 per year
Job Growth Through 2028: 9% (As fast as avg.)
Typical Entry level Education: Bachelor's degree.
TECHNICAL WRITERS
As a technical writer, also called technical communicator, you would prepare instruction manuals, how to guides, journal articles, and other supporting documents. Your purpose would be to communicate complex and technical information more easily. You would also develop, gather, and disseminate technical information through an organization's communications channels.
Median Salary: $70,930 per year
Job Growth Through 2028: 11% (Faster than avg.)
Typical Entry level Education: Bachelor's degree