Top Online Special Education Degree Programs
Get matched to an Online Special Education Program for FREE!
What is an Online Special Education Degree?
An online special education degree prepares educators to teach those with diverse needs. You'll study how to work with students who have mental, physical, or emotional differences. That means designing or adapting lessons to be suitable. You'll learn how to instruct children with differences like autism spectrum disorders. And, you'll discover how to manage behavioral challenges in the classroom.
Most importantly, online special education degree programs focus on making education accessible. This field may be ideal if you want to help students who learn in unique ways!
Bachelor's Degrees
Master's Degrees
Doctorate Degree's

 B.S. in Elementary Education/Special Education (dual major)

Master of Arts in Teaching: Special Education

PhD in Education – Special Education

Designed for prospective teachers pursuing licensure, this program offers foundations in elementary and special education. Coursework covers how to help diverse students with their learning and behavioral challenges.
This program is designed for current teachers or candidates pursuing a career change. It covers theories and methods in special education, current trends, and more.
This program covers both policies and practices behind the special education classroom. Study everything from federal mandates to classroom management. Plus, delve into targeted research.

Mathematics for Educators
Social Justice for Educators
Assessment and Eligibility in Special Education

Principles of Behavior Management
Reading & Language Acquisition
Collaborating for Successful Inclusive Classrooms

Law in Special Education
Characteristics of Students with Intellectual Disabilities
Assessment in Special Education
Online Special Education Degree Programs
Many states need special education teachers to earn a Bachelor's in Special Education. In some cases, the role calls for earning an advanced degree. Either way, expect your program to explore ways to help students with learning differences. You'll take a look at both the theory and practice of educating special populations. And, you'll prepare for goals in the classroom and beyond.
Bachelor's in Special Education Programs
A Bachelor's in Special Education helps equip students with the fundamentals of teaching. Expect to study the theory and techniques behind teaching learners with mild to moderate challenges. These may include sensory disabilities, autism spectrum disorders, anxiety, and beyond.\
Many programs start with general teaching courses. These include teaching literacy, managing behavior in the classroom, and assessment. Then, students pursue a concentration or minor in special education.
Courses you may take include:
Introduction to Learner Diversity
Psychology for Educators
Classroom Management, Engagement, and Motivation
Language Development and Reading Disabilities
Intervention for Emotional/Behavioral Needs
Math and Science Methods
You could also focus on elementary, middle, or secondary education. For example, you could encounter special education programs like:
A. in Special Education and Elementary Education
S. in Elementary/Middle Special Education
Bachelor's in Special Education – Pre-K
Bachelor's in Special Education, K-12
Student teaching is a key part of earning your Bachelor's in Special Education. That's especially the case if you're hoping to pursue teaching licensure. Generally, you'll need to complete three to 14 credits of student teaching. That's true even if you earn your degree online! This fieldwork could help you apply theory to practice, while developing classroom techniques.
Master's in Special Education Programs
Some states need special education teachers to earn a Master's in Special Education. In other cases, a current educator hoping to pivot to a special education role could pursue a graduate degree in this field.
At the Master's level, you could build on prior teaching knowledge while exploring advanced practices. Often, you can focus on specific grade levels – like K-8 or 7-12. You may even be able to pick a concentration. These could include Applied Behavior Analysis, Multisensory Reading Instruction, or Special Education Leadership.
You could take courses like:
Behavioral Management and Intervention
Special Education Law and Processes
Developmental Disabilities
Theories of Learning and Motivation
Research Design and Analysis
Most programs feature student teaching or other field experience. This is especially important for those seeking teaching licensure.
Special Education Doctorate Programs
At the doctoral level, you'll delve deeper into special education law, policy, administration, and more. You could study trends and movements within the field. These programs may be ideal for those pursuing leadership or postsecondary teaching roles.
Courses in a special education PhD or EdD program may include:
Preparing Teachers of Students with Exceptionalities
Neuroscience in Special Education
Educational Statistics
Disability and Public Policy
Scholarship of Teaching
Research is also a big part of earning a doctorate degree. Candidates must complete an original dissertation in their scholarly focus area. Focus areas might include:
Early Childhood
Severe Disabilities
Education of Students with Visual Impairments
Special Education Policy & Systems Studies
Instructional Design & Technology
Featured Online Schools
1
Take advantage of some of the nation's most affordable tuition rates, while earning a degree from a private, nonprofit, NEASC accredited university
Qualified students with 2.5 GPA and up may receive up to $20K in grants & scholarships
Multiple term start dates throughout the year. 24/7 online classroom access.
Offering over 200 online degree
Popular Programs
Business Administration, Psychology, Information Technology, Human Services…

2
Ranked #8 by U.S.News & World Report for Best Online Bachelor's Programs
Apply up to 90 transfer credits for bachelor's students, and 9 transfer credits for master's degree students.
CSU Global graduates experience a return on investment of 4:1, which means they receive $4 in salary and benefits for every $1 they invest in their education.
Available Programs
Business, Computer Science, Criminal Justice, IT, Psychology…

3
Save up to 25%. Save thousands on your bachelor's with the Strayer Graduation Fund.
Strayer University is an accredited institution with a proud history of 125 years in quality education.
With the help of dedicated personal support and AI technology, earn your degree online or on campus.
Programs Include
Accounting, Business Administration, Criminal Justice & Information Technology

Sponsored
How Long Does It Take to Earn a Special Education degree?
Earning a Bachelor's in Special Education may take about four years, on average. The program usually calls for at least 120 credits.
A Master's in Special Education usually takes one to two years for full-time students to earn. Earning a doctoral degree usually takes about three to five years.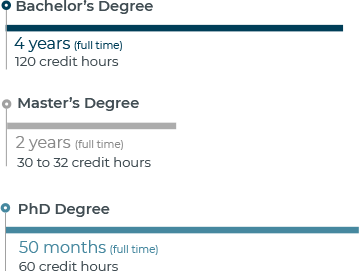 Special Education Degrees That Could be Completed in 18 Months or Longer
| | | | | |
| --- | --- | --- | --- | --- |
| School | Degree Level | # of Credits Required | Start Dates | Minimum Months to Complete |
| Grand Canyon University | Bachelor's | 120 | Multiple | 54 months |
| Liberty University | Master's | 36 | Multiple | 18 months |
| Northcentral University | Master's | 32 | 52 (weekly starts) | 18 months |
How Much Does a Special Education Degree Cost
According to NCES, the average cost of attending a public, four-year school was $19,189 per year. The cost of attending private and for-profit schools was higher: $39,529 per year. Compare tuition for these schools with special education programs:
| | | | | |
| --- | --- | --- | --- | --- |
| School | Degree Level | # of Credits Required | Cost Per Credit | Total Tuition Cost |
| Grand Canyon University | Bachelor's | 120 | $440 | $52,800 |
| Colorado Christian University | Bachelor's | 120 | $469 | $56,280 |
| Regent University | Master's | 43 | $550 | $23,650 |
Top Schools that Offer Special Education Degrees
NCES names 758 institutions that have general special education & teaching programs. From those schools, 21,417 degrees were awarded to students in 2016 (the most recent data). Most of these degrees were at the Master's level (58%).
| | | |
| --- | --- | --- |
| School | 2016 Degrees awarded | 2018/19 Tuition |
| Grand Canyon University | 1,601 | $17,050 |
| Ball State University | 670 | $26,468 (out of state) |
| Western Governors University | 499 | $6,670 |
| Liberty University | 300 | $22,584 |
| American International College | 274 | $35,680 |
| St. Joseph's College-New York | 259 | $27,830 |
| George Mason University | 254 | $35,922 (out of state) |
| Slippery Rock University of Pennsylvania | 247 | $14,615 (out of state) |
| National University | 238 | $13,320 |
| Bridgewater State University | 215 | $16,507 |
Pursuing Special Education Teaching Licensure
Understanding the licensure requirements in your state is important for choosing a special education degree program. Public schools always need teachers to have a license (often called certification). Private schools may have different rules.
While every state is different, general special education certification steps include:
Earning a bachelor's degree with a minimum GPA
Completing a teacher preparation program and supervised student teaching
Passing a teaching certification test and a subject knowledge test
In some states, prospective teachers can earn certification in general special education. That means they can work with students who have diverse needs. Other states have licenses or endorsements for specific types of special education. These may include autism spectrum disorders or behavior disorders.
Earning Special Education Licensure During a Career Change
Some prospective educators decide later in life that they want to teach special education. So, all states offer alternative paths to certification. These are typically designed for those who already earned a Bachelor's degree.
In some cases, you could earn a Master's degree as you prepare to pursue certification. In other cases, you may pursue a teacher preparation program that includes supervised experience.
What Job Can I Get with a Special Education Degree?
According to the most recent census data, over 5 million general special education graduates are currently in the workforce. Employment of special education teachers is expected to grow 8% by 2026. Some of this is because children with learning differences are identified (and given support!) earlier than they used to be.
Overwhelmingly, women are the most common special education degree holders. In fact, 86.4% of graduates are female. The average age of a degree holder in the workforce is 46.2 years old.
Top Salaries by State for Special Education Teachers
The following data is for special education teachers of secondary students. Salaries may vary for teachers of other grade levels.
| | | |
| --- | --- | --- |
| State | Employment | Annual Mean Wage |
| New York | 17,420 | $86,330 |
| Oregon | 780 | $84,350 |
| California | 10,520 | $82,380 |
| Connecticut | 1,660 | $77,520 |
| Alaska | 430 | $77,210 |
SPECIAL EDUCATION TEACHER CAREER PATHS AND POTENTIAL SALARIES
Special education is just one of many areas in the educational field. There are many other options you may choose to pursue after attending special education teaching courses online. Research which options may be available using statistics compiled by the BLS.
SPECIAL EDUCATION TEACHER
These professionals assess student skills and produce lesson plans that will benefit them the most. They may be charged with teaching an entire class or with a particular individual. Using their specially designed lesson plans, they judge the progress of students on a regular basis.
Median Salary: $59,780 per year
Job growth through 2026: 8 percent 
Entry-level education: Bachelor's degree
KINDERGARTEN AND ELEMENTARY SCHOOL TEACHERS
Kindergarten and elementary school teachers are often the first educators students come in contact with. They are charged with teaching students the basics of a broad area of topics, including reading, writing, math and others.
Median Salary: $57, 980 per year
Job growth through 2026: 12 percent (average)
Entry-level education: Bachelor's degree
CHILDCARE WORKERS
Childcare workers ensure that children are safe and well taken care of while parents and other family members are away. They track a child's progress and make sure they receive an adequate amount of nap and play time.
Median Salary: $23,240 per year
Job growth through 2026: 7 percent (average)
Entry-level education: High school diploma