Top Child Psychology Degree Online Programs
Get matched to an Online Child Psychology Degree Program FREE!
WHAT IS AN ONLINE CHILD PSYCHOLOGY DEGREE?
Top child psych degree programs may teach you to help a child that is dealing with challenges. These programs cover the social and emotional issues a child may face. And, they also explore treatments and therapies that could assist these children.
Many kinds of mental health pros work with children. This includes Clinical Psychologists and School Psychologists. These career paths are part of a growing field. And, they could offer the chance to help change young lives.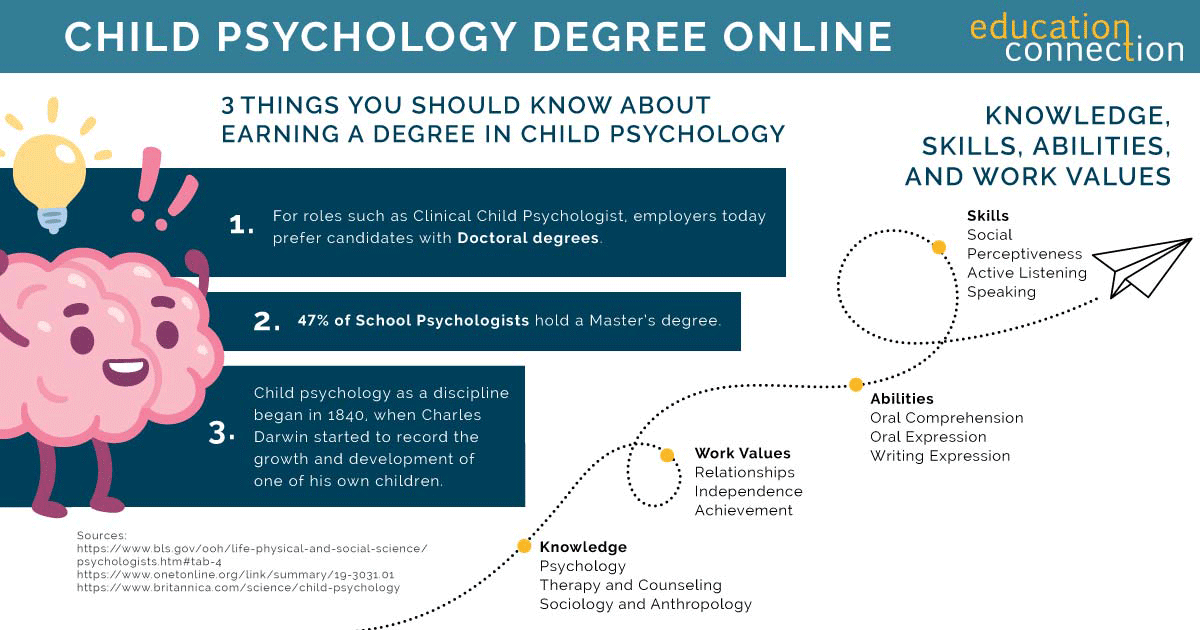 TYPES OF ONLINE CHILD PSYCHOLOGY DEGREE PROGRAMS
Master of Science in Child and Adolescent Developmental Psychology

M.S. in Clinical Mental Health Counseling with and Emphasis in Childhood and Adolescent Disorders

Master of Arts in Marriage & Family Therapy – Child and Adolescent Family Therapy

This program looks at how to work with or advocate for a child or teen. You'll study stages of a kids' development and the impact of family, school, peers, and culture.
This program focuses on clinical skills for how to counsel a child or teen. These include assessment, trauma counseling, and communication.
Marriage and Family Therapy involves children and teens. So, this program looks at how to work with young people using a family therapy approach. 100 hours of clinical experience are required.
Course Examples:

Child Psychopathology
ADHD and Autism Spectrum
Pre Natal and Early Child hood Development

Course Examples:

Childhood Trauma
Psychopathology
Counseling Practicum

Course Examples:

Family Therapy with Adolescents
Child and Adolescent Family Therapy: Clinical Applications

No specific program accreditation
No specific program accreditation
Program is accredited by the Commission on Accreditation for Marriage and Family Therapy Education (COAMFTE) and the International Accreditation Commission for Systemic Therapy Education (IACSTE).
CHILD PSYCHOLOGY DEGREE ONLINE PROGRAMS
Most child psych programs are at the grad level. This may be because a Master's is the minimum education needed for mental health pros like School Psychologist. And, many career paths ask that you have a PhD.
MASTER'S DEGREE
At the Master's level, you'll gain a better knowledge of a child's behavior and development. For instance, you could explore how a child learns, plays, and forms relationships with care givers. You'll also study abnormal psychology, and how to treat behavioral problems.
Research may be a big part of the course. For instance, you could conduct applied research that uses theories that already exist to solve problems. Many programs also teach methods for your own research. That includes research design, plus data analysis.
Common programs include:
M.A. in Psychology – Child Psych. This type of program covers foundations in psych. Plus, you'll take course work within the child psych focus.
M.S. in Child Psychology. Applied psych may be the focus of an M.S. program. You could study things from personality theory to intervention strategies, with a focus on children and teens.
M.S. in Education (M.S.Ed.) in Child Psych. This kind of program focuses on mental health concerns that can be dealt with in schools. So, you could study topics like learning disabilities and classroom behavior management.
Master's programs include courses like:
Development and Psychopathology in Early Child hood
Family Systems and Family Therapy
Psychology of Learning
Autism Spectrum Disorders
Theories of Personality
Intervention Strategies
Your courses may span psych theory, practice, and research.
DOCTORATE DEGREE
Many Psychologists need to earn a PhD. Those who hope to work with children could find a PhD program with this focus.
Most Psych PhD programs cover how to assess, diagnose, and treat patients. They look at factors that affect mental health and behavior, plus ways that a psych can help. Child psych PhD programs apply those concepts to kids. You'll study a child's development and behavior in different contexts – like the school and the family.
Common programs include:
PhD in Child Psych. The PhD is a research degree. So, it may include courses on procedures, statistics, and related topics. You must pass an exam and write a dissertation.
Doctor of Psychology (Psy.D.) in Child Psych. The Psy.D. often takes more of a hands on approach. You may focus on applied theory instead of original research.
That said, either kind of program could help you with a psych career path. And, both PhD and Psy.D. programs may feature clinical training.
PhD programs include courses like:
Developmental Psychopathology
Pediatric Psych
Child and Adolescent Psychotherapy
Family Interventions
School Clinical Child Psych
Infant/Toddler Assessment and Intervention
Featured Online Schools
1
No application fee for April & June terms.
Take advantage of some of the nation's most affordable tuition rates, while earning a degree from a private, nonprofit, NEASC accredited university
Qualified students with 2.5 GPA and up may receive up to $20K in grants & scholarships
Multiple term start dates throughout the year. 24/7 online classroom access.
Popular Programs
Business Administration, Psychology, Information Technology, Human Services…

2
Ranked #8 by U.S.News & World Report for Best Online Bachelor's Programs
Apply up to 90 transfer credits for bachelor's students, and 9 transfer credits for master's degree students.
CSU Global graduates experience a return on investment of 4:1, which means they receive $4 in salary and benefits for every $1 they invest in their education.
Available Programs
Business, Computer Science, Criminal Justice, IT, Psychology…

3
Offering two quality, competency based online learning formats: FlexPath and GuidedPath.
FlexPath lets you set your own deadlines and move through courses at your own speed.
GuidedPath offers structured learning with a virtual course room and weekly schedule.
With FlexPath, you can earn your degree in 12 months and under $11,500. Assumes accelerated pace. Price varies based on your pace and transfer credits. Other fees may apply.
Programs Include
Business, Counseling, Psychology, IT, Nursing, Social Work

Sponsored
WHAT DO CHILDHOOD PSYCHOLOGY DEGREE COURSES LOOK LIKE?
Some common courses include:
Introduction to Psych:&nbspDive into the basics of human thoughts, feelings, and behaviors. This course may cover the science behind how the mind works, and prepare you for future study.
Child Development:&nbspDiscover how kids grow, change, and think. In this course, you may study how the mind and behaviors develop during child hood.
Social Psych:&nbspThis course covers how we think and act in social ways. You could learn how people form relationships and behave around others.
Child Psych:&nbspLearn about child hood disorders and how to step in and help. In this course, you could look at disorders that affect how kids think and feel.
Theories of Personality:&nbspThis course looks at different views on how personality forms. You could start with Freud's take on the matter, on up to modern day thinkers.
Early Intervention:&nbspIn this course, you may focus on infants and toddlers up to three years old. You could study programs that help a young child thrive from an early age.
HOW LONG DOES IT TAKE TO COMPLETE AN ONLINE CHILD PSYCHOLOGY DEGREE PROGRAM?
At the Master's level, a child psych degree program may take about one to two years to earn. Programs may take more time for part time students. At the PhD level, full time students often take four to six years to earn the degree. Program length can change but it depends on your enrollment status and whether or not you have to complete a dissertation.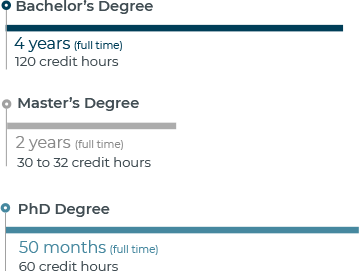 CHILD PSYCHOLOGY DEGREE PROGRAM EXAMPLES
| | | | |
| --- | --- | --- | --- |
| School | # of Credits Required | Start Dates | Minimum Months to Complete |
| Grand Canyon U | 74 | N/A | 55 |
| Northcentral U | 30 | 52 (weekly) | 20 |
THE AVERAGE COST OF AN ONLINE CHILD PSYCHOLOGY DEGREE PROGRAM
DataUSA lists the median in state public tuition as $7,785 per year. The median out of state private tuition is about $36,761 per year. Compare tuition for the following schools that offer child psychology programs:
| | | | |
| --- | --- | --- | --- |
| School | # of Credits Required | Cost Per Credit | Total Tuition Cost |
| Northcentral University | 30 | $2,526 (per course) | $25,260 |
| Grand Canyon University | 74 | $515 | $38,110 |
TOP SCHOOLS FOR ONLINE CHILD PSYCHOLOGY DEGREE PROGRAMS
As of 2017 (most recent data), DataUSA lists 2,683 schools with child psych programs. From those schools, 331,390 degrees were awarded to students in 2017.
| | | |
| --- | --- | --- |
| School | 2017 Degrees awarded | 2019/20 Tuition (out of state unless *) |
| U of Phoenix Arizona | 9614 | $9,552* |
| U of Maryland University College | 3303 | $36,891 |
| Southern New Hampshire U | 3105 | $31,136* |
| Liberty U | 2790 | $22,747* |
| Western Governors U | 2663 | $6,670* |
| Colorado Technical U Colorado Springs | 2627 | $12,529* |
| Columbia Southern U | 2597 | $5,655* |
| California State U Fullerton | 2323 | $18,804 |
| Broward College | 2237 | $8,952 |
| Grand Canyon U | 2059 | $17,800* |
Estimated for full time, beginning undergrad students
CHOOSING A CHILD PSYCHOLOGY DEGREE ONLINE ACCREDITED PROGRAM
In most states, Psychologists need to earn licensure. Of course, that also applies to Child Psychs and those in other fields. While licensure standards vary by state, they may include:
Earning a PhD degree in psychology
Completing an internship
Completing one to two years of hands on experience
Passing the Exam for Professional Practice in Psychology
And, once you have earned certification, you'll have to maintain it. To do so, you'll may need to take continuing education courses.
You could also pursue a cert in Child and Adolescent Psych. The American Board of Clinical Child and Adolescent Psychology (ABCCAP) conducts Board exams in this focus.
Applicants for ABCCAP certification must be licensed psychologists. You must also have education and experience in child and adolescent psych. Ideally, that includes graduating from a psych program accredited by APA (American Psychological Association).
You'll also have to complete an internship in which at least half of your training is focused on children and teens. And, you must meet requirements for post doctoral experience in this focus area. Before you get started, you may want to review ABCCAP's requirements.
WHAT CAN I DO WITH A CHILD PSYCHOLOGY DEGREE?
The most recent data states that 2.64 million psych degree holders are currently in the work force. That includes grads of child psych programs.
This field is growing faster than average, with 14% more Psychologist jobs projected by 2028. School Psychologists may be needed to help students with special needs such as learning disabilities. And, Clinical and Counseling Psychologists may see more demand as more people seek help with mental health concerns that affect them and their children.
Do you fit the mold of the child psych grad? The majority (89.8%) of degree holders were female. And, the average age of a grad in the work force was 41.2.
TOP SALARIES BY STATE FOR CHILD PSYCHOLOGY DEGREE HOLDERS
The following salary data is for Clinical, Counseling, and School Psychologists. They may work with children and other populations.
| | | |
| --- | --- | --- |
| State | Employment | Annual Mean Wage |
| Oregon | 1,220 | $112,010 |
| California | 16,960 | $111,750 |
| District of Columbia | 720 | $106,900 |
| New York | 11,030 | $96,170 |
| Louisiana | 290 | $96,040 |
CHILD PSYCHOLOGY CAREER PATHS AND POTENTIAL SALARIES
Child Psychologist
A child psychologist may fall under the category of Clinical Psychologists. These pros may focus on certain populations, like kids. They help patients work through issues that range from mild to severe. That includes how to diagnose and treat mental and behavioral disorders. The majority worked for schools or were self employed.
Median Salary: $79,010 per year
Job Growth Through 2028: 14% (Faster than average)
Typical Entry level Education: PhD degree
Art Therapist
Art Therapists guide patients, that includes children, in using creativity to work through personal issues. They may focus on how to help patients with physical or emotional goals. You'll need knowledge of the fine arts, along with psych, therapy, and counseling.
Median Salary: $47,680 per year
Job Growth Through 2028: 7% to 10% (As fast as average)
Typical Entry level Education: Master's degree
School Counselor
School Counselors help students build social and academic skills. They may discuss students' success and help them address road blocks. And, they may help students plan for the future by assessing their strengths and interests. The majority work for elementary and secondary schools, as well as colleges.
Median Salary: $56,310 per year
Job Growth Through 2028: 8% (Faster than average)
Typical Entry level Education: Master's degree