Top Online Counseling Psychology Degree Programs
Get matched to an Online Counseling Psychology Degree Program for FREE!
WHAT IS A COUNSELING PSYCHOLOGY DEGREE?
Counseling Psychology degree programs help students prepare to provide mental health counseling services. You could study the science behind counseling. And, you could learn techniques to help patients work through their personal challenges.
Counseling Psychologists usually must earn a doctoral degree. A Ph.D. in psychology or a Doctor of Psychology (Psy.D.) is most common. But the road to earning a doctorate starts with pursuing a Bachelor's degree. Your undergraduate degree doesn't have to be in Psychology, but this major happens to be one of the most popular.
A Bachelor's in Psychology program explores the human mind and personality. For instance, you may learn about the biology of mental processes. And, you may discover how social and cultural factors influence a person's behavior. These courses could offer a foundation for future study in the field of Psychology.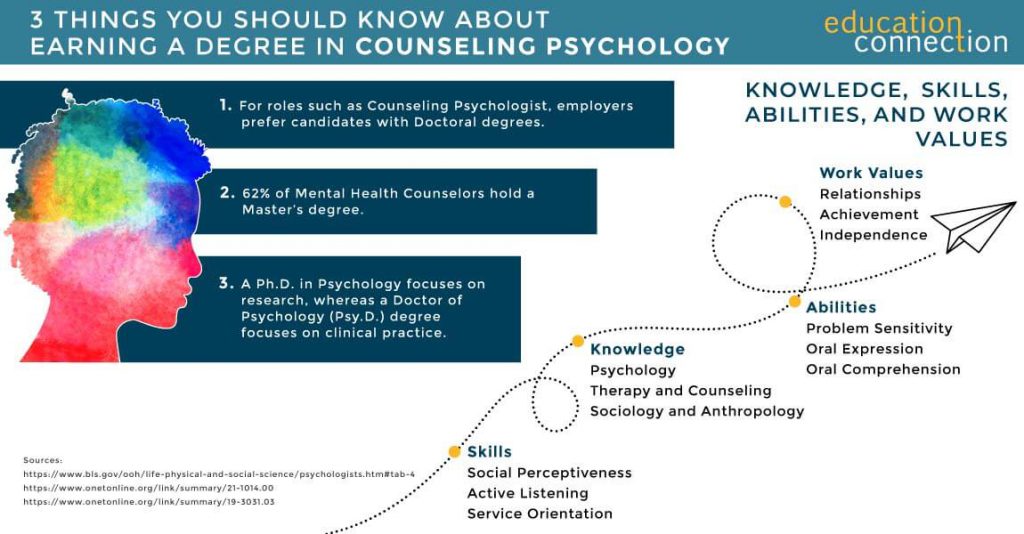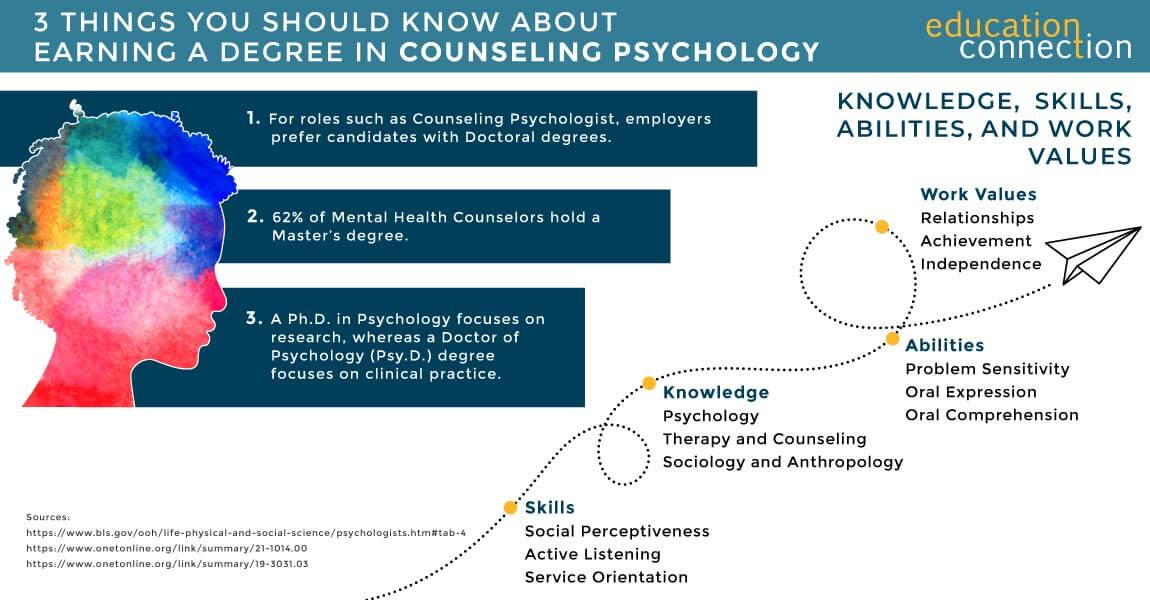 BACHELOR's DEGREES
B.S. in Psychology – Applied Behavior Analysis
---
The B.S. in Psychology may prepare students for potential graduate studies or a career path. The program covers concepts like learning theories and behavioral principles. You may study how to work with those who have mental health and behavioral challenges.
---
Introduction to Psychology
Exceptional Needs Children
Abnormal Psychology
MASTER's DEGREES
M.A. Clinical Mental Health Counseling
---
This program is designed to help students prepare to counsel diverse patients. You'll study theories and techniques for mental health counseling. And, you'll explore areas like career assessment and professional ethics.
---
Diversity & Multiculturalism
Couples and Family Counseling
Addictions and Substance Abuse
DOCTORAL DEGREES
Ph.D. in Addictions Psychology
---
The Ph.D. in Addictions Psychology covers the ins and outs of substance abuse and addictive behaviors. You'll study co-occurring disorders, treatments, and more. The program is designed for mental health practitioners and is not intended to lead to licensure.
---
Addiction and Related Disorders
Family Systems Approaches to Addiction
Group Therapy
ONLINE COUNSELING PSYCHOLOGY DEGREE CURRICULUM
Counseling Psychology programs cover the theory and practice of clinical counseling. Students learn to apply psychological principles while treating patients from diverse backgrounds. Before pursuing a Counseling Psychology degree, your educational journey will have other steps. Earning a Bachelor's in Psychology may be a good starting point.
PSYCHOLOGY BACHELOR'S DEGREE PROGRAMS
A Bachelor of Psychology program takes a broad look at human behavior. Programs are usually multidisciplinary. That means they feature courses across the sciences and humanities. You'll study biological, clinical, and sociological forces in Psychology. You may even be able to take a concentration, like Addiction Studies or Child Psychology.
There are two main types of Bachelor's in Psychology program:
B.S. in Psychology – The Bachelor of Science in Psychology may feature a lot of math and science courses. You may take more courses within the Psychology major, and fewer electives. You may even be able to choose a concentration, like Neuroscience or Applied Behavior Analysis. Students pursuing this program may intend to pursue graduate studies, later.
B.A. in Psychology – The Bachelor of Arts in Psychology may take more of a broad-based approach. You could take more courses outside of the major, like humanities electives. The focus may be on building soft skills, like critical thinking. These could apply to other career areas, besides Psychology.
At the bachelor's level, you could take courses like:
Developmental Psychology
Cognition and the Brain
Abnormal Psychology
Undergraduate Research in Psychology
Crisis Intervention
And, most programs feature general education courses, like English Composition and Biology.
MASTER'S IN COUNSELING PSYCHOLOGY PROGRAMS
Master's in Counseling Psychology programs often focus on working with patients. You may learn to assess patients and choose evidence-based treatments. You'll also study how to counsel people from diverse cultures and identities.
You could take courses like:
Theories and Techniques of Counseling
Child Psychopathology
Family Therapy
Addictions Counseling
Psychopharmacology
Programs may also feature a practicum to introduce students to counseling strategies. And in most cases, you'll need to pursue one or more supervised internships.
Some Master's in Counseling Psychology programs could help you pursue licensure. Counseling licensure requirements vary by state. You may need to complete a certain amount of credits or supervised experience. If licensure is your goal, it's important to find programs designed for this outcome.
COUNSELING PSYCHOLOGY DOCTORAL DEGREE PROGRAMS
Most Counseling Psychologists earn a Psy.D. or Ph.D. in Psychology. These doctoral programs both include Psychology coursework, research, and supervised experience. That said, each takes a different approach.
A Ph.D. in Psychology is a research degree. Students may study statistics and the procedures for experiments. Usually, they must research and write a dissertation. That said, the program may include both theory and how to apply it. So, earning a Ph.D. could prepare you for a clinical career path.
A Psy.D. or Doctor of Psychology degree program focuses on clinical practice. Students study how to work with patients in a counseling setting. They may study how to diagnose mental illness, perform an intervention, and more. Often, Psy.D. programs require exams and practical work instead of a dissertation.
Featured Online Schools
1
Southern New Hampshire University
Take advantage of some of the nation's most affordable tuition rates, while earning a degree from a private, nonprofit, NEASC accredited university
Qualified students with 2.5 GPA and up may receive up to $20K in grants & scholarships
Multiple term start dates throughout the year. 24/7 online classroom access.
Offering over 200 online degrees
Popular Online Programs
Business Administration, Psychology, Information Technology, Human Services…
2
Purdue Global University
Experience world-class education online with more than 175 programs at associate's, bachelor's, master's and doctoral levels.
Competency-based ExcelTrack™ Programs may allow you to earn your degree faster and for less money
Courses taught by highly respected faculty members who are experts in their fields
Full range of student services including no cost tutoring in math, science and writing
Available Online Programs
Business, Analytics, Computer Science, Cyber Security, Healthcare Management, RN to BSN, Criminal Justice, Psychology

3
Colorado State University
Ranked #8 by U.S.News & World Report for Best Online Bachelor's Programs
Apply up to 90 transfer credits for bachelor's students, and 9 transfer credits for master's degree students.
CSU Global graduates experience a return on investment of 4:1, which means they receive $4 in salary and benefits for every $1 they invest in their education.
Online Programs Include:
Accounting, Business Administration, Criminal Justice, Psychology & Information Technology

Sponsored
HOW LONG DOES IT TAKE TO GET A COUNSELING PSYCHOLOGY DEGREE?
Earning a Bachelor's in Psychology generally takes about four years, full time. Online Psychology programs are usually about 120 to 125 credits.
Master's in Psychology programs usually take about two years to earn. They could range from 30 to 50 credits. But, programs designed to help students prepare for counselor licensure could be longer.
Earning a Ph.D. or PsyD could take between four and eight years. This may include a one-year internship in a clinical setting.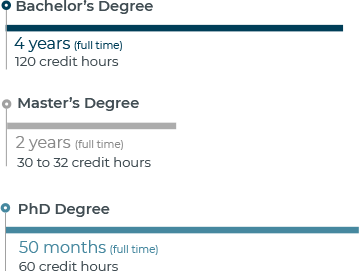 COUNSELING PSYCHOLOGY MASTERS'S DEGREE PROGRAMS THAT COULD BE COMPLETED IN 18 MONTHS OR LESS
| School | # of Credits Required | Start Dates | Minimum Months to Complete |
| --- | --- | --- | --- |
| The Chicago School of Professional Psychology | 36 | Multiple | 12 |
| Ashford University | 36 | Mulitple | 76 weeks (about 18 months) |
| Pepperdine University | 36 to 48 | Fall, Spring, Summer | 18 |
HOW MUCH DOES A COUNSELING PSYCHOLOGY DEGREE COST TO EARN?
Counseling Psychology students paid median in-state public tuition of $7,128 in 2016. Median tuition for out-of-state private colleges was $27,650. Compare tuition costs for the following master's level psychology programs:
| School | # of Credits Required | Cost Per Credit | Total Tuition Cost |
| --- | --- | --- | --- |
| Walden University | 90 | $465 | $47,015 |
| Grand Canyon University | 36 | $515 | $18,540 |
| Purdue University – Global | 60 to 75 | $420 | $25,200 to $31,500 |
TOP COUNSELING PSYCHOLOGY SCHOOLS
Last check, there were 301 schools that offer Counseling Psychology programs. From those schools, 10,832 Counseling Psychology degrees were awarded to students. The majority (89.2%) were Master's degrees.
| School | 2016 Total Grads/Degrees Awarded | 2017/18* (Out of State Unless**) |
| --- | --- | --- |
| Liberty University | 818 | $21,310** |
| Lamar University | 543 | $18,274 |
| Webster University | 332 | $27,100** |
| Nova Southeastern University | 277 | $29,930 |
| Capella University | 240 | $14,250** |
| Troy University | 212 | $16,276 |
| Lindsey Wilson College | 182 | $24,246 |
| Teachers College at Columbia University | 167 | $37,728** |
| Adler School of Professional Psychology | 166 | $43,400** |
| National University | 163 | $13,016** |
ACCREDITATION FOR ONLINE COUNSELING PSYCHOLOGY PROGRAMS
Accredited Counseling Psychology programs must meet certain standards and undergo regular review. This helps you know you are pursuing a high-quality education.
Depending on your career goals, some states may require you to graduate from an APA-accredited program. The American Psychological Association (APA) accredits Counseling Psychology programs at the doctoral level. They also accredit internship programs (required for doctoral study) and postdoctoral residency programs.
Currently, APA does not accredit undergraduate or Master's programs. But, you can still look for Psychology programs from accredited colleges or universities. Your school must be accredited if you hope to qualify for federal financial aid.
Another accrediting organization worth knowing about is CACREP. CACREP is the Council for Accreditation of Counseling and Related Educational Programs. They accredit Masters and doctoral programs in counseling.
Potential benefits of attending a CACREP-accredited program are:
CACREP ensures the quality of accredited programs
CACREP reviews programs based on professionally approved standards
CACREP graduates could perform better on the National Counselor Examination for Licensure and Certification (NCE)
WHAT CAN YOU DO WITH A COUNSELING PSYCHOLOGY DEGREE?
By the most recent count, there were 2.43 million Psychology graduates in the workforce. And, this group showed a one-year growth rate of 4.96%. The occupation that employed the most Psychology graduates was Counselor.
Far more females earned Counseling Psychology degrees than males. In fact, 82.6% of degree-holders were female. The average age of a degree-holder in the workforce was 41.3 years old.
TOP STATES TO BECOME A CLINICAL, COUNSELING, OR SCHOOL PSYCHOLOGIST
| State | Employment | Annual Mean Wage |
| --- | --- | --- |
| California | 18,250 | $94,910 |
| New York | 11,380 | $91,180 |
| Texas | 6,250 | $70,060 |
| Pennsylvania | 4,800 | $79,280 |
| Illinois | 3,990 | $76,150 |
REHABILITATION COUNSELORS
Rehabilitation counselors help people with physical, mental, developmental, or emotional disabilities live independently. They work with clients to overcome or manage the personal, social, or psychological effects of disabilities on employment or independent living.
Median Salary: $34,860 per year
Job growth through 2026: 13% (Faster than average)
Typical Entry-level education: Master's degree
SUBSTANCE ABUSE, BEHAVIORAL DISORDER, AND MENTAL HEALTH COUNSELORS
Substance abuse, behavioral disorder, and mental health counselors advise people who suffer from alcoholism, drug addiction, eating disorders, mental health issues, or other mental or behavioral problems. They provide treatment and support to help clients recover from addiction or modify problem behaviors.
Median Salary: $43,300 per year
Job growth through 2026: 23% (Much faster than average)
Typical Entry-level education: Most substance abuse, behavioral disorder, and mental health counselor positions require at least a bachelor's degree. However, depending on the state and employer, educational requirements can vary from a high school diploma and certification to a master's degree. You can even find Psychology Masters that don't need a GRE for admission.
Median Salary: $48,790 per year
Job growth through 2026: 23% (Much faster than average)
Typical Entry-level education: Master's degree