Online Graphic Design Degree Programs
Get matched to a Graphic Design Degree Program for FREE!
What is an Online Graphic Design Degree?
In an online graphic design program, students learn to create visuals for consumer materials. That may include everything from advertisements and brochures to websites.
Students learn principles of design, like color theory and typography. They also need to learn the software and tools used to create designs. Finally, most programs involve creating a professional portfolio of design work. If you're creative and want to help companies communicate in a visual way, this field may interest you.
Associate Degrees
Bachelor's Degrees
Master's Degrees

Graphic Design Associate's – Web and Interactive Design Specialization

BA Graphic Design and Media Arts

M.F.A. in Graphic Design and Visual Experience

Students pursue foundational knowledge of graphic design, including skills and technologies. The program covers multimedia design, traditional art, and more. Plus, choose a specialization – like Web and Interactive Design.
This program focuses on turning concepts into design – from print to web. You'll learn the theories and technologies behind creating designs. And, you could choose a concentration in Web Design or 3D Modeling and Animation.
This Master of Fine Arts program explores advanced topics and is designed to broaden your perceptions. You'll study everything from ideation models to typography. And, you'll engage in graduate research and discovery.

Design Foundations
 3D Animation
User Experience Design

Basic Design and Color Theory
Advanced Digital Imaging
Digital Graphic Design for the Web

Visual Analysis of Static Content
Visual Design for Interactive Contexts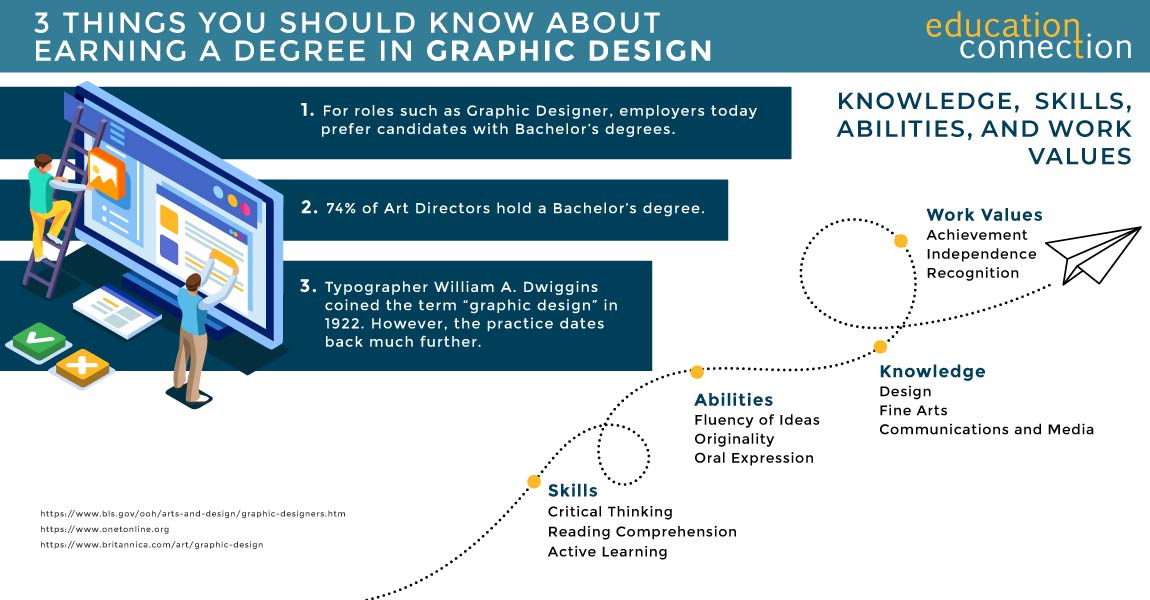 Online Graphic Design Degree Programs
Graphic design degree programs may be found at the undergraduate and graduate levels. Programs at all levels typically combine artistic and technical concepts. From laying out pages in a magazine to editing digital images for web, you'll study what goes into well-designed visuals. And, you'll flex your creative muscles as you work on design projects.
Online Associate's in Graphic Design Programs
At the Associate's level, expect your online graphic design degree program to explore the basics of visual communications. That includes topics like typography (the art of type), image editing, and web design. Expect to explore commonly used graphic design software, like the Adobe Creative Cloud. And, you'll pursue greater appreciation of art and design – whether you find it in museums or on billboards!
Associate's in Graphic Design programs may include:
Associate of Arts (A.A.) in Graphic Design
Associate of Science (A.S.) in Graphic Design
Associate of Applied Science (A.A.S.) in Graphic Design
Programs share similarities. But, A.A. and A.S. programs are often designed for students who might pursue a transfer to a four-year school, later. And while all graphic design programs involve creativity and the arts, an A.A. program may feature more liberal arts electives. In an A.S. program, math or technology electives may be more prevalent.
Online Bachelor's in Graphic Design Programs
Bachelor's programs in graphic design often take a ground-up approach. Expect to take foundational art courses, like drawing and color theory. You may even study the history of graphic design and how the discipline evolved.
You'll also explore different applications for design. These not only include a range of industries. Design can be used for branding, advertising, publishing, and more! You could try your hand at everything from print design to creating software user interfaces that are easy on the eyes.
Technical skills play a big role in most graphic design programs. After all, much of design is for digital – from websites to apps. So, expect to study software and related skill areas, from photo editing programs to HTML.
Bachelor's in Graphic Design programs may include:
Bachelor of Arts (BA) in Graphic Design and Media Arts
Bachelor of Fine Arts (BFA) in Graphic Design
Bachelor of Science (BS) in Graphic Design
Pursuing a BA or BS in Graphic Design may offer a broader exploration of the liberal arts and sciences. Students could pursue diverse knowledge areas besides graphic design. And, they could even prepare for potential graduate study.
A BFA is a professional degree. It may feature more career-oriented coursework. For instance, students could study brand identity, environmental design, and even 3D animation. But, they may not take as many electives outside their major.
Finally, some graphic design programs offer concentrations, as well. These could include:
Web Design
Interactive Design
Animation and Motion Graphics
3D Design
And others
Online Master's in Graphic Design Programs
In an online graphic design degree Master's program, you could build on what you learned in an undergrad graphic design program. And, you could potentially update your technology knowledge. After all, the graphic design field is highly technical and changes fast.
Master's programs may also delve deeper into design theory. You could take a critical approach to movements and trends in the field. And, you could take advanced coursework in areas like interactive design, typography, and even graphic design research.
Master's in Graphic Design programs may include:
Master of Arts (MA) in Graphic Design
Master of Fine Arts (MFA) in Graphic Design
These programs may have overlapping coursework. But, an MA may be more focused on theory and research, while an MFA may focus on the practice of design.
Featured Online Schools
1
Take advantage of some of the nation's most affordable tuition rates, while earning a degree from a private, nonprofit, NEASC accredited university
Qualified students with 2.5 GPA and up may receive up to $20K in grants & scholarships
Multiple term start dates throughout the year. 24/7 online classroom access.
Offering over 200 online degree
Popular Programs
Business Administration, Psychology, Information Technology, Human Services…

2
Ranked #8 by U.S.News & World Report for Best Online Bachelor's Programs
Apply up to 90 transfer credits for bachelor's students, and 9 transfer credits for master's degree students.
CSU Global graduates experience a return on investment of 4:1, which means they receive $4 in salary and benefits for every $1 they invest in their education.
Available Programs
Business, Computer Science, Criminal Justice, IT, Psychology…

3
Save up to 25%. Save thousands on your bachelor's with the Strayer Graduation Fund.
Strayer University is an accredited institution with a proud history of 125 years in quality education.
With the help of dedicated personal support and AI technology, earn your degree online or on campus.
Programs Include
Accounting, Business Administration, Criminal Justice & Information Technology

Sponsored
Graphic Design Degree Program Core Courses
What kind of graphic design courses could you take? Whether at the Associate's, Bachelor's, or Master's level, you'll take classes that explore the theory of art and design. You'll also likely study technical subjects. These could include everything from digital image editing to animation.
Here are a few common courses you may find in your prospective program:
History of Graphic Design:&nbspThe earliest examples of graphic design were pictographs found in caves! In a course like this, you'll learn the key figures, innovations, and tech tools that shaped the industry as we know it today.
Web Design:&nbspDesigning for web calls for knowledge of how to make websites user-friendly and visually pleasing. That's true whether they're viewed on a computer screen or mobile device. This course covers the principles of web design, along with skill areas like CSS.
Typography:&nbspYou'll likely take one or more courses exploring the art of the font. Expect to learn how type is designed and how to use it to communicate with your audience. And, you could work on projects that use type in different ways.
Electronic Publishing:&nbspSometimes, designers work on publications that are many pages long. This course teaches you how to design large documents – from e-books to magazines. You may study everything from choosing colors to working with master pages in Adobe InDesign.
How Long Does It Take to Earn a Degree in Graphic Design?
Earning an Associate's degree in graphic design may take around two years. Earning a Bachelor's degree takes around four years. And, Master's programs vary in length but often take about two years. Remember that degree length also depends on whether you study part time or full time.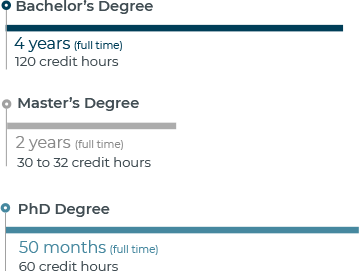 Graphic Design Degrees That Could Be Earned in 29 Months or Less
| | | | | |
| --- | --- | --- | --- | --- |
| School | Degree Level | # of Credits Required | Start Dates | Minimum Months to Complete |
| Rasmussen College | Associate's | 91 | Multiple | 18 months |
| Full Sail University | Bachelor's | 120 | 5 per year | 29 months |
| Grand Canyon University | Bachelor's | 120 | Multiple | 29 months |
How Much Does a Graphic Design Degree Cost to Earn?
The NCES lists the average cost of attending a public, four-year school at $19,189 per year. The average cost of attending private and for-profit schools is $39,529 per year. Compare tuition for these schools with graphic design degree programs:
| | | | | |
| --- | --- | --- | --- | --- |
| School | Degree Level | # of Credits Required | Cost Per Credit | Total Tuition Cost |
| Southern New Hampshire University | Bachelor's | 120 | $320 | $38,400 |
| Full Sail University | Bachelor's | 120 | $696 | $83,520 |
| Grand Canyon University | Bachelor's | 120 | $470 | $56,400 |
Top Schools Offering Graphic Design Programs
NCES names 648 institutions that have graphic design programs. From those schools, 10,382 degrees were awarded to students in 2016 (the most recent data). Most of these degrees were at the Bachelor's level (57%).
| | | |
| --- | --- | --- |
| School | 2016 Degrees awarded | 2018/19 Tuition |
| The Art Institute of Pittsburgh-Online Division | 397 | N/A |
| School of Visual Arts | 213 | $39,900 |
| Full Sail University | 206 | $24,109 |
| The New School | 169 | $49,064 |
| Academy of Art University | 133 | $22,308 |
| Independence University | 132 | $16,972 |
| Columbia College Chicago | 122 | $27,176 |
| Southern New Hampshire University | 114 | $31,136 |
| Maryland Institute College of Art | 106 | $48,630 |
| Ferris State University | 101 | $11,788 |
Choosing an Accredited Graphic Design Program
Look for programs accredited by the National Association of Schools of Art and Design. NASAD accredits over 360 institutions with arts and design programs. Programs must meet NASAD's rigorous quality standards. These standards emphasize areas like:
Artistic and educational fundamentals
Faculty qualifications and specializations
Resources, such as studio space and technology
Connections to the design community
Connections to the local community
Graduating from an accredited program could help you make sure that what you learned meets expectations in your industry. But, it's not necessarily a requirement for pursuing a design career path.
What Can You Do with a Graphic Design Degree?
According to the most recent census data, over 2 million graphic design degree-holders are currently in the workforce.
Designers can work for a variety of different companies. And, job growth in this occupation may depend on the industry. For example, roles for graphic designers in computer systems design and related services are projected to increase by 20% between 2016 and 2026. The occupation as a whole is projected to grow 4% in the same timeframe.
Wondering if you fit into the field? Most graphic design degree-holders (60.4%) were female. The average age of a degree-holder is 40.8 years old.
Top Salaries by State for Graphic Designers
| | | |
| --- | --- | --- |
| State | Employment | Annual Mean Wage |
| District of Columbia | 1,690 | $71,180 |
| New York | 21,350 | $64,840 |
| Massachusetts | 5,680 | $64,010 |
| California | 29,320 | $61,100 |
| Connecticut | 2,300 | $60,700 |
Jobs You can get with a Graphic Design Degree
Graphic Designer
Graphic Designers use artistic and technical skills to create visual concepts. They often discuss ideas with clients or the art director. And, they use tools like digital illustration and photo editing software to produce designs. Designers can be self-employed or work in many industries.
Median Salary: $50,370 per year
Job Growth Through 2026: 4%
Typical Entry-level Education: Bachelor's degree
Art Director
Art Directors lead creative teams and are responsible for the visual style within an organization. For example, they could develop the overall look of a periodical, a brand, a film set or theatre, and a lot more. Since Art Directors oversee other workers, they combine creative skills and leadership knowledge.
Median Salary: $92,780 per year
Job Growth Through 2026: 5% (As fast as average)
Typical Entry-level Education: Bachelor's degree
Web Designer
Web Designers may be more commonly known as Web Developers. They design and build websites, and are responsible for both a site's appearance and how it functions. They may also work with other team members – including graphic designers – to determine the look and feel of a site.
Median Salary: $69,430 per year
Job Growth Through 2026: 15% (Much faster than average)
Typical Entry-level Education: Associate's degree