Top Health Information Management Degree Online Programs
Get matched to an Health Information Management Degree Online for FREE!
WHAT IS A HEALTH INFORMATION MANAGEMENT DEGREE?
Health information management (HIM) degree studies digital patient data. It examines the tools and methods used to manage regulatory, privacy, and tech issues.
Some courses look at the practices used to gain medical info. Others touch on the ways we analyze, store, and protect it. Along the way, you may build critical thinking skills and an ability to handle projects.
If the balance of business, health care and hi-tech appeals to you, an HIM degree may ready you to launch a career. In many positions, one needs a bachelor's degree to get started. Statistics show a strong rate of employment growth in the industry (20%) so perhaps you'll want to prepare.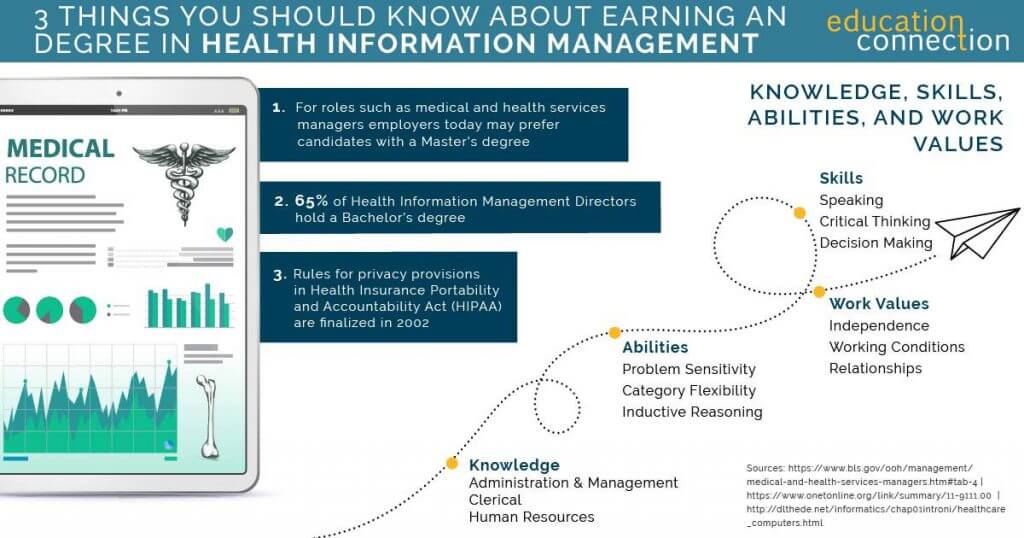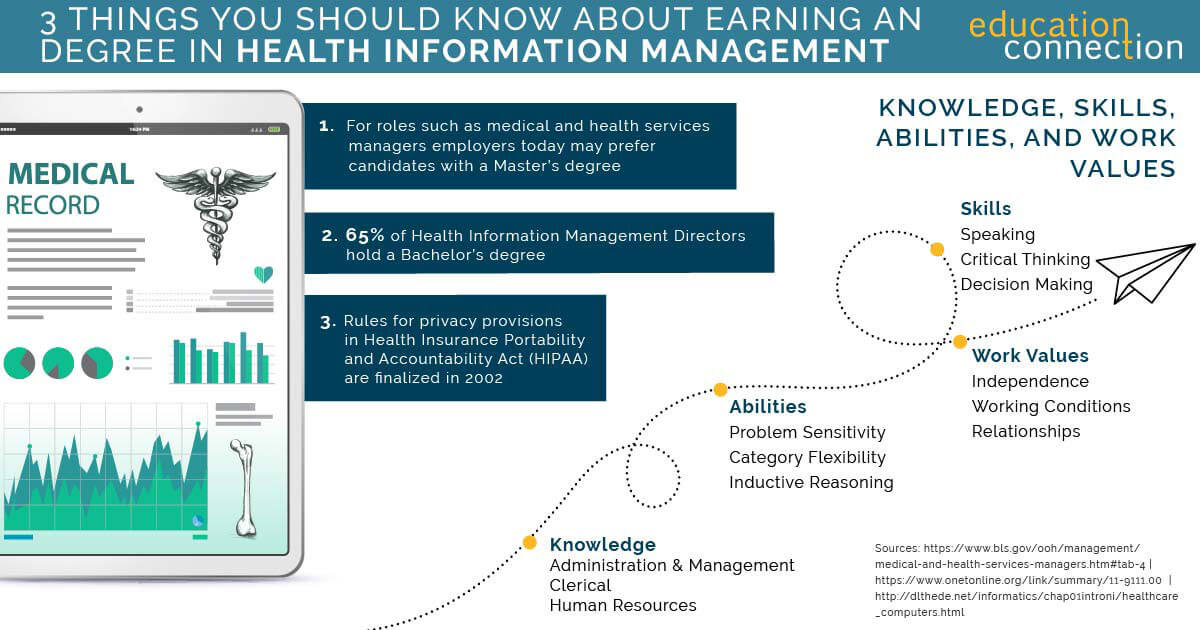 Associate Degrees
Associate's in Health Sciences / Healthcare Technology & Systems
---
May ready you with technical skills and know how. Usually, a study plan features computer classes. For instance, you may learn to set up and troubleshoot health care software. Other topics may help you understand how to keep health records secure, operate a help desk and more.
---
Medical Terminology
Introduction to Health Information Technology
ICD Diagnosis Coding and Application
BACHELOR's DEGREES
Bachelor's of Science in Health Information Management
---
For students who want to pursue leadership in healthcare and medical facilities. The study plan is business focused. You can enroll in the MHA program at the same time
---
Advanced Quality Management in Healthcare

Healthcare statistics and Reporting

Applied Research in HIM
BACHELOR's DEGREES
BA in Health and Human Services – Health Care Informatics Systems Specialization
---
For students who want to pursue careers in health and human services. The study plan draws from multiple topics and may help you learn to use data to improve the quality of health care
---
Healthcare Administration
Intro to Health Informatics
Health and Human Services
HEALTH INFORMATION MANAGEMENT DEGREE ONLINE PROGRAMS
HIM degree programs feature classes to help you learn to use data to improve the quality of health care. Health information is the data related to a person's medical history. This includes symptoms, diagnoses, procedures, and outcomes. To manage this data, professionals need to ensure it is complete, accurate and secure.
Some HIM programs meld topics in business with science and information technology. Others may have a narrower focus such as management in healthcare. As such, you may gain a deeper understanding of the workflow of healthcare providers.
You'll also find programs that serve as study guides. These may get you ready to take an industry exam once you graduate. The Registered Health Information Administrator (RHIA) exam is an example. If this is your goal, you may need to complete some onsite experiences. These provide hands-on practice using electronic health records (EHRs).
Because there is a range of programs, we'll outline a few common ones. This may help you get a feel for where your interests lie.
HEALTH INFORMATION MANAGEMENT (HIM)
BS in Health Information Management – May ready you to plan, direct, and coordinate medical and health services. You'll often study current healthcare laws, regulations, and technology. Some classes also include studies of human anatomy and health policy. Others explore coding, EHRs, and statistics. As such, they may help you make informed decisions about quality and health systems.
If you want to pursue a data-driven degree grad degree, there are options. Many schools offer online Master of Health Information Management programs as well. These often focus on strategic and operational topics.
HEALTH INFORMATICS
BS in Health and Human Services – May focus on the helping side of healthcare. With an informatics concentration, you might come to understand how technology plays a key role in serving the public. Some of these courses might touch on healthcare reimbursement methods. Others may look at statistics, reporting and data mining.
HEALTHCARE ADMINISTRATION
BS in Healthcare Administration and Management – May focus less on health informatics and more on the managerial side of health care. You'll often study to pick up operational skills. These may help you understand the workflow in hospitals and medical centers. As such, you may find courses that ready you to deal with staff, projects, and insurance companies.
Taking this degree further you may study to earn a Master's in Healthcare Administration, MBA or even Ph.D. At this level, the courses often revolve around leadership and strategy. This may help fine-tune a business mindset. Other courses at this stage may also delve into human resource skills and money matters.
Featured Online Schools
1
Southern New Hampshire University
Take advantage of some of the nation's most affordable tuition rates, while earning a degree from a private, nonprofit, NEASC accredited university
Qualified students with 2.5 GPA and up may receive up to $20K in grants & scholarships
Multiple term start dates throughout the year. 24/7 online classroom access.
Offering over 200 online degrees
Popular Online Programs
Business Administration, Psychology, Information Technology, Human Services…
2
Purdue Global University
Experience world-class education online with more than 175 programs at associate's, bachelor's, master's and doctoral levels.
Competency-based ExcelTrack™ Programs may allow you to earn your degree faster and for less money
Courses taught by highly respected faculty members who are experts in their fields
Full range of student services including no cost tutoring in math, science and writing
Available Online Programs
Business, Analytics, Computer Science, Cyber Security, Healthcare Management, RN to BSN, Criminal Justice, Psychology

3
Colorado State University
Ranked #8 by U.S.News & World Report for Best Online Bachelor's Programs
Apply up to 90 transfer credits for bachelor's students, and 9 transfer credits for master's degree students.
CSU Global graduates experience a return on investment of 4:1, which means they receive $4 in salary and benefits for every $1 they invest in their education.
Online Programs Include:
Accounting, Business Administration, Criminal Justice, Psychology & Information Technology

Sponsored
HOW LONG DOES IT TAKE TO GET A HEALTH INFORMATION MANAGEMENT Degree?
As a fulltime student, it may take four years to earn a health information management degree online. If you enroll part-time or take any time off from school this stretches out. It's another story if you need to complete fewer credits.
The usual is 120 credits for a bachelor's in Health Information Management. But many online colleges offer robust transfer policies for past credits. Fewer credits shortens the time to completion. Keep in mind, you'll have to check school policy.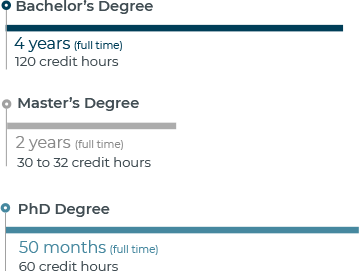 HEALTH INFORMATION MANAGEMENT DEGREE PROGRAMS THAT COULD BE COMPLETED IN 18 MONTHS
| School | Degree | # of Credits | Start Dates | Minimum Months to Complete |
| --- | --- | --- | --- | --- |
| Rasmussen College | Bachelor's | 90 credits | Multiple – April 1, 2019 is next | 18 months (completion for those with an Associate's degree) |
| Colorado State University-Global Campus (CSU) | Bachelor's | 120 credits | Monthly term starts | Courses are 8 weeks each and self-paced, with transfer credits one might complete in less than 4 years |
| Ashford University | Bachelor's | 120 credits | Classes start on Tuesdays | Courses are 5 weeks each, with transfer credits one might complete in less than 4 years |
THE AVERAGE COST OF A HEALTH INFORMATION MANAGEMENT DEGREE Program
Per recent data, in-state cost of an online health management degree program averages at $7,056. This is growing by 1.03%. Out of state tuition is higher. On average that cost is $29,640 and rising by 0.24%. Since these are averages, you'll find programs that are easier or harder on the wallet.
You also need to factor in other costs. One of these is books and supplies. The other is any technology or graduation fee the school charges. The chart below shows the tuition at several schools where you might pursue a bachelor's level HIM degree online.
| School | # of Credits Required | Cost Per Credit | Total Tuition Cost |
| --- | --- | --- | --- |
| Colorado State University Global Campus (CSU) | 120 | $350 | $42,000 |
| Ashford University | 120 | $350 | $42,000 |
| Colorado Technical University (CTU) | 180 | $325 | $58,500 |
TOP SCHOOLS FOR HEALTH INFORMATION MANAGEMENT DEGREE PROGRAMS
Last check, there were 20 schools that offer health information management degrees or programs. From those schools there were 2859 health information and medical records administration degrees awarded to students. The majority (65%) of these programs were bachelor's degrees.
The table below shows the tuition costs for some of these schools.
| School | 2017 Grads Total/Degrees Awarded | Tuition (Out of State) |
| --- | --- | --- |
| Ivy Tech College | 338 | $7,932 |
| University of Phoenix – Arizona | 257 | $11,219 |
| University of Illinois at Chicago | 170 | $21,982 |
| The College of Saint Scholastica | 117 | $34,764 |
| University of Central Florida | 71 | $24,656 |
| University of Cincinnati-main campus | 79 | $19,810 |
| Institute of Technology | 50 | $24,405 |
| Indiana University – Purdue University Indianapolis | 36 | $28,727 |
| Temple University | 30 | $26,376 |
BECOMING A REGISTERED HEALTH INFORMATION ADMINISTRATOR
RHIAs work as links between care providers, patients and patients. In fact, it's key that HIM pros tell a full story with clinical data. They need to manage, sort, secure, share and store health info so that they get as many codes on a claim as possible.
Done well, both public health pros and others are then able to use the data. They might do so to predict something about a disease. Or, develop a tactic to help prevent a health crisis. For patients, the right code can mean reimbursement from an insurance company.
What is RHIA Certification? The American Health Information Management Association(AHIMA) awards the Registered Health Information Administrator (RHIA) credential.
While it is not required, some HIM managers choose to become certified. It is a mark of professionalism. It is one way to show potential employers you have both skills and know-how. That you understand and follow standards and ethics.
To certify as an RHIA you'll need to first show you are eligible. One way to do this is to earn a bachelor's degree in Health Information Management (HIM) from an accredited program. The agency that approves HIM and HIT programs is the commission on Accreditation for Health Informatics and Information Management (CAHIM).
Once you are eligible, you'll need to pass the RHIA exam. In it, you'll answer 180 questions. These cover things like:
Health Data Management
IT Systems
Database Design
Human Resource Management
Privacy and InfoSec
From there, every two years you'll need to recertify your RHIA status. This means earning 30 continuing education credits. One way to do this is to earn your master's degree. Experts say this may help you advance to higher levels of management.
What if you choose another program like health administration? You may want to look into any state licensing requirements. For example, all states require licensure for nursing home administrators. Or you might check other types of credentials that may be useful for specific positions.
WHAT JOBS CAN YOU GET WITH A HEALTH INFORMATION MANAGEMENT DEGREE?
There are 3.98 million people working in health information management. While the average age is going down from 43.2 years, the workforce is growing by 5.25%. Most (41.9%) of these workers are women and have a bachelor's degree. Two other common degree types are Masters and Professional degrees.
TOP SALARIES BY STATE FOR HEALTH INFORMATION MANAGEMENT PROFESSIONALS
The table below shows the states where health information managers earn the highest salaries.
| State | Employment | Annual Mean Wage |
| --- | --- | --- |
| District of Columbia | 1,670 | $143,710 |
| New York | 25,850 | $136,770 |
| Connecticut | 5,440 | $132,600 |
| Delaware | 1,010 | $129,070 |
| Massachusetts | 13,770 | $138,730 |
JOBS YOU CAN GET WITH A CYBER SECURITY DEGREE
Once you have a cyber security degree, you may pursue a wide range of potential careers.
HEALTH INFORMATION MANAGERS
Health information managers maintain and secure all patient records and data. To do this, they stay up to date with the latest information technology. It is also their role to make sure databases are complete and accurate. They'll also keep private info accessible only to authorized personnel. Some may supervise the work of medical records and health information technicians.
Median Salary (2017): $98,350
Job Growth through 2026: 20% (Much faster than average)
Typical Entry-Level Education: Bachelor's degree, master's may be preferred
MEDICAL AND HEALTH SERVICES MANAGERS
Medical and Health Services Managers have job titles that depend on where they work and what they do. Some work as nursing home administrators. They manage the staff, admissions, finances, day-to-day operations and residents. Others work as clinical managers and oversee a specific department. They often set policies, goals and procedures and may also assess staff.
Median Salary (2017): $98,350
Job Growth through 2026: 20% (Much faster than average)
Typical Entry-Level Education: Bachelor's degree, master's may be preferred