Healthcare Administration Degree Online
Get matched to a Healthcare Management Degree Online Program for FREE!
WHAT IS AN ONLINE HEALTHCARE ADMINISTRATION DEGREE PROGRAM?
A healthcare administration degree online program teaches you how to run healthcare organizations or departments. In this program, you may cover staffing, leadership, finance, and more. You could learn how health organizations work as part of a system. And, you could learn to make healthcare more efficient.
Did you know that healthcare administration falls under the industry umbrella of business? As such, you can expect your program to teach you subjects such as economics and accounting. You can then apply these ideas to hospitals and clinics, which, as you can probably guess, have special business needs.
You can also expect to study the ins and outs of the healthcare sector. For instance, you could learn medical terminology. It will also be important for you to know how health insurance works. This is helpful for you if you have never worked in healthcare before!
Finally, you will find, many programs cover public health. That means you will develop an understanding of how to meet the health needs of different populations. You could study health policy and how it affects healthcare delivery. And, you could learn how good healthcare strengthens communities.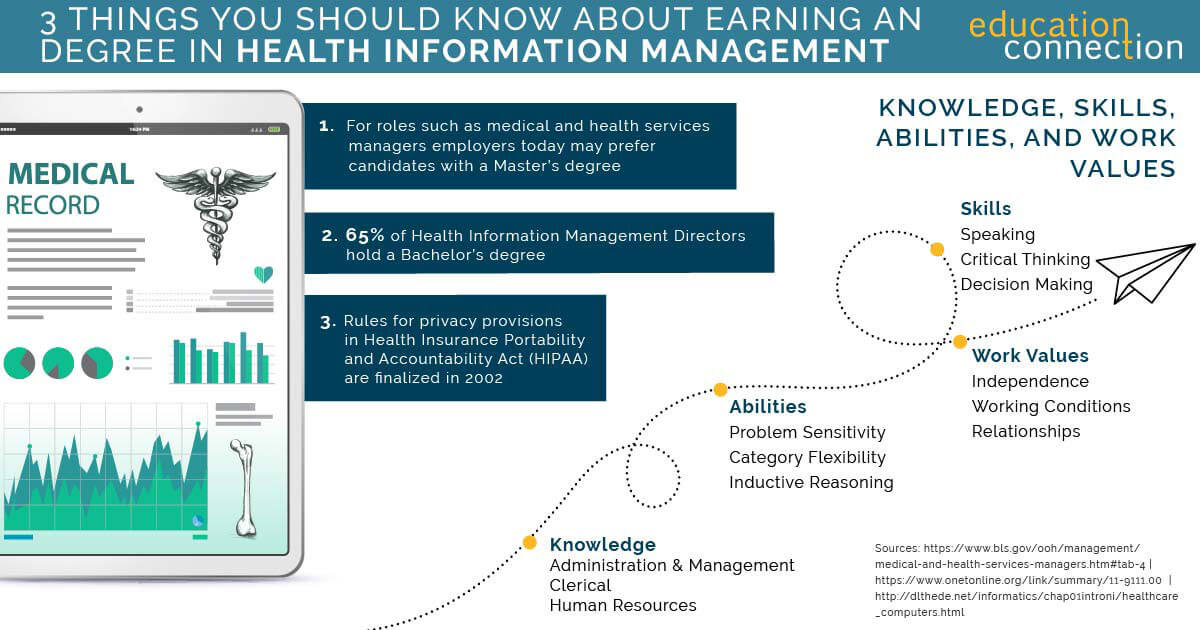 TYPES OF ONLINE HEALTHCARE ADMINISTRATION DEGREE PROGRAMS
B.S. Healthcare Administration and Management
In this program, you will cover how to implement medical and health services. As such, you will build core business knowledge. You could study areas such as HR and communications. And, you will study health concepts such as insurance and population health.
Course Examples:
Health Law and Ethics
Human Resource Management
Healthcare Supervision
Master of Business Administration Healthcare Management
In the MBA program, you will learn business concepts and how you can apply them to healthcare. You will study planning, marketing, healthcare law, and more. And, you will learn how to plan for the future of healthcare.
Course Examples:
Healthcare Finance
Accounting
Managing People
Doctor of Business Administration (D.B.A.)  Healthcare Management
The DBA teaches you how to apply your management skills to healthcare policy and economics. You will delve into law, ethics, and regulations. And, you will conduct research to solve problems in the health industry.
Course Examples:
Managing Healthcare Delivery Systems
Contemporary Challenges in Business
HEALTHCARE ADMINISTRATION DEGREE ONLINE PROGRAMS
In a nutshell, you will find that healthcare administration programs apply business topics to the health field. If you go down this path, your goal would be to learn how the health industry works, and how you can make it better.
BACHELOR'S DEGREE
At the B.A. level, you will study the basics of health administration. You will find the health field has many moving parts, from policy to finance. So, you will learn how it all works. You may even study health at a few different levels, from local to global.
A big part of your program will be learning how to manage the flow of health services. That means you may cover everything from hiring staff to keeping your patients satisfied. You may learn effective communication skills and how to make data based decisions.
MASTER'S DEGREE
If you are already working in healthcare administration, then a master's program may be right for you. Or, it could help you get ready for a new career in the field.
At the Master's level, you may study more complex concepts and leadership skills. For instance, you could learn how to manage change or risk in health organizations. You could even learn how to analyze and improve how hospitals run.
MBA in Health Management. An MBA program offers you a broad overview of business. So, what you learn could be relevant to other industries besides healthcare. Of course, you will also study the business of healthcare. But, an MBA may be the ideal choice if you are seeking wider applicability.
Master's in Health Administration (MHA). In an MHA program, you will focus on the healthcare industry. You will explore topics like healthcare policy and delivering health services efficiently. So, this program may be ideal for you if you are sure you want to pursue your career in the health industry.
DOCTORATE DEGREE
At the doctoral level, your healthcare administration program may focus on leadership and research. You can expect an advanced curriculum, including statistics and modeling. You may pursue a more detailed understanding of the health industry's structure. And, you may work on complex problems, like how to adapt to changing health policy.
Ph.D. in Healthcare Administration: In this program, you will usually focus on original research in the field of health administration. So, you will learn research methods and applications. Also, your Ph.D. in Health Administration is often interdisciplinary. You could study everything from economics to health equity, and how it all connects.
DBA in Healthcare Management or Administration: In a Doctor of Business Administration (DBA) program, you will focus on the business of healthcare. You could study leadership, change management, and fiscal accountability. And, you will apply existing research to solve problems in the health field.
1
Take advantage of some of the nation's most affordable tuition rates, while earning a degree from a private, nonprofit, NEASC accredited university
Qualified students with 2.5 GPA and up may receive up to $20K in grants & scholarships
Multiple term start dates throughout the year. 24/7 online classroom access.
Popular Programs
Business Administration, Psychology, Information Technology, Human Services…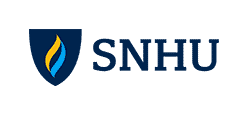 2
Ranked #8 by U.S.News & World Report for Best Online Bachelor's Programs
Apply up to 90 transfer credits for bachelor's students, and 9 transfer credits for master's degree students.
CSU Global graduates experience a return on investment of 4:1, which means they receive $4 in salary and benefits for every $1 they invest in their education.
Available Programs
Business, Computer Science, Criminal Justice, IT, Psychology…

3
Award-winning programs created to help you succeed.
A quality education doesn't have to be expensive. Earn an accredited degree for less.
Programs start monthly – Apply free this week!

Sponsored Schools
Healthcare Administration Courses
Some common courses include:
Comparative Healthcare Systems:&nbspWondering how health care systems differ around the country, and the world? This course may explore differences in practices, outcomes, and cultures.
Healthcare Statistics:&nbspDiscover how data can yield insights into health care. This course may cover how to use numbers and stats to solve problems.
Global Health Management:&nbspIn this course, you may study how to manage in global health care. You could learn about policies, methods, and health care NGOs.
Healthcare Quality Improvement:&nbspStudy how to make health practices better. In this course, you could learn about keeping patients safe and improving their results.
Financial Management:&nbspThis course covers how to manage money in health care. You may study revenue, costs, and raising funds.
Healthcare Delivery Systems:&nbspLearn how to deliver ideal care across complex systems. This course may cover how U.S. health care systems work and how they're run.
Healthcare Informatics: &nbspLearn about the role of data engineering in health care. This course may cover terms, concepts, and uses.
Legal & Ethical Issues: &nbspIn this course, you could look at health care decisions from a legal and ethical angle. Areas covered may include costs, human rights, quality, and much more.
Community and Public Health:&nbspDiscover how health issues impact groups – and how public health care could help. This course may cover everything from ethics to paying for public services.
HR for Health Professionals: &nbspTake a look at how health pros recruit, manage, and train workers. This course may focus on HR topics like benefits and worker safety.
HOW LONG DOES IT TAKE TO GET A DEGREE IN HEALTHCARE ADMINISTRATION?
If you earn your B.A. in healthcare administration, it could take about 4 to 5 years, full time, to complete the program. Most master's programs will take you two years or less. However, joint degree MHA programs and certain tracks may take you longer. If you want to earn a doctorate in health administration, it may take you 4 to 5 years or more.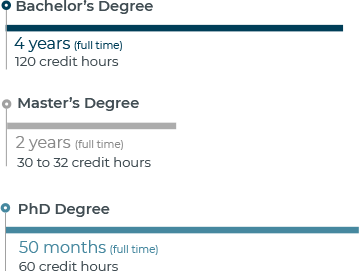 HEALTHCARE ADMINISTRATION DEGREE PROGRAM EXAMPLES
| | | | |
| --- | --- | --- | --- |
| School | # of Credits Required | Start Dates | Minimum Months to Complete |
| California State University | 33 | Fall | 24 |
| A.T. Still University | 48 | Multiple | 24 |
| American Intercontinental University | 48 | Multiple | 12 |
HEALTHCARE ADMINISTRATION VS. HEALTHCARE MANAGEMENT PROGRAMS
You may think of healthcare administration and healthcare management as the same thing. True, both types of programs have subjects in common. You will find both offer business courses like accounting and economics. And, you will find, both explore how to manage and improve health organizations, like hospitals.
That said, you will see that health administration focuses more on front end goals, and the emphasis is on the human side of healthcare. That means you will focus on hiring staff, ensuring high quality service, and meeting regulations. So, your courses may teach you how to manage personnel and how to run a department.
Healthcare management, you will see, focuses more on the overall business of healthcare. So, you will emphasize planning and development for health organizations. You could learn how to put together a budget and set long term goals for an organization's growth. In healthcare management, you will also cover day to day concerns. However, in this program, you will usually focus on the bigger picture.
HOW MUCH DOES AN ONLINE HEALTHCARE ADMINISTRATION DEGREE PROGRAM COST?
You will find that many online schools charge by the credit. You can compare the cost per credit for these schools that offer master's in healthcare administration programs in the chart below.
| | | | |
| --- | --- | --- | --- |
| School | # of Credits Required | Cost Per Credit | Total Tuition Cost |
| Pfeiffer University | 36 | $668 | $24,048 |
| Colorado University | 36 | $500 | $18,000 |
| Grand Canyon University | 34 | $515 | $17,510 |
TOP SCHOOLS FOR ONLINE HEALTHCARE ADMINISTRATION DEGREE PROGRAMS
Last check, you can see there are 2,302 schools that offer Health & Medical Administrative Services programs. From those schools, you will find 92,960 Health & Medical Administrative Services degrees were awarded to students. The majority of these were B.A. degrees.
| | | |
| --- | --- | --- |
| School | 2021 Degrees awarded | 2022/23 Tuition (out of state unless *) |
| University of Phoenix Arizona | 3,677 | $9,552* |
| DeVry University Illinois | 2,269 | $17,488* |
| Kaplan University Davenport Campus | 1,323 | N/A |
| Ivy Tech Community College | 1,371 | $8,927 |
| Ashford University | 773 | $13,160* |
| Colorado Technical University Colorado Springs | 6255 | $12,696* |
| Martinsburg College | 666 | $12,066* |
| Walden University | 307 | $12,483* |
| University of Central Florida | 363 | $22,467 |
Estimated for full time, beginning undergrad students
CHOOSING AN ACCREDITED ONLINE HEALTHCARE ADMINISTRATION DEGREE PROGRAM
How important is accreditation for your school? Well, it can help you know that your education meets industry standards. The Commission on Accreditation of Healthcare Administration Education (CAHME) is a good resource for you to consult. This accrediting body helps you know that you are pursuing a high quality program.
Do you know what CAHME looks for? For starters, you can be assured that they will find out whether programs help prepare students for their career goals. CAHME considers diverse career areas like:
Health care administration
Health services management
Hospital management
Health planning and evaluation
Health policy
And, CAHME accredits programs such as:
You will find that CAHME looks at what you learn as a student, including hard and soft skills. These, you will find, are important in the health industry. CAHME also looks at how this knowledge is obtained. For example, your online programs must provide e-learning platforms and support.
And, you will find that CAHME checks to see if health administration programs meet changing industry standards. As you can guess, healthcare is constantly evolving. As such, accreditation can help you make sure your program reflects these changes.
CAREER OPPORTUNITIES FOR HEALTHCARE ADMINISTRATORS
In 2016, you can find that there were 4.3 million healthcare administration and management grads in the workforce! And, you will see, employment estimates are going up. Between 2020 and 2021, you will find 4.06% growth.
So, do you fit in among healthcare administration graduates? The majority of degree holders in this field (87.6%) were female. And, the average age of a graduate in the workforce was 42.9 years old.
TOP SALARIES BY STATE FOR HEALTHCARE ADMINISTRATION DEGREE HOLDERS
Below, you can see that these states had the highest employment levels for Medical and Health Services Managers. Of course, you will find that state data for other healthcare administration career paths will vary.
| | | |
| --- | --- | --- |
| State | Employment | Annual Mean Wage |
| District of Columbia | 1,790 | $156,870 |
| New York | 25,430 | $171,620 |
| New Jersey | 16,490 | $153,300 |
| Massachusetts | 20,300 | $152,450 |
| Delaware | 1,270 | $150,840 |
WHAT KIND OF JOBS CAN YOU GET WITH A HEALTHCARE MANAGEMENT DEGREE?
If you pursue a healthcare management degree, you could work as a medical and health services manager. In this role, you would be responsible for running health services. As such, you could manage a health facility, like a hospital. Or, you might be in charge of a specific department. As a professional in this role, you would need to stay up to date on the healthcare field. You would need to be current on topics like laws and new technology.
According to 2022 BLS Data:
Median Salary: $104,830 per year
Job Growth Through 2032: 28% (Much faster than average)
Typical Entry Level Education: B.A. degree
In this type of medical and health services manager role, you would be in charge of patient records and data. In this case, you would handle the maintenance and security of information. As a health information manager, you must stay abreast of technology. This is so you are equip for managing large amounts of data. And, you would need to understand the laws about patient privacy.
According to 2022 O*NET Data:
Median Salary: $102,240 per year
Job Growth Through 2032: 9% (Faster than average)
Typical Entry Level Education: B.A. degree